Nutrimill Artiste Mixer Review (with Ice Cream Bundle)
Nutrimill's Artiste Mixer is great mixer for your home baking needs. It has a compact footprint, affordable price tag, and plenty of power.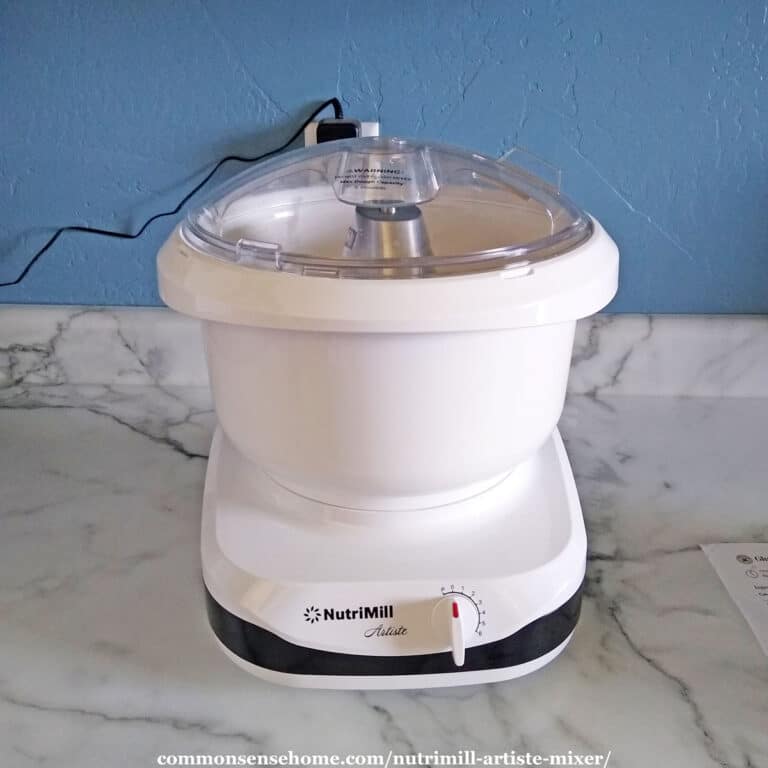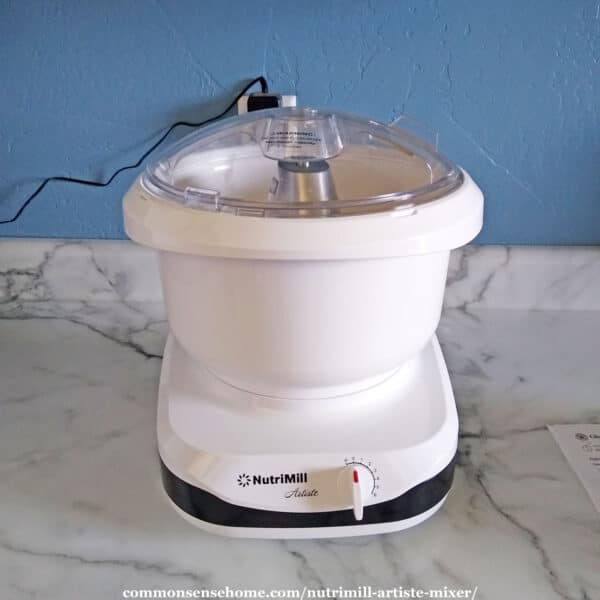 You can tell this mixer is designed both for ease of use and cleaning, which is great for our busy family. It worked splendidly in our trial tests for cake, cookies, and bread dough.
Our old mixer left dry ingredients in the bottom of the mixer bowl. The Nutrimill Artiste Mixer doesn't.
Nutrimill Artiste Mixer with Ice Cream Bundle
I received a Nutrimill Artiste Mixer with Ice Cream Bundle to review. The bundle includes:
Bottom drive stand mixer base
6.5 quart easy grip bowl
Lid with easy access window/splash ring
Dough hook – for breads, pizza dough, or even chocolate chip cookies
Wire whips – for fluffy batter, egg whites, and whipped cream
Metal whip drive
Ice cream maker*
Waffle cone maker*
Stretch fit lid*
Junket 3 flavor bundle*
*Ice cream bundle items
You can also purchase additional attachments, such as the Baker's Pack, which includes:
Cookie paddles
Cake paddle
Bowl scraper attachment
Other attachments include a stainless steel bowl, citrus juicer, slicer/shredder, and more.
What We Liked
The Nutrimill Artiste Mixer is similar to the Bosch Universal Plus, but with a more compact footprint and lower price tag. Since it's a bottom drive stand mixer, it fits under cabinets where taller mixers don't.
The Artiste Mixer has many unique features compared to my KitchenAid mixer. First, everything that comes in contact with ingredients can be washed, including the drive shaft. I was incredibly pleased with how easily everything washed up.
The motor base has suction cups that prevent it from sliding around on the counter during use. Despite the addition of tiny hands helping with the baking, the mixer did not walk across the counter.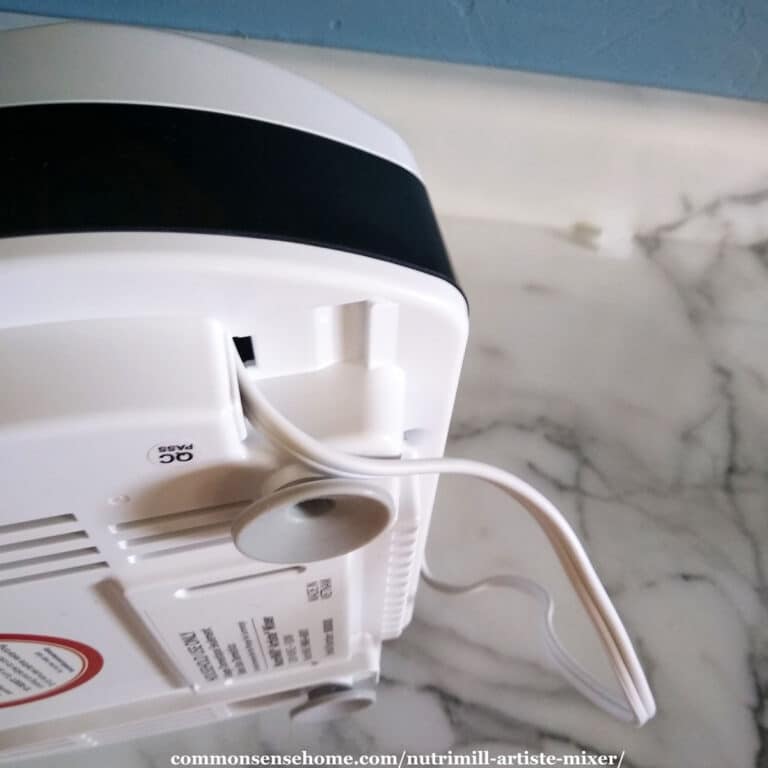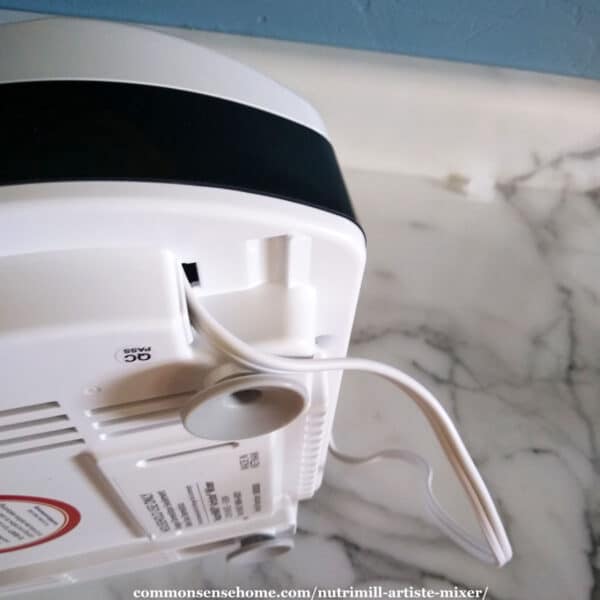 The cord has a convenient place to tuck away into the mixer base. This allows you to only pull out the amount of cord that you need in order to reach your outlet. Is is not a retracting cord, so you don't need to worry about a retractor breaking.
The bowl cover has a plastic window that can be left open during mixing or slid shut. I tested it with the cover window open as well as closed, and both ways the ingredients stayed inside the bowl.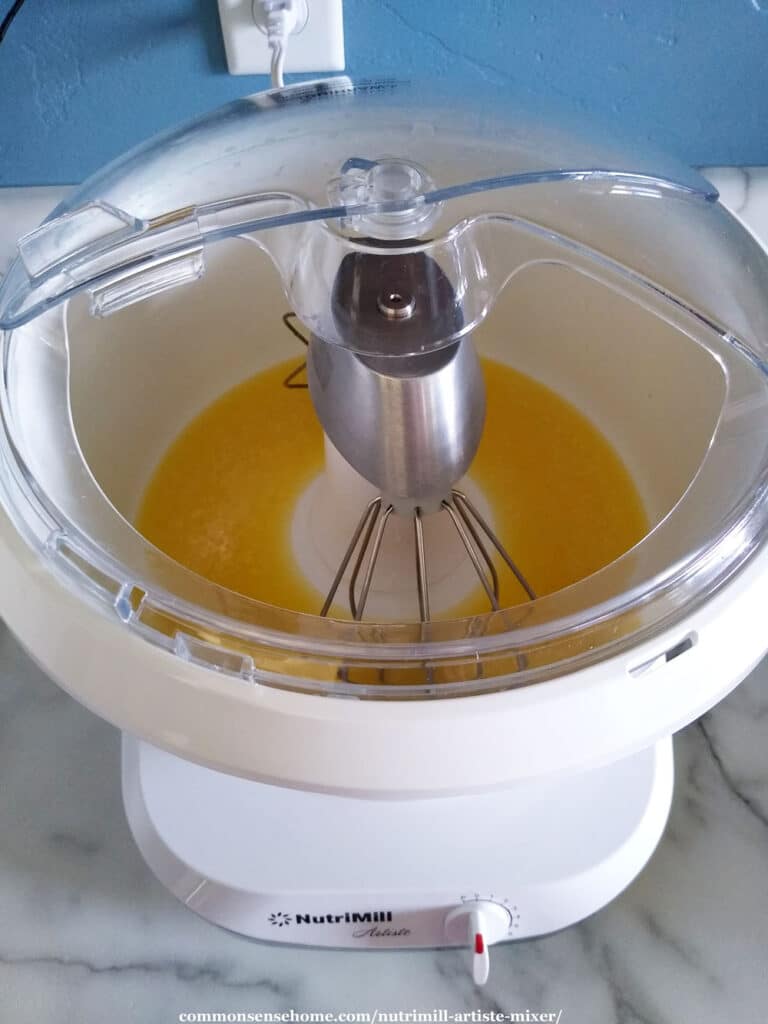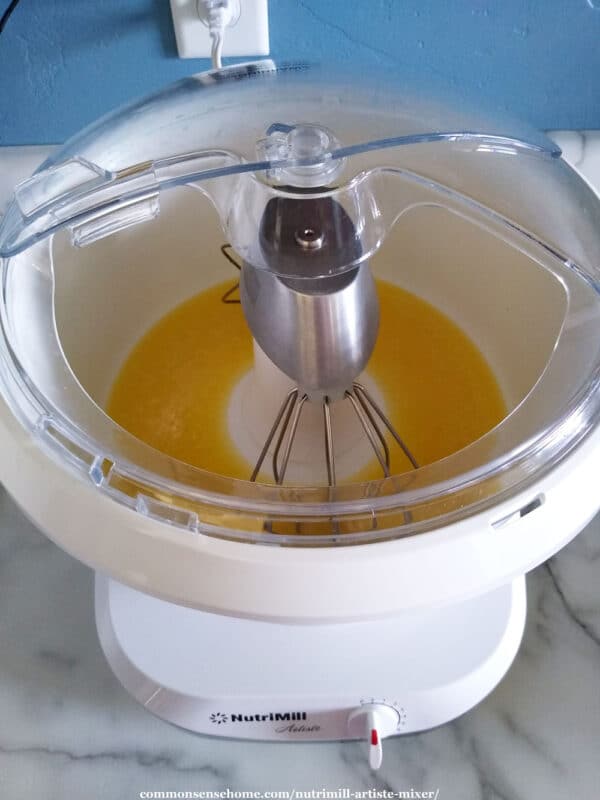 The mixer knob has a pulse feature, which I was excited to see upon unboxing. I find it helpful to use to ensure the ingredients are fully incorporated. Given the design of this mixer, I think it would be difficult to accidentally turn it on.
The gluten free cake I made with the mixer had the crumb and texture of a cake made with regular flour. I think this is a testament to the quality of the mixer. It creams ingredients really well, and even coconut oil and sugar hit a butter and sugar consistency for cookie dough.
What We Didn't Like
The mixer makes a high pitched hum when running, but I think most people would not even notice it. It stood out to us because we have a young baby who is currently in a fear stage with unusual noises.
That said, it did take a significantly smaller amount of time to mix the various recipes than our other mixer.
The Waffle Cone Maker and Ice Cream Attachment
The Artiste mixer we reviewed had the ice cream maker attachment and the waffle cone maker. With four youngsters in the house, it's handy to be able to make up allergy friendly treats. My oldest daughter loves baking, so she helped with a lot of the testing.
We tried the included waffle cone recipe, substituting gluten free flour. I was pleasantly surprised to see that the waffles stayed intact and rolled up easily, despite being gluten free.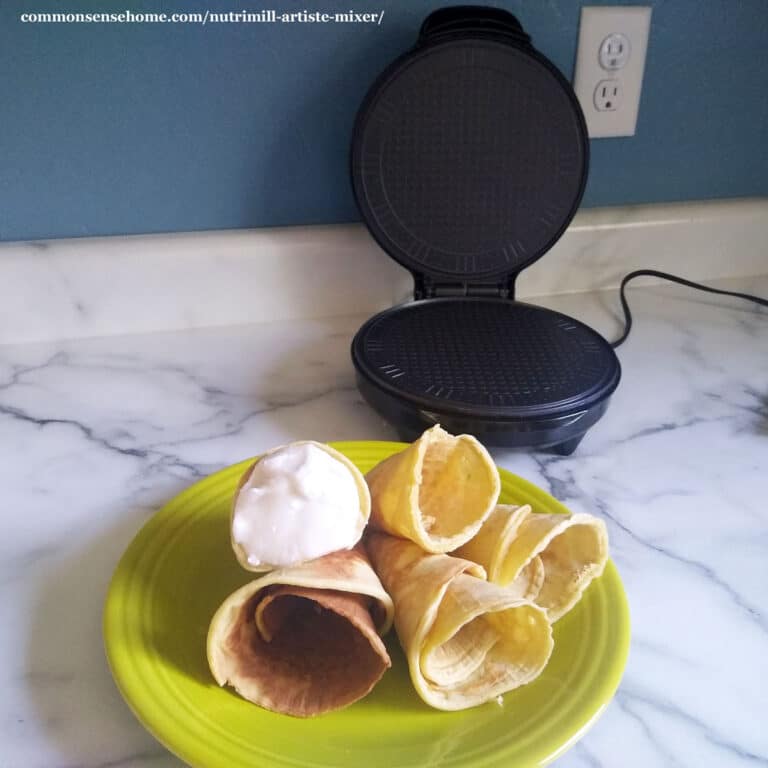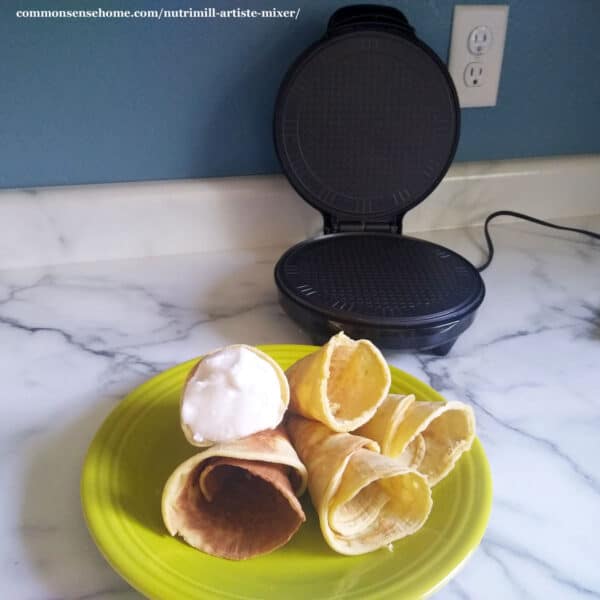 The recipe is on the sweet side for us, but we typically use honey or maple syrup instead of white sugar. I am looking forward to experimenting with the waffle cone maker to make some cones with fun flavor twists.
The waffle cone maker instructions said to use 1/4 cup of batter in the maker at a time. We found this needed to be cut almost in half, or else the batter would ooze out.
The ice cream maker attachment is a tight fit, so it's a bit challenging to put into the mixing bowl. This ice cream maker attachment performs best with rock salt. I do not recommend using table salt in it. Since salt and metal don't mix well, be sure to thoroughly clean all of the mixer components after making ice cream.
Here's a helpful tip that will save you some money on ice cream salt. Go to your local home improvement store and buy driveway rock salt instead. It's the same product in a different package. It only comes in a large bag, but you can always use the leftovers to salt your driveway this winter.
Buy Direct from Nutrimill
You can buy direct from Nutrimill to get quality grain mills, mixers, blenders, and other kitchen gear. They carry Nutrimill, Bosch, and Magimix brands and replacement parts. You can check out available products here.
If you need a new mixer, be sure to take advantage of Nutrimill's Sweet Summer Savings Sale. It runs through July 31st, 2023.
More Product Reviews
At Common Sense Home, we like practical products that hold up to years of use. Here are some more of our kitchen favorites.
Nutrimill Grain Mill Review (Which one should I get?)
Home Grain Mills – Comparison of Manual Grain Grinders for the Home
This is a guest post by Dorothy Flaig. Dorothy and her growing family live on a small homestead in northeast Wisconsin. She enjoys experimenting in the kitchen to develop new recipes and adapt old favorites to be allergy friendly.