Wild Geranium – Weekly Weeder #22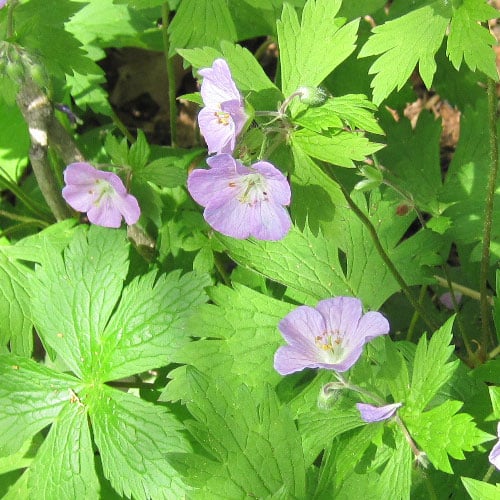 Today's featured plant is Wild Geranium, Geranium maculatum.
Wild Geranium is also known as Spotted Geranium, Wood Geranium, Alum Root, Alum Bloom, Old Maid's Nightcap, Spotted Cranesbill, Wild Cranesbill and Crane's-bill Geranium. Note: These are not related to garden geraniums, Pelargonium hortorum, which have rounded leaves shaped more like a lily pad. There are domesticated varieties of the genus Geranium.
Range and Identification of Wild Geranium
Wild geranium is native to eastern North America, all the way from Manitoba and Quebec to Alabama and west to Oklahoma and South Dakota (see map). It is found in dry, shady, deciduous woodlands and meadows.
The plant is a perennial, blooming in the spring/summer and dying back in fall/winter. Wild geranium plants grow up to 1-2 feet. Leaves are attached opposite of each other, and are up to 5 inches long. They are simple lobed leaves, staying roughly the same along the whole plant.
The wild geranium blooms in spring, with flowers are 1-2″ across and 2-3 stem leaves (flower growing leaves) per plant. There are 2-10 flowers per plant, with 5 lavender petals per flower. The seed capsules split into 5 long and curled "peals" to release seeds. Before opening, the seed capsule resembles the bill of a crane, thus the name "Crane's bill geranium". (See Wildflowers Of Wisconsin for more information.)
Wild Geranium for Food and Medicine
The young leaves can be eaten as human food, and the plant also has medicinal value (see below). White-tailed deer eat the flowers of wild geranium. Birds eat the maturing fruits, and Lepidopteran larvae have been observed feeding on the flowers and fruits. (source)
The St. Olaf website lists medicinal uses of wild geranium:
Wild Geranium is valued as a useful astringent and hemostatic. The roots contain large amounts of tannin, which is a bitter-tasting polyphenol produced by the plant. Polyphenols bind and precipitate proteins explaining its properties as both an astringent and styptic. When applied topically, an astringent binds to the mucous membrane causing it to constrict or shrink. This process serves the dual purpose of both protecting the area to which it was applied and promoting healing. A hemostatic is any agent that stops bleeding through mild coagulation of skin proteins.

Early Native Americans recognized the value of Wild Geranium and used it as an ingredient in many medicinal treatments. Chippewa Indians used dried, powdered rhizomes mixed with grape juice as a mouthwash for children with thrush. A poultice from the base or pounded roots of the plant was used to treat burns and hemorrhoids. The leaves and roots were used to treat sore throats, hemorrhages, gonorrhea, and cholera. Like many other tannin-containing substances, Native Americans also used Wild Geranium as an anti-diarrhea treatment. A plant- infused tea was made to achieve this purpose, though some sources say the tea could have had the opposite effect, causing constipation.

Today, this wildflower is used for many of the same purposes. Wild Geranium extract is marketed as an anti-inflammatory and anti-hemorrhaging substance. It can be found in products sold in herbal stores and online.
I've always enjoyed these blooms in spring, but never knew how many uses the plant had. What a wonderful plant ally. The St. Olaf website also mentions that wild geranium could be used to counteract a love charm by placing a tea made from the roots of the plant near the person who had the whammy put on them against their will. (I have not tested this use.)  Hiker's Notebook has a rather interesting discussion of the history of the wild geranium you may also enjoy.
As always, any medical information is for informational purposes only. Always exercise caution when using any wild plants and make sure you have positively identified the plant.
Please Like, Pin or otherwise share this post if you would like the Weekly Weeder series to continue.