5 Reasons the Vine Spine is the Best Garden Trellis
This year I've been experimenting with tomatoes in containers in the greenhouse, and was wondering how to build a tomato trellis that I could move with the containers. My standard tomato trellis option using pounded in posts was not going to work.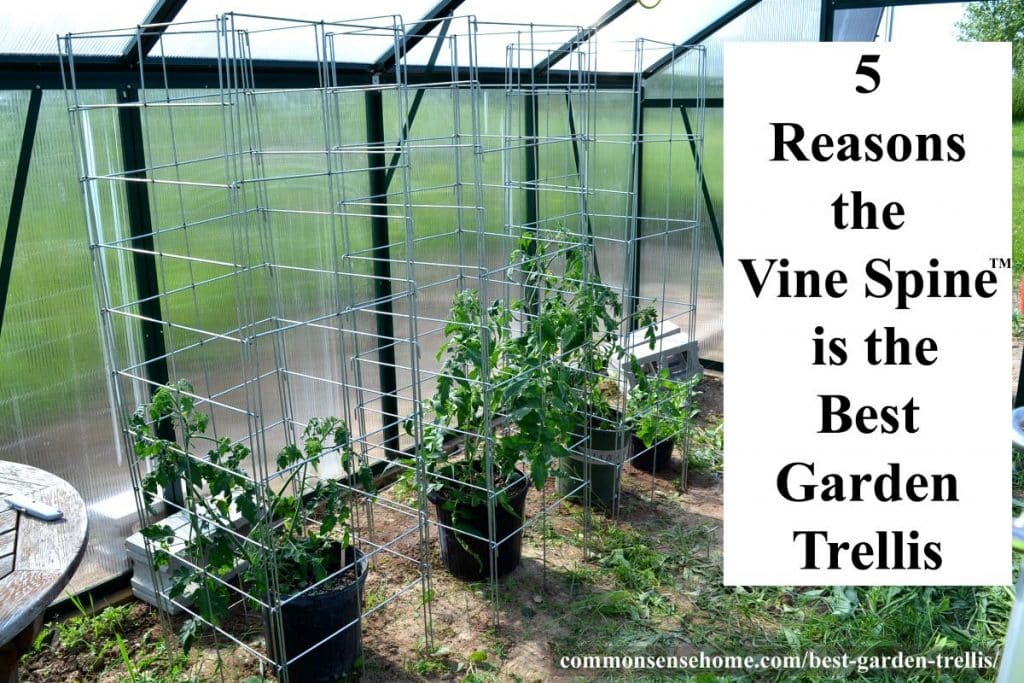 While I was thinking, I got an email from Dominic of Better Bilt Products, offering to send me some of their Vine Spine™ garden trellises to try out in the garden – plus a set for a lucky reader. Here's my take on why the Vine Spine™ is the best all-purpose garden trellis I've seen to date.
#1 – The Vine Spine™ Garden Trellis is Versatile
This garden trellis works for more than just tomatoes. Each trellis "kit" consists of four panels, which can be arranged in a number of configurations. You can set it up as a box for stand alone plantings in the ground (top photo), or in containers…

You can use the side-hook connectors to link a series of trellis boxes into a wall for wind resistance and extra support.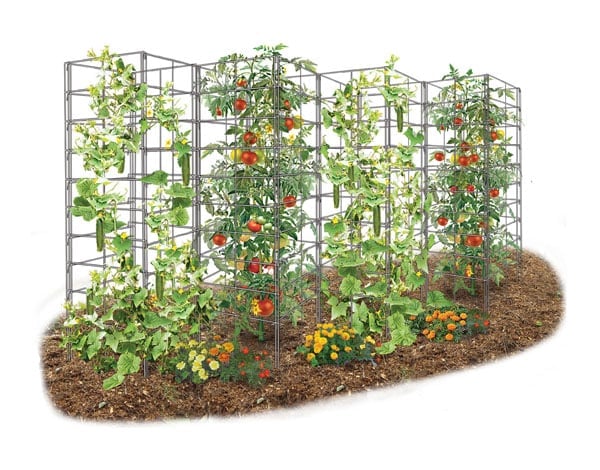 You can arrange the boxes as a "zigzag" support for a hedge or row of beans or peas, or tethered flat against a wall or other upright support for vertical gardening or espalier applications.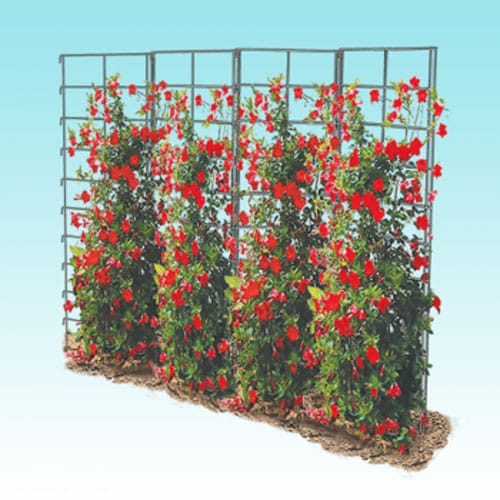 For vining crops such as cucumbers, squash or pole beans, you can choose an A-frame arrangement to get the vines up off the ground, improving air circulation and reducing the risk of rodent damage.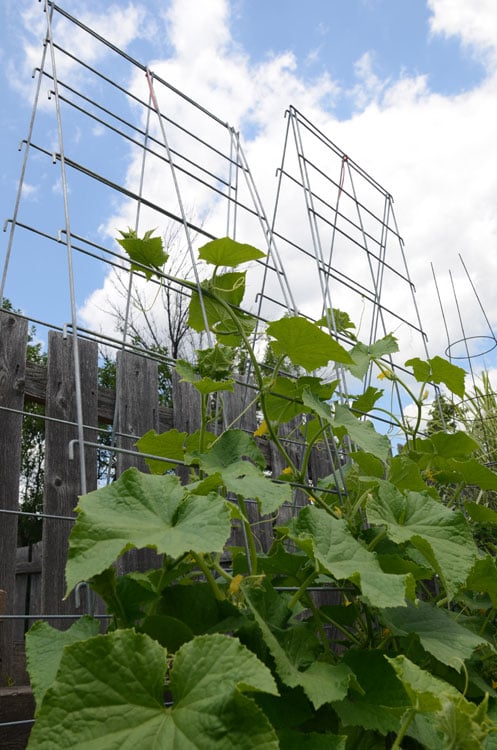 Finally, the panels can also be locked together to form a frame for a floating row cover or plastic to create a mini-greenhouse.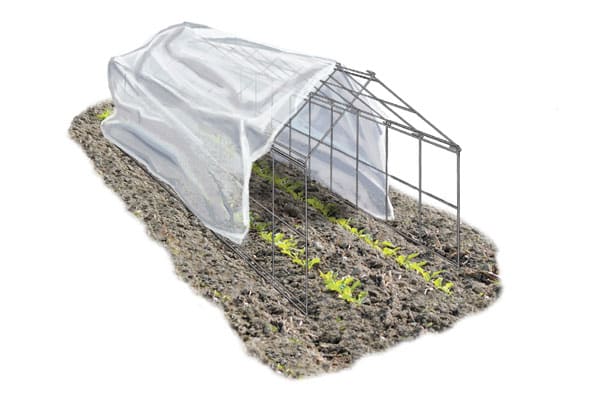 #2 – The Vine Spine™ Garden Trellis is Sturdy
I don't know about you, but I have found those flimsy circular garden plant support sold in most home improvement stores to be a bad joke. Mom tried them for everything from flowers to tomatoes, and every single time either the plant got too big for the support, or the trellis tipped over in a wind storm. I've been stuck using them a couple of times over the years when we were switching homes, and I had the same results.
As I mentioned above, the panels can be locked together in a diamond pattern to provide a more wind resistant support. Even with just two panels you can create a simple "V" shaped support that is much more tip resistant than a circle. Dominic notes: "Every weld joint for 3/16" wire has a 2,000 lb. capacity. If a fruit is near one of those weld joints, it will be very strong. If fruit is slightly off one of the weld joints, you may experience a slight sag in an A-frame configuration."
#3 – You Can Mix and Match the Different Vine Spine™ Trellis Panels
I always thought it was cool that the boys' Duplo block pieces worked together with their regular Lego pieces, so that as they grew, they could use both sets together. With the Vine Spine™ garden trellis panels, you can mix together the panels with 6″ and 12″ openings however you like. In my case, when I used them to box in my tomato plants in the greenhouse, I made sure that each plant had at least one panel with 12″ openings so it was easier to get my watering container in close to the pot.
#4 – The Vine Spine™ Trellis Panels Store Flat
At the end of the season, it's always a challenge to gather up the various supports and ground covers used in the garden and pack them up for storage. With the Vine Spine™ garden trellis modular design, you simply unhook the panels and lay them flat for storage. No wrestling with big circle cages, and they go back together in seconds when it's time to use them again. It is helpful to have two people on hand when you're connecting multiple cages to make sure everything lines up correctly.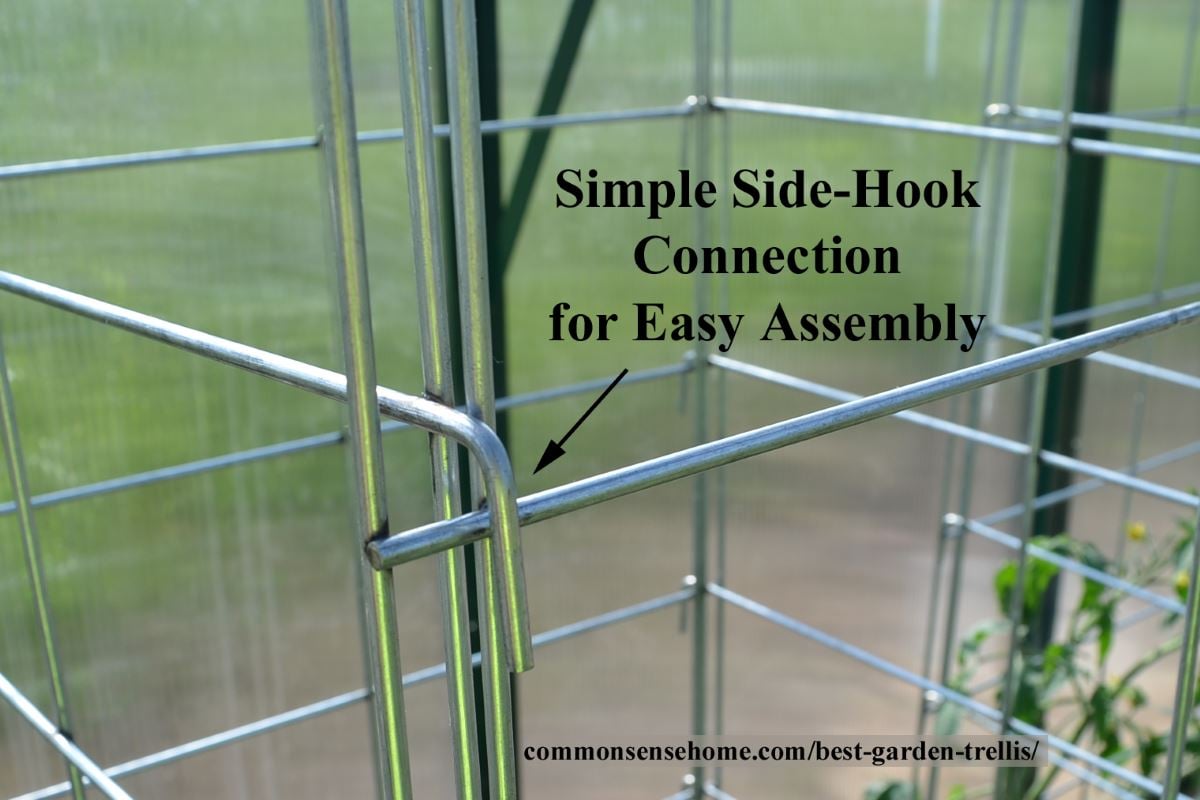 #5 – The Vine Spine Garden Trellis is Made in America
Each Vine Spine garden trellis is made by Better Bilt Products, Inc. in Addison, Illinois. Better Bilt Products, Inc. has been proudly owned and operated by two generations of the Camp family since 1946. World News with Diane Sawyer ran a series titled "Made in America," which revealed that "if every one of us spent an extra $3.33 on U.S.-made goods every year, it would create nearly 10,000 new jobs in this country."
From Dominic: "We make these trellises right here in our factory (Addison, IL). We beefed up the wire to outperform and outlast our competitors (both overseas and domestic). Doing the math, we on average have a 45% greater cross section of material and also have more overall wire compared to our competitors. Knowing this, there would be no issues with heavier vines like your winter squash you wish to support."
Each panel is made with heavy duty 3/16″ galvanized wire for durability, strength, and weather resistance to provide you with many years of use. These trellises are made to last.
Get a Discount on the Vine Spine Trellis and Enter to Win a Set of Your Own
Ready to get your own Vine Spine garden trellis? Just visit Better Bilt Products, Inc..
How much do the trellis panels cost?
4 pack, small openings: $85.00, delivery included
12 pack, small openings: $180.00, delivery included
4 pack, large openings: $80.00, delivery included
12 pack, large openings: $170.00, delivery included
I know these panels are an investment, so I asked Dominic about the price. Here's what he had to say:
Our "4 pack" includes 4 panels, and our "12 pack" includes 12 panels. As for what configuration one chooses to do, with say a 4 pack (square, 4 panel hedge, two a-frames, etc.), that is up to a gardener's imagination.

When talking price comparisons retail to retail, we offer a very competitive value. I'm sure you are familiar with Gardener's Supply? They offer 6-7 different wire trellis product options, whereas our system offers all 6-7 of theirs in 1 product. Currently, we make other products using the same galvanized wire and have told our customers they would last 10+ years (see our Top Hat Container Stabilizers as an example at http://www.bbponline.com/plant-container-stabilizers/top-hat/). And after 7+ years – no complaints!

As you said, these would be an investment for a gardener. I ask myself a question when it comes down to making a decision on a product like this: What is the cost of convenience? For a gardener to make their own trellis system as an example, they have to access a truck that can carry 16' hog panels, and they must have the time and tools to fabricate to their own desired specs. We feel a large percentage of your average gardeners won't have the means to haul, nor do they want to take the time to fabricate themselves. Our 4 pack and 12 pack pricing includes delivery across the continental US right to one's doorstep, ready to use right out of the box. My boss has a saying that I like to use when comparing our trellises vs. the competition: "The most expensive thing you can buy is poor quality." Certainly has a nice ring and truth to it.
I'd also like to note that Better Bilt sells wire supports to keep pots from tipping over in the wind, and a variety of smaller trellises for lighter jobs, plus an easy to assemble composting system – lots of great tools for the home gardener or professional grower.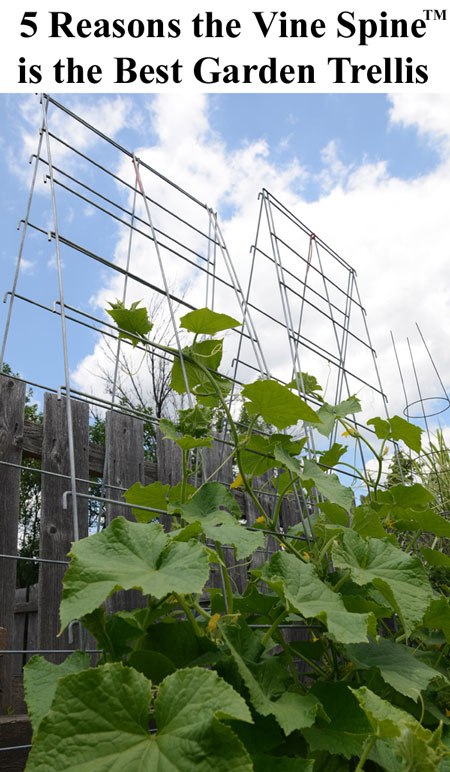 You may also enjoy: