This beet kvass recipe creates a healthy drink full of probiotics. Probiotics help boost your immune system and keep your gut healthy.
Beet kvass is an acquired taste, like sauerkraut or other foods made with lacto fermentation. Fresh beets, sea salt and water are naturally fermented to create a lightly salty, mildly acidic beverage. Using a starter culture helps to ensure proper fermentation.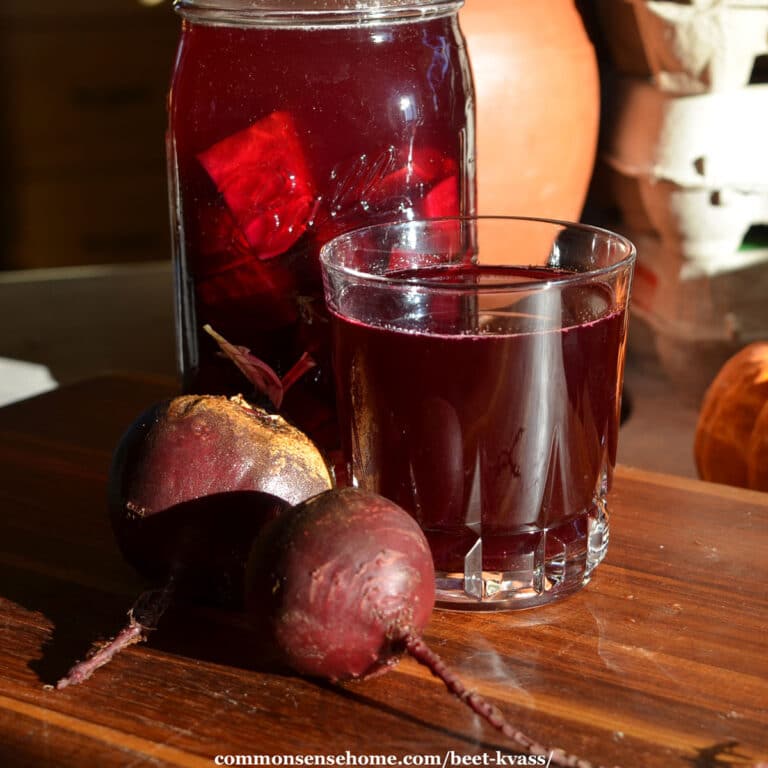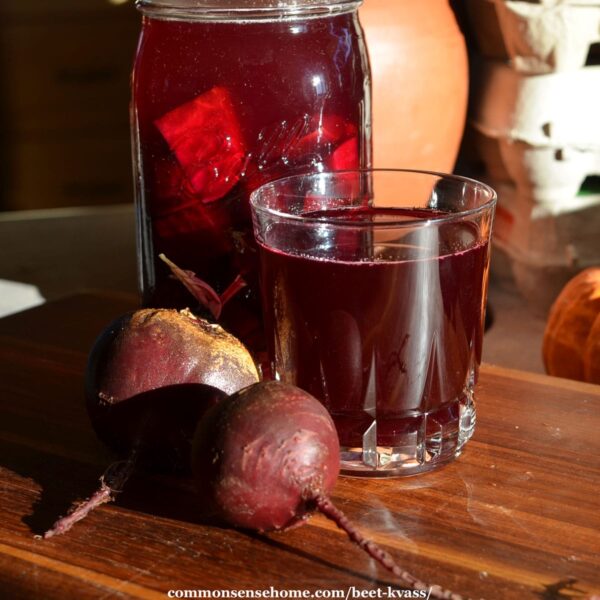 Tips for Making Your Kvass
Since this is a very simple recipe, ingredient quality is extra important.
Watch out for tap water quality. Tap water may contain chlorine, which inhibits fermentation. It's best to use filtered water or spring water. We use our Berkey filter to remove contaminants, but retain good minerals.
Fresh beets are best for fermenting. The skin of the beet is the best source of the lactic acid producing bacteria we want to cultivate. We want fresh and frisky bacteria, so use your garden beets or those fresh from the farmers market.
If you only have access to beets that have been in storage for a while, the whey or starter culture helps to boost the friendly bacteria content.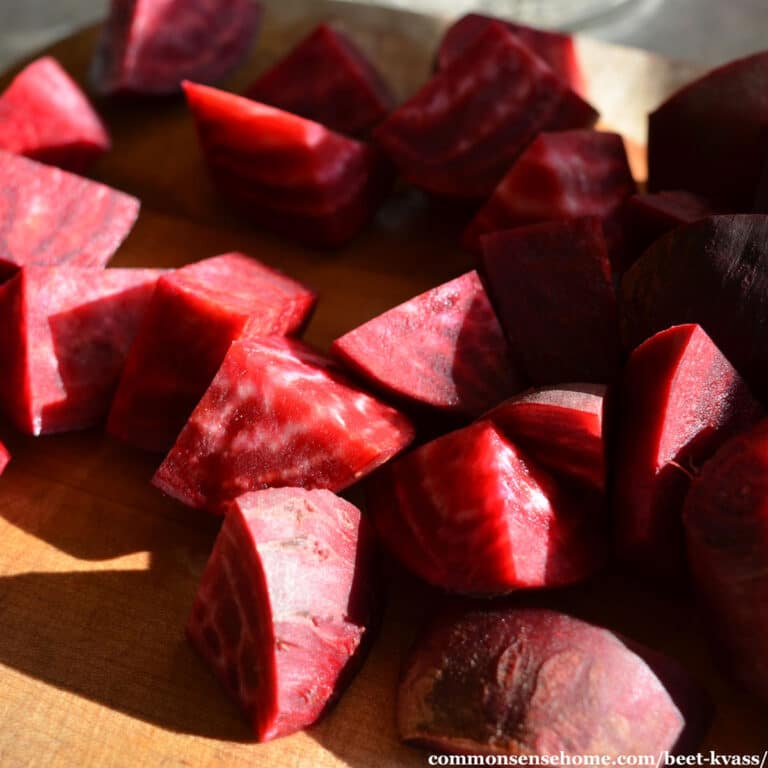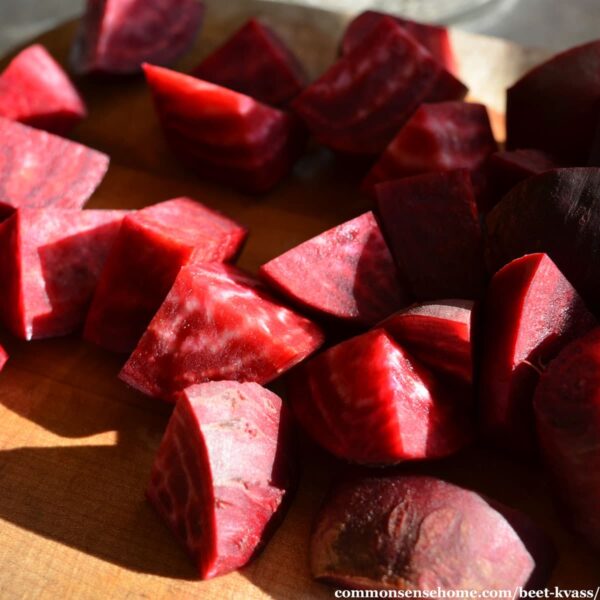 Choose an unprocessed salt like sea salt, Himalayan salt, or Real Salt. Avoid iodized salt, which produces a cloudy ferment.
Room temperature has a HUGE impact on fermentation time. If your kitchen is warm, your beet kvass may be ready in only 2-3 days. In a cool kitchen, you may want to ferment at root temperature for up to two weeks.
If it's too warm (or you forget to check it) and your ferment gets thick and slimy, compost it. Bubbles and film on the surface are normal. Skim off the film (which is likely kahm yeast) before bottling.
Always ferment in a glass jar or non-reactive container. Your kvass is mildly acidic, so it can interact with metal. I use wide mouth mason jars fitted with an airlock cover.
Airlocks are handy because they keep out microbes from the environment, reducing the risk of spoilage. If you don't have an airlock, simply use a tight fitting lid and burp daily to vent fermentation gases.
Print
Beet Kvass
Fresh beets, sea salt and water are naturally fermented to create a lightly salty, mildly acidic beverage.
Prep Time:

5 minutes

Fermentation Time:

5 days

Total Time:

120 hours 5 minutes

Yield:

1 quart

1

x
3

organic beets (medium – large), cubed but not peeled

1 teaspoon

sea salt

1

quart

filtered water

2 tablespoons

fresh whey or other starter culture, or a packet of commercial starter culture (optional – see notes)
Instructions
Slice off the bottom of the beet and thoroughly scrub. Coarsely chop the beets and place in a tall glass container.
Mix together the filtered water, sea salt, whey (or starter culture) and create a brine. Pour the brine over the beets. Cover the container with an airlock or lid and keep at room temperature for 5-7 days, until it tastes sour like pickle juice.
Strain out the beets and compost or use in other recipes. Transfer the liquid to mason jars and store in the refrigerator for up a month.
Notes
If you don't use whey or a starter culture, increase the amount of salt to 1 1/2 teaspoons.
Don't use tap water if it is chlorinated because chlorine will inhibit the fermentation process.
Recipe Variations
If you have a bounty of beets and want to experiment, try mixing in different fruits, veggies and spices. Some ideas include:
Carrot chunks or oranges, for extra sweetness
Garlic or pickling spice, for a bolder flavor
Ginger root slices for more digestive benefits
Warming spices like cinnamon and cloves
Using different types of beets, like golden beets or mangel beets
Health Benefits of Beet Kvass
In Nourishing Traditions, Sally Fallon notes, "One four ounce glass in the morning and night, is an excellent blood tonic, promotes regularity, aids digestion, alkalizes the blood, cleanses the liver, and is a good treatment for kidney stones and other ailments."
Beets are high in many vitamins and minerals: vitamins A, B & C; beta-carotene, beta-cyanine; folic acid, potassium, magnesium, fiber, phosphorus, and iron. They may help lower blood pressure and purify the blood.
Beets contain phytonutrients called betalains, which are anti-oxidant and anti- inflammatory. Fermenting beets converts the nitrates in beets to nitric oxides, which may improve blood flow.
Recent studies show beets boost metabolic health and gut health. Even if you don't love beets, they are a healthy addition to your diet.
Starter Culture Options
To make sure your beet kvass grows good bacteria, you can jumpstart fermenting with a starter culture.
A starter culture is a source of good bacteria, which speeds up the fermentation process. We can use bacteria from other fermented foods, or buy a commercial starter culture. (I use this culture in the video.)
Some good sources of friendly bacteria include:
A previous batch of beet kvass, or other kvass
Sauerkraut juice, or juice from other fermented vegetables
Whey strained from plain yogurt or kefir with live and active cultures
Ginger bugs or other naturally fermented soda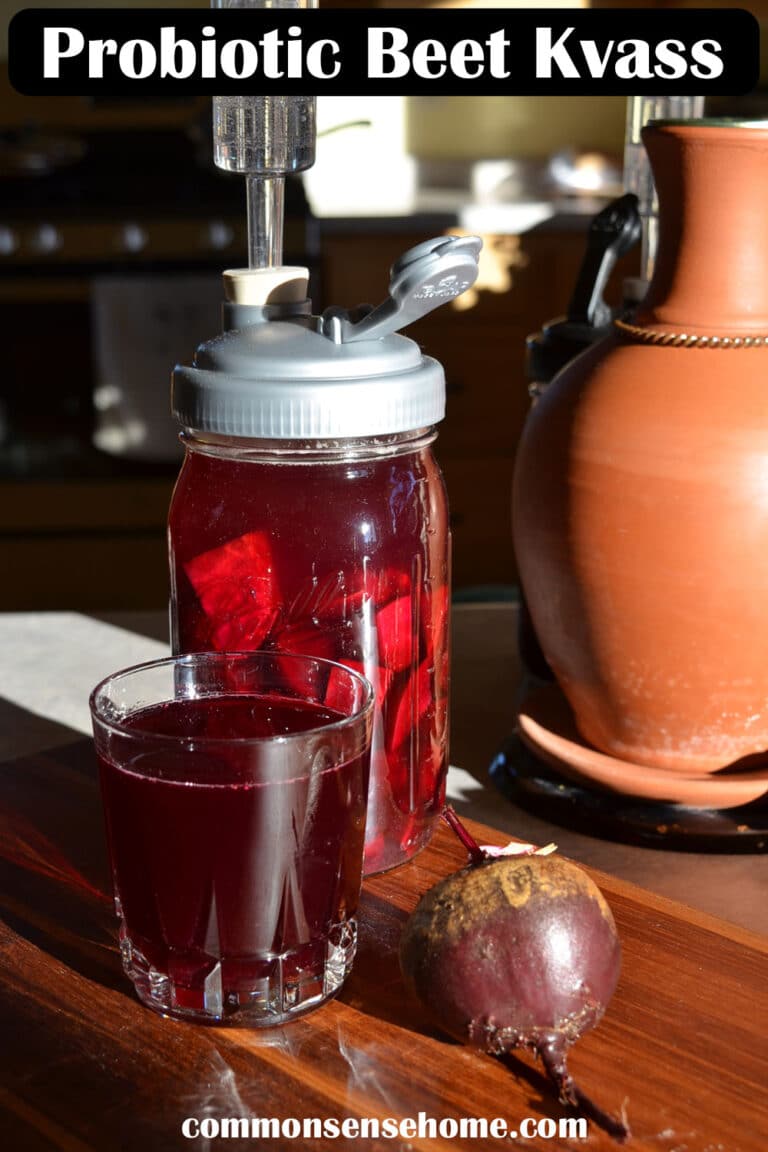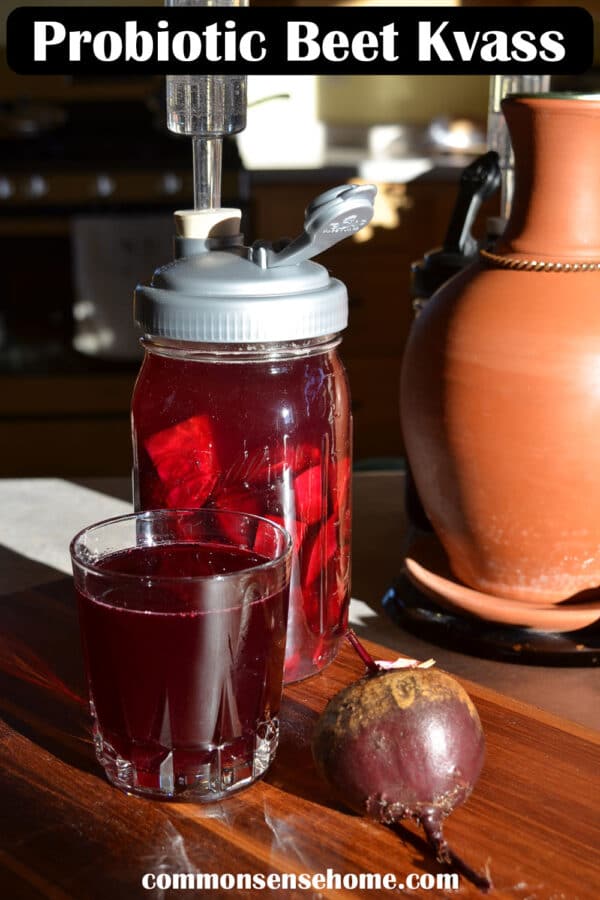 More Probiotic Recipes
Fermented foods are great for gut health, and many are easy to make at home. Some of our favorite ferments include:
Originally posted in 2009, last updated in 2022.