Big Berkey Review and Q&A (2022)
Clean water is important, and Big Berkey water purification system provides a simple, reliable way to filter water. They are gravity fed, so you don't need power, making them suitable for everyday use or emergencies.
In our Big Berkey review, we discuss how the water filtration system works, answers to common questions, and alternative filters.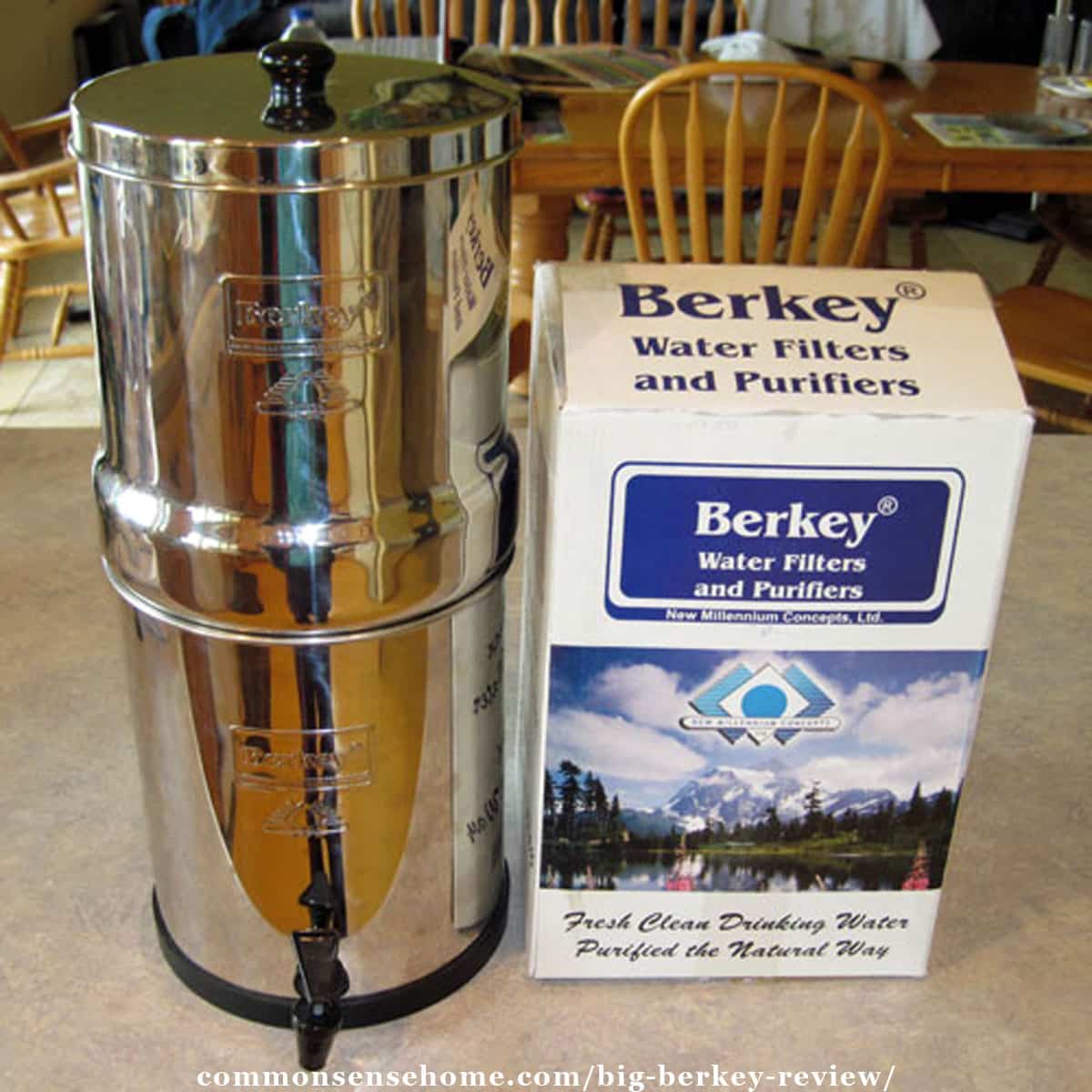 What is the Big Berkey?
The Big Berkey water filter is a gravity based water filtration system. Water flows through black Berkey filters in the upper chamber, and filtered water collects in the lower chamber for drinking.
The unit is made with 304 stainless steel, and only weighs 7 pounds empty, so you can move it around if needed. It's not hooked to your plumbing, so you don't need a plumber to get filtering.
It comes with two filters, and can support up to four filters. Each pair of Black Berkey purification elements purifies up to 6,000 gallons of water, removing 99.999% of contaminants.
We recommend that you purchase and install all 4 filters. Having all four doubles the flow rate, and doubles the life of the filters.
The Big Berkey is recommended for families of 2-4 people. For larger or smaller households, there are a range of sizes, including:
Travel – 1.5 gallons (1-3 people)
Royal – 3.25 gallons (2-6 people)
Imperial – 4.5 gallons (6-10+ people)
Crown – 6 gallons (6+ people)
Big Berkey Specifications
Size: 21 inches (53cm) tall and 8.5 inches (21cm) diameter
Weight: 7lbs empty and about 25.8lbs with a full lower chamber
Lower chamber water storage: 2.25 gallons (8.5 liters)
Filter Count: up to four filters in Big Berkey
Flow rate: Up to 3.5 gallons per hour with 2 filters, 7.0 gph with 4 filters.
Black Berkey Purification Elements exceed EPA and NSF ANSI standard 53 protocol. Filters 99.999% of contaminants.
Frequently Asked Questions
Whether you're dealing with tap water or flood water, odds are there are contaminants you don't want. If you're unsure about your tap water, then you can use this Water Quality tool to identify common problems.
How many gallons per hour can the Big Berkey filter?
Two filters provide up to 3.5 GPH (gallons per hour). With four filters, the flow rate can reach 7 gallons per hour.
If you get the Crown Berkey with all eight filters, you can filter up to 26 gallons per hour.
How do you use a Big Berkey water filter?
First, prime your filters, as shown in the video below.
Wash and assemble the unit. Make sure to put the washers in the right location (inside the upper chamber) to get a good seal.
Pour about 2 gallons of water into the top chamber, enough to cover the filters. Put the lid back on and let the water gravity feed to the bottom chamber. Use the spigot to draw off water for use as needed.
To help the filters last as long as possible, it's best to use the water up before refilling. When you fill, you want to cover the filters completely, so the whole filter gets used.
If you cover the filters completely before you drink all the water in storage, the storage will overflow as it filters.
Do I need to clean my Big Berkey?
Yes, you need to periodically clean the inside of the top and bottom chambers. You should also rinse/wash off the filters.
Our Experience with the Big Berkey Water Filter
We've owned our Big Berkey gravity fed water filter for over 14 years. We use it daily to protect us from runoff from nearby factory farms.
The Big Berkey is a common sense purchase that provides everyday filtered water and it gives us an option for drinkable water in emergencies. In addition to tap water, we also have rain barrels and two ponds for emergency water supplies.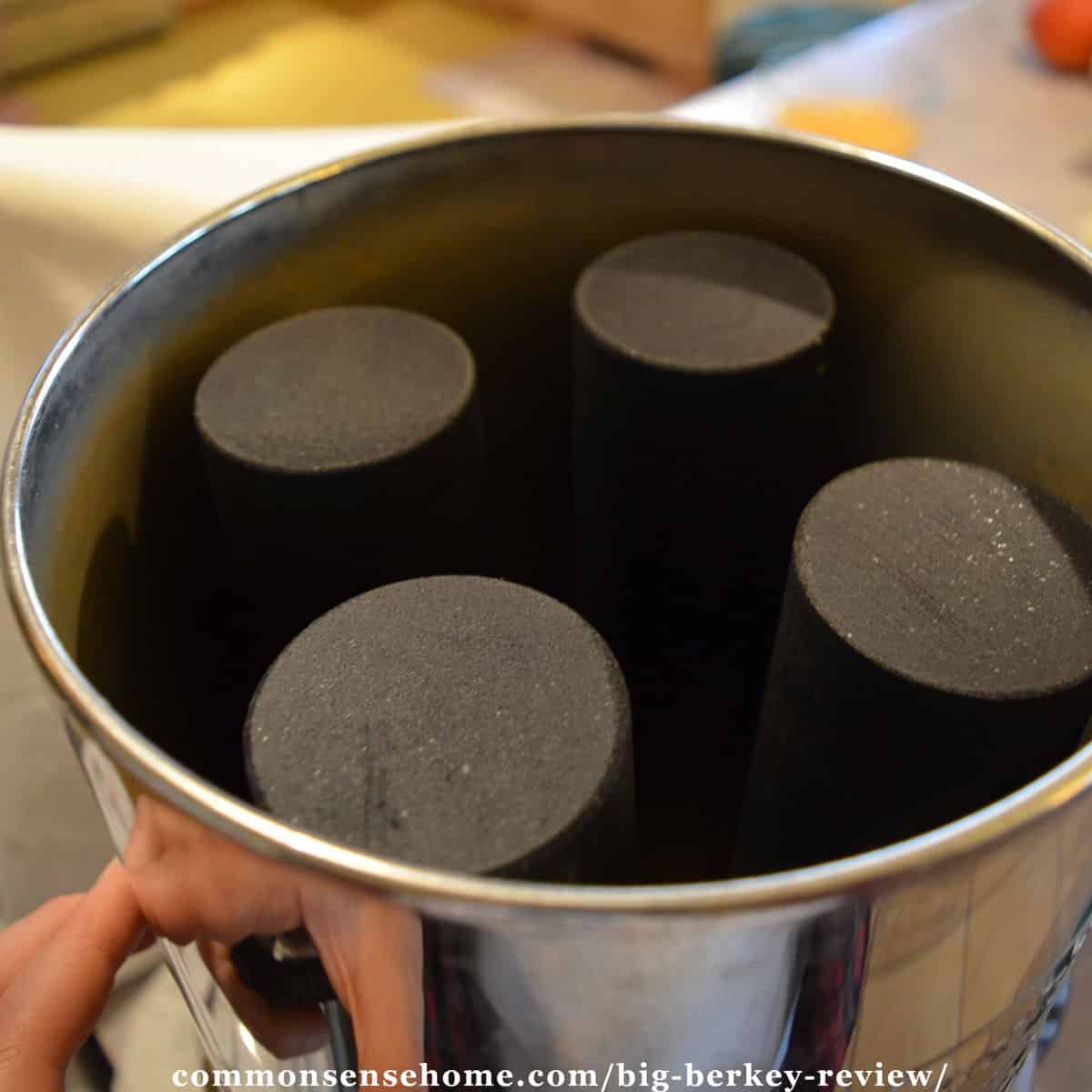 Filter Specifications
The Black Berkey filters have been tested by several EPA-accredited laboratories including:
Department of Toxicology and Environmental Science at Louisiana University
Spectrum Labs
University of Phoenix
The filter elements have been tested to remove 203 contaminants commonly found in drinking water, including:
lead
viruses (99.999%)
pathogenic bacteria (99.9999%)
Chloramine (below lab detectable limit)
trihalomethanes (99.8%)
pharmaceuticals (99.9%)
pesticides (below lab detectable limit)
heavy metals
Click here for a full list of what the Berkey Filter Removes.
You need an optional "add-on" fluoride filter if you want to remove fluoride.
Nitrite Filtering
The black filters remove more than 95% of nitrites, but do not remove nitrates. If you have high nitrate levels in your water, then consider using:
reverse osmosis
ion exchange
electrodialysis
How long do Big Berkey filters last?
Each filter can purify up to 3000 gallons. They don't "expire" so if you use them intermittently, they will last indefinitely.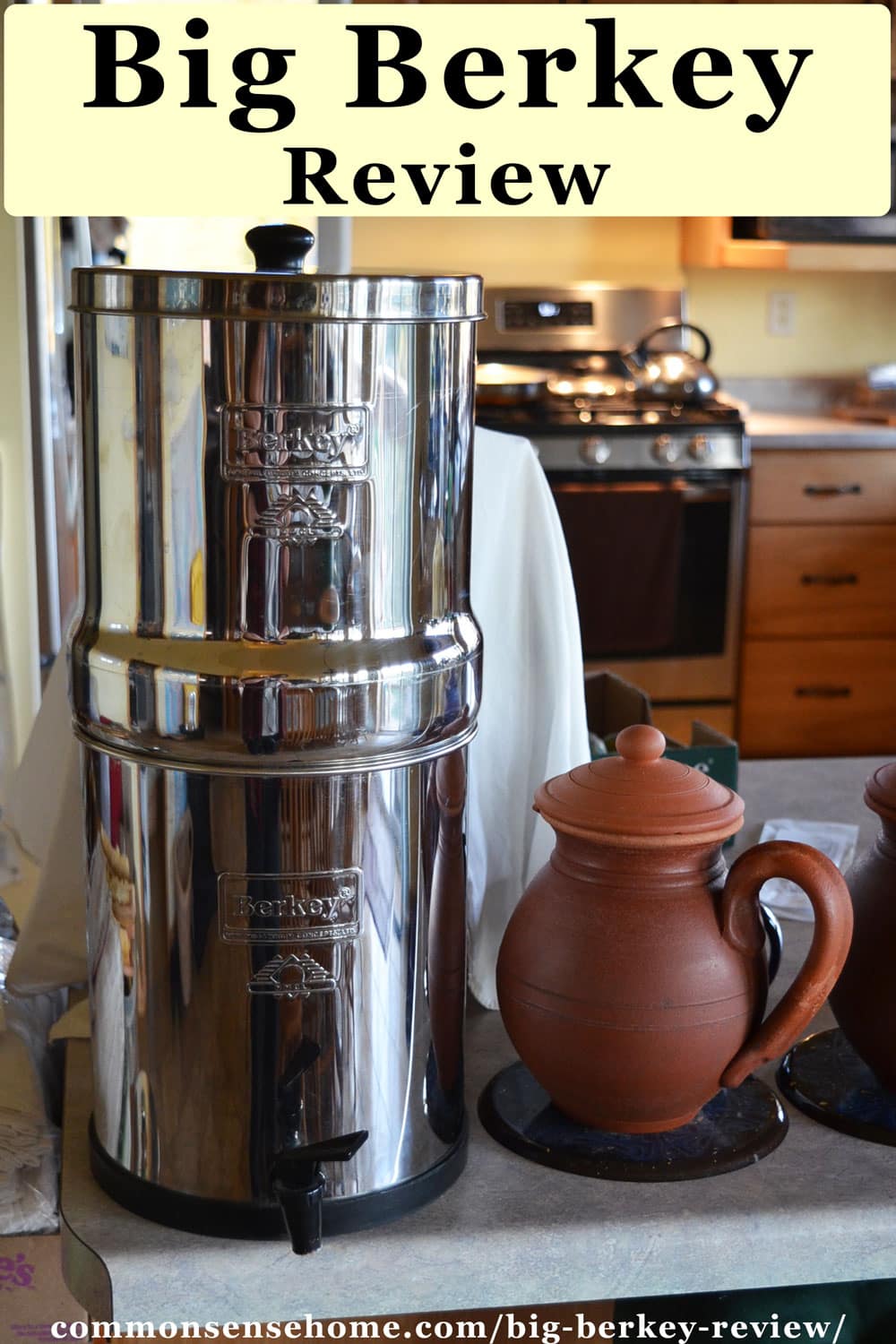 Big Berkey Alternatives
Here are a few alternatives to the Big Berkey for gravity fed water filtration.
RUNNER UP: The ZeroWater is a crazy good filter. The good side? It has amazing filtration. The only downside is that it goes through filters amazingly fast. You will need to stock a pile of filters as it clogs up quickly. We edged the Berkey to #1 because of ongoing filter costs, but would happily recommend the ZeroWater.
Honorable Mention
Under Sink Alternatives
You will need to do a bit of work or hire a plumber to get these installed. These and other inline solutions generally filter at 99.99% or less, unless otherwise noted. Read the fine print on what the filter actually removes.
Inline water filters require water pressure, so if the power is totally out (including to city water supply) the filter will stop working.
Smaller Filter Options for Personal, Camping, or Emergency Use
Although the Big Berkey purification system is semi portable, sometimes you might need something smaller and more portable.
For mobile filtering options, consider the LifeStraw or the Katadyn pocket microfilter. These are small enough to fit in a vehicle emergency kit or bug out bag.
Other options for emergency filtration include:
Big Berkey Review Conclusion
The Big Berkey meets the Common Sense Preparedness "dual use" rule. It is something you use every day and it becomes even more valuable in an emergency. If the budget allows it, we recommend that you get one, with an extra set of spare filters.
Either the Big Berkey and Crown Berkey are excellent.
Each individual Black Berkey water filter element will last up to 3000 gallons. Since the Big Berkey uses up to 4 filters, you can get 12,000 gallons per filter change. The larger Crown Berkey uses up to 8 filters, so that is a whopping 24,000 gallons before replacing filters.
Water filtration is a good compliment to emergency water storage, especially when local water supplies are tainted by flooding.
Related articles
We have dozens of articles on the site to help you with "everyday emergencies". They're all listed by category on the Common Sense Preparedness page. They include: