The Parsnip Squid and The Rock That Moves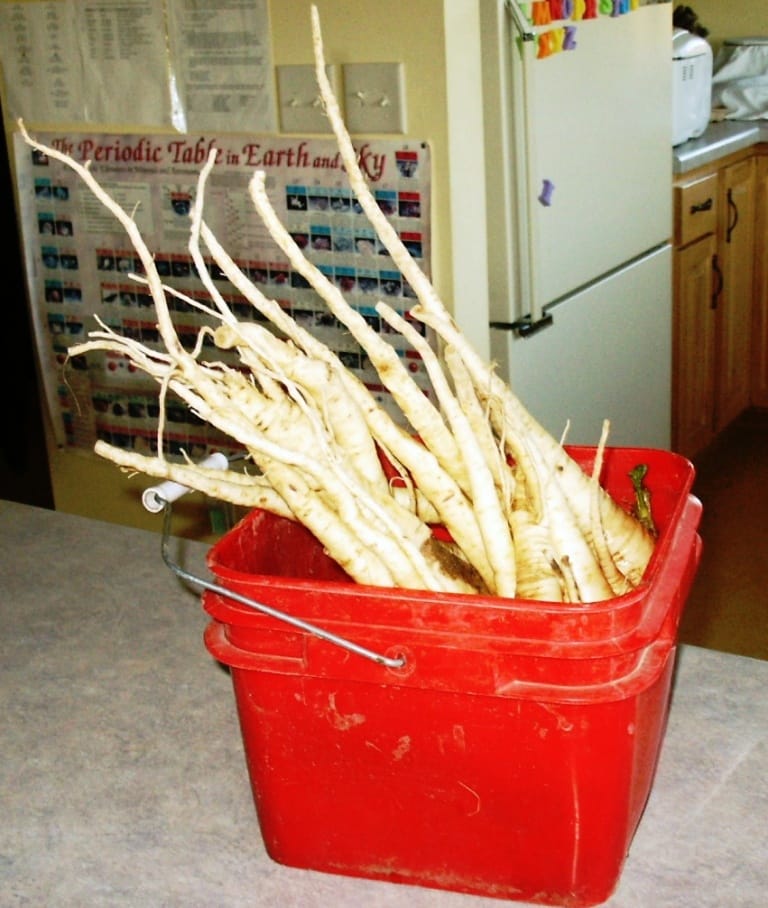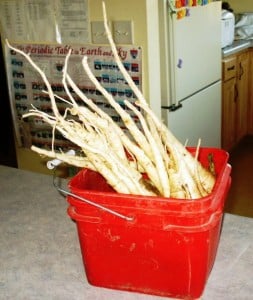 What is it? A creature from the deep? Captain Nemo's worst nightmare? Nope – just this year's harvest of parsnips posing as a parsnip squid.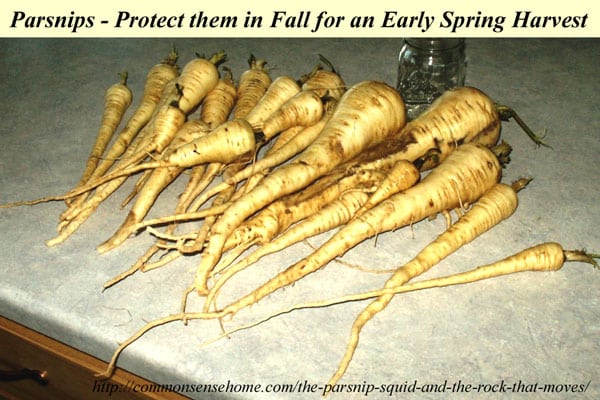 What I love best about parsnips is that they are ready to harvest when very little else is available. I always overwinter my parsnips (i.e., leave them in the ground over winter and harvest them in the spring). The freeze/thaw cycle converts more of their starches to sugars and makes them absolutely delicious. Come late March/early April, the boys and I head out to where we've buried the plants the previous fall under a thick layer of straw. My stepdad swore up and down that the ground wouldn't freeze if you covered it in this much straw, but mine surely did, so we had to wait to dig until the frost was gone.
It was my intention to post this sooner, but I figured it was still worth sharing, as many of you (like me) are planting your gardens. I'm hoping this might inspire you to give parsnips a try, if you haven't already.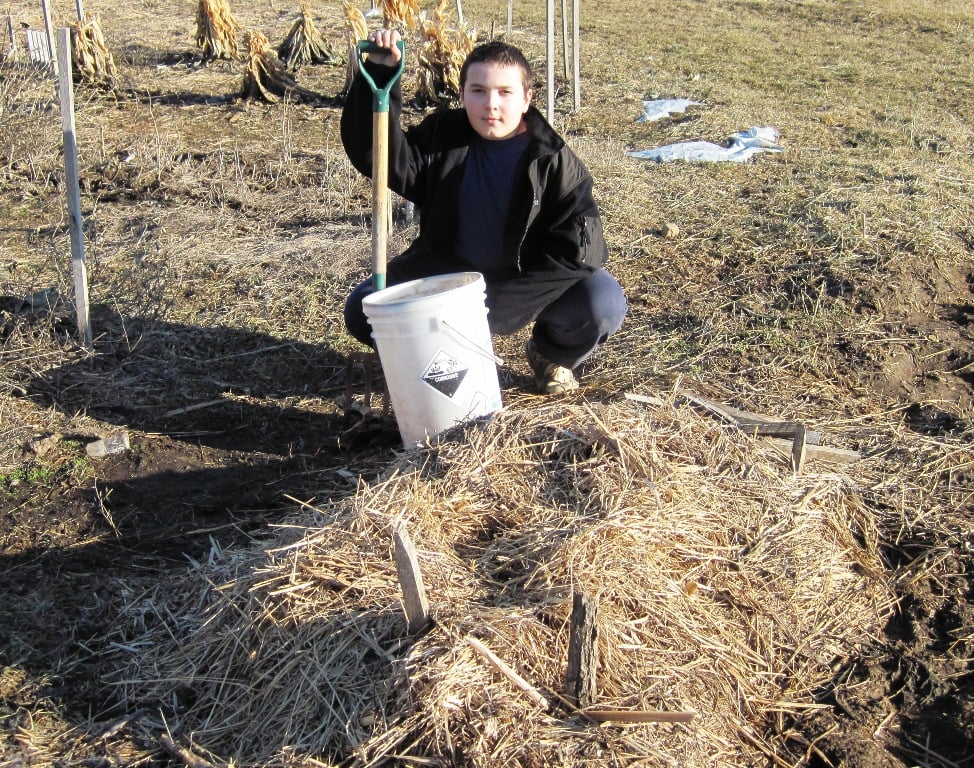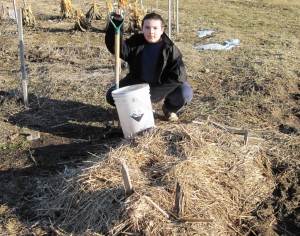 Once the straw is pulled back, you look for the first signs of greens poking out of the ground.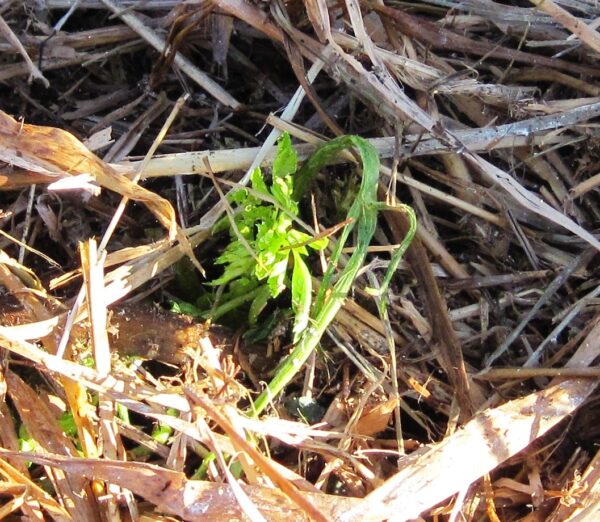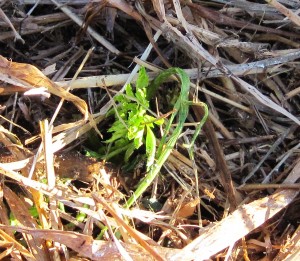 You want to make sure that you dig these up as soon as possible, because the goal of that root is not to feed you, but to send up a flower stalk and produce seeds. Once more leaves become visible, chances are that the sugars stored in the root are being used up and the parsnip will become tough, woody and bland. Parsnips can require some effort to get out of the ground, as they will send out very deep tap roots. This year we had several that were about as large in diameter as a mason jar (see second photo above) and about 2 1/2 feet long. The boys really had to dig to excavate these tasty treats.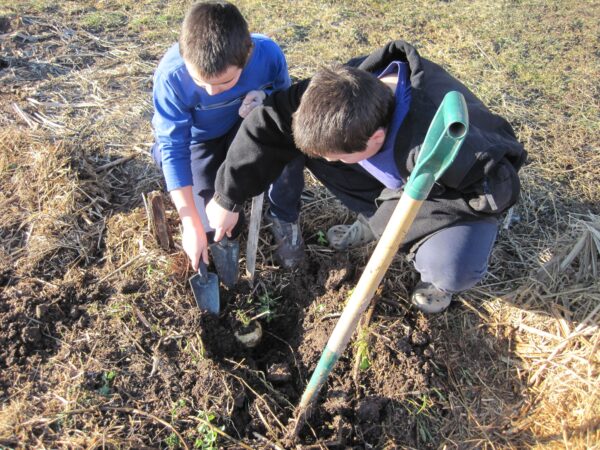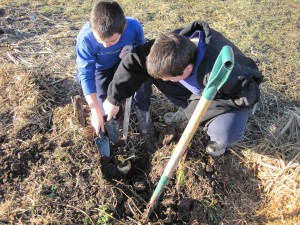 I usually just saute mine in some butter or coconut oil, but if you want to get fancy you can try out Andrea Chesman's recipes for Mapled Parsnips or Balsamic-glazed Parsnips in the Garden-Fresh Vegetable Cookbook.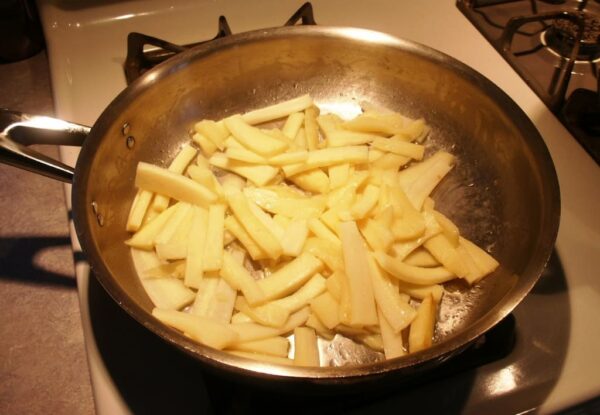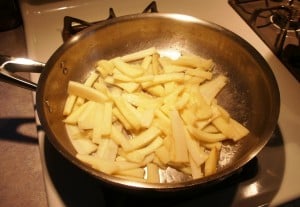 Once you dig your parsnips, you can hold them in the crisper drawer in the fridge for a couple of weeks, or you can cook them all up and freeze them in meal sized portions. They'll hold well in the freezer for several months. According to USA Gardener, "Parsnips are a good source of fiber, folate, magnesium, potassium, Vitamins C and E, calcium, iron, thiamin, riboflavin, niacin, and B6."
To grow your parsnips, plant the seeds about 1/2 deep in well-loosened soil (remember – deep roots). Keep soil moist until seedlings appear. Parsnips are slow to germinate (they can take around three weeks to emerge), and the germination rates drop significantly as the seed ages. If I don't have fresh seed (even if it's only one year old), I plant it as thick as the hair on a dog's back and thin the seedlings to about one every three inches, if needed. If you don't know what a parsnip seedling looks like, take a peek at West Side Gardener for a photo.
Oh, about the rock…we've had the cutest little tree frog hanging around our deck and greenhouse. He'll come at night and catch moths on the screen door, and during the day I've seen him regularly just sitting – oh so still – on the deck, where he blends in famously.