Growing Asparagus – Planting, Care, and Harvesting
Growing asparagus is a great way to add variety to your garden. As a perennial vegetable, asparagus comes back year after year. With proper care, a patch can last for decades.
We'll share how to grow and harvest asparagus, plus tips to keep your bed in top shape and how to find wild asparagus.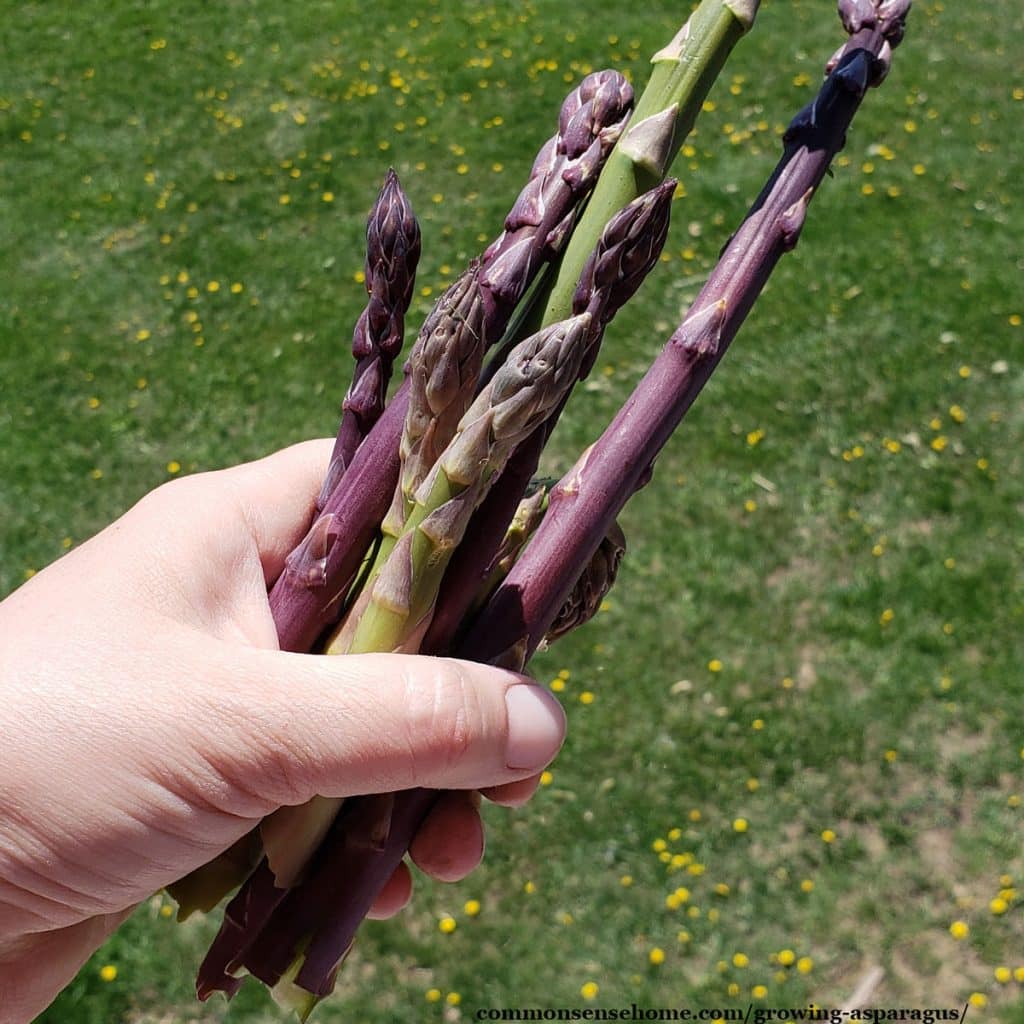 How to Grow Asparagus
Asparagus can be started from seed or crowns, but crowns (1 year old asparagus roots) produce quicker and are more reliable. Seeds may not grow true to type, and take a very long time to be ready to harvest.
Crowns are also available as all male or mostly male plants, which increases yield. (Female plants put energy into seeds, reducing vegetative growth.)
First, you need to decide on a location. With any perennial, you want to do a good job of preparing the planting area, since the plants will be there for many years to come. Asparagus can be grown in zones 3-10.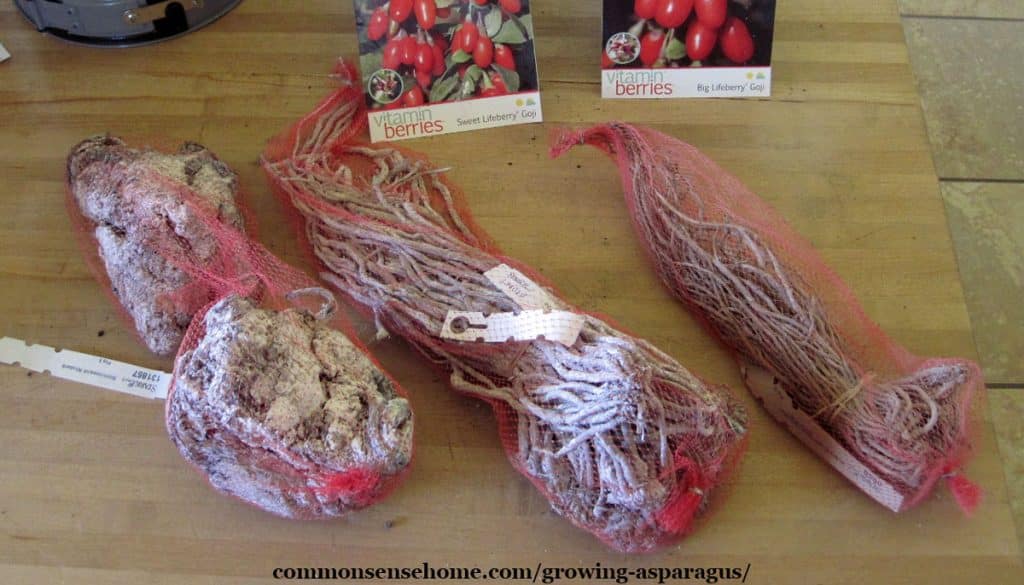 How long do asparagus beds last?
Your beds should easily last for 15 years or more with proper care. As noted, Laurie's neighbors have been harvesting from their patches for over twice that long.
When should I plant asparagus?
Plant asparagus crowns or transplants in the spring after danger of frost has passed. In Wisconsin, that's usually sometime in May, depending on what part of the state you are in.
Asparagus grows in USDA hardiness zones 3 to 8, so adjust your planting accordingly. This is one time when northern gardeners have an advantage, because asparagus likes cold winters and soil that doesn't get too hot.
Prepare the Planting Area
Asparagus needs:
Soil pH of 6.5 to 7.0 – Do a soil test. Add lime to increase the pH if needed.
Ample soil moisture, but not "wet feet"– Use raised beds where standing water may be an issue. If you plant in low lying areas, you may also lose spears to late spring frosts.
Sunlight – Try to plant where you have full sun (five or more hours of daylight exposure). The plants can tolerate light shade. If planting near other garden plants, place asparagus on the north side of the bed so that they don't block the sun for other plants as they mature.
Fertile soil – Add compost or rotten manure, and perhaps some rock phosphate powder to boost root growth.
Low or no weed competition – Smother, solarize or till to clear weeds and grass before planting. Ideally, prep future asparagus beds in fall for spring planting.
Space to Grow – Place the crowns 12 inches to 18 inches apart in rows that are 3 feet apart.
Planting Your Asparagus
Dig a trench 6 to 8 inches deep and 12 inches wide. Work in a generous amount of organic material such as compost or rotten manure into your planting trench. Place one year old crowns every 12-18 inches down the row. Cover with 2 inches of soil and water well.
As shoots begin to appear, fill in the trench with soil, leaving a few inches of the shoots exposed. Repeat as needed until the trench is level. It's important to plant at the right depth so the spears don't emerge too early in spring and get damaged by frost.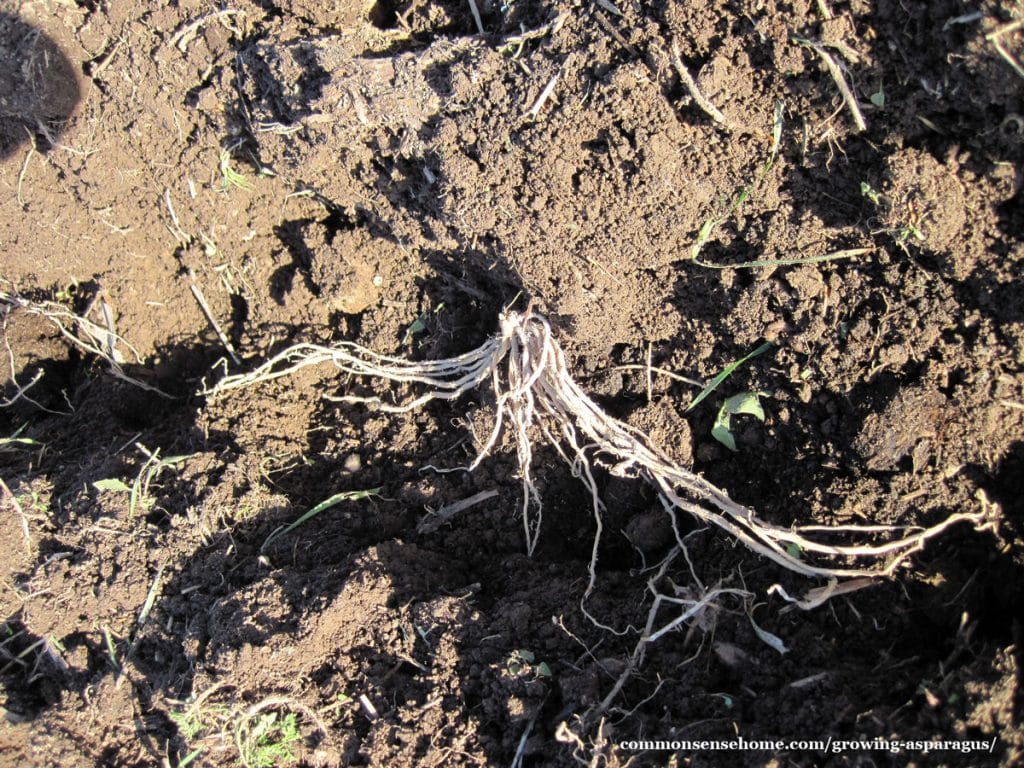 Caring for Asparagus Plants
Asparagus roots are shallow. Regular, even watering is important, especially during the first 3-5 years.
Asparagus spreads as is grows, and deep cultivation can damage the root system. Do not use a power tiller in your asparagus bed!
Try to remove weeds when they are small. Organic mulch such as leaves or straw can help keep the patch weed free and moderate soil moisture.
Pull back the mulch in early spring and dress the rows with 1-2 inches of compost. You may also wish to apply a complete fertilizer such a 5-10-20 at a rate of 1 pound to 10 feet of row.
Dress with another inch or two of compost at the end of the cutting season each year. The ferny growth of asparagus puts energy back into the roots for the next year's harvest.
Laurie's neighbor has some of his well-established asparagus patches right in his lawn. He mows them after picking to keep weeds short. This is a little rough on the asparagus plants, but is an option if you have a large, older patch and more than enough asparagus.
To winterize your asparagus bed, you can top dress with compost after the plants freeze and turn brown. (Or add compost in spring.) Trim back plants to ground level to reduce the risk of disease. (You can also do this in early spring before new shoots appear if you prefer.)
Cover the patch with 4-6 inches of straw or leaves. If mice are an issue, go light on the winter mulch.
Pest Control in Asparagus
Slugs and asparagus beetles may want to dine on your asparagus. Watch for eggs and beetles, and hand pick them into a container of soapy water. Ducks love to eat slugs, and won't bother the asparagus. You can read more about asparagus beetles at the University of Minnesota Extension.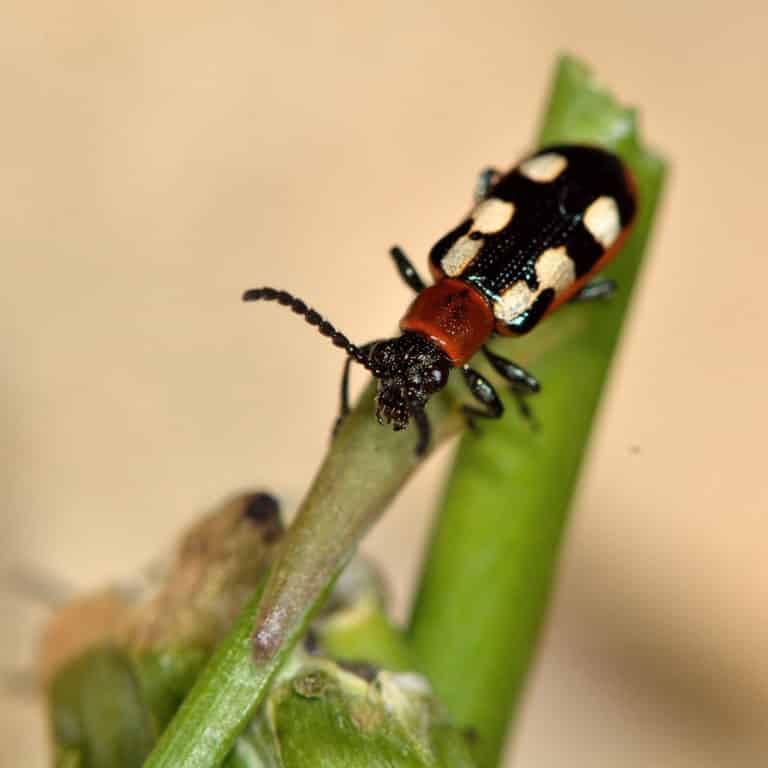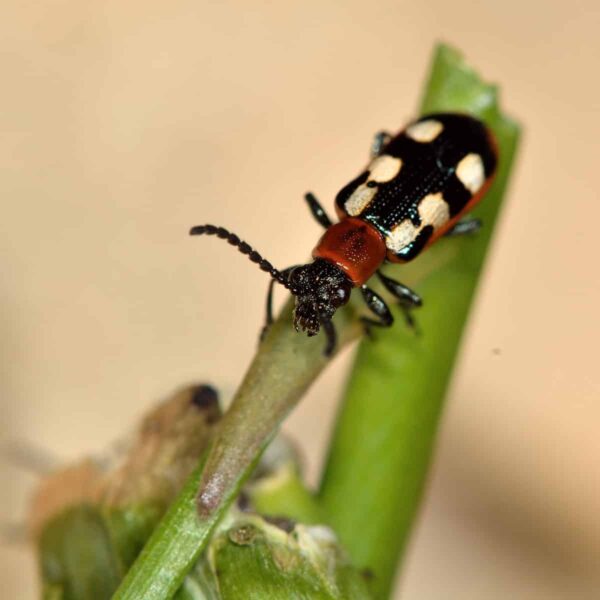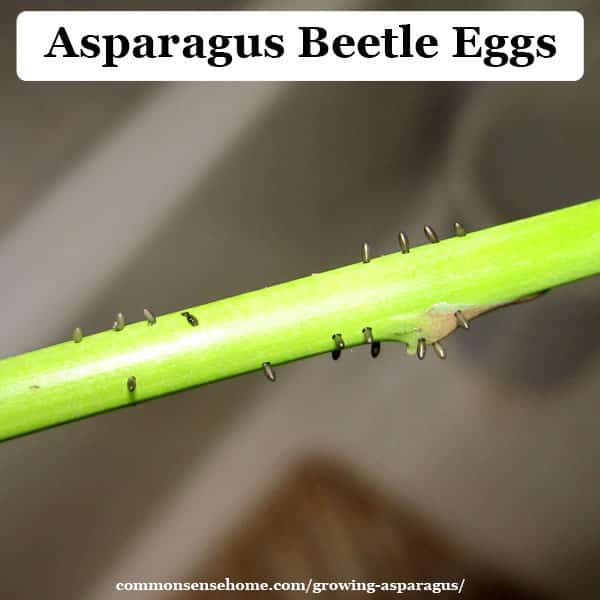 See The Ultimate Guide to Garden Pest Control for more tips.
When to Harvest Asparagus
If you've never had fresh picked asparagus – steamed, stir fried, or even raw – you've missed how good asparagus can be. The flavor is kind of like snap peas, but different in a good way.
Don't harvest any asparagus the first growing season. Let those plants put their energy into getting established. In year two, you can harvest a couple of stalks, but it's best to wait until the third year after planting for a bigger harvest.
Chose spears that are well developed but the tips haven't begun to open. Once tips start to open, the spear gets tougher.
Cut or break the spear near the soil line. Pick spears that are 6 to 8 inches tall and have the diameter the size of your index finger or larger. Skinny spears (pencil diameter) are often tough and woody.
Once you've collected your spears, cook promptly or refrigerate. Check out "25+ Healthy Asparagus Recipes Plus 4 Ways to Store Asparagus" for more information.
Harvest for about two weeks the third year, and add about a week each year until the harvest lasts six weeks. Stop harvesting when most of the spears are skinny and let the plants store energy for the next year. Allow the plants to mature and product fernlike 4-6 foot tall foliage.
How much asparagus do you get from one plant?
Yield varies significantly depending on growing conditions and variety grown. A general rule of thumb is around 10-12 plants per person for fresh asparagus, more if you want to preserve some of the harvest, too.
Asparagus Varieties
The biggest harvests come from hybrids that produce all male plants, which can double the amount of spear production. "Millennium" and "Jersey Giant" are heavy producing, mostly all male plants. Mary Washington is an heirloom variety bred for rust resistance.
White asparagus is simply green asparagus that is blocked from sunlight with dirt, mulch or shade cloth. It's milder in flavor than green asparagus.
Purple asparagus is purple when raw, but turns green when cooked. Look for varieties such as "Purple Passion" and "Sweet Purple".
Can you grow asparagus from store bought?
It's become a popular trend to grow garden plants from fruits and vegetables you buy in the grocery store, but that won't work with asparagus spears.
To grow asparagus from store bought, you need to pick up asparagus crowns (roots) at your local garden center or hardware store. Many mail order seed and plant companies sell them, too.
How Does Asparagus Grow in the Wild?
Asparagus grows wild where birds "plant" the seeds after they eat the fruit during the summer. Here in northwest Wisconsin, asparagus grows wild along fence lines and under power lines.
To find wild asparagus, look for mature plants growing along roads or while walking near sunny fence lines in summer or fall. Make a note of where you found the plants, and then come back in the spring.
At the base of the plants we see can new wild asparagus shoots popping up.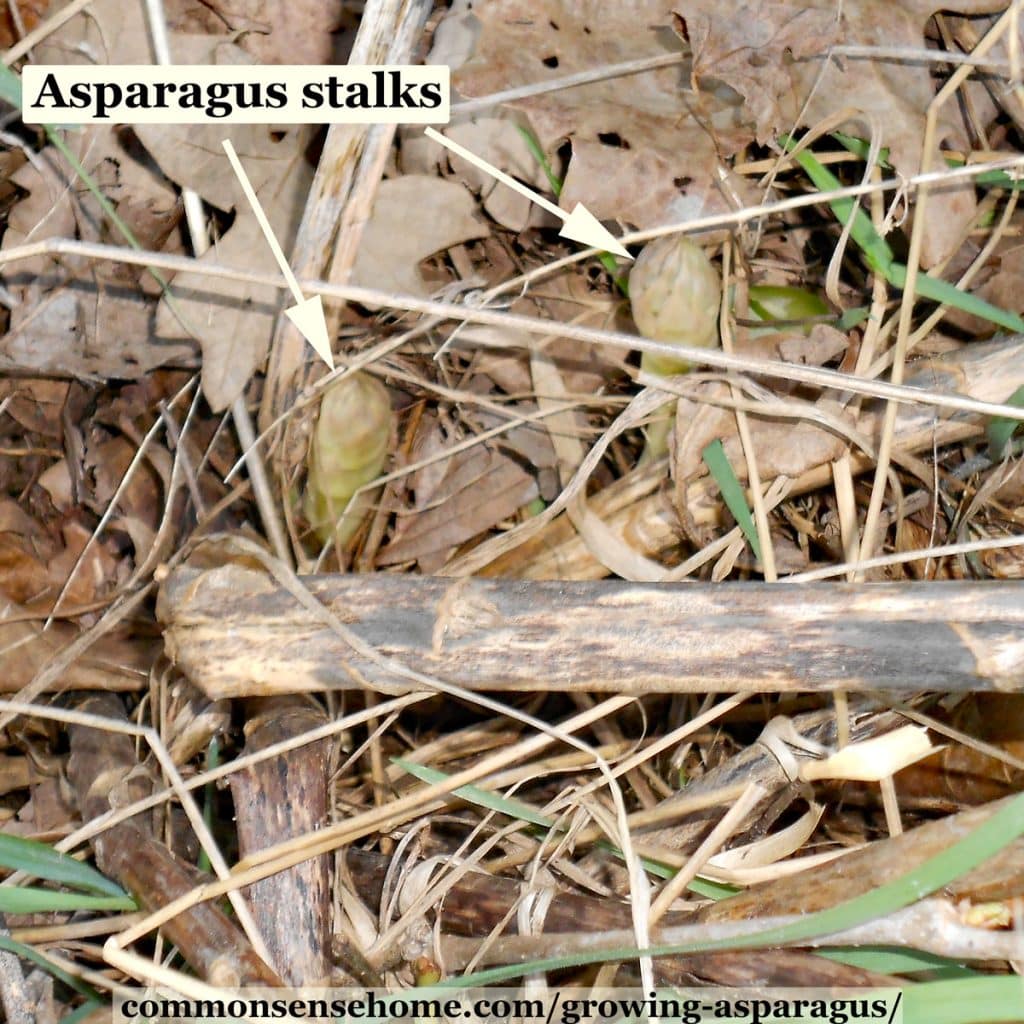 More Gardening Information
We have over 100 gardening posts on the site, all sorted by category on the Common Sense Gardening page.
They include: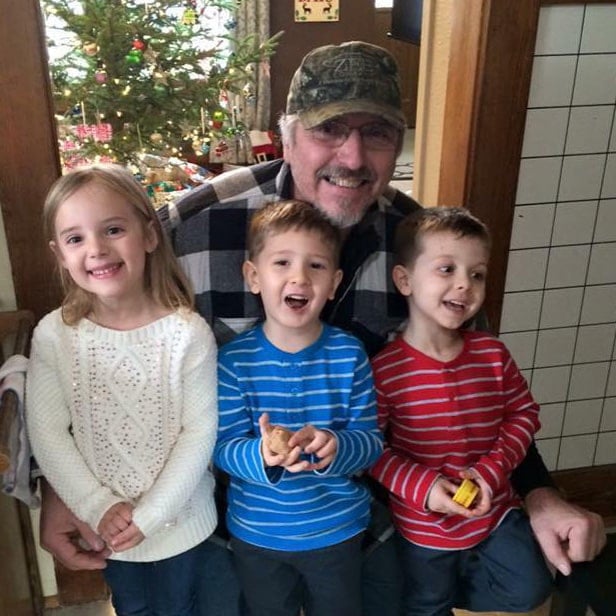 This post is by Laurie Neverman's brother, Richard Poplawski. Since his service in the Marines, Rich has been a mechanic, fabricator and "fix just about anything" guy for over 20 years.
He lives in northwest Wisconsin in the farmhouse that was owned by his grandparents, and maintains a large orchard and perennial plantings, as well as a vegetable garden. He loves spending time with his grandkids, introducing them to gardening or getting in some fishing with "Papa Rich".
Other posts by Richard Poplawski include: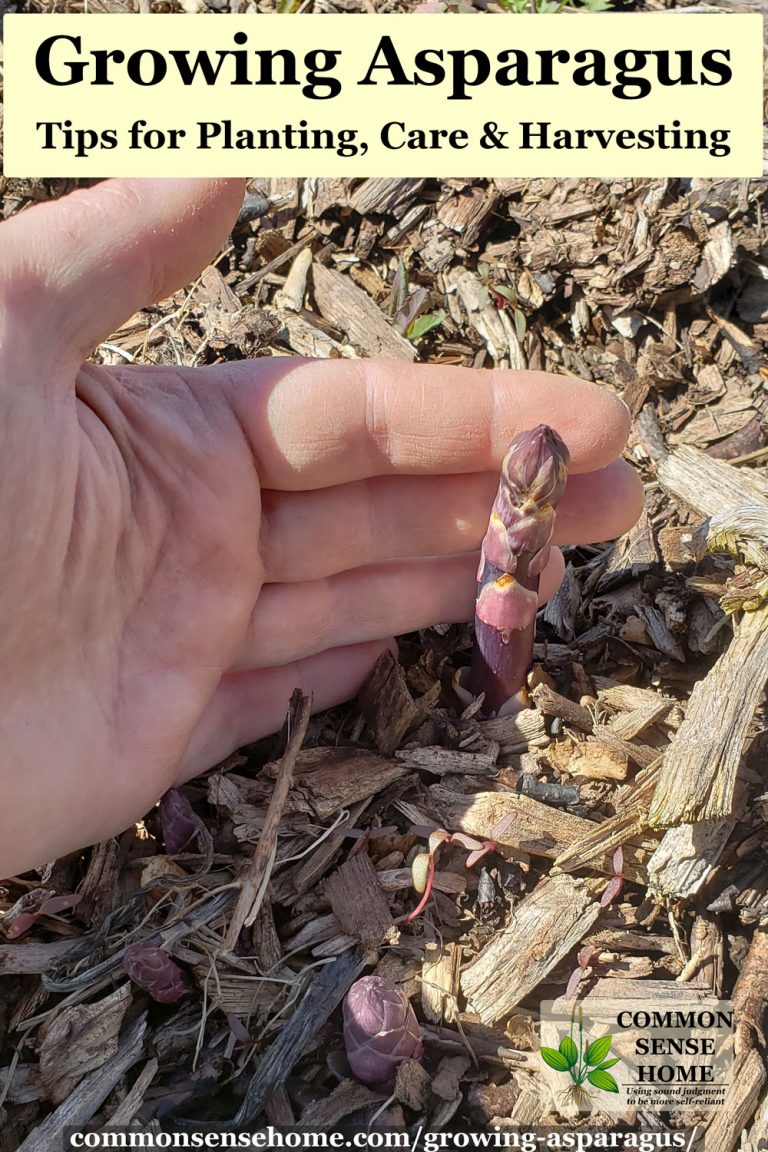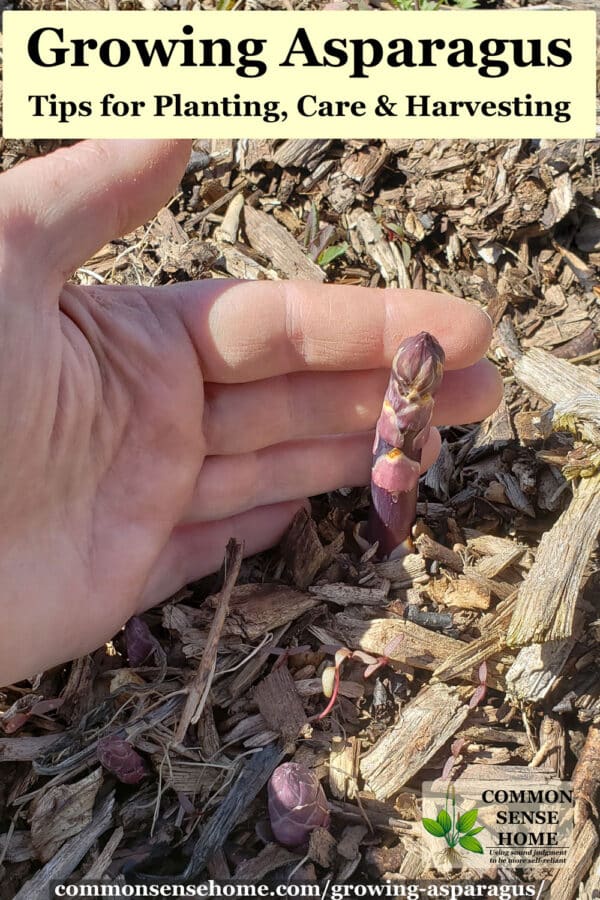 Originally published in 2012, updated in 2022.