Storage and Shelf Life of Over-the-Counter Medication
Most people give very little thought to the storage and shelf-life of over-the-counter medication, beyond keeping things out of the reach of children. If you have emergency medical kits, you may end up storing medications for longer periods of time.
How long is too long to store over the counter medication, and what's the best way to store it?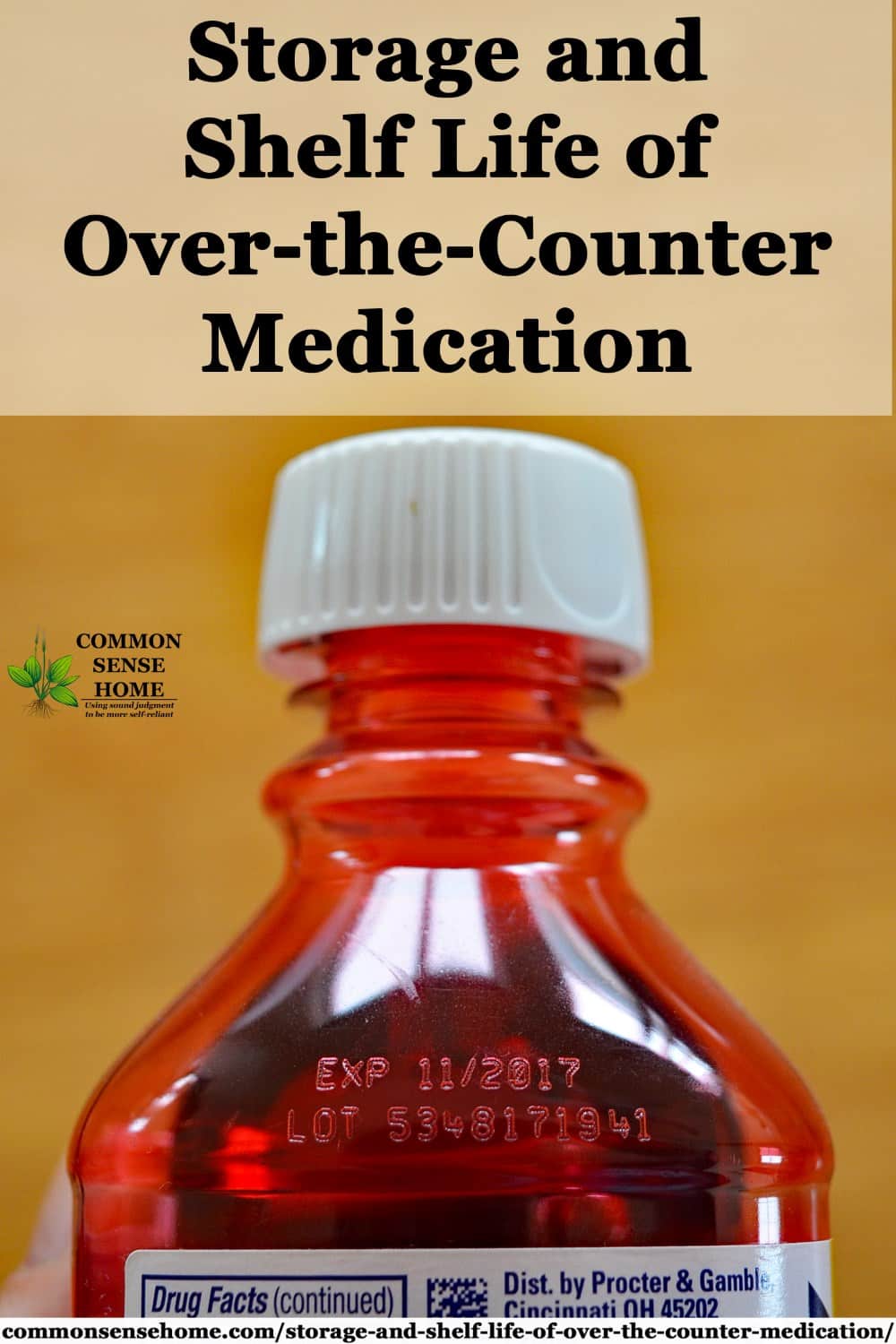 Storage and Shelf Life of Over-the-Counter Medication – How Long is Too Long?
Medicines, like food products, have an expiration date on their packaging. The expiration date on medication is the date beyond which the manufacturers can no longer guarantee full effectiveness or safe usage.
Generally, over-the-counter medicines should have a shelf life of around four or five years. This means they should last around that long after the date they are purchased.
Many people throw food out once after its 'use by' date, as it is no longer guaranteed safe to consume. The same thing ultimately applies to medicine.
Once beyond the expiration date, manufacturers cannot be held legally responsible for any damage the medicine does to you. They can no longer guarantee the medicine will actually do what it is supposed to do.
Should you throw medicine out as soon as it reaches its expiration date?
The answer is somewhat complicated but – not necessarily.
Research carried out by the U.S. Army Medical Materiel Agency suggests that most over-the-counter medication remains stable for several years after reaching its expiration date, assuming correct storage procedures have been followed.
Mayo Clinic recently published an article, "Extending Shelf Life Just Makes Sense". They concluded that most medications, properly stored, remain viable well beyond their listed shelf life.
"The best evidence indicating that medications can last longer than their labeled expiration date comes from the Shelf Life Extension Program (SLEP)…
Whereas the shelf life of most medications in the United States is 1 to 5 years, the average additional extension length by SLEP was 5.5 years, and some lots were extended by more than 20 years."
Best Storage to Increase Shelf Life of Over-the-Counter Medication
Correct medication storage typically requires the medicine to be kept somewhere dry, away from extreme temperatures and below 77° F (25° C).
A cabinet, cupboard or medicine box is ideal for this purpose.
Store medicine in its original packaging and keep it sealed prior to use. Tablets that are packaged in blister packs are still classified as sealed, even if the outer packaging has been opened.
If you open medicine in a bottle, use it before it reaches the expiration date. Open bottle means exposed to air, and exposed to air equals possibility of microbial contamination.
Generally, even years after the expiration date, most medicines will be safe to consume, but may be less potent.
For instance, if you have a headache and you find acetaminophen tablets that are a year past their expiration date, it's safe to take them. They will most likely help, but they may be less effective than normal.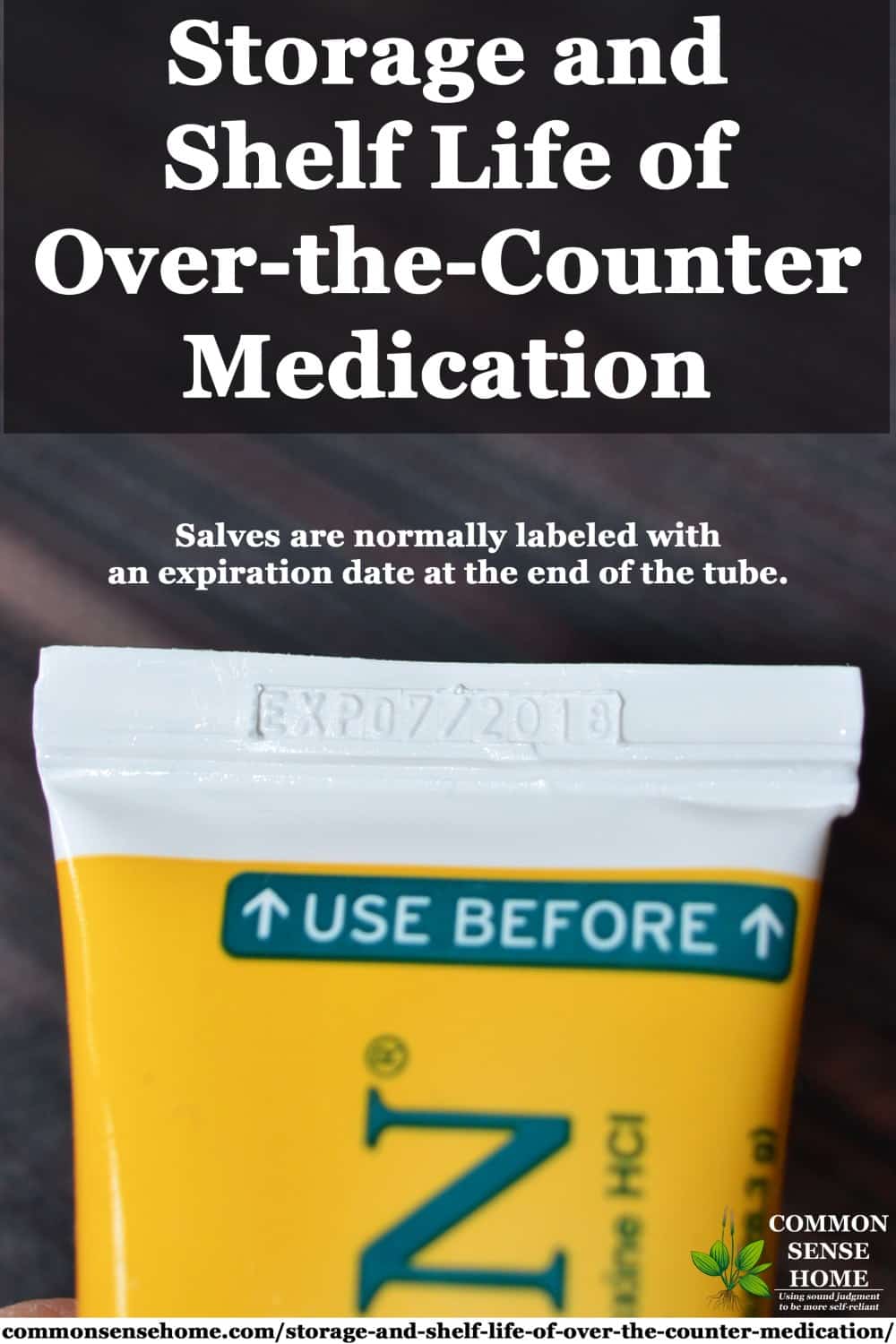 Which Medications Should NOT be Taken Past Their Expiration Date
For the most part, medicine will remain safe to consume past its expiration date, however, there are some exceptions.
Don't ever use insulin, eye drops and antibiotics beyond their expiration date.
These medications typically have a discard date which kicks in once they are opened. Do not use any medicine with a "discard date" beyond this date, under any circumstances.
Avoid using liquid medications after they expire. (Tablets and capsules are more stable than liquid medications.)
Don't use medicines that have been exposed to light, heat, or moisture beyond their use by date.
Further Medication Safety Precautions
Although taking medicines such as acetaminophen or diarrhea capsules beyond their expiration date is acceptable as a last resort, it is still not recommended. Use these items only in an emergency situation, where no other possible alternatives exist.
You should safely dispose of old medication (see FDA safe medicine disposal guidelines) and replace it as soon as possible.
Potency and effectiveness of the medicine may decline after it reaches its expiration date.
That said, it is still vital that you stick to the recommended dosage for any medicine. Don't try to compensate for this loss of effectiveness by exceeding the recommended dosage. If in doubt as to whether your medicine is safe to consume, avoid doing so and check with a pharmacist.
Other Medical Equipment and Medication Options
If you want to stock up on band-aids, rubber gloves or other items that tend to become brittle or lose their adhesive with age, consider vacuum sealing for longer storage.
Also, honey lasts for an extremely long time in storage, and is an effective treatment for many conditions. See "Honey as Medicine – Prevent Infection, Kill Bacteria, Promote Healing" for more information.
The Herbs and Wildcrafting page and Weekly Weeder series can help you learn to use herbal alternatives.
Stay safe and use good judgment.
Other Preparedness posts you may also find useful:
Originally published in 2012, last updated in 2020.