Self Watering Planters – DIY Demo, How They Work, Tips for Use
Self watering planters make growing any potted plant easier. In this post, we'll explain how they work and answer some common questions. We'll also show you how to make them, and share tips for using the planters. Don't have time to make your own? We also list some popular ready made planter options. Let's get started!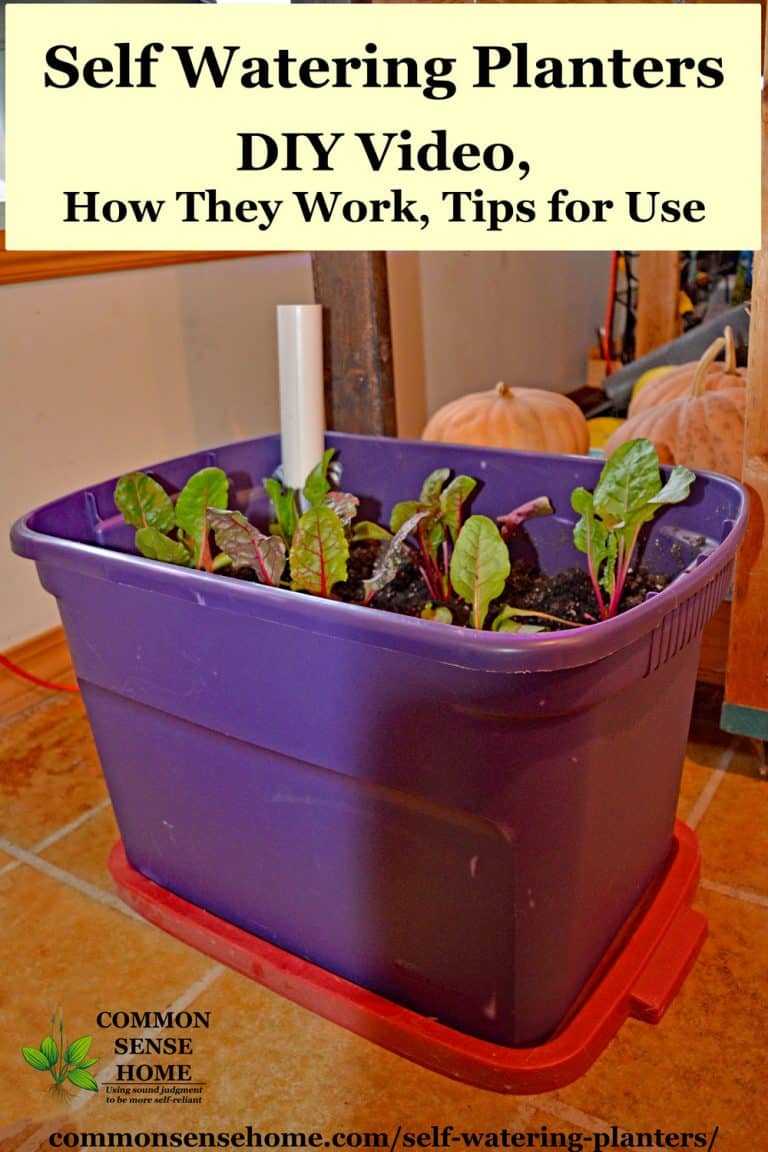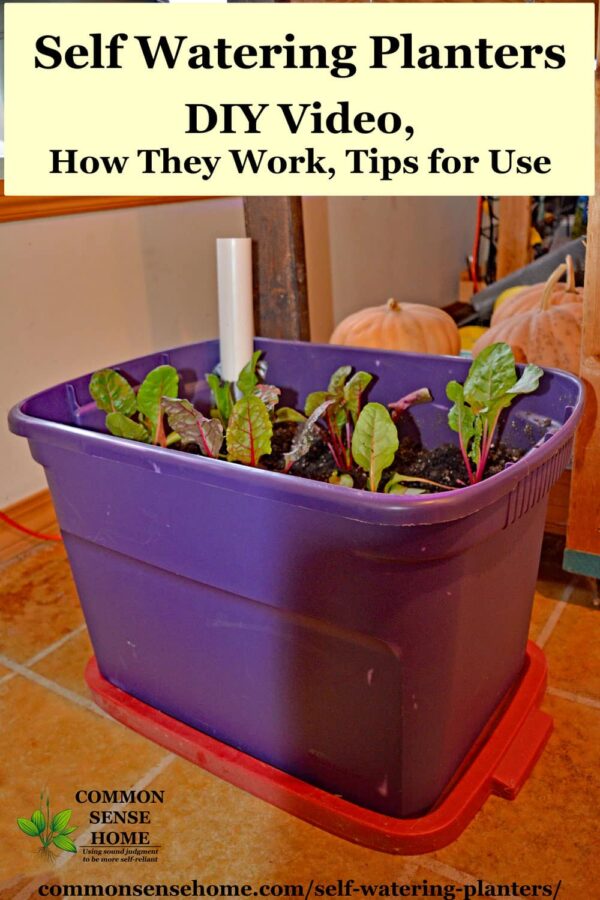 Do Self Watering Planters Really Work?
Yes – but you have to use them correctly.
A "self watering" container doesn't actually water itself. It is a watering system using planters that contain a reservoir of water at the bottom. This reservoir connects to the area where the plant is with a soil "foot" or a fabric "wick".
With a soil foot system, the plants send roots down into the foot, and draw up as much water as needed. In a wick system, water is drawn up the wick via capillary action into the soil of the main pot. Either way, if there's water in the reservoir, the plants have access to water. This allows you water less frequently and still have healthy plants.
When you first fill your planter, make sure the soil is evenly moist. Water from above until plants have a chance to establish a strong root system. With larger containers (especially outside), adding mulch prevents the soil surface from drying out too quickly. This improves planter performance.
After your plant is settled in, simply add water as needed to keep the water level in the reservoir topped off and you should be good to go.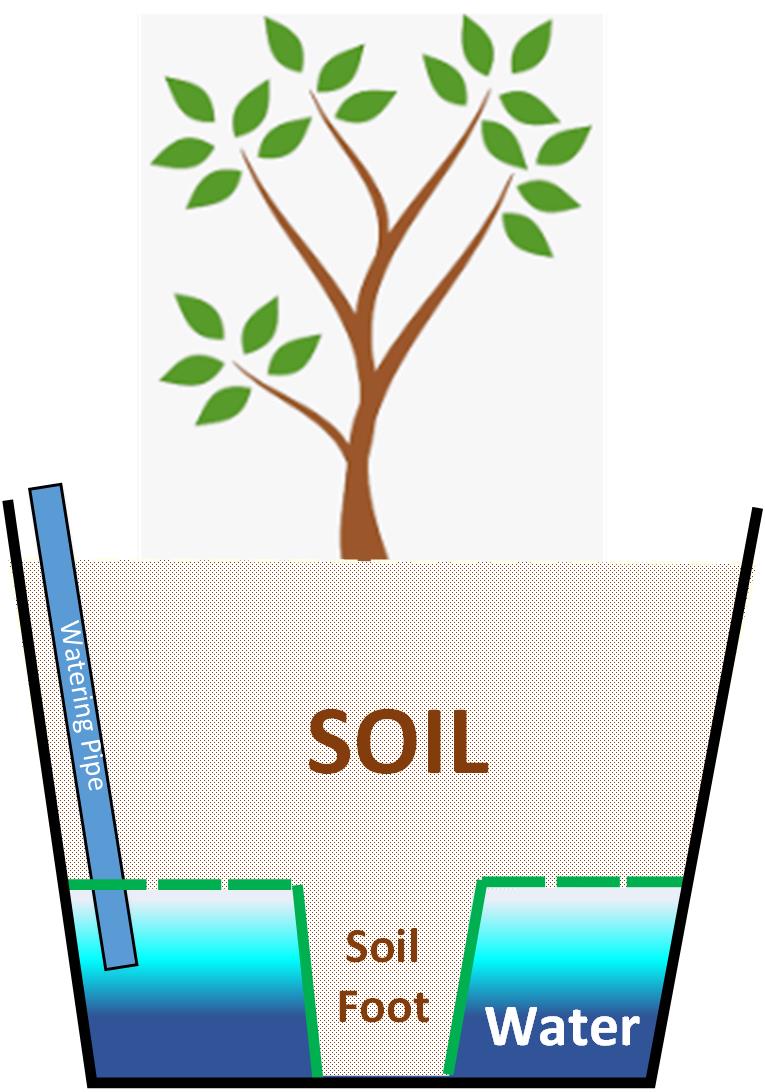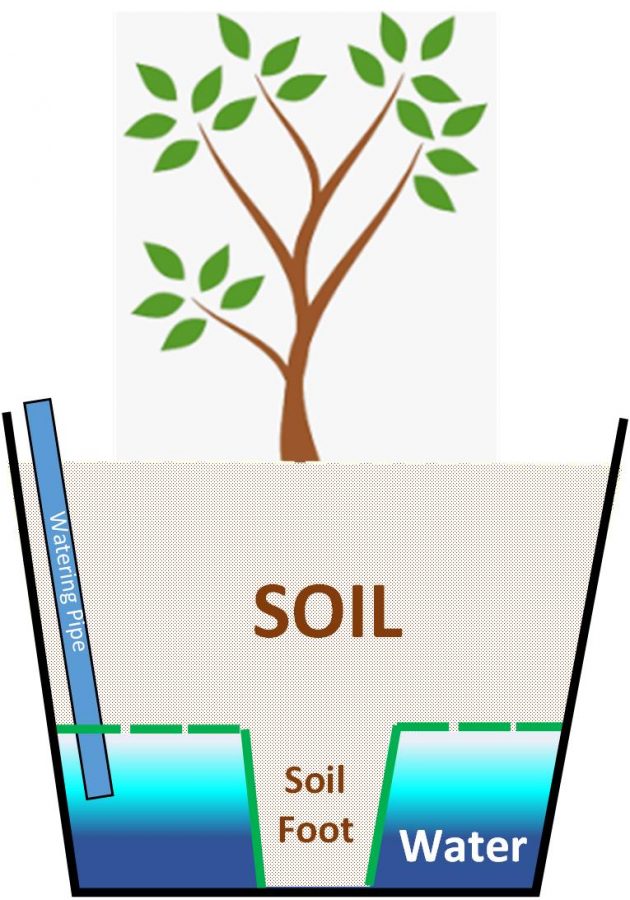 Are Self Watering Planters Good?
I'm a fan! Self watering planters are good for a wide variety of plants – from a vigorously growing tomato plant in a patio garden to petite house plants. Just find the right size and style for your expected plant growth, and you're set. With a growing interest in urban agriculture, these pots offer a great "first gardening experience" for new growers.
There's no chance of accidentally drowning a plant, unlike with closed pots or containers that sit in a drip tray. If you accidentally add too much water, it comes out the overflow drain. (You may want to add a drip tray if you have a habit of adding too much water, or set your container outside when you water.)
Are Self Watering Pots Good for Succulents?
Maybe. If you want to use a wicking self-watering container, it's not a great fit, because they rely on keeping the soil moist. If you want to use a soil foot type, that will work. Just make sure to let it dry out between waterings. It's also helpful to limit the size of the soil foot to reduce soil moisture. (See below.)
DIY Self Watering Planters
I prefer the soil foot design, so that's what we'll cover here. To make your own self watering planter, you need:
container(s), such as a plastic storage tub, or set of 5 gallon buckets
small basket, pot, or strainer for the soil "foot"
watering pipe
wood blocks or other supports
burlap, mesh or landscape fabric to screen the watering pipe
screws and duck tape
a drill, a utility knife, and possibly a saw
I found a used storage bin at the thrift store for $3. After the holidays is also a great time to look for deals on containers. You need a container with a lid, or two identical containers to nest one inside the other. Remember, our goal is a built in reservoir under the soil that the plant is in, with a soil foot down into the reservoir.
For the soil foot, we used an old nursery pot with drainage holes, trimmed so that about an inch stuck out above the bottom of the plant chamber. Whatever you choose, make sure it has holes so the water gets in.
Our watering pipe is a 2″ diameter PVC pipe. If you prefer not to use PVC, substitute your tube of choice. The tube diameter needs to be wide enough for you to pour water in.
The video below demonstrates assembly. If video doesn't load, make sure you are not running an adblocker.
Container Assembly
Cut the lid so it fits snugly inside the container at the width of your blocks. If you use 2×4 lumber on its side, this is 3.5 inches. Next, cut the hole for the soil foot and a spot in one corner for the watering pipe.
Attach wood blocks to the underside of the lid with screws.
Cut watering pipe to fit. Remember, it needs to stick up past the level of soil and mulch. Cover both ends of the pipe with burlap to keep out bugs and soil. (Slip off cover for watering, if needed.) Secure watering pipe into corner with duck tape to hold it in place until you are ready to fill the planter.
Set the lid into place in the bottom of the self-watering container. Fit the pot (or basket) for the soil foot in place. Close any gaps around edges with duck tape or wadded burlap. We want to keep the soil above the lid and in the soil foot, not leaking into the water reservoir.
Drill or punch two drainage holes in the side of the container, just above the level of the reservoir. This allows for drainage in case of overwatering or heavy rains.
Fill the foot with damp soil, packing it in tightly. Fill the rest of the container with good potting soil. Note that most garden soil is too heavy for container plantings, so soil mixes work best.
Plant veggies, flowers or herbs, or a mix, and water well from the top. Top dress with organic fertilizer or compost, if desired. Cover soil with mulch to retain moisture.
Give plants a week or two to get established in their new home by watering from above. Once they are settled in, water using the watering pipe.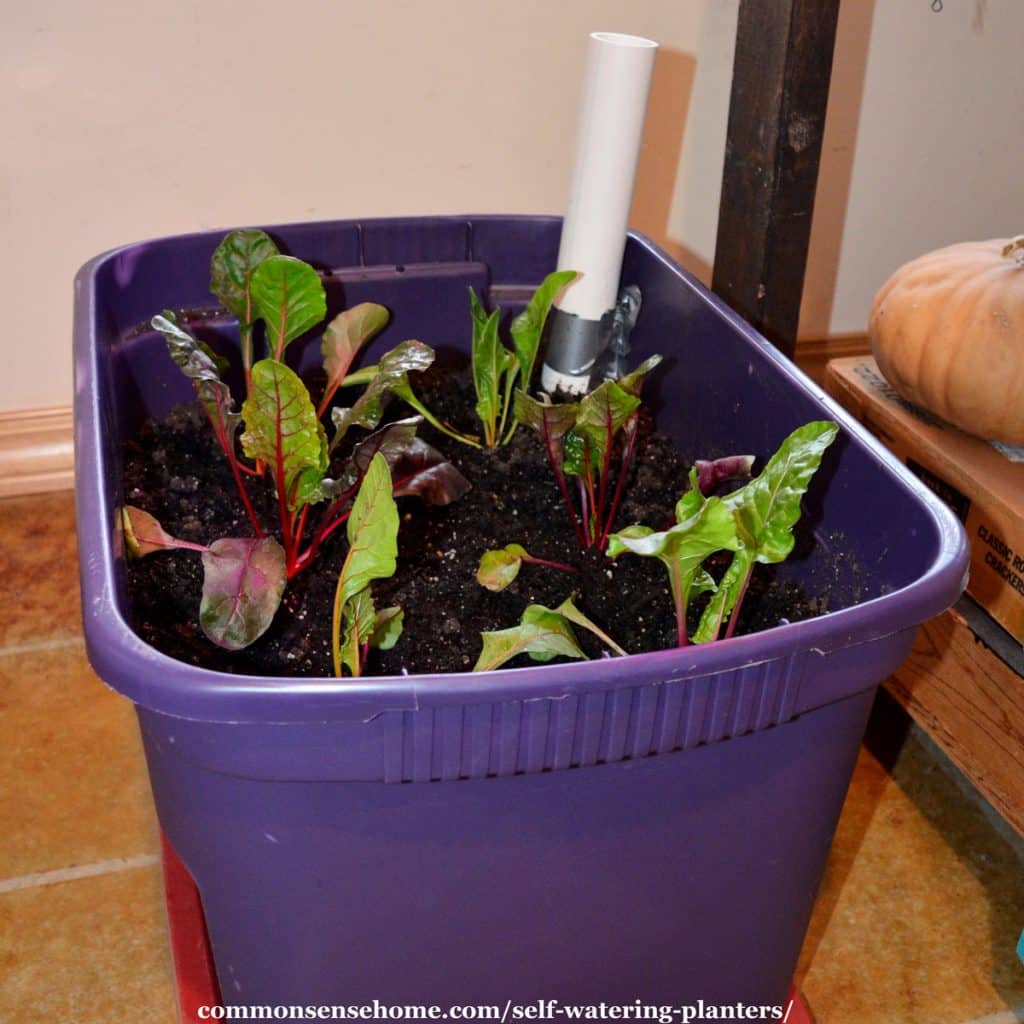 Tips for Root Veggies, Potatoes and Other Plants That Prefer Drier Soil
Some plants have more issues with disease problems if the soil is too wet, including root vegetables like carrots and tubers, like potatoes. Succulents kept in wet soil will develop root rot in short order. You can still use a self-watering planter with these plants, but there are a few things you should keep in mind.
Limit the size of the soil foot to 10-15% of the base to reduce water flow to the plants.
Used a lighter soil mix, or add a little sand to your base mix, to limit wicking action.
Allow the reservoir to to dry out between waterings.
Popular Self-Watering Planter Options
From smallest to largest, here are some of the top rated self-watering containers from Amazon.
Lucca Self-Watering Planter, 12-Inch
I have a couple of these planters. They're light and easy to move, plus you can see the water level via the overflow port. The twelve inch size is great for smaller flowers, herbs or veggies.
Vegetable Planter Box with Trellis
Large enough for several mid sized plants or a combination of short and vining plants. This would make a great patio planter for those with a protected growing area. It includes wheels, so you can relocate if needed without lifting.
CedarCraft Self-Watering Elevated Cedar Planter (23″ X 49″ X 30″)
For those who prefer a raised bed growing system, this CedarCraft self-watering planter is naturally rot resistant and minimizes back and knee strain. It has a 6 gallon reservoir with water level indicator.
Whichever planter you choose, remember that plants like to have at least as much area to grow below ground as above ground. It's easy to stuff a container too full, and then end up with overcrowded plants as they mature. Our garden planner kit has recommended spacings for common garden vegetables.
What's Your Favorite Way to Grow in Containers?
I love self watering containers. We used purchased containers for years, but our homemade version is a fraction of the cost and is working just fine. The Swiss chard we planted in it is taking off. With our winds, self watering containers are the best option to keep plants for drying out. They also help keep my houseplants alive when it goes a wee bit too long between waterings. (I confess, we have plants all over the house and I sometimes forget the ones tucked in the out of the way corners.
Do you use container gardening? If so, I'd love to here your stories or tips about what works best for you.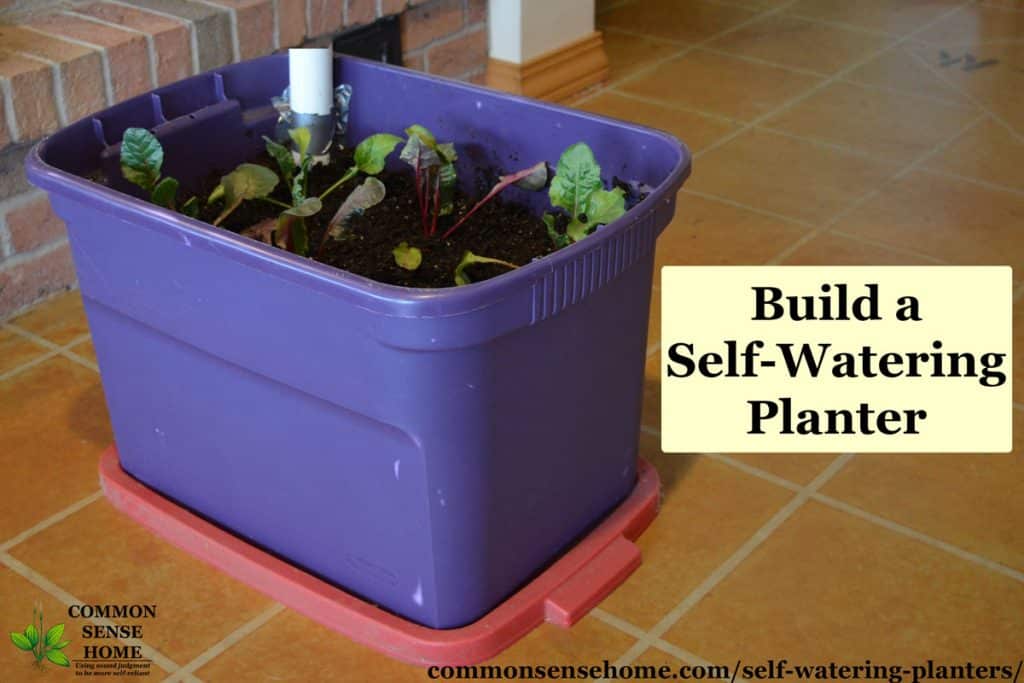 More Gardening Tips
We have over 100 gardening articles on the site, listed and sorted by category on the Common Sense Gardening page. They include: