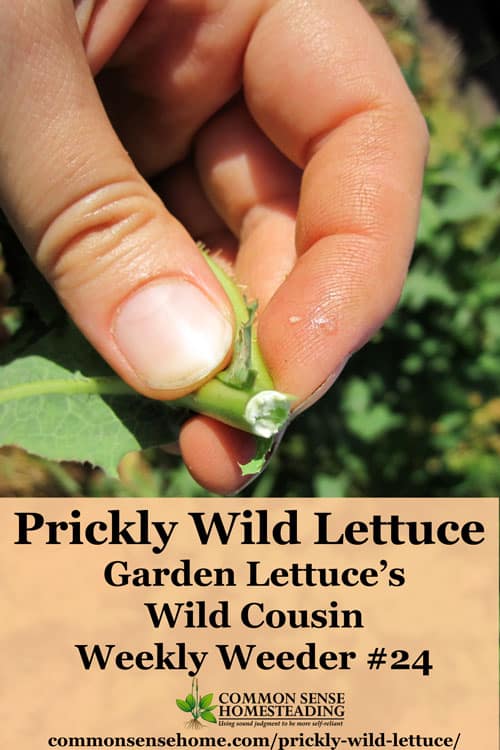 Today's featured plant is Prickly Wild Lettuce, Lactuca serriola.
Prickly Wild Lettuce is also known as opium lettuce, wild lettuce, wild opium, horse thistle, China lettuce and prickly lettuce. Its medicinal properties are similar to Lactuca virosa, which is also known as wild lettuce.
Range and Identification of Prickly Wild Lettuce
Prickly wild lettuce is native to Eurasia,but has naturalized throughout most of North America, and also Hawaii. (See map below adapted from the USDA Natural Resources Conservation Service Plants Database.)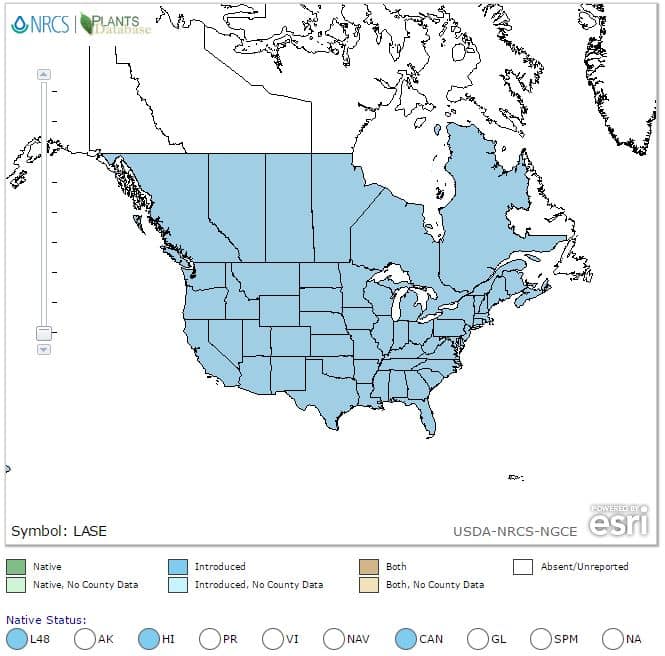 You can find wild lettuce mostly in disturbed soils, such as vacant lots, along roadsides, in dumps and other waste areas. Lactuca Serriola prefers full sun and tolerates dry soils. Survival, Tracking and Awareness of Australia has some great photos showing exactly how durable this plant is.
The plant is an annual or biennial, growing 2-7′ tall. Leaves are attached in an alternating pattern to a central stalk, and are up to 12 inches long and 4 inches across. They are simple lobed leaves, getting smaller as they move up the plant. Wild prickly lettuce has a distinctive line of spines or prickles on the underside of the leaves, running up the midvein. The leaves themselves are slightly prickly, mainly underneath. They can be handled without significant discomfort – they only poke a bit. Once dried, they are more prickly.
Prickly wild lettuce blooms from mid-summer to fall. Flowers are small and yellow,  about 1/3″ across and 1/2″ in length – somewhat like a skimpy dandelion flower. Flowers have between 5 and 20 toothed petals. Multiple flowers are produced on each plant, and an individual plant can stay in bloom for about a month. The plants produce a white, milky sap.
Prickly wild lettuce is similar in appearance to perennial sowthistle. The primary differences are the line of midvein spines on the underside of the prickly wild lettuce leaf, and the flowers. Sowthistle flowers are fuller and more like dandelion flowers in appearance. Prickly wild lettuce flowers are somewhat skimpy looking by comparison. Wild lettuce also has a taproot like a dandelion, whereas sowthistle has a system of runners – more like quackgrass.
Wild Lettuce as Wildlife Habitat and Animal Fodder
Illinois Wildflowers states: "The nectar and pollen of the flowerheads attract various kinds of bees. The caterpillars of a few species of moths eat the foliage, including Cucullia intermedia (Intermediate Cucullia). The foliage is bitter-tasting and not a preferred food source for mammalian herbivores, although cattle and White-Tailed Deer occasionally eat it."
Weeds – Control Without Poisons notes that chickens and pigs both relish wild lettuce as a green. The bitter flavor comes through in milk, so it's best to eliminate it from dairy pasture if possible.
Is Prickly Wild Lettuce Edible?
These plants are the ancestors of garden lettuce, and the young leaves are bitter but edible. Eat leaves raw or cooked. As the plants mature, the bitterness becomes more pronounced and they get downright unpleasant to eat. Dry conditions also make the leaves more bitter. (This is similar to dandelion leaves.) The texture of the leaves is similar to spinach or a hardy lettuce (with prickles), so excess cooking will make the leaves very mushy.
Plants for a Future shares that the young stems can be cooked and used as an asparagus substitute, and the seeds can be refined to produce an edible oil. The oil is also used in soap making, paints, and varnishes.
Medicinal Uses of Prickly Lettuce
General medicinal information from Plants for a Future:
The whole plant is rich in a milky sap that flows freely from any wounds. This hardens and dries when in contact with the air. The sap contains "lactucarium", which is used in medicine for its anodyne, antispasmodic, digestive, diuretic, hypnotic, narcotic and sedative properties. Lactucarium has the effects of a feeble opium, but without its tendency to cause digestive upsets, nor is it addictive. It is taken internally in the treatment of insomnia, anxiety, neuroses, hyperactivity in children, dry coughs, whooping cough, rheumatic pain etc.

Concentrations of lactucarium are low in young plants and most concentrated when the plant comes into flower. It is collected commercially by cutting the heads of the plants and scraping the juice into china vessels several times a day until the plant is exhausted. This species does not contain as much lactucarium as L. virosa. An infusion of the fresh or dried flowering plant can also be used.

The plant should be used with caution, and never without the supervision of a skilled practitioner. Even normal doses can cause drowsiness whilst excess causes restlessness and overdoses can cause death through cardiac paralysis. The fixed oil from the seeds is said to possess antipyretic and hypnotic properties. A homeopathic remedy is made from the plant. It is used in the treatment of chronic catarrh, coughs, swollen liver, flatulence and ailments of the urinary tract.
Using Dried Leaves
The Holistic Herbal suggests pouring one cup of boiling water over 1-2 teaspoons of the dried leaves of Lactuca virosa and allowing them to infuse for 10-15 minutes. (Lactuca virosa has similar but more concentrated medicinal properties.) This infusion can then be consumed up to three times daily. When we were clearing out one of the garden beds, I harvested enough to fill up the dehydrator. I let it dry overnight at low temp (95F) until crisp, and then stored it in a tightly sealed canning jar for later use.
As noted above, use with caution. I have herbal training and feel confident in using it in small doses.
Always check with your doctor before using any herbal preparation, especially if you have a known medical condition and/or are on any prescription medication. Do not use if you are nursing or pregnant. Any medical information on this website is for informational purposes only. Exercise caution when using any wild plants and make sure you have positively identified the plant.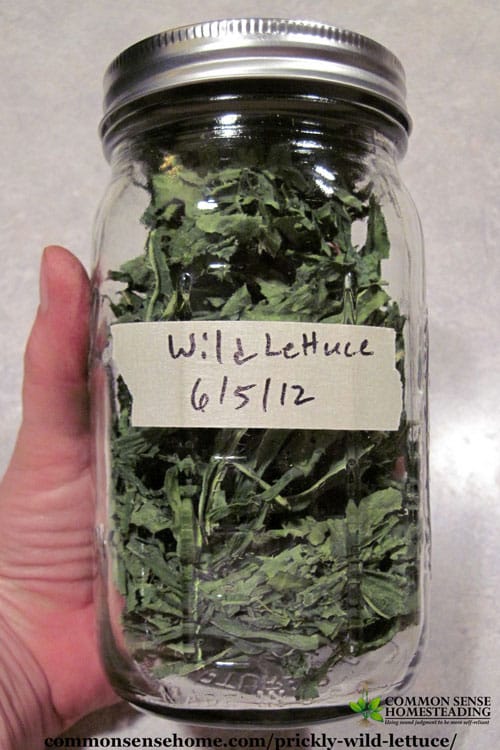 Getting Rid of Wild Lettuce in the Garden, Landscape or Field
In The Gardener's Weed Book, Barbara Pleasant notes that the best control methods are those that catch wild prickly lettuce when it's young. Like dandelions, it spreads many seeds, so catch it before it flowers out. It has a taproot, again, like a dandelion, so cut young plants just below the surface with a scuffle hoe. Older plants, like dandelions, will resprout from root stumps. Heavy mulch will smother plants.
Weeds – Control Without Poisons states:
(Wild prickly lettuce will be found where there are) low aerobic activity, hardpans, crusted soil, low pH, etc. Calcium is always too low when prickly lettuce arrives. Magnesium is high, as is potassium. High manganese and iron releases also figure.
So – work to aerate your soil and improve the amount of organic matter, and considering liming the soil to improve calcium levels.
Please Like, Pin or otherwise share this post if you would like the Weekly Weeder series to continue.

You may also find useful:
The Herbal Academy offers many excellent courses and resources for those who would like more detailed plant use information, including their herbal fermentation course linked below.
Originally published in 2012, updated in 2017.