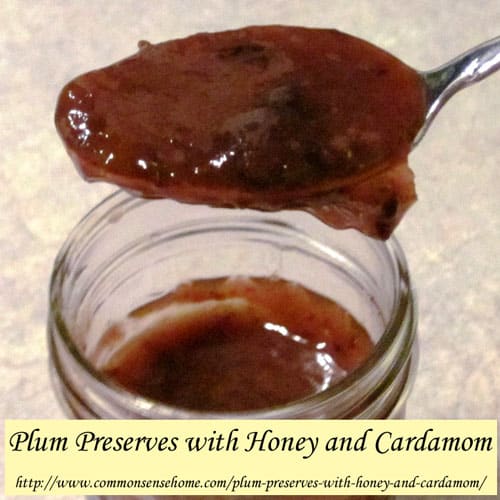 This year I'm experimenting with using less refined sugars, so I thought I'd try sweetening a plum jam with honey. I wanted to incorporate cardamom, too, as I felt the flavor would complement the plums. A quick internet search came up with "Honey Plum Preserve" on Foodbuzz (now taken down). I'll share the recipe here, along with my own notes.
Print
Plum Preserves with Honey and Cardamom
Scale
Ingredients
5 cup

s of plums, chopped and pitted

2 tbsp

of freshly squeezed lemon juice

2 tbsp

orange juice

1

packet powdered fruit pectin

1 cup

wildflower honey

1/2 tsp

cardamom powder (optional)

1/2 cup

water
Instructions
Cover the bottom of a saute pan with honey. Place over low heat to warm the honey. Then add the chopped plums, and let them cook for 8-10 minutes, tossing them over to evenly coat them with the honey.
Bring the mixture to a boil over low heat, stirring frequently. Add the lemon juice, orange juice and the cardamom powder and mix well. Now go ahead and add the water, and let it boil.
Keep removing the white foam that forms at the top of the jam while cooking. When the mixture appears soupy and slightly thick, increase the heat to bring the mixture to a full, rolling boil.
Once it becomes syrupy, the jelly is ready. As it cools down, it will transform into the sticky but thick jam texture that you are used to eating. Some people like it chunky, while others prefer it more even. If you fall in the second category, pass the fruit preserves through a sieve or colander, pressing hard to extract as much pulp as possible. Your jam is ready at this point, to eat right out of the pot!
Notes
The original recipe didn't say when to add the pectin, or what type of pectin to use. Plums have some natural pectin, so if you have a plums that are less ripe you may not need commercial pectin. My plums were very, very ripe, so I figured I would need some. I did a gelling test to see if the mix of honey and chopped plums would set.
To do a gelling test, take a tablespoon of alcohol and drop in a tablespoon of the liquid you are testing. Let it sit two minutes. If a firm blob forms, it has enough pectin. If not, you need to add pectin. I did not get a blob, so I mixed in standard powdered pectin to the honey and plums, because that's what I had on hand. I also added a teaspoon of butter to the fruit to reduce foaming.
The ratio of sweetener to fruit is very low in this recipe, but the added lemon and orange juice makes it fairly acidic, which should help to preserve it. I packed my boiling jam in very hot jars and processed them in a water bath canner for 10 minutes. I ended up with about 4 1/2 cups of jam. The partially filled jar went into the fridge. The flavor is good, tart and spicy, almost a bit like a chutney. My only question right now is how long will it keep? I guess we'll find out, if it doesn't get eaten first.
You may also enjoy our other jam and jelly recipes:
Currant Almond Jelly with No Added Pectin
Low Sugar Strawberry Jam and Strawberry Banana Jam Sweetened with Honey
Strawberry Banana Jam and Strawberry Rhubarb Jam
Lemon Ground Cherry Jelly
Elderberries – How to Make Syrups and Jellies
Plum Rum Nutty Conserve
Peach Jam Two Ways – Peach Vanilla and Fuzzy Navel
Red Raspberry Jelly
Violet Jelly
Lilac Jelly