We live in northeast Wisconsin, just minutes away from the Door County peninsula, where you'll find one of the biggest tart cherry producing areas in the U. S. We usually go picking and fill the freezer every two years. Our favorite cherry picking spot – Cherry Lane Orchard – has a deal where you get the seventh bucket free if you pick six, which is a LOT of cherries. We stocked up last year, but we had family visiting this year who wanted to go picking, so we headed up yesterday. I was talking to my niece about how to pit the cherries, and she had never heard of the method we use. This was passed down to us with much ceremony the first year we went cherry picking, back in the 1990's. We had my mom and nephew with us, and had picked a whole mess of cherries – two five gallon buckets of them. As we were paying the bill, the orchard owner asked how we were going to pit them. Never having picked before, we had no idea. (Worry about it later, right?) She leaned in close, and told us she would share the secret of the world's cheapest cherry pitter.
Then she grabbed a paperclip off the desk, unfolded it, and proceeded to demonstrate how to quickly and easily pit a big pile of cherries. We've used the method ever since for the bulk of the cherries we process. We did get a couple of other pitters for the boys to use, as much as to keep them interested in the pitting process as anything else – boys like gadgets, and paper clips are not terribly exciting. I'll show those a little later in the post. So – without further ado, a quick video on how to use a paper clip to pit a cherry.
The World's Cheapest Cherry Pitter
Ta-da! Many people use a hair pin in the same way, but today's hair pins are often made quite cheaply and the coating comes off.
Here are the other options to keep the boys entertained while pitting.
The scissor type cherry pitter: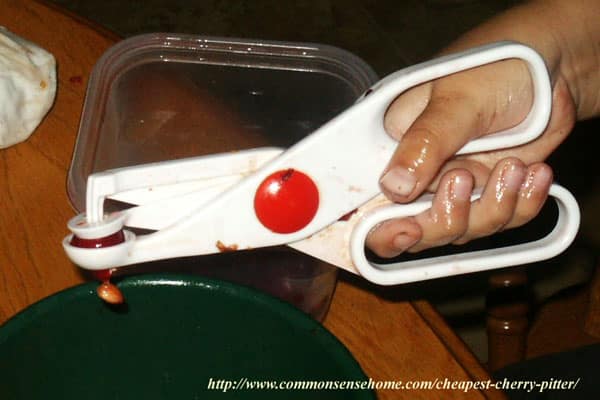 Cooks Illustrated liked the Prepworks From Progressive International Cherry-It Multiple Cherry Pitter/Slicer, which looks like a stapler and pits four cherries at once. My friend, Laura, who lives in the heart of Michigan cherry country, recommends the Leifheit 37200 Cherrymat Cherrystone Remover, which is a plunger type with a bin below to catch the pits.
Once our own cherry trees start producing, I may invest in a higher volume pitter, but for now, the simple paper clip solution works just fine.
P.S. Yes, this is the real color of the tart cherries as they come off the tree. A couple friends asked when I posted pictures. 🙂