Nitecore UMS4 Battery Charger Review
We use and recommend the Nitecore UMS4 battery charger. It's a 4 bay charger that works quickly and reliably and doesn't heat up the batteries. We discuss features and basic operation.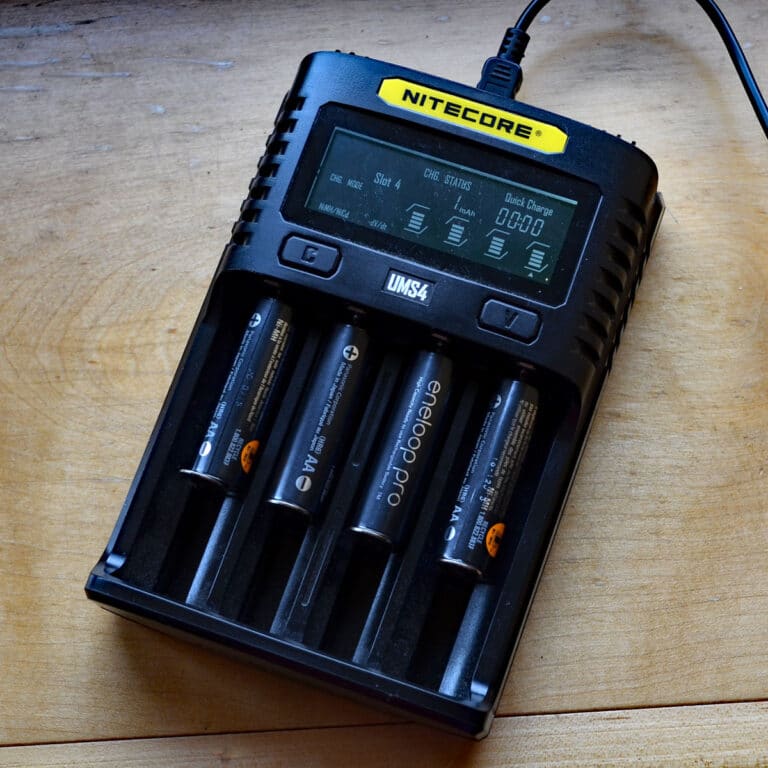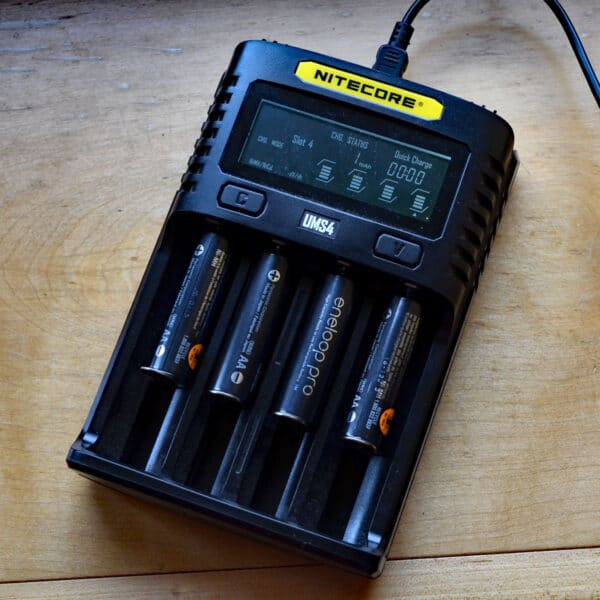 The UMS4 charges most common battery types, including:
NiMH (nickel metal hydride)
NiCD 1.2 volt
3.7 volt Li-ION (lithium ion) batteries
It charges common battery sizes including 18650, 16340, 14500, 21700, AA, and AAA.
It uses USB for its power source, and does support QC 2.0+ if you have a QC (quick charge) power supply. There are only two buttons to change settings and display information, which takes a bit to get used to, but it's fairly intuitive.
It does NOT charge 1.5v LiION AA/AAA rechargeable batteries. Those require a dedicated chargers that match the specific battery.
Using the Nitecore UMS4 Battery Charger
The NITECORE UMS4 Intelligent USB Four-Slot Fast Charger is really easy to use.
Plug it into a good USB power source, preferably QC 2.0
Put the batteries in that you want to charge, and the charger automatically detects the battery and starts charging.
Wait
When it says "Full", it is done, and you can take the batteries out.
Optionally, if using older batteries, read the displays to see if the battery needs to be retired.
Press the C button to move between slots.
Press V to cycle through status info screens for the battery in that slot.
The LCD display shows real time charging information and is easy to read. It shows battery health, charging time, charged volume, charging current, battery voltage and type, cut-off voltage and charging mode. The unit has an energy saving function that dims the display after 10 minutes of no interaction.
The charge speed is comparable to other USB powered chargers such as the XTAR VC4S. The qc mode allows a bit more mAh per slot, to allow batteries to charge faster than they would with standard USB.
Examples of the Charge Status Display
Charge Status Display – status/voltage display
"Full" indicates the charge process is complete. The battery voltage is also noted (sample screen below).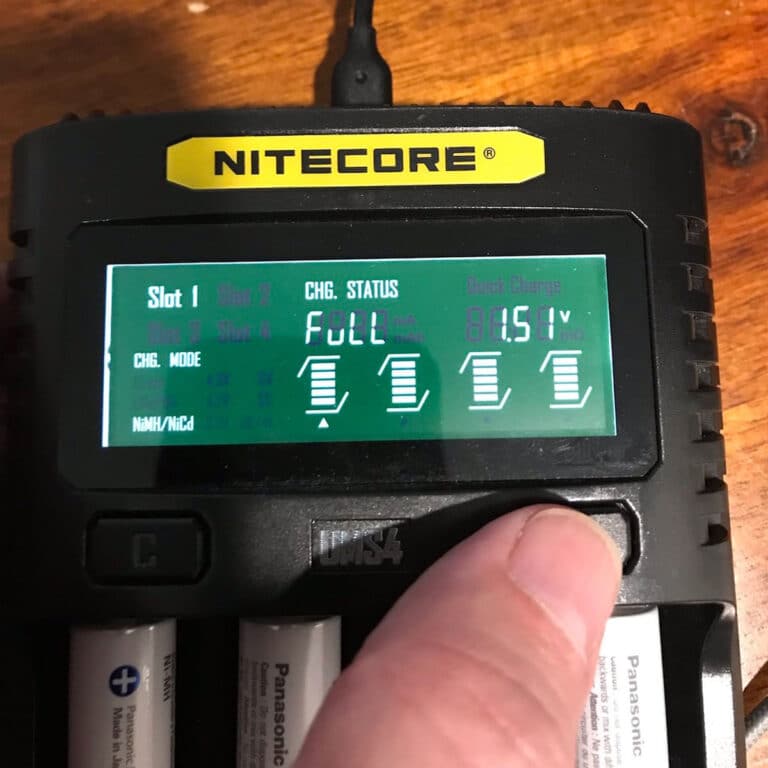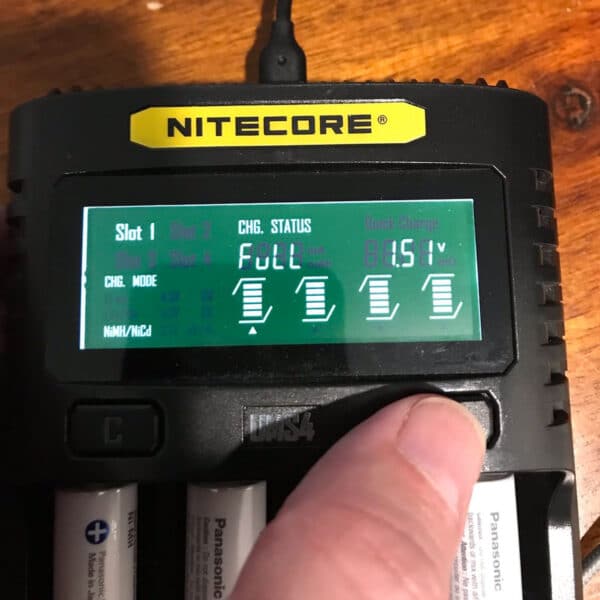 Charge Status Display – mAh
Note: This is the mAh (mili-amp-hours) used to CHARGE the battery. This does not represent the capacity of the battery, unless it was completely discharged.
The displayed time shows how long it took to charge the battery in that slot (sample screen below)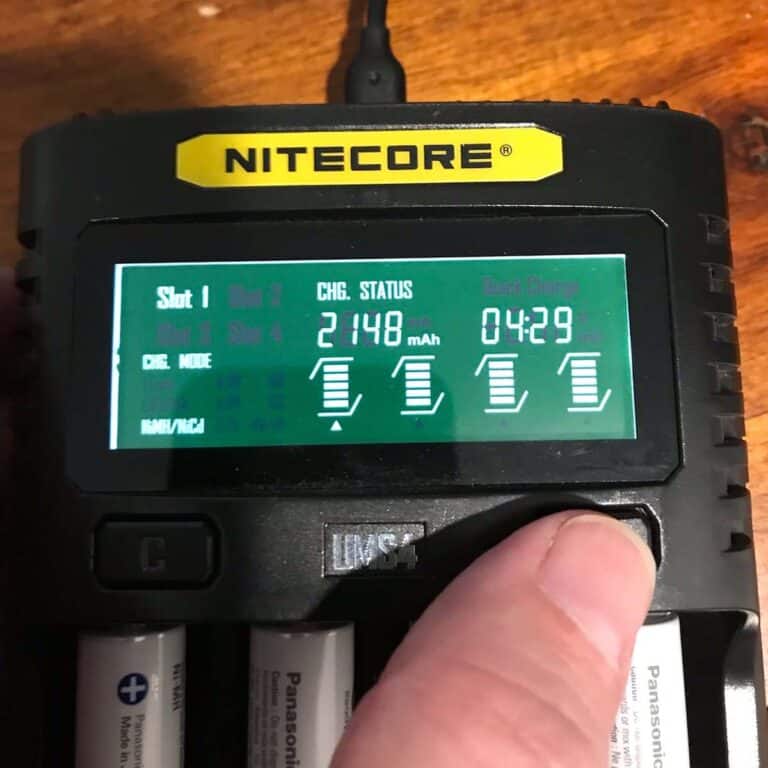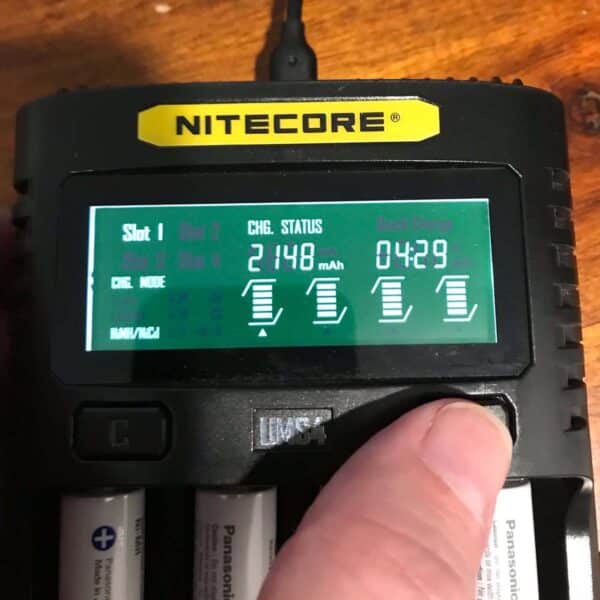 Charge Status Display – Internal Resistance
The Nitecore UMS4 battery charger measures the internal resistance of batteries. As long as it is below 250, it will show as "good". It tells you when you need to retire old batteries.
This works whether they are 1.2v or 3.7v. In this case the internal resistance is 117. (sample screen below)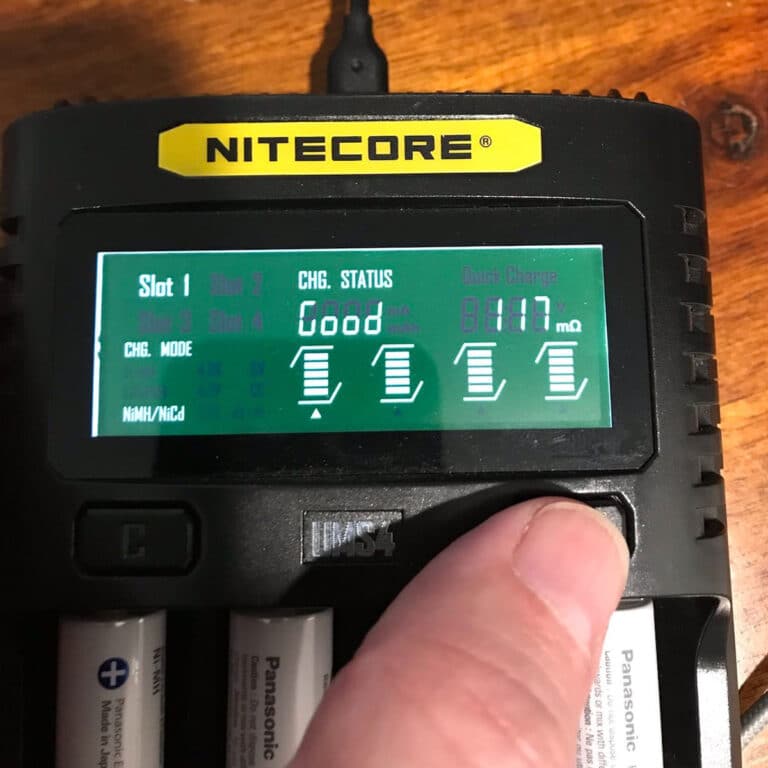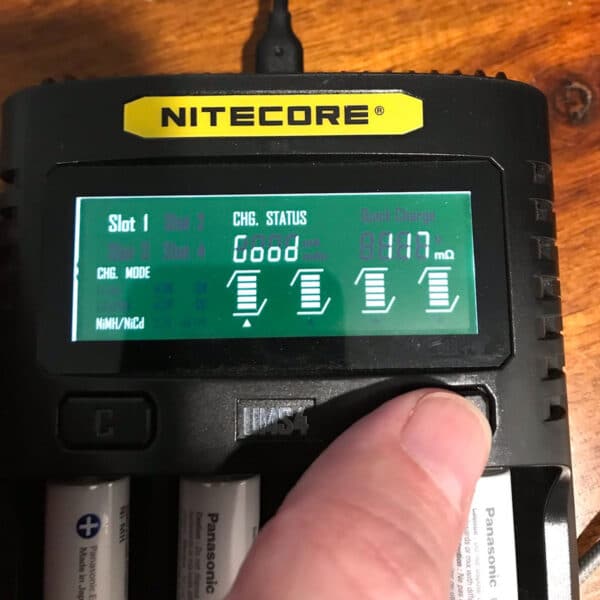 Nitecore UMS4 Charger Details
Batteries Supported
3.7v Batteries supported: MR/Li-ion/LiFePO4: 10440, 14500, 14650, 16500, 16340(RCR123), 16650, 17350, 17500, 17650, 17670, 17700, 18350, 18490, 18500, 18650, 18700, 20700, 21700, 22500, 22650, 25500, 26500, 26650 and 26700
1.2v Batteries supported: Ni-MH/Ni-Cd: AA, AAA, AAAA, C, D
Power
The charger is powered by a Micro-USB port. If the USB is QC2 the charger can handle the extra amperage. USB or USB QC2.0 sources include: A/C USB, car USB , powerbank USB or solar panel USB.
When the charger is powered or connected to quick charge (QC) power adapter, the screen will show "Quick Charge" and the single slot will achieve a max output of 3000mA.
Note: If using solar, it needs a STEADY solar feed – clear, bright sunlight. If sun is intermittent, charge a power bank, and then charge the batteries from the bank. The AC QC 2.0 or QC 3.0 adapter is not normally included.
Charging Details
The maximum total output is 4000mA when using a 2A output USB power adapter. In English, this means that the smaller the power supply, the slower the charge. The bigger the power supply, the bigger the charge, up to a maximum of 4000mA.
IMR Feature: It can "refresh" IMR batteries – Lithium-ion Manganese Rechargeable or Li-MN (lithium manganese).
How loud is the UMS4?
Many Li-ION/NiMH chargers have fans that make noise. The UMS4 is very quiet compared to our very loud PowerEx MH-C980.
Internal Resistance
Once in a while, it will report internal resistance as BAD when you insert a rechargeable battery. If you reseat the battery in the slot, it might report it as GOOD.
If the battery has zero charge, you need to charge it a bit then reseat it and test it again.
However, if you put a rechargeable battery in it (after charging it some), and it says BAD after reseating (in multiple slots), do not use the battery for heavy loads. The battery might still be ok for low long, slow drain situations. Anything over 500 for NiMH cells and 175 for Li-ION cells, is probably time to retire the battery.
Things the UMS4 cannot Charge
1.5v Li-ION batteries are special. They require a matching charger. An XTAR 1.5 needs an XTAR 1.5 charger. A EBL NI-ZN requires an EBL NI-ZN charger which is different than an EBL Li-ION battery and charger.
It can NOT charge old / dead alkaline "single use" disposable batteries. You can NOT recharge an Energizer Ultimate lithium with this charger.
How we tested the Nitecore UMS4
We tested nimh and li-ion battery chargers for about 2 months, charging the batteries and then discharging them using 8 Kootek flashlights. Other chargers tested included the OPUS BT C3100, PowerEx MH-C980, and a few others.
Nimh batteries tested included: Eneloop "white" 2000mAh, Eneloop Pro 2500mAh, PowerEx 2700mah, AmazonBasics 2400mah and Tenergy Premium Pro 2800 AA and other AAA rechargeable batteries.
Li-ION batteries tested included: 18650, 21700 and 14500s .
We also use it regularly just for simple charging, primarily because the menus are so easy to read and it uses any USB power source. It works reliably with a different USB power sources and with a QC 2 and QC 3 power sources.
Alternatives to the Nitecore UMS4
If you want an 8 bay NiMH charger for bulk AA/AA charging the PowerEx is a good alterative, as it has a CONDITION MODE which cycles CHARGE/DISCHARGE/CHARGE.
If you need more features the XTAR Dragon or the SkyRC are more expensive, feature rich chargers.
Nitecore UMS4 CONCLUSION
UMS4 PROS: Easy to use, inexpensive. You can power it with nearly any USB power source and it supports QC3 charging. Supports most rechargeable battery types. It has a refresh for IMR 3.7 batteries.
UMS4 CONS: It doesn't have a refresh mode (sometimes called a grading, condition or charge/discharge) mode, for NiMH or Li-ION. *it does have the special IMR refresh. If you want those advanced features consider the OPUS BT C3400.
Common sense home rating: Functional, Reliable and Recommended.
The controls are easy to use, and the displays are clear and readable. The UMS4 is useful in daily use, on the road, camping, and in an emergency.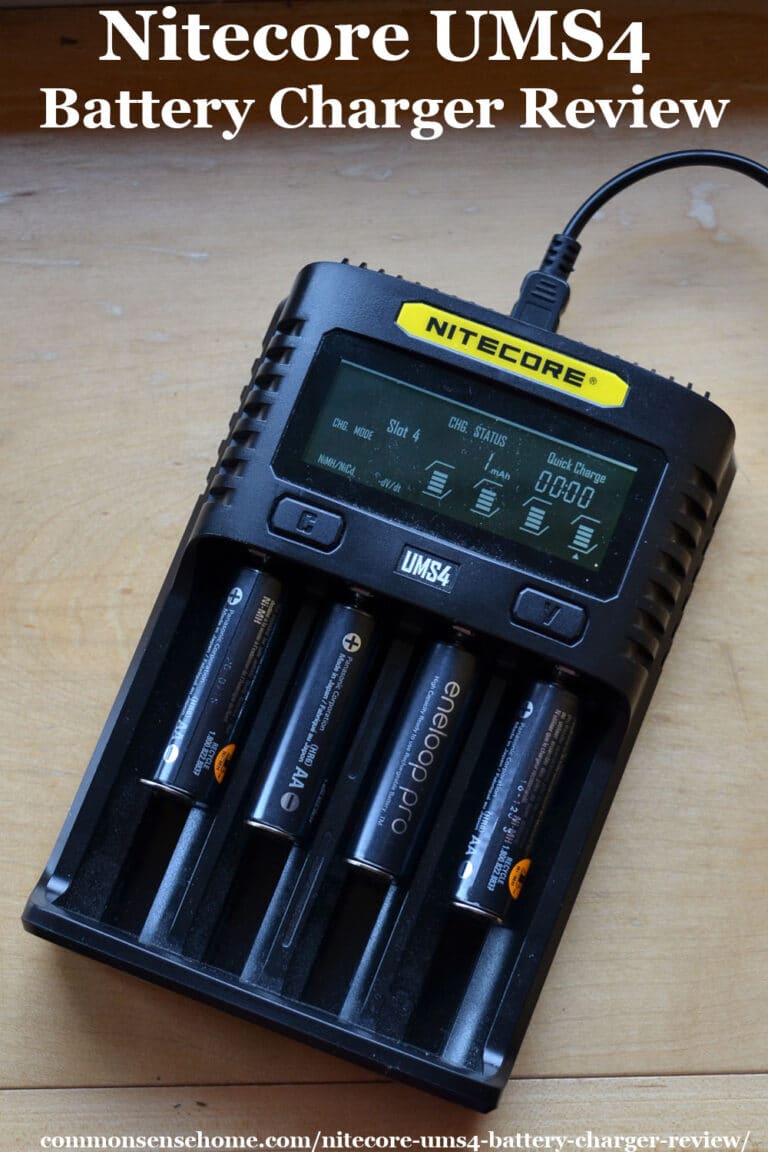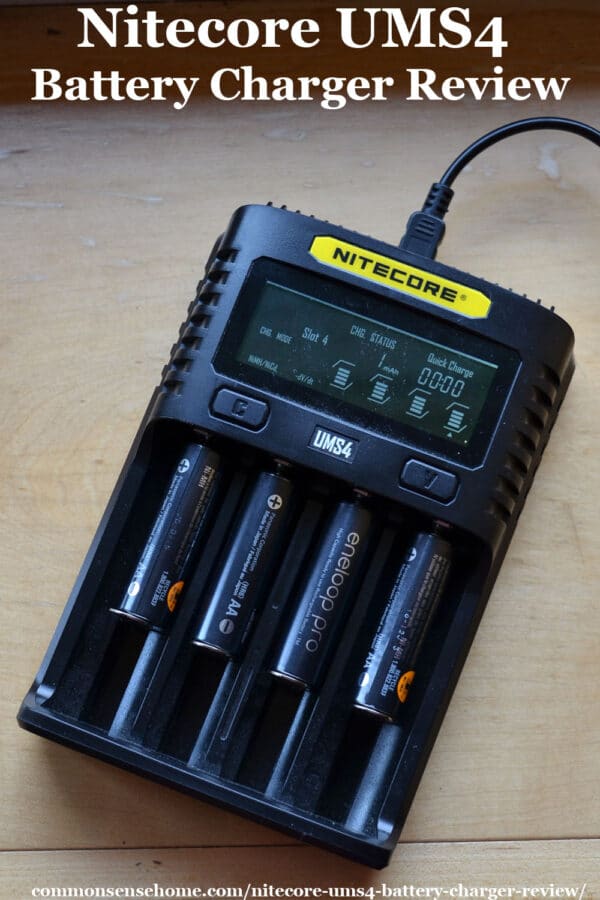 Related Articles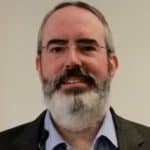 This post was written by August Neverman IV. August served on several emergency preparedness teams during his tenure at Brown County, and at a 13 hospital system, as well as undergoing emergency response training during his time with the Air National Guard.