Kaito KA500 Emergency Radio Review
The Kaito KA500 can be charged using solar, crank, or USB.  The radio can also charge a cellphone or other USB device.  It includes a reading light, a flashlight, and a flashing red light.
This small versatile radio lets you listen to AM, FM, NOAA Emergency and Shortwave (HAM).  It does not broadcast. This is a good multi-function weather radio. Available colors include Blue, Green, Red, Black or Yellow.
We recommend the KA500 over the KA500IP. The Kaito KA700 might be a good (but more expensive) alternative. It has a slightly larger solar panel and a 2000mAh NiMH battery instead of the smaller KA500 600mAh battery.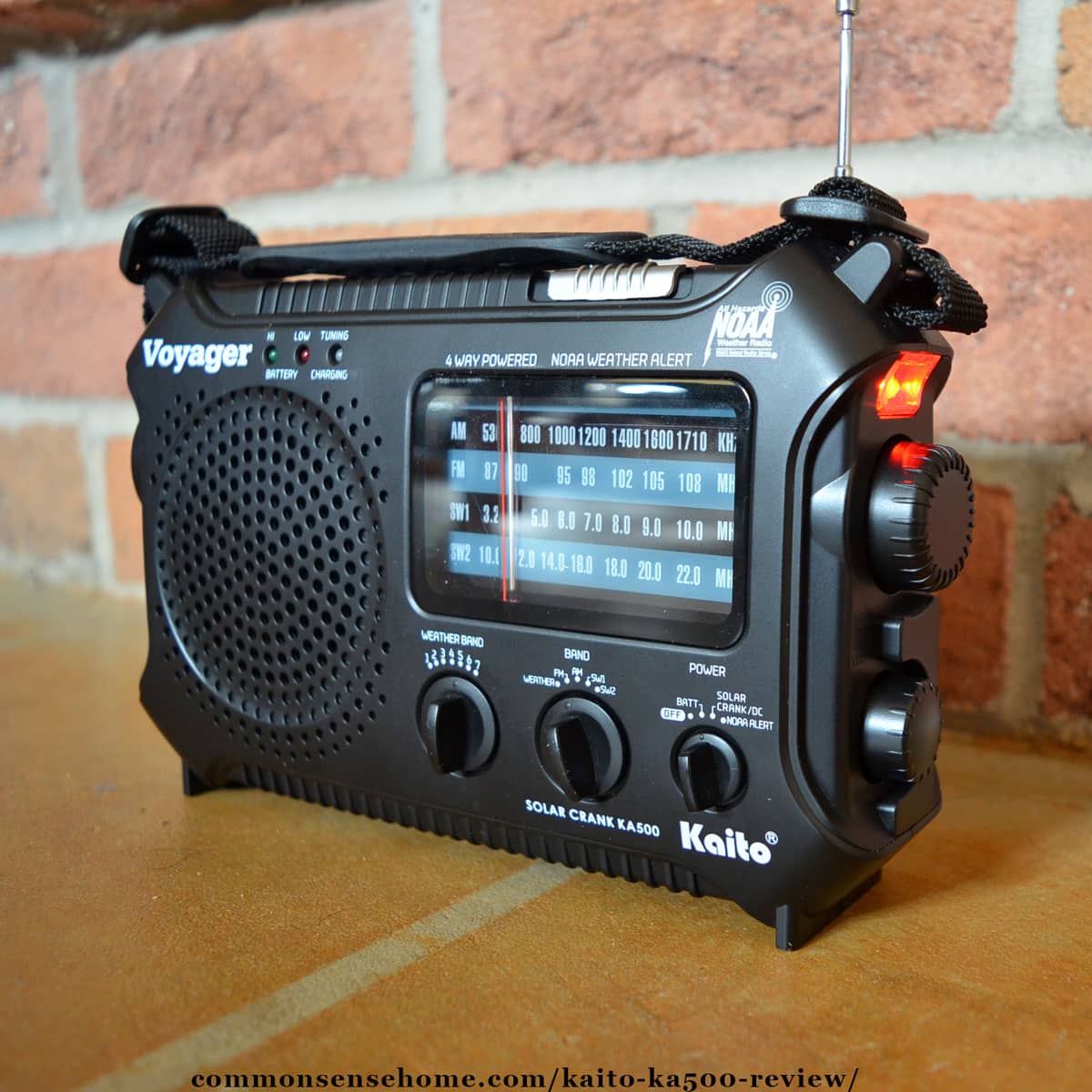 To test shortwave here are a couple channels (and times). If you cant receive Voice of America you probably need the optional 25ft 3.5mm antenna.
Voice of America

Saturday's UTC time 16:00 to 16:30: Frequency 9.4
Sunday's UTC time 06:00 to 06:30: Frequency 7.73
Sunday's UTC time 20:30 to 21:00: Frequency 11.58
Sunday's UTC time 23:30 to 00:00: Frequency 11.58

Radio France: UTC time 01:00 – 00:57: Frequency: 3.965
HCJB Deutsch: UTC time 05:30 – 15:30: Frequency: 3.995
World music radio: 24/7: Frequency: 5.84
BBC: UTC time: 05:00 – 06:00: Frequency: 6.005
Interrado Romania: UTC time: 21:30-21:57: Frequency: 6.17
Scandinavian Weekend Radio: UTC Time: 00:01 – 00:00: Frequency: 6.170
China radio international: UTC time: 09:00 – 00:57
Vatican radio: UTC time 16:40 – 17:00: Frequency: 9.64
S06 Spy Numbers: UTC time 09:10 – 09:15: Frequency: 13.565
Golos And: UTC time: 15:30 to 16:30: Frequency: 9.50
Voice of Welt: UTC Time: 15:00 – 21:00: Frequency: 11.53
Radio Exterior de Espana: UTC time: 14:00 – 22:00: Frequency 17.715
KAITO KA500 Radio Specifications
Size: 204 x 128 x 66 MM (8 x 5 x 2.6 INCHES) for KA500, KA500IP and KA700 is similar in size.
Weight: 1.5 lbs or about 0.67 Kilograms ** including the internal Ni MH battery pack but without AA batteries
Radio Channels & Reception
FM: 88 – 108 MHz
AM (MW): 530 -1710 KHz
NOAA Weather: 162.400/162.425/162.450/162.475/162.50/162.525/162.55 (continuous band)
7 Preprogrammed Weather Channels are on a knob on the unit
PEAS (Public Emergency Alert System)
Shortwave-1 (SW1): 3.20- 8.00 MHz
Shortwave-2 (SW2): 9.00- 22.00 MHz
Sensitivity: FM ≤ 20uV MW ≤ 2.5mV SW ≤ 30uV
Other Kaito KA500 Radio – Details
Internal rechargeable 3.6v NiMH battery pack (can be replaced)
The KA500 has a 600mAh 3 cell NiMH

Note the more expensive KA700 has a better 2000 mAh NiMH battery (longer runtime)

Speaker Output power: 200 MW peak power using built-in speaker 
External DC supply socket: 6 mm (positive center)
Optional Power Supply: 4.5-6.0V DC power
Telescopic antenna extends up to 14.5″
5V USB OUTPUT <on back under small rubber cover>
5V MicroUSB INPUT <on back under small rubber cover>
CAR DC INPUT (optional)
Headset jack socket: 3.5 mm (audio)
Back Panel of KA500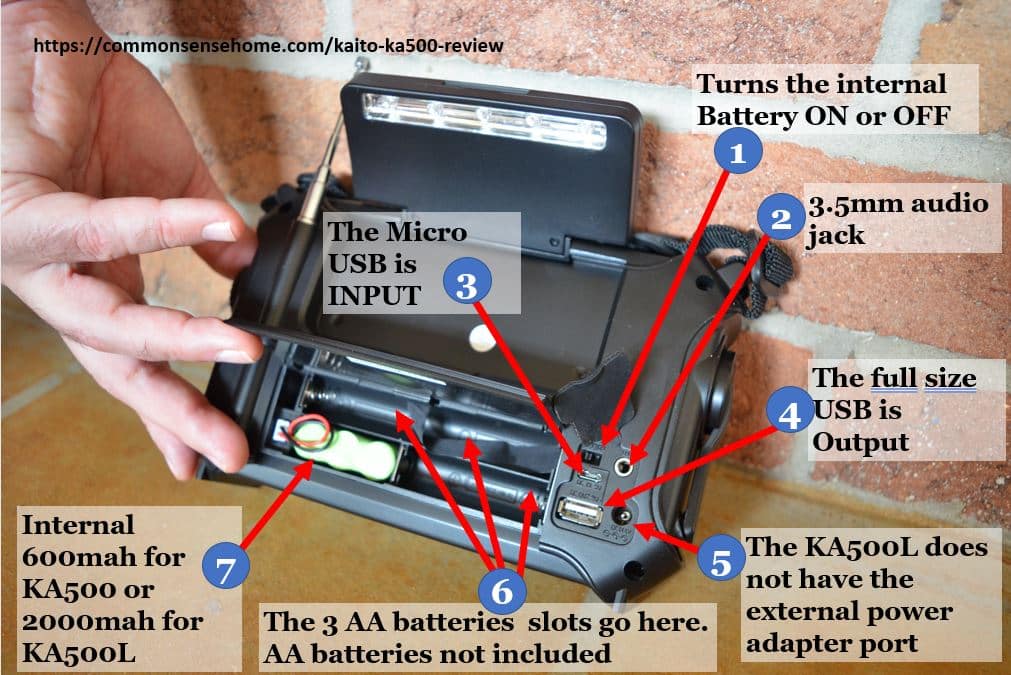 There is a small panel on the back of the Kaito KA500. The Kaito KA500 has 4 ports. The ports are the [2] headphone jack, [3] Micro USB Input, [4] USB output, and optional [5] AC adapter plug.
#1 On/Off Switch. This turns the internal battery #7 On or Off. If you are running off AA batteries #6 you need to turn this off
#2 Headphones Jack: A 3.5mm audio port for a wired headset. This jack can be used for 3.5mm antennas, even a 3.5mm wired headset can act as an antenna.
#3 Micro USB In: This setting will CHARGE the NiMH battery using the USB port. Plug it into any other standard 5v USB source whether powered by AC a Car or Solar Panel and you charge the KA500 Radio NiMH battery regardless of specific KA500 model.
#4 Standard USB Out: Will charge a cell phone or other USB powered device. This USB port can be powered by the Solar, internal NiMH or crank.
#5 AC Power Adapter Jack: This is a port for an optional AC adapter. Only on the KA500, and KA500IP.
Power and Battery Options
The included NiMH is rechargeable and replaceable. The KA500 has the following power options:
5v full size USB port can charge other USB devices
5v micro-USB charging integrated NiMH
Solar charging the integrated NiMH
Crank charging the integrated NiMH

Three standard AA batteries. The use of 3 AA batteries is recommended when trying to listen to shortwave (HAM).

Optional AC Adapter charging the integrated NiMH only in the KA500 and KA500IP. The KA700 supports 18650 batteries.
Similar Models
There are a couple similar models of the KA500. The KA500, KA500IP, KA550, KA600 and KA700 All newer models can charge iPhones, older models could not.
The manufacturer says the KA500 and KA500IP are the same.
Kaito KA500 Radio Review
Construction: The feel is not as sturdy as we had hoped. We are worried that it might not hold up to extended camping conditions. If it is kept indoors it seems like it will work ok.
There are a number of reviews on Amazon indicating that the build quality is not awesome. So far nothing has broken, cracked or failed on ours.
Radio Reception: It supports AM, FM, NOAA Weather band and Shortwave (HAM).
Tuning the radio is manual and requires some practice to get right, especially if you have trouble reading small print. This is a common problem in small emergency radios.
The antenna is sort of small, and our reception indoors was ok but not excellent. Audio quality is functional, not outstanding, but comparable to other emergency radios in the price range.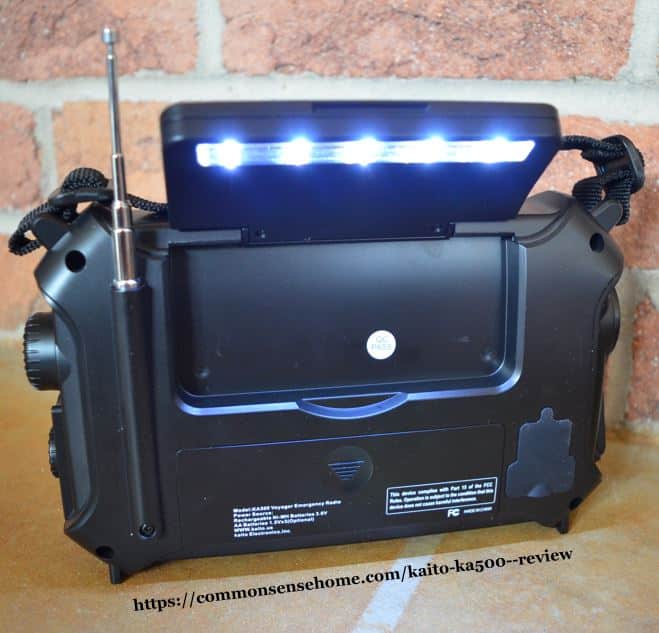 Lights: Both the KA500 and KA700 have 3 LED lights.  There's a flashing red LED light, an LED light bar "reading lamp" on the back side of the solar panel, and an "LED flashlight".  None of these are extremely bright, but they will light up a dark room. 
Power: It does have GREAT power features, the Solar charger, (3) AA batteries and crank options are excellent if you are stuck without AC power for an extended period.
Based on other reviews the runtime from Solar and Charging is inconsistent. We did not experience those problems. Test your unit before you have an emergency so you know what to expect.
Kaito KA500 PROS
The Kaito KA500 has multiple power sources – internal 2000mah battery, (3) optional AA batteries, crank, USB and Solar. The NiMH battery is replaceable, and the unit can charge a smartphone or power other USB devices such as an Nitecore CI4 battery charger. 
It receives AM, FM, HAM (Shortwave SW1 and SW2), and NOAA, and has three light options – emergency, reading, and flashlight. It is lightweight, and it worked right out of the box.
Kaito KA500 CONS
The KA500 it is not waterproof or impact resistant, and cannot handle heat over 130F (54.4C).
The lights are not quite bright enough for us to comfortably read a book. The text on the unit is TINY so those of us with reading challenges might need a magnifying glass to read it.
Tuning for AM, FM, and shortwave is manual and you need to practice to use it well. It does not broadcast radio, or include Bluetooth or MP3 player features.
NOTE: For shortwave reception, it is recommended to use built-in or AA batteries because the adapter generates noise that will interfere with the reception. 
Kaito KA500 Antenna
The fixed telescoping antenna for the KA500 is not awesome. If you want to receive Shortwave you will need a longer antenna.
The Kaito T-1 radio Antenna is an optional rollup a 23ft 3.5mm jack antenna. The antenna does work (we tested it). Note there are other 3.5mm jack antennas and any should work.
Kaito KA500 Optional Accessories
Kaito KA500 Questions and Answers
Q. What if I break the KA500 fixed built in antenna?
A. The 3.5mm jack with ANY 3.5mm headset can act as an antenna. The Kaito T-1 radio Antenna is a rollup 23ft 3.5mm jack antenna is another option.
Q. Can you replace the KA500 battery pack?
A. Yes and no. The KA500, KA550, KA600 and KA500IP uses this Kaito battery pack. A picture of the KA500 battery pack is below. The KA700 uses 18650 batteries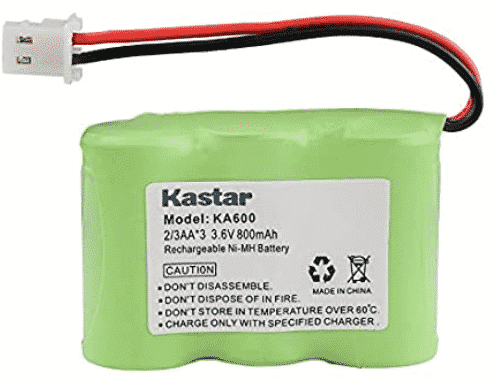 Q. Does the Kaito KA500 have a carry case?
A. The unit does not include a carry case. You can purchase a Kaito RC500 EVA Hardshell Case.
Q. Is Kaito KA500 waterproof?
A. No, the KA500, KA350, KA600 and KA700 are NOT waterproof. There appears to be Kaito knockoff that is IPX4 (only protects from water spray) the Emergency crank radio 5000 (we have NOT tested it).
Note: we have been unable to find any handheld radio that is water resistant (IPX6 or better) that has shortwave, AM/FM and NOAA. You can find AM/FM/NOAA or Shortwave/GMRS but a combo unit remains elusive.
Q. What country is Kaito from?
A. Kaito is a partly American Company. The radios are assembled in China (from the outside of the box). The box says "Made in China".
3 Alternatives to the Kaito KA500
There are alternative radios that provide IPX5 waterproof rating, but the few we found do not include the shortwave reception. Shortwave or HAM radio reception would be important in a longer term disaster.
Sangean PR-D9W
The Sangean PR-D9W is a pure emergency radio with excellent reception for AM, FM, and NOAA. It does not have crank or solar, but can use rechargeable AA batteries or regular AA batteries. It does not receive shortwave and is not waterproof. We have not tested it.
KAYINOW Water Resistant Hand Crank Emergency Weather Radio
The Kayinow is a multifunction IPX5 water resistant radio, with an integrated 5000mah battery. It is powered by a dynamo hand crank, batteries and solar panel. This radio can act as a Bluetooth wireless speaker and USB charger for a cell phone.
The sound quality and reception are not as good as the Sangean, but it is comparable to the KA500. It does not receive Shortwave. We have not tested it.
C.Crane CCRadio
C.Crane CCRadio 3 receives AM, FM, NOAA, Shortwave and Bluetooth and has a patented Twin-Coil Ferrite AM Antenna. The main reason we are listing it is the performance of the AM and FM reception, which is exceptional. We have not tested this model but the C.Crane are very reliable.
It uses D cell batteries (not included) which we do not prefer, and has no crank, solar or internal rechargeable battery. There is a clock, alarm, sleep timer, headphone jack, adjustable display light and AC power cord. The Crane is NOT waterproof.
Related Information
More Preparedness Articles