Common Sense Homestead Open House
Our next homestead open house is July 29, 2023. Our family will be giving tours of the home and grounds during this time. You're welcome to take a quick look or stay for a longer visit during the open house hours.
If you've wanted to see firsthand all the odds and ends I've talked about online, now's your chance.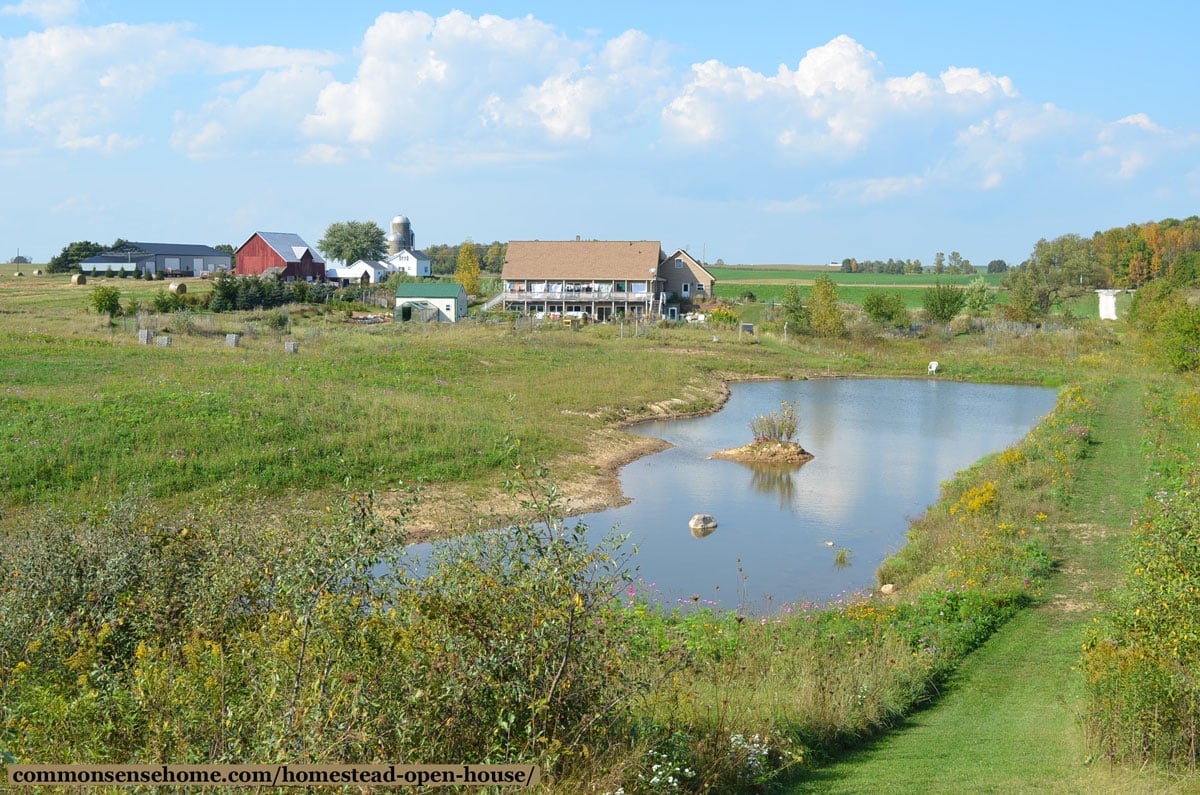 If the weather cooperates, you can walk "the loop" around the acreage and tour the wagon wheel garden. The east and west orchards, hazelnuts, and other permaculture plantings are also accessible.
Recent additions:
2017 – combination coop/garden shed with attached greenhouse, 1.5 acre pond.
2018 – Harvest Right dome greenhouse (now converted to growing trellis)
2019 – 27 panel solar electric system with lithium ion batteries
2020 – Added second small pond and drainage channels
2021 – Expanded north garden beds
2022 – Finished bonus room above the garage and added seasonal chicken coop and run
2023 – Workshop in progress
Common Sense Homestead Features
Our Goals for Our Homestead: To build a home that conserves energy and resources, is accessible for those with physical limitations, and acts as a gathering spot for sustainable living education.
We are also working towards providing most of our own food or sourcing it locally.
Solar
Solar Water Heating – Two 4×8 panels with 80 gallon storage tank installed by Lake Michigan Wind & Sun
Photovoltaic (Solar Electric) System – 27 panels, ground mounted, with lithium ion batteries, installed by Endries Solar & Electric
Natural daylighting throughout house
Passive solar heating (see below)
See more on Passive Solar Heating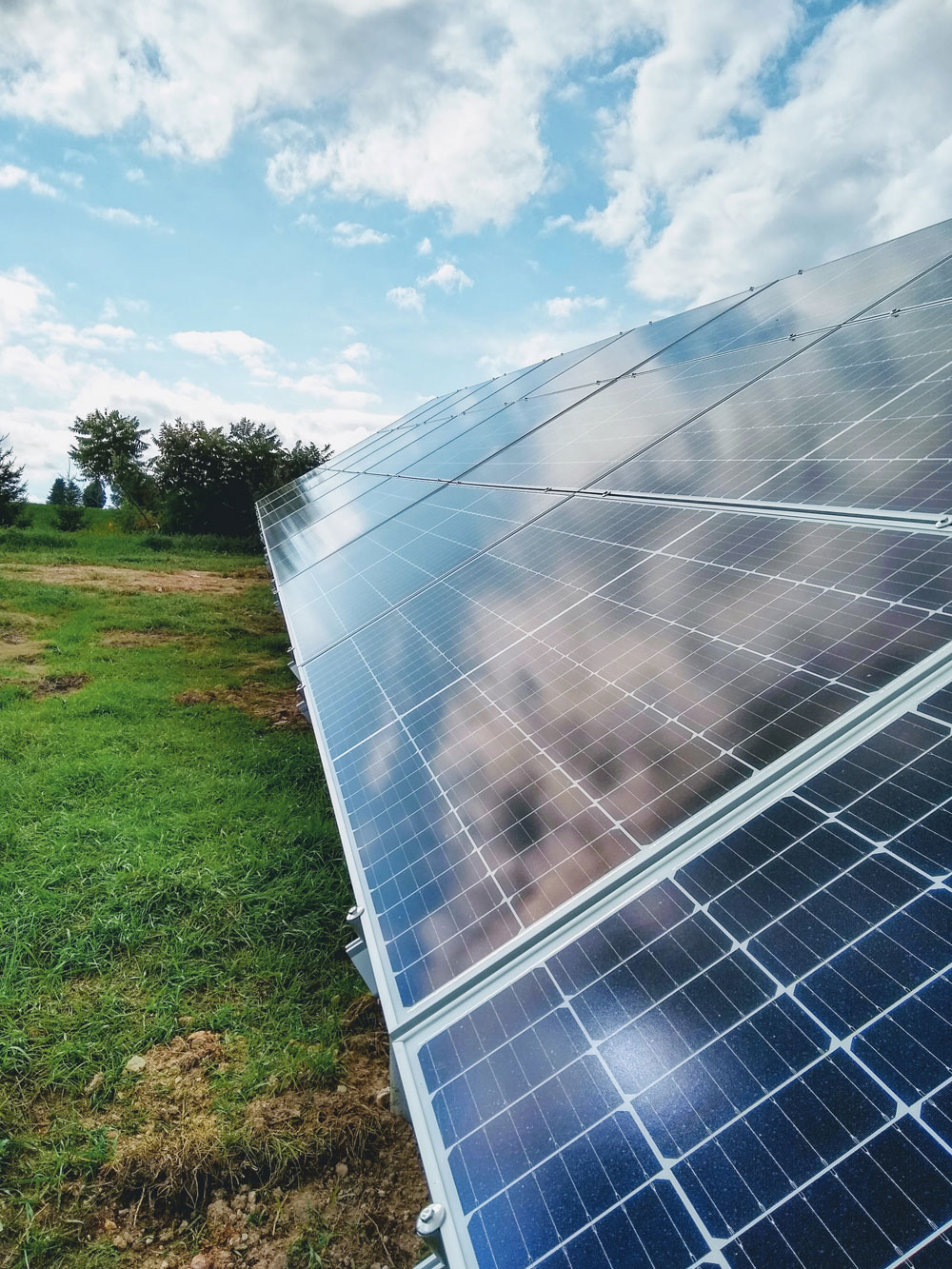 Passive Heating and Cooling
Insulated Concrete Forms (ICFs), sand bed under floor, masonry stove, tile/underlayment provide thermal mass
South facing window area is ~12% of floor area
Four foot overhang and deck along entire south facing side of home
Windows placed for cross ventilation and to take advantage of Lake Michigan breezes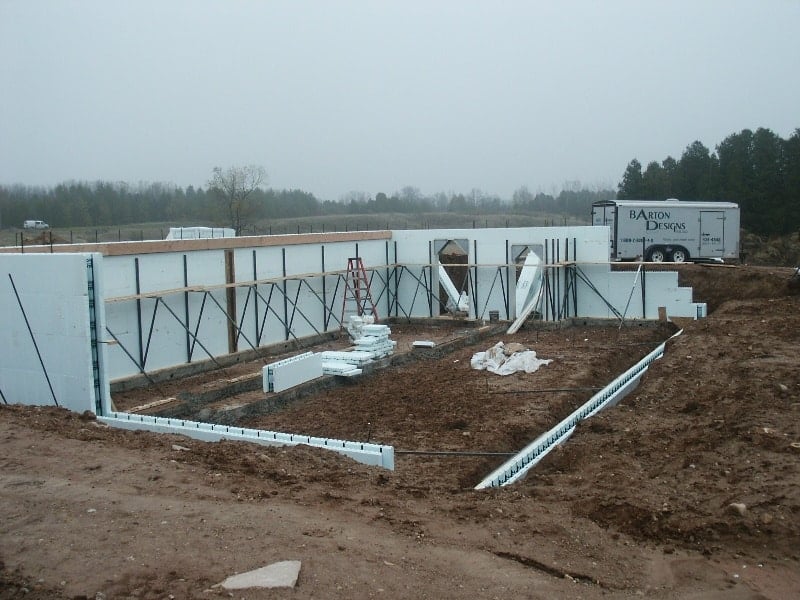 Insulation
House constructed entirely of Insulated Concrete Forms (ICFs)
Energy Star Windows, insulating cellular shades
Ceiling features R-55 blown in cellulose, all perforations in ICF sealed with spray foam
Garage insulated with spray foam, fiberglass batting or blown cellulose in every exterior surface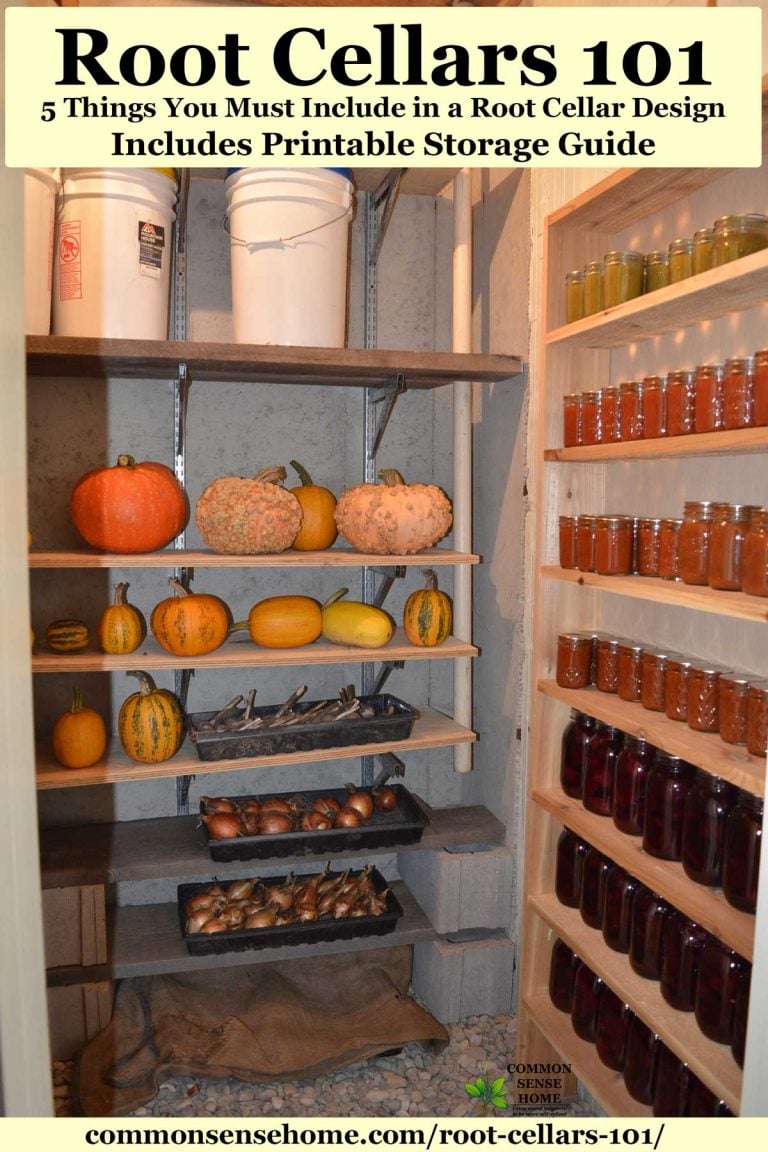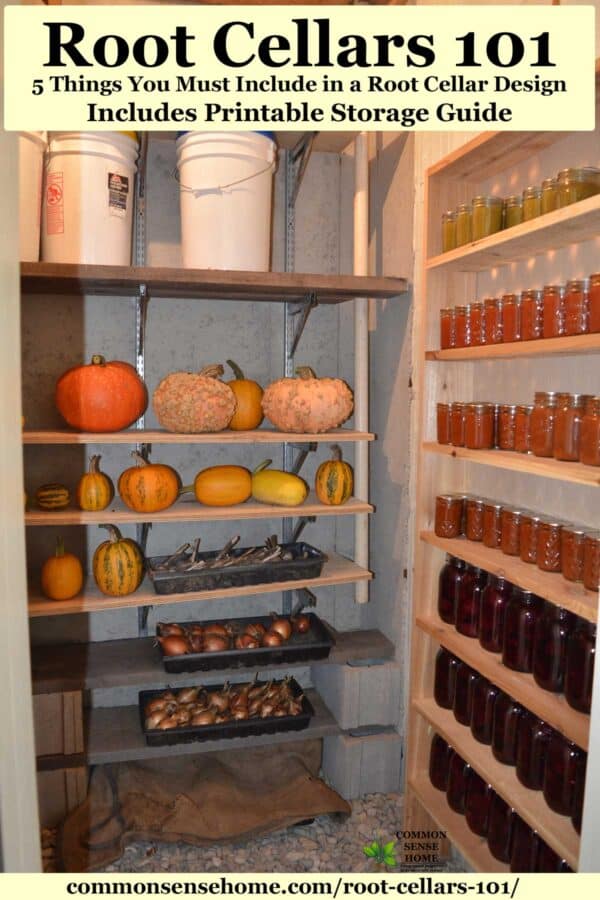 Green Building
Green Cabinetry designed by Paul Yeager of Cosmic Walker Cabinetry
Green Flooring provided by EcoFriendly Flooring of Madison – cork, bamboo, linoleum
CFL, LED, halogen bulbs, dimmer switches and task lighting reduce lighting loads
Attached greenhouse for growing season extension
Large organic garden and other food plants, primarily heirloom varieties
Root cellar and unheated storage room for home food preservation
Kitchen features walk-in pantry, roll out kitchen shelving, integrated recycling bins, ergonomic work surfaces, variety of task lighting, softer flooring to reduce fatigue
Symmetry between upper and lower levels decreases need for specialized supports in the concrete, house sized to reduce materials waste (even increments)
HVAC
Large thermal mass and home layout facilitate natural heating and cooling
In floor radiant heating for main floor and basement slab
TempCast masonry stove with bake oven provides slow, even heat
Ceiling fans in most rooms
Supplementary cooling provided via forced air
Panasonic exhaust fans with timers provide spot ventilation in bathrooms
Direct vents for kitchen stove and clothes dryer, minimal ductwork = better efficiency
Fantech Heat Recovery Ventilator system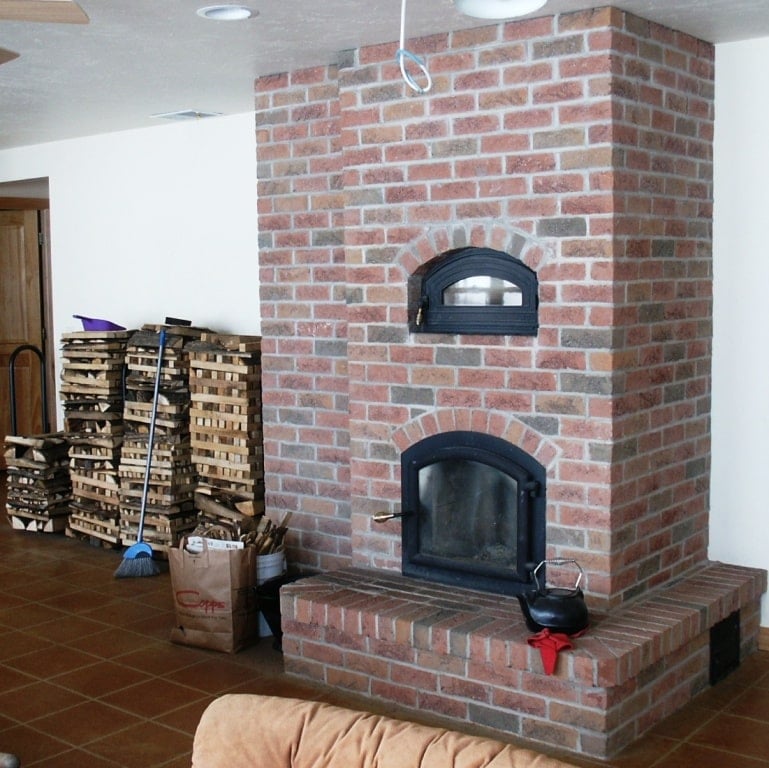 Universally Accessible Design
Low or no thresholds, 36 inch doors, extra wide hallways and stairways (lift ready)
Lever handles on doors
Safety lighting throughout home
Wide spaces in bathrooms for wheelchair/walker access, ADA tub and shower
Some grab bars plus backing in walls to allow for additional handles and grab bars
Faucets have single lever controls, baths have hand showers with scald protection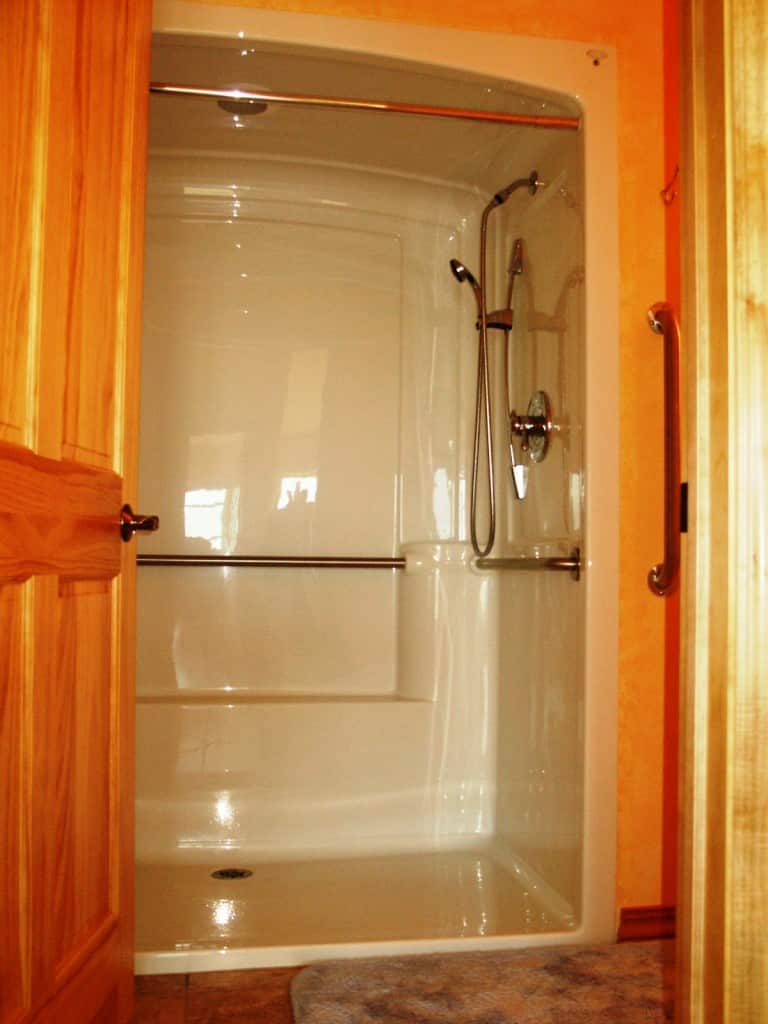 Water Conservation, Storage and Filtration
Urinal in main bathroom
Toto Drake ADA low flow toilets with 1.5 gallons per flush
Both bathrooms located near water heater
50 gallon interior water storage drum
Pond as emergency water supply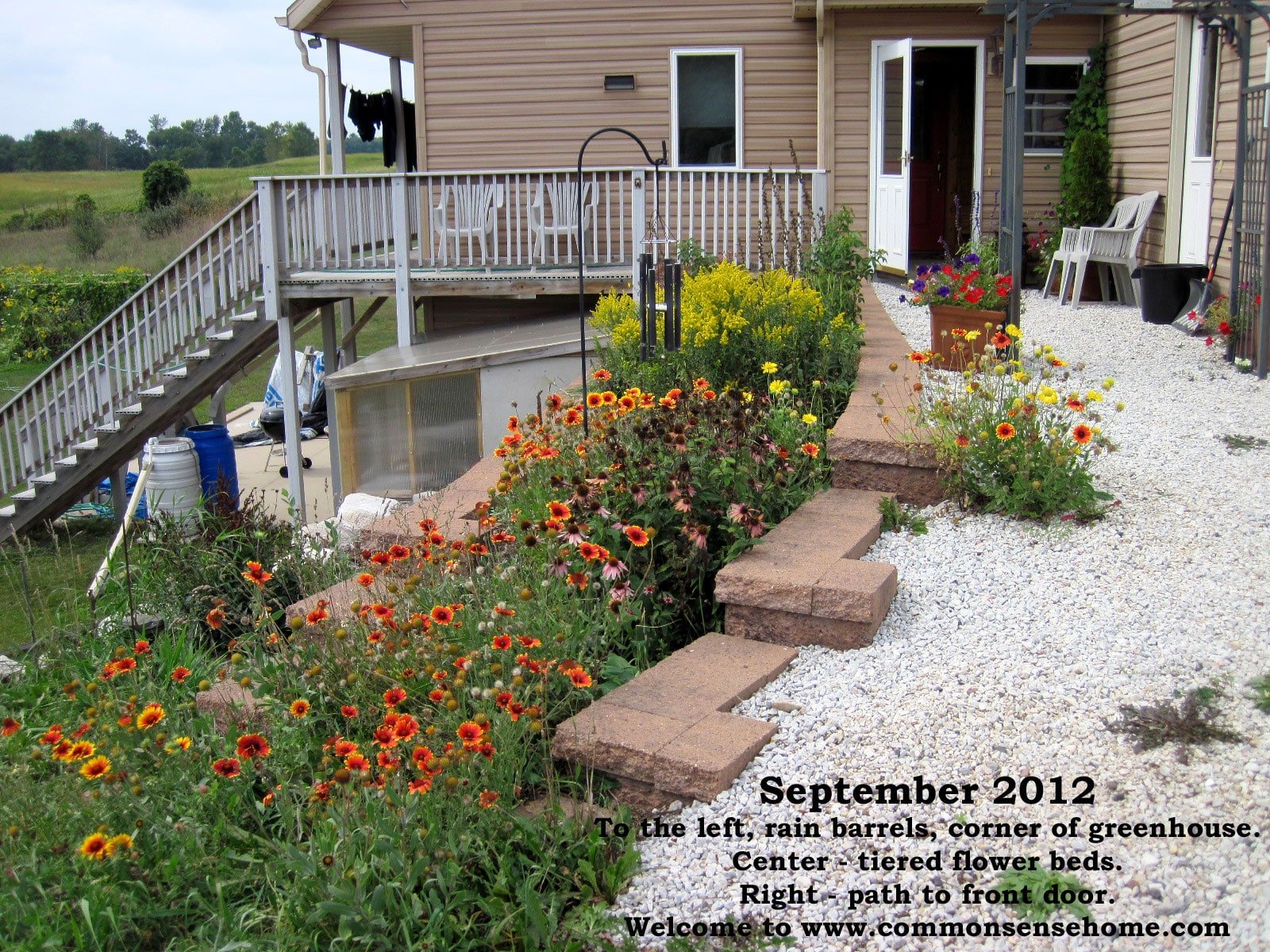 Common Sense Homestead Open House
Where: Common Sense Homestead, August and Laurie Neverman Residence
E1595 Old Settlers Road, Denmark, WI 54208
NOTE: Cty Rd AB will be under construction during the event, so it's best to reach our place via Manitowoc Rd, which runs west of AB, through to Old Settlers Road.
When: Saturday, July 29, 2023 10 a.m.- 4 p.m.
Who: Open to the public
Cost: Free admission
RSVP: If you are thinking of attending the homestead open house, please leave a comment below or email me at laurie at commonsensehome dot com.
We're about a 2 hour drive from Milwaukee, three hours from Chicago, six hours from the Twin Cities area, 25 minutes from Green Bay, 2 hours to Wausau, and 45 minutes to an hour from the Fox Valley, just to give you some rough driving times.
Want Even More Information?
We have a whole series of posts on the site discussing building our home and green building options. You can find them on the "Green Home" page.
Related Articles
Our Homestead, Then and Now – photo comparison of our homestead early on and as it has grown and changed
Aging in Place – Some of the features of our home that are designed to help the house accommodate different levels of mobility and different age groups
Other nearby attractions:
Parallel 44 Winery, which will be open from 10 am to 5 pm. Less than 5 minutes away.
Konop's Meats – Open 8 am – noon an Saturdays. Full service small town meat shop. About 2 miles north of us.
Krohn Dairy Store – Open 8am – noon on Saturdays. Located just a few miles north on AB. Fresh cheese curds made on Fridays – the best curds I've ever bought.
Looking forward to seeing you soon. 🙂