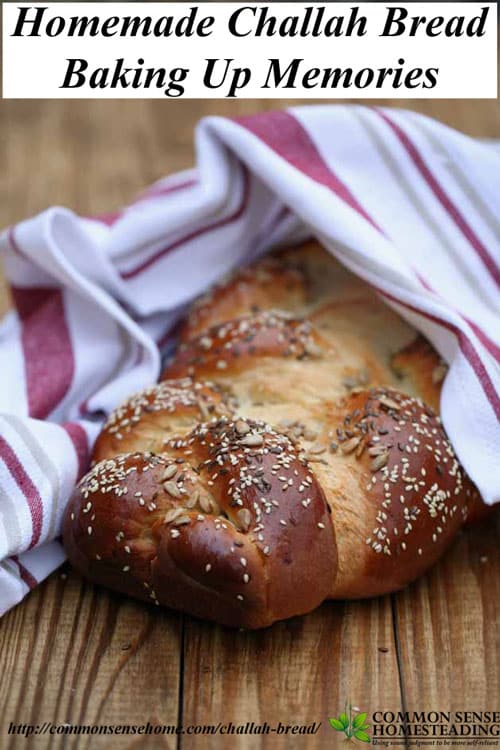 This is a guest post by Lady Lee of Lady Lee's Home.
Every Friday, I bake challah bread for our Friday night dinner. It never gets old.
Challa is one of those kinds of breads that are amazing with anything. You can top it with savory spreads like pesto or salted butter, you can top it with sweet spreads like honey or Nutella, You can clean whatever sauce is left on your plate at the end of a meal with a handful of challah, or you can make a mean french toast with it in the morning.
Bottom line, if you never made challah it's time to give it a try. You'll love it.
A couple of months ago, my aunt came from Israel for a visit.
She is a baker and I was a goner. I gained approximately 17lb in a week. But it was a great week.
We spent some time in the kitchen together and she showed me a few tricks of the trade.
One of them I especially liked because it's result is only one dish to wash.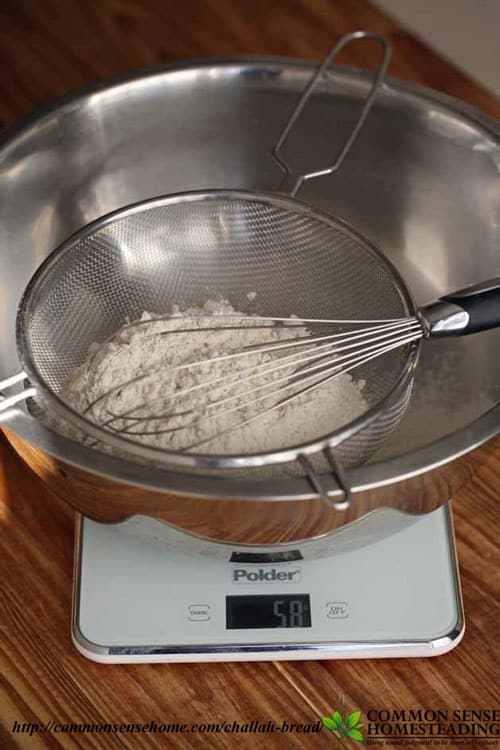 Instead of using measuring cups and spoons, we used a simple kitchen scale to measure all of the ingredients.
I know it might be a bit hard to comprehend because here in the US we are so used to recipes with cups and tablespoons measurements, but try to keep an open mind.
First, quantities are much more accurate when you weight. This way, professional bakers can assure that they get the exact same bread each time.
Second, if you make large quantities you don't have to have many measuring cups and spoons, or wash and dry them all the time. There is just one big bowl and that's it.
So you place the bowl on the scale and zero it by pressing the TARE button. Then sift one kilogram (=1000g) of bread flour into the bowl. I will list the recipe bellow in grams but also cups and spoons if you prefer it that way better.
Challah Bread Recipe
To sift the flour, I use a large mesh strainer and a simple egg beater. Hold them above the bowl and move the flour around until you sift enough of it into the bowl.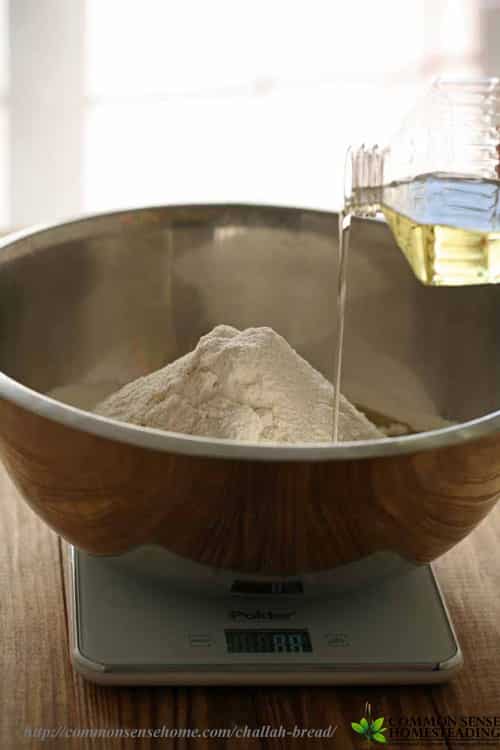 Zero the scale again, and add 100g of canola oil.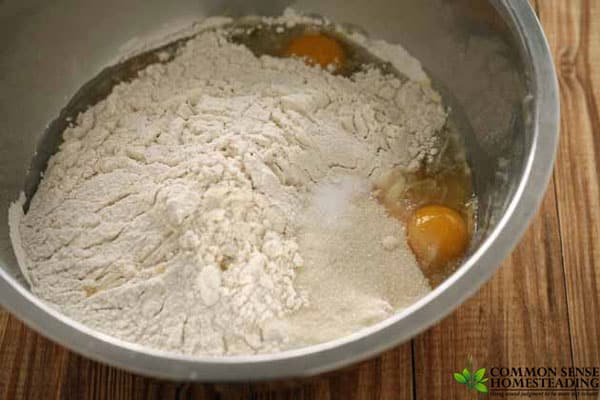 Zero the scale again and add 100g of sugar…
Zero the scale again and add 20g dry yeast…
Zero it one last time and add 20g salt.
Add 2 large eggs…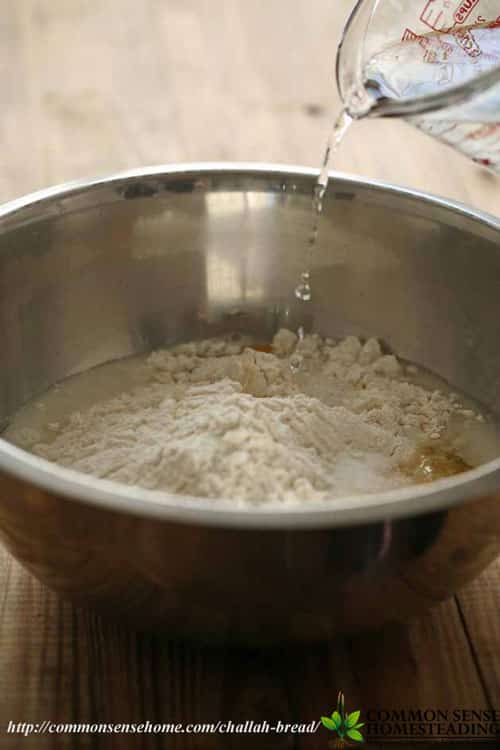 Once you have all of the ingredients in the bowl, you are ready to start adding the water.
I use approximately two cups, but I don't add all the water at once. I add a cup of water, start working the dough with one hand, and gradually add the second cup…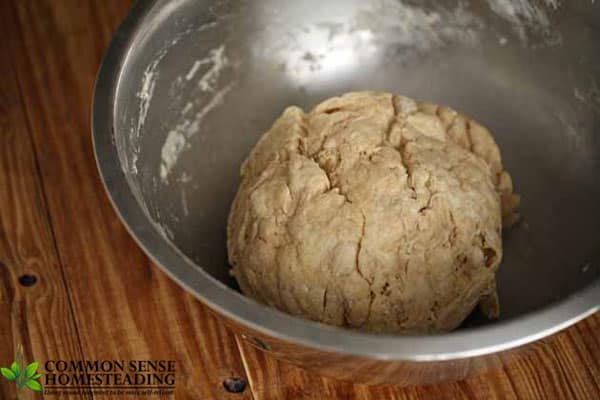 Until all the ingredients come together. I then transfer the dough to a lightly floured work surface…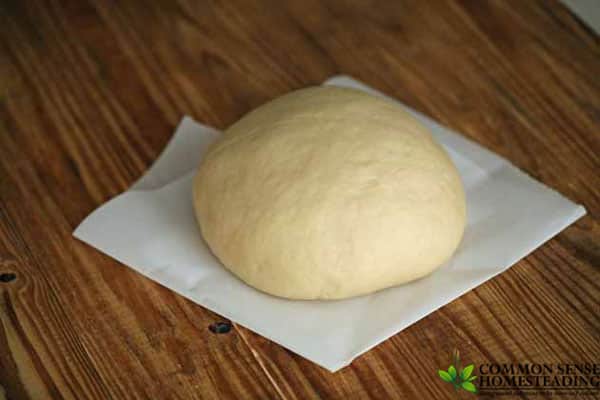 And knead for about ten minutes until I have a smooth, soft ball of dough.
By the way, you can do the same thing in a stand mixer with a dough hook if you prefer using one. Place all the ingredients in the mixer bowl, add a cup of water, let it start mixing slowly, then gradually add the second cup of water. Once a ball of dough is formed, raise the speed a bit and let the mixer knead the dough for 8-10 minutes.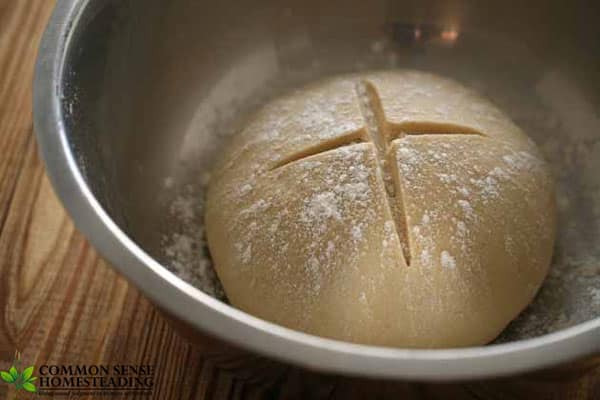 Place the dough back in the bowl and with a sharp knife, cut an X at the top. This will help the dough rise quickly. Dust it with a bit of flour…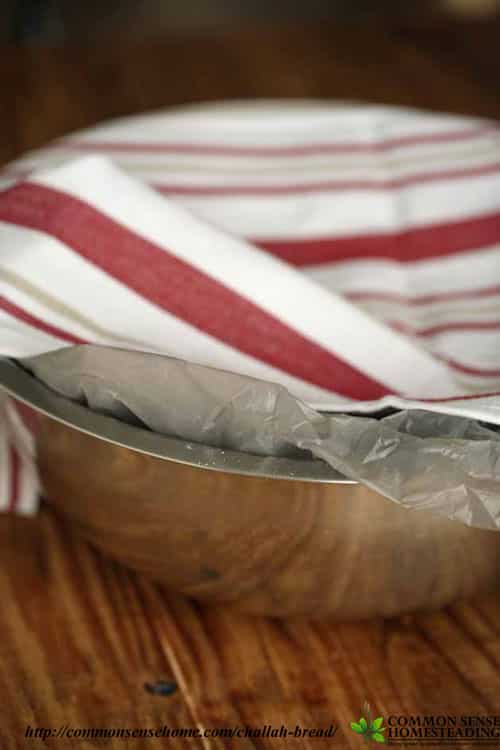 And cover with a plastic bag and a kitchen towel. Place it in a warm location for about 40 minutes.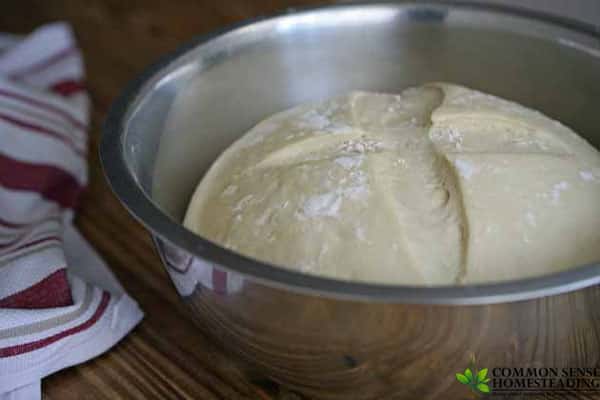 After 40 minutes, it should look like this.
Divide the dough into two to make two large loaves. You can divide it more if you want to make smaller loaves or even small buns (baking time will be different of-course…).
For the purposes of this post I am keeping it simple with a simple braid. If you want to learn an additional five ways to braid a challah, check out this post on my blog.
So after we divided the dough into two parts, divide each of the parts into three. Roll each part into a strand and braid.
Set on a baking sheet and cover with a kitchen towel. Let it rise for 45 minutes.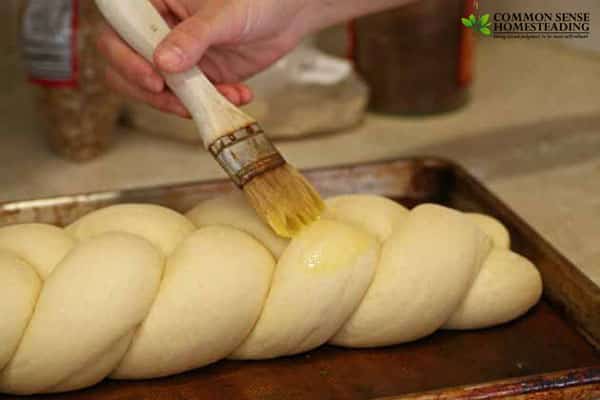 After 45 minutes, warm the oven to 350F. Beat one egg and brush the challah gently…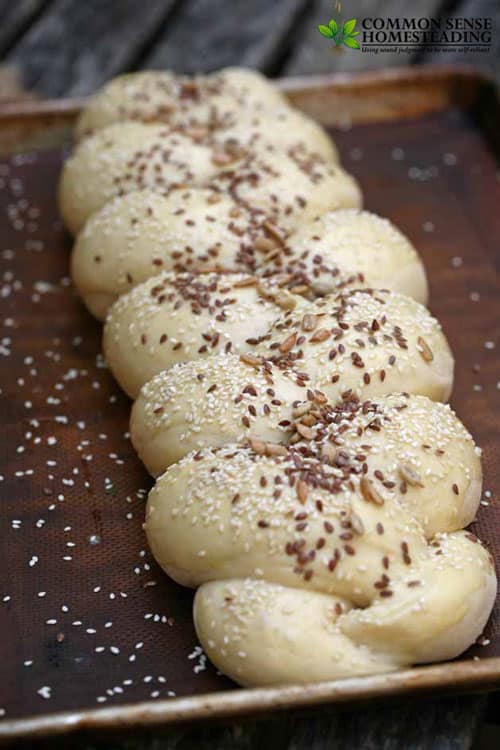 Top it with whatever seeds you want. Here I used sunflower seeds, sesame seeds, and flax seeds.
Bake for 35 minutes or until golden.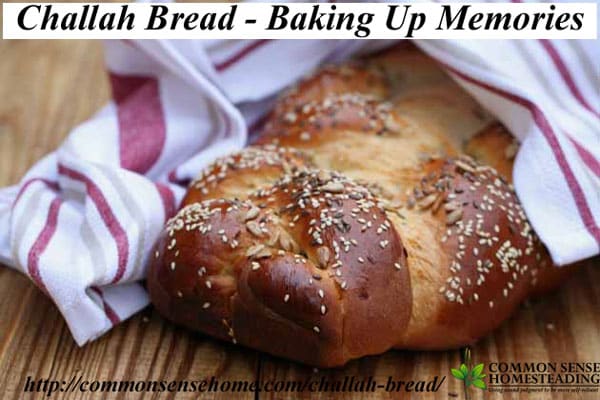 Don't try to resist the challa when it is out of the oven. Grab a piece, spread some salted butter on it, and enjoy. This is why we made two, the second one can stay nice and whole for dinner. The first one will probably be gone by then, especially if you have kids… or Nutella in the house.
Challah Bread
A rich and delicious bread that pairs well with sweet or savory topping or soups and stews. Makes a great French toast.
Ingredients
1 kg Bread Flour (7 Cups)
20 g Dry Yeast (1 1/4 Tablespoon)
2 Large Eggs
100g Canola Oil (3/4 Cup)
20g Salt (3 Teaspoons)
100g Sugar (3/4 Cup)
Approximately 2 Cups of Water
Instructions
Sift bread flour into a large bowl.
Add the rest of the ingredients except the water.
Stir.
Start adding the water a little bit at a time while working the ingredients into dough.
Transfer the ball of dough to a floured work surface and knead for 8-10 minutes.
Set the dough back in the bowl, cover with a plastic bag and a kitchen towel and set aside to rise for 40 minutes.
Uncover and transfer the dough to a work surface.
Divide the dough, braid as you wish and place on a baking sheet.
Set aside, cover and let rise about 45 minutes.
Brush with egg and sprinkle with seeds.
Heat oven to 350F. Bake 30-50 minutes depending on the size of the loaves.
Need more inspiration? Check out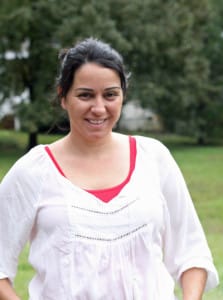 Lady Lee is a wife and a mother with a soul of a farmer and a passion for homegrown and homemade everything. She was born in Israel and raised in a small agricultural commune called kibbutz, where everything was grown, made and shared. She lives with her family in NC on a small homestead. She can't shut up about the garden, farming is her dream, she is very curious about food and home remedies, and love her family's DIY adventures. Those things are what she blogs about at Lady Lee's Home.
Get Homesteading 101 FREE, plus weekly updates and Subscribers Only information delivered to your inbox.