Stop Birds Hitting Windows – 5 Tips to Protect Our Feathered Friends
Window collisions are usually worse in spring and fall during migration, with birds flying through less familiar territory, but can happen any time of year. I've put together a list of quick fixes to stop birds hitting windows.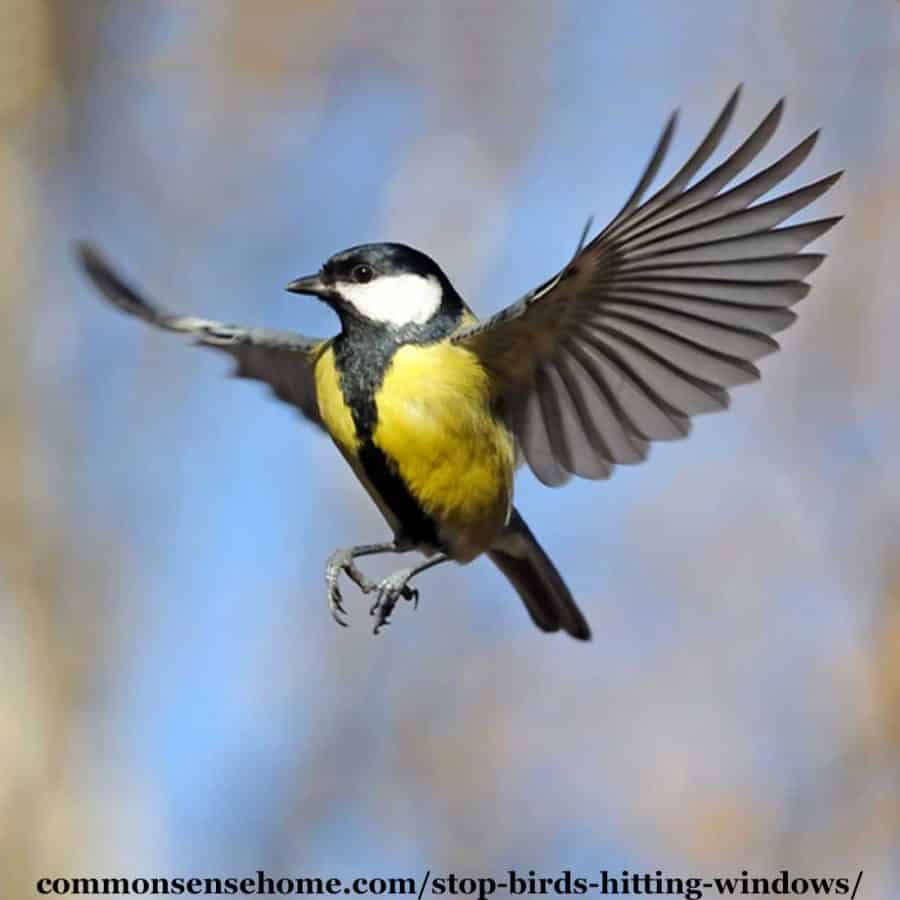 When I was a little girl I had a robin who kept flying into my window all summer long. Every morning, bright and early, I'd hear a bird crash into my bedroom window – no need for an alarm clock.
This spring, I've had two robins take to flying into the windows (mainly the kitchen windows). Thankfully they haven't hurt themselves, but they are quite noisy and I didn't want them to keep at it until they did injure themselves. They inspired this post.
Stop Birds Hitting Windows Option #1 – Bird Scare Tape
I was surprised to find out that they have tape specifically designed to keep birds from crashing into windows called Bird Scare Tape. It's translucent, so it lets light through, but still provides enough of a visual barrier to stop the birds. You could also use masking tape or painters tape. Place the tape 4 inches apart vertically or two inches apart horizontally.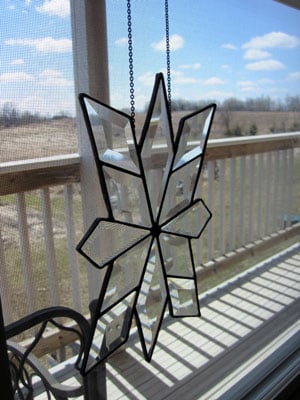 Stop Birds Hitting Windows Option #2 – Suncatchers and Window Clings
I love the look of suncatchers, and they provide an obstruction to view so that the birds are less tempted to fly on in. A suncatcher with crystals will spread its reflections over a wider area (and they look lovely). Window decals to prevent bird strikes like these UV reflective hummingbirds and butterflies can go almost anywhere. Window film is another option, but not as well rated as the window decals.
Stop Birds Hitting Windows Option #3 – Tempera Paint/Window Paint/Soap
Any applied coating that will block the light will block the birds. Make decorating the windows that you know are prone to bird impacts a seasonal project for the kids. There are all sorts of window paints available, from large multi-color packs, to easy to use window markers to window art craft kits.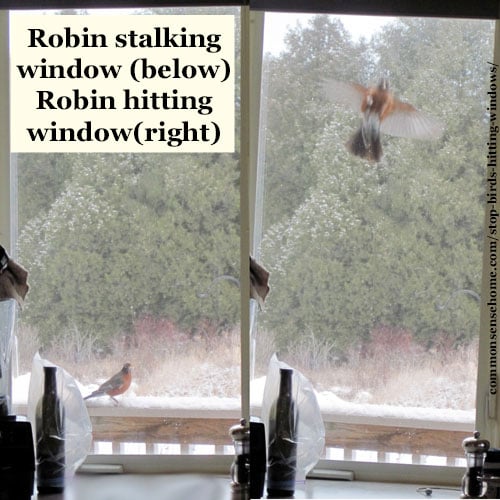 Stop Birds Hitting Windows Option #4 – Physical Barriers Outside the Window
Lattice, mesh, screens – anything that will block your view will block the birds, too. This isn't my favorite option because I like my view, but it may be a good fit for your situation.
If you have bird feeders, some sites suggest placing them closer to windows. The idea is that the birds move more slowly closer to the feeders – which avoids high speed window strikes. I'm not sold on the concept, but it may work well under certain conditions.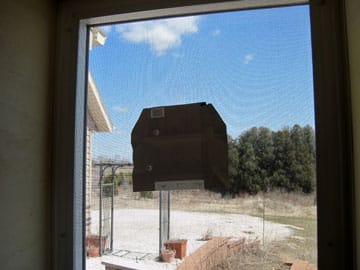 Stop Birds Hitting Windows Option #5 – Improvise!
Be creative! Use whatever you have at hand to make glass windows visible to birds. I grabbed a wrapper out of the pantry and tacked it up with a piece of scotch tape, and the robins stopped crashing into the window.
Tuck a towel in the top of the window and let it hang down. Put a hanging plant in the window. Your solution doesn't have to be fancy or permanent. Deter birds with what you have on hand or what you find to be attractive in your window.
More Bee and Bird Friendly Articles
Along with our organic gardening information, you may enjoy these posts on our garden allies.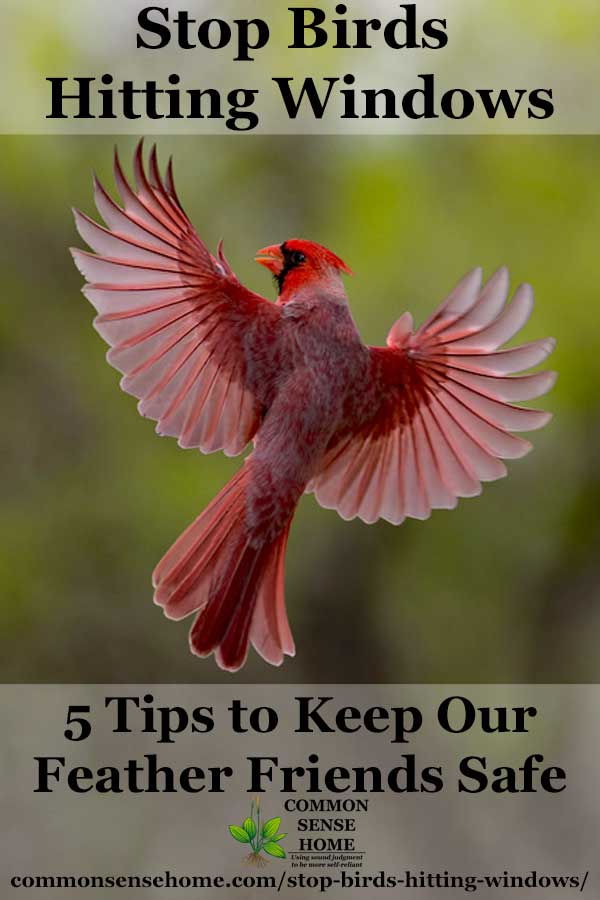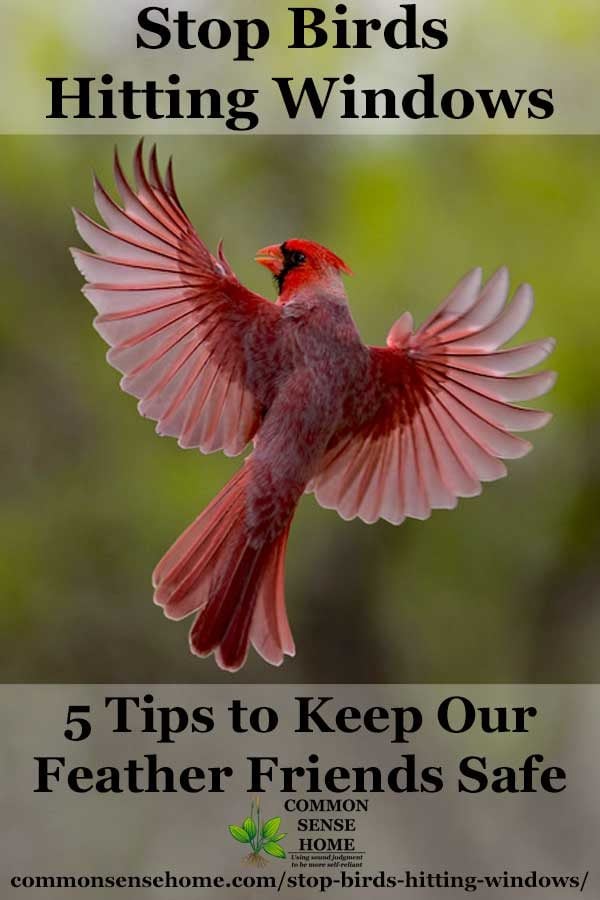 Originally posted 2013, last updated 2019.