Evening Primrose, Oenothera biennis – Weekly Weeder #11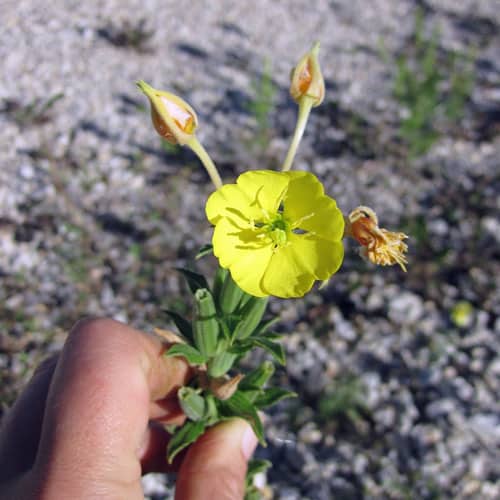 Today's featured plant is Evening Primrose, Oenothera biennis.
Evening Primrose is also known as common evening primrose, hoary evening primrose, common primrose, German rampion, King's Cure All, Fever Plant, Field Primrose, Night Willow-herb, hog weed, Primrose, Scabish, Scurvish, Sun Drop, and Tree Primrose.
Range and Identification of Evening Primrose
Evening primrose is native to North America, but is now found in Europe, Asia, New Zealand and Australia. The USDA Natural Resources Conservation Service provides a range map. The plant can be found throughout most of the U.S. and Canada, except the far north and some of the Rocky Mountain states. They are listed as potentially invasive/spreading, but I haven't seen this in my yard.
The plant is a biennial, which means it grows over the course of two years. The first year it grows a small rosette at ground level, like a dandelion or chicory. The second year, it shoots up a flower stalk, commonly with multiple stems.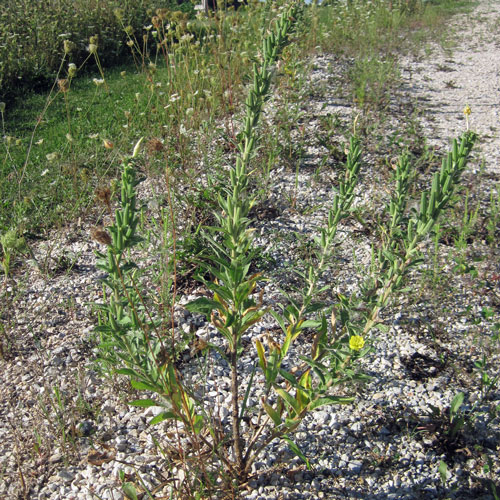 Blossom start opening at the lower end of the stalk first, working their way towards the top (similar to a hollyhock or gladiola). Flowers open in the evening (thus "evening primrose"), and last until about midday the next day. They are a favorite of sphinx moths, who pollinate them at night.
Leaf type is simple, leaf attachment is alternate, leaves are 4-8″ (10-20 cm) long and lance shaped . Oblong seed pods form along the stem as the flowers fade (you can see them just below the flower in the top photo). Plant height is 2-5′ (60-150 cm). Flowers have four heart shaped petals, flowers are regular and round, a bright sunshine yellow color. (Wildflowers of Wisconsin)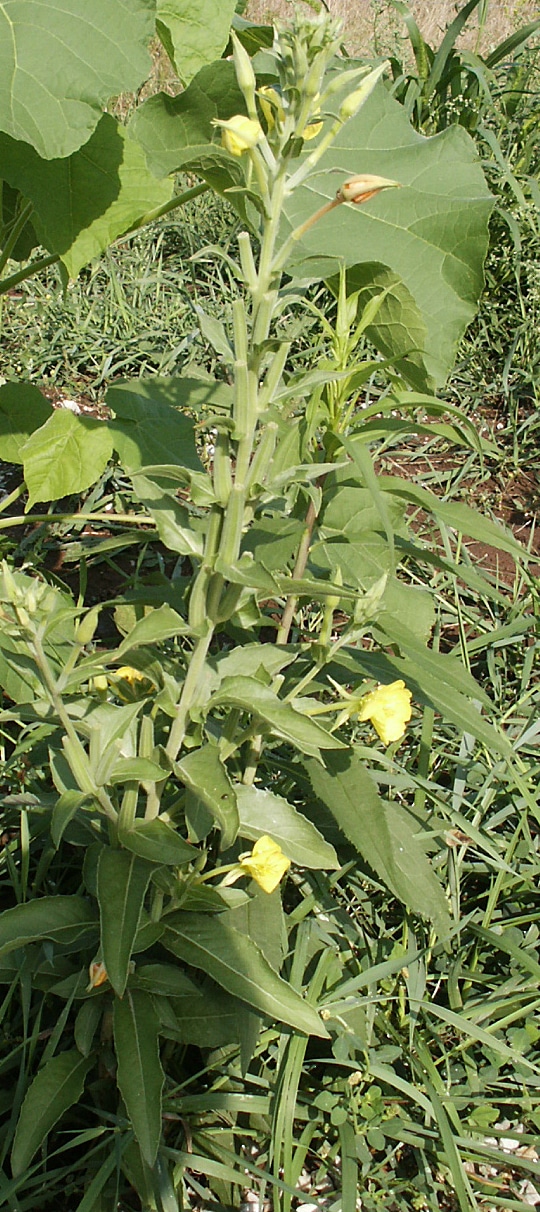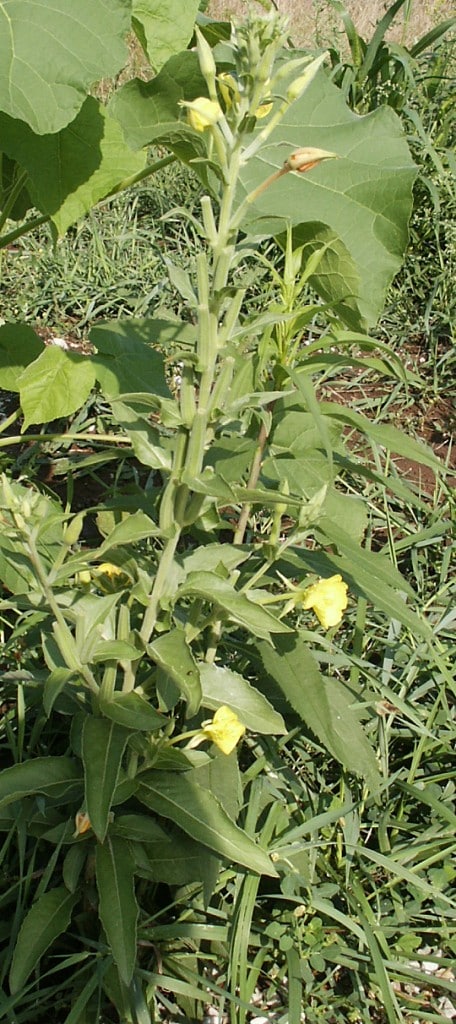 Evening Primrose as Food and Habitat for Wildlife
Evening primrose flowers are a nectar source for sphinx moths and other moths, and hummingbirds visit the flower both for nectar in insects to eat. The seeds provide winter food for a variety of birds. Small mammals will graze on young shoots and leaves, deer will graze on larger foliage. Japanese beetles are supposed to prefer this plant over garden plants – I haven't seen this in my garden.
Medicinal Uses of Evening Primrose
Yes, this is the evening primrose that you see in supplement areas. Evening Primrose seed is very high in gamma-linolenic acid (GLA), in fact, it has the highest content of any known food source. Alternative Nature Online Herbal states:
GLA is an essential fatty acid that the body does not manufacture. This fatty acid is known to help prevent hardening of the arteries, heart disease, eczema, cirrhosis, rheumatoid arthritis, menopause, PMS, multiple sclerosis, and high blood pressure. It has a positive effect on sex hormone response including the hormones estrogen and testosterone, aids in lowering cholesterol levels, and is important in treating cirrhosis of the liver. Research also demonstrates that primrose oil helps relieve pain and inflammation. The oil also has a positive effect on the uterine muscles, nervous system and metabolism. The bark and the leaves are astringent and sedative. They have proved of use in the treatment of gastro-intestinal disorders, whooping cough and asthma. A tea made from the roots is used in the treatment of obesity. A finely ground powder made from the flowering stems is used cosmetically in face-masks to counteract reddened skins.
The Complete Herbal gives guidelines for harvesting seeds:  "The seeds ripen from August to October and should be collected when ripe and pressed for oil. To be effective the seeds should contain 30-40% moisture."  To collect seeds, simply gather the seed heads in a clean bucket, break them open along the side, and pour the seeds out. You can sprinkle them over salads or on top of other dishes. They are mild in flavor.
In the post "Evening Primrose Oil: A Mama's Favorite Remedy",Michele from Passionate Homemaking notes that caution is warranted when using prepared evening primrose oil capsules:
Use Evening Primrose Oil with caution during pregnancy, as it can induce labor in some women. Do not take if expecting surgery, as it may act as a blood thinner. Check with your midwife or care provider to see what is appropriate for your situation, before using.
She also discusses the use of the prepared capsules for other female health concerns. It would be more difficult to get the same amount of oil out of the wild harvested seeds, but extra care is always warranted when baby is involved.
Please note that this post is provided for informational purposes only and is not meant to diagnose or treat any illness. Although rare, it's always possible that allergic reactions may occur. Always make sure to positively identify any plant before using.
Food Uses of Evening Primrose
Every part of the plant is edible, from root to flower. Roots should be harvested from one year old plants in early spring, like parsnips. In The Forager's Harvest, Samuel Thayer gives detailed instructions how to prepare the various plant parts. He recommends boiling the root, as the flavor is very spicy. The growing flower stalks can be cut, peeled and gently cooked. Young flower buds can be used in soups and stir frys. The flowers are also edible, and make a bright addition to summer salads. As mentioned above, seeds can be sprinkled on just about anything "as is", or they can also be lightly roasted.
To roast evening primrose seeds: Rotate and press dry seed capsules to release seed, roast in oven for 15 to 20 min. at 350 deg. Use on bread or in salad, sprinkle over any dish like pepper.
The only place I've been able to find evening primrose around here is at the edge of my driveway, so I've been hesitant to use those plants, but I've been on the lookout for cleaner spots and have spread some of the seeds around hoping that they will catch. This is a bit problematic, as the seed like open soil, but we'll see what happens. If you'd like to read a rather fascinating article on the origins of evening primrose and its potential as an oil seed crop, check out "Evening Primrose – Origins and Cultivation".
Thanks for stopping by, and if you've enjoyed the post please pass it along.