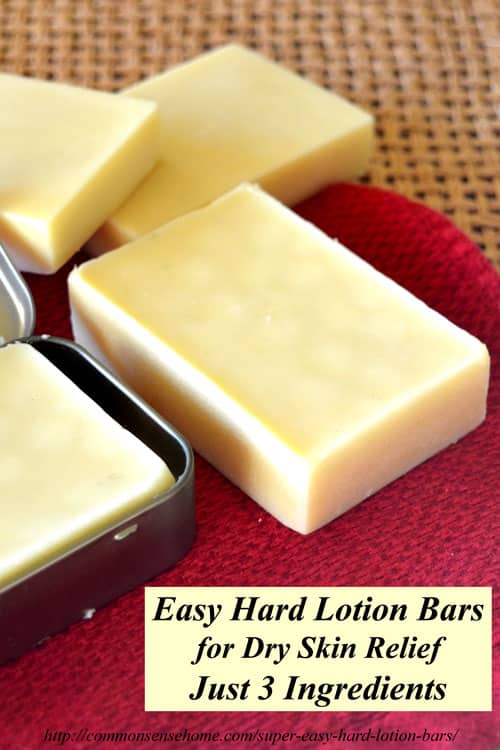 These have been wonderful for my winter dry skin. I used to coat my hands at night with petroleum jelly (before I knew what was in it), because it was the only thing that helped with the dryness. Normal lotion didn't help much at all, plus I don't like the fragrance of most lotions, and many have questionable ingredients. Since I do a lot of dishes and wash my hands frequently, these bars have been a godsend. No more dry skin for me! My only regret is that I didn't try them sooner, since they are so easy to make. The smell is light and pleasant, and they absorb fairly quickly.
Most homemade lotion recipes involve quite a few ingredients, blenders and more mess than I'd prefer to clean up. In contrast, all you need for these these bars is three ingredients, one pot, and molds – that's it!
I used a recipe from Jo's Health Corner, a site that I highly recommend. Jo has tons of neat ideas for natural health products.
MY LATEST VIDEOS
Hard Lotion Bar Recipe
Ingredients
Use 1 part each, by weight. For instance, 2 ounces of each ingredient.
If using a liquid oil, you can measure by volume. For instance, 2 ounces of olive oil to 2 ounces by weight each of cocoa butter and beeswax.

Melt all ingredients together, pour in molds. Let set until hard, unmold, and you're done!
I used plantain infused olive oil, almond oil would probably work nicely as well. I made one batch with cocoa butter and one with shea butter, just to compare. For the wax, I originally used granules from Frontier, but will probably switch to some sort of unrefined beeswax in the future because it is more therapeutic.
Here's a shot of all the ingredients as they begin to melt. In this batch, I used two ounces by weight or volume of each ingredient. I weighed the wax and cocoa butter, and used a liquid measure for the oil.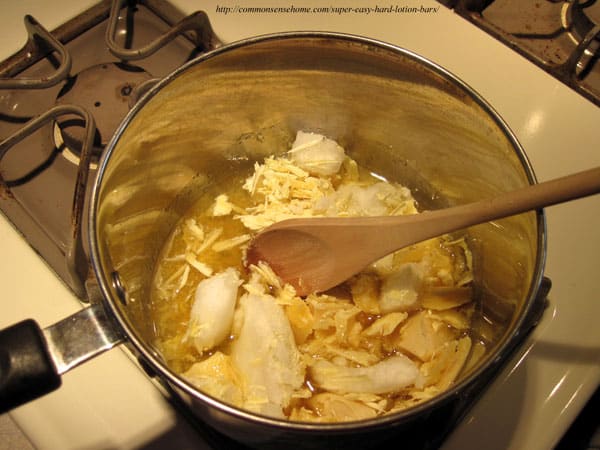 When everything has melted completely, pour the liquid into molds of your choice. I had molds available that I used for melt and pour soap making. You could also use muffin tins or some other small container. 12 ounces of product would fill one of the rectangular bar molds, making six bars.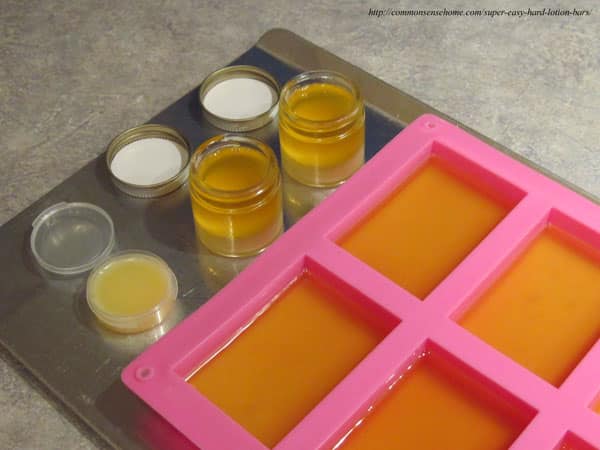 After several hours, the lotion will be firm and hard and should release easily from the mold.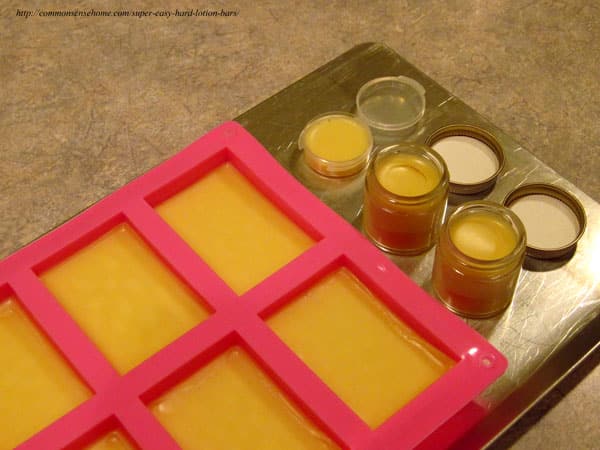 My mold set has a lot of fun shapes. I'm rather fond of the basic oval bars or rectangular bars, but the boys like the stars and moons better. I bought these years ago at a local craft store, but there are some super cute molds available now like this animal shapes mold.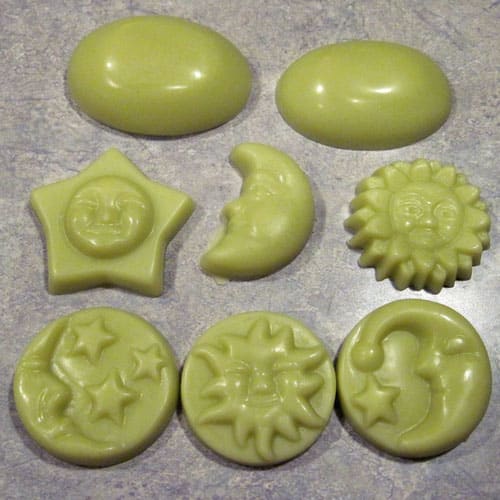 Both the shea butter and cocoa butter work well for moisturizing. I find the shea butter bars to be a little tackier and take longer to absorb into the skin. They also smell a bit "planty", not bad, just not as good (to me) as the cocoa butter.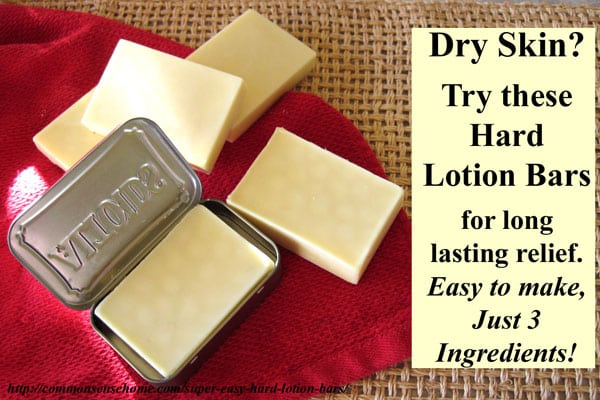 The cocoa butter bars smell good enough to eat! My younger son loved the smell so much I caught him rubbing the bar all over himself after he got out of the shower – even in his armpits. I had been using the bars as a lip balm, too…oops… The next time I made a batch, I poured some into smaller containers to use as lip balm, and made my son his own special bar.
If you make several bars and don't use them right away, keep the extra bars in a sealed container or bag. This will help preserve the lovely chocolate smell or any essential oils you may choose to add.
Another option is to pour the "bars" into a salve tin with a lid. You can also use a rectangular bar mold to create a bar that will fit into an Altoid type tin. The tins are also available in sets of 4 with clear lids. I prefer to pour the bars separately and store them in the tin. It's easier to apply the hard lotion if you can hold the bar in your hand. If you use the rectangular bar mold, fill the cavities to about 1/8 inch below the top edge. That way they will fit in the altoids style tin and the lid will close snugly.
Click here to order the rectangular bar mold
Click here to order a set of 4 rectangular containers with clear lids
My friend, Casey, made up some simple printable labels and saved them in pdf format for printing, to fit on the Altoid sized tins.
I hope you enjoy this recipe as much as we do. This one's a keeper in our house! Please pass the post along if you find it helpful, and leave a comment if you have any questions or ideas.
If you'd like to purchase the bars ready made, click here to visit MadeOn Hard Lotion Store.
Update: – You can find these ingredients (and containers and molds) at amazon.com (linked within the post), soaperschoice.com, and many other sites around the web. I do have affiliate accounts with Amazon and MadeOn, so I get a small payment if you purchase through my site. (Thank you!)  Keep in mind that two ounces of each ingredient made three bars, so a bulk purchase would make a LOT of bars.
You may also enjoy:
Get Homesteading 101 FREE, plus weekly updates and Subscribers Only information delivered to your inbox.