This post was inspired by my friend, Julie, who commented as we were sampling the pears from the dehydrator, "These taste like candy!" Because of their natural sweetness, dehydrated pears make an easy sweet treat.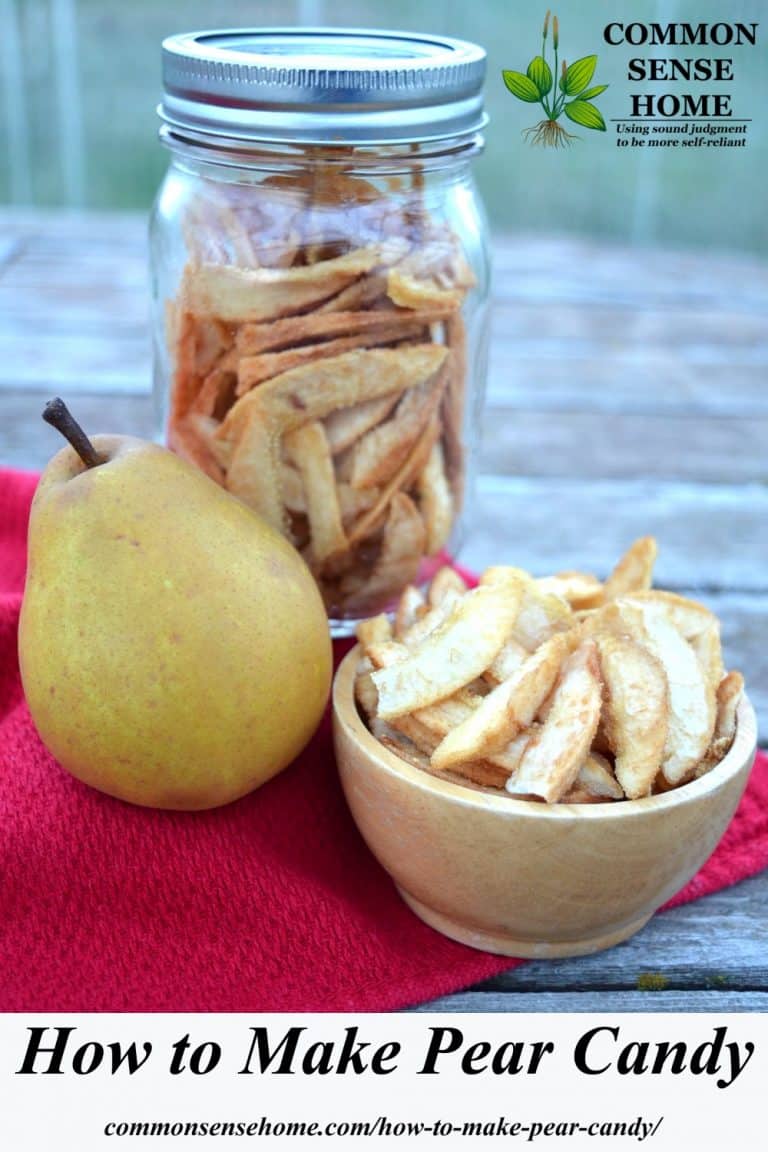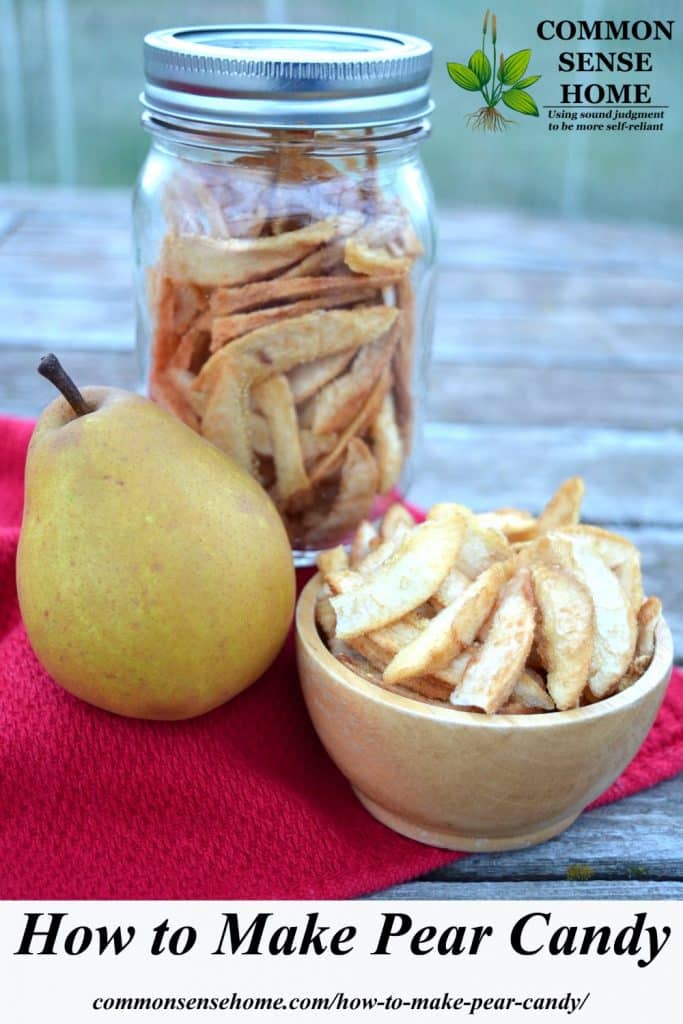 Sulfite Free Dried Fruit
My friend, Deb, was commenting earlier in the season that it seems like you have two choices in store bought dried fruit – buy the non-organic dried fruit, most of which is treated with sulfites; or buy the untreated organic fruit, most of which is very brown and unappetizing. She was amazed at how light colored and tasty our dried pears were (we shared a quart of dried pears as a "thank you" to her girls for helping with salsa canning). Why the concern about sulfites in fruit? The Food Intolerance Network explains:
Sulphites destroy thiamine (Vitamin B1) so some experts recommend that foods which are a significant source of thiamine, such as meats, dairy foods and cereals should not be sulphited. In Australia, a number of pet cats and dogs have died from thiamine deficiency due to a steady diet of pet meat containing unlisted sulphites. Since sulphites cleave the thiamine molecule, thiamine in vitamin supplements can also be destroyed by sulphites. For this reason, in the USA there has been a total prohibition on the use of sulphites in meats since 1959, although sulphited meats such as sausages are still widely eaten in other English and Spanish speaking countries. Sulphites are also thought to destroy folic acid.

Sulphites have been associated with the full range of food intolerance symptoms including headaches, irritable bowel symptoms, behavior disturbance and skin rashes but are best known for their effects on asthmatics since the well publicized 'salad bar' deaths of the 1970s and 80s when there were hundreds of reports of severe reactions and at least 12 asthmatics died from eating salads that had been sprayed with sulphites in restaurants. This use was banned in the USA in 1986, but a move by the US Food and Drug Administration in 1990 to prohibit the use of sulphites on frozen french fries was defeated on procedural grounds in a court battle with the potato industry.

At first sulphites were thought to affect only a small percentage of the population but in 1984, Australian researchers found that more than 65% of asthmatic children were sensitive to sulphites, and in 1999 the conservative World Health Organization (WHO) revised upward their estimate of the number of sulphite-sensitive asthmatic children, from 4% to 20-30%.
With a little prep before drying, you too can keep the fruit light colored and yummy looking – without sulfites.
How to Make Dehydrated Pears AKA "Pear Candy"
Select pears that fully ripe, at their peak of sweetness. Cut out any damaged sections.
For the quickest, most even drying, core and peel the pears and slice into section of equal thickness. You can leave the peels on, if desired, but this will slow down the drying process. It is important that you avoid pieces that are too thick, as these will retain moisture inside that could lead to spoilage in storage.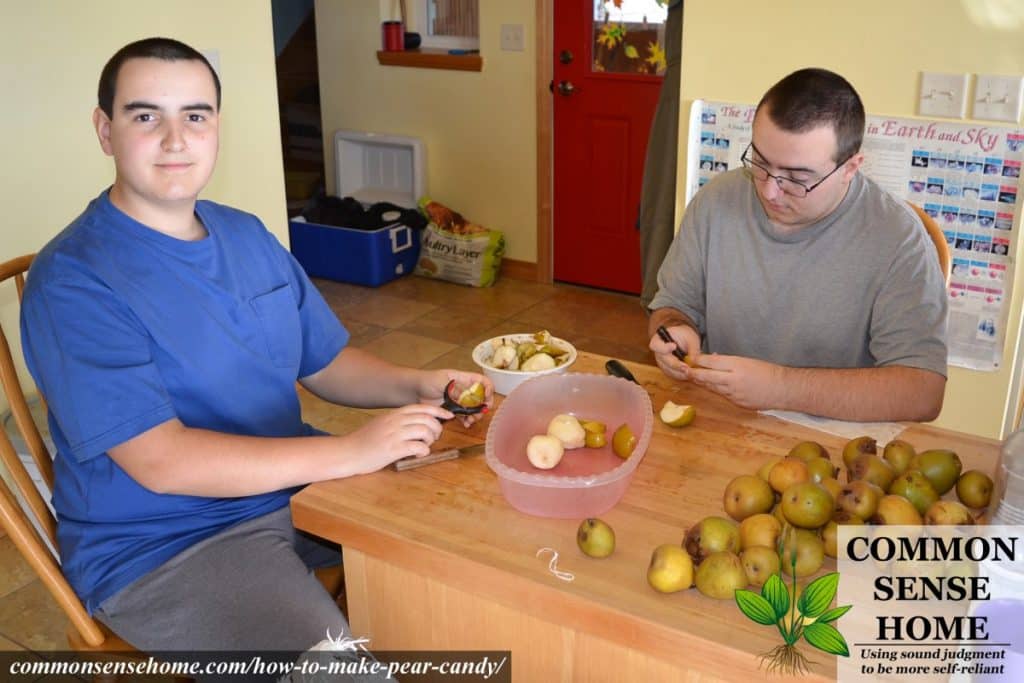 Dip the sliced pears in acidified water in a nonreactive container. I typically use lemon water with roughly 1/4 to 1/2 cup lemon juice to 4 quarts of water, but you could use any citrus juice or even pineapple.
If you would like an even sweeter candy, use undiluted orange or pineapple juice. Note: With undiluted juice, the finished dried pears will be quite sticky.
Drain the pears.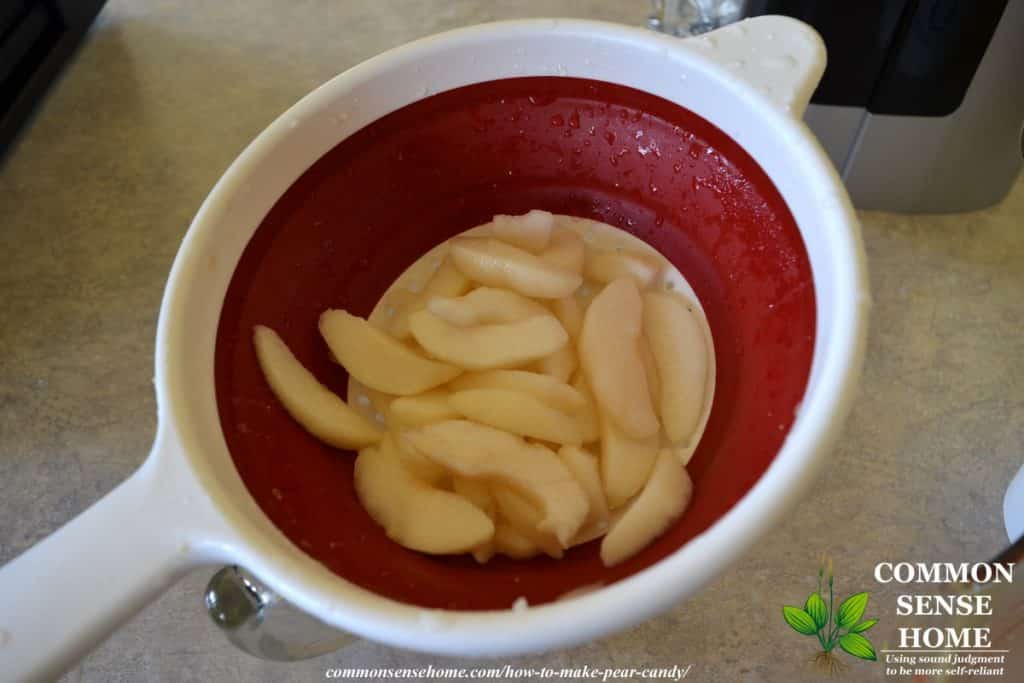 Load the pears on a mesh sheet in the dehydrator, making sure to allow space between the pears for good air flow.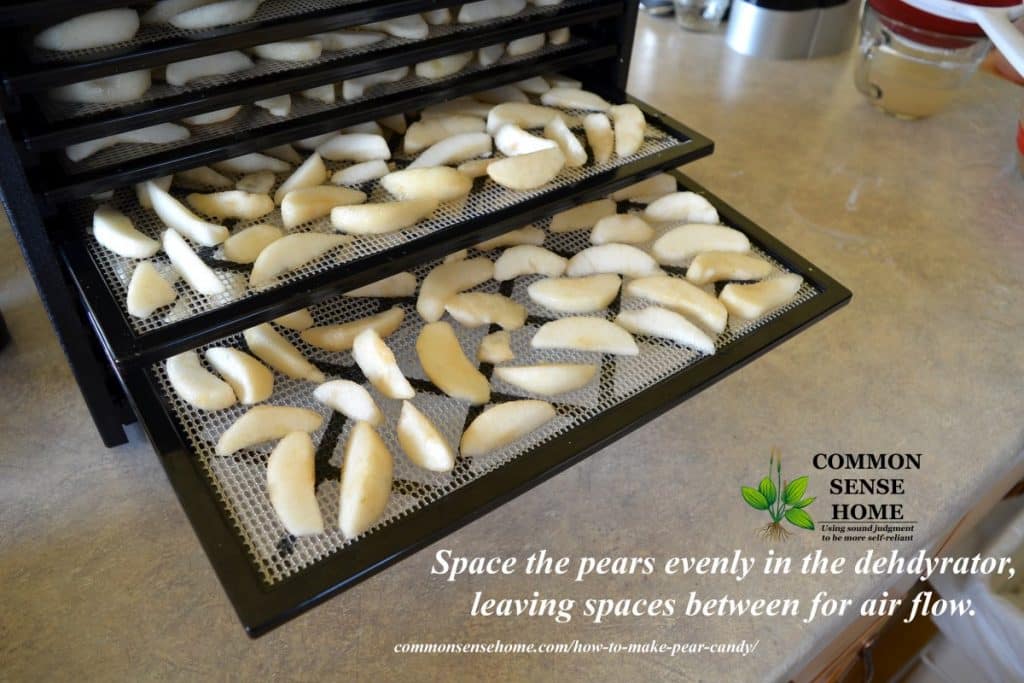 Dry at 135 ºF/57 ºC overnight or until fruit is dry and leatherlike. Depending on the moisture and sugar content (sweeter fruits dry more slowly because the sugar bonds to the water), dehydrating pears should take between 10 to 24 hours.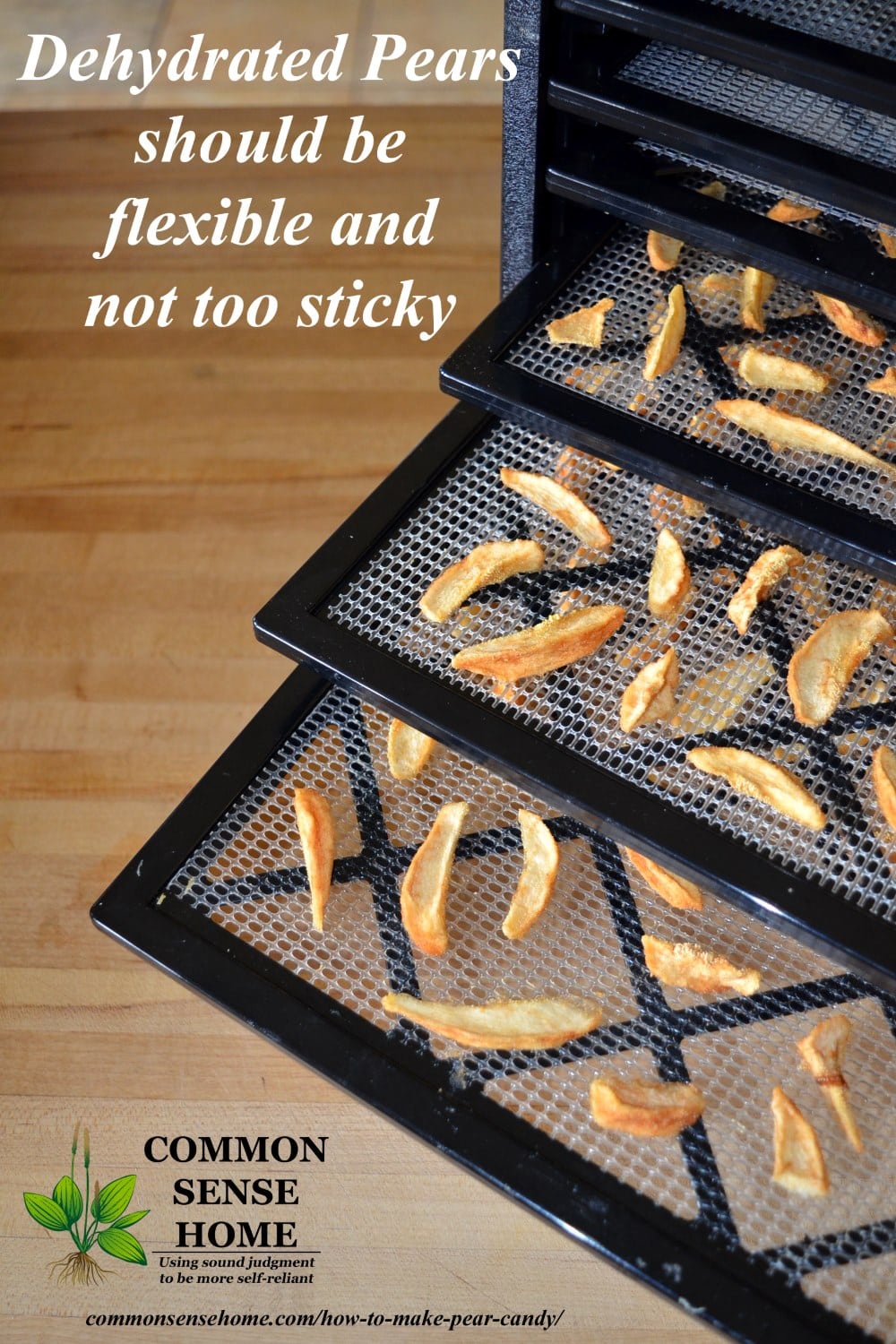 Store in an airtight container. The dehydrated pears will be slightly tacky because of their high sugar content.
To make sure your dehydrated pears are dry enough – place the finished pears in a mason jar with a tight fitting lid. Over the next 2-4 days, check each day for any signs of condensation on the underside of the lid. If there is condensation, place pears back in the dehydrator and try again.
This same procedure also works well for dehydrated apples, but pears are sweeter. You can also sprinkle on a little cinnamon, nutmeg or other spices to mix things up.
For long term storage, you can vacuum seal the pears in mason jars and keep them in the pantry for 2-3 years. For short term storage, a zippered plastic storage bag or other container will work fine. Just keep in mind that any container that lets air in (like plastic bags) will also let moisture in and decrease shelf life. You can keep dehydrated fruit in the fridge or freezer, but it's not required.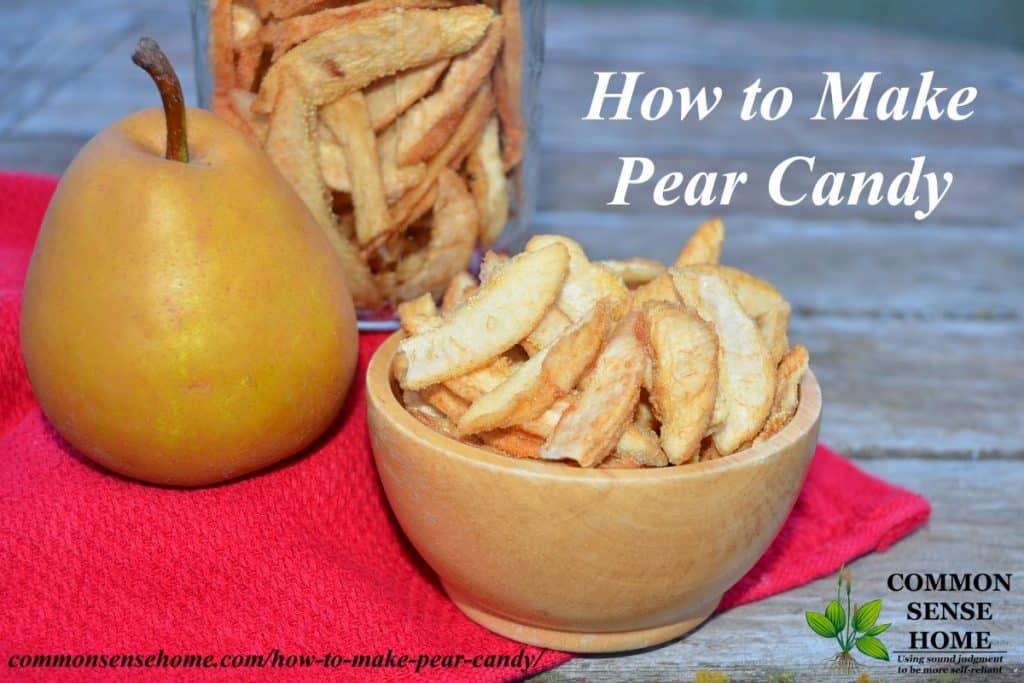 The dehydrator shown in the post is an Excalibur 3900B 9 Tray Deluxe Dehydrator and is a real workhorse during harvest season. It can also be used to culture yogurt or cheese, or for making jerky. I also have a smaller Nesco FD-60 Snackmaster Express 4-Tray Food Dehydrator, which is nice for smaller jobs and great if you are on a tight budget.
You may also find useful: