In 2018, we purchased a 16′ Harvest Right geodesic dome greenhouse to review. We were having work done in the yard, so we had to wait for the fill to be brought in to the greenhouse location before we could set it up. It's now been up and tested for over a year. In this post, we'll review the dome greenhouse, and answer some common questions.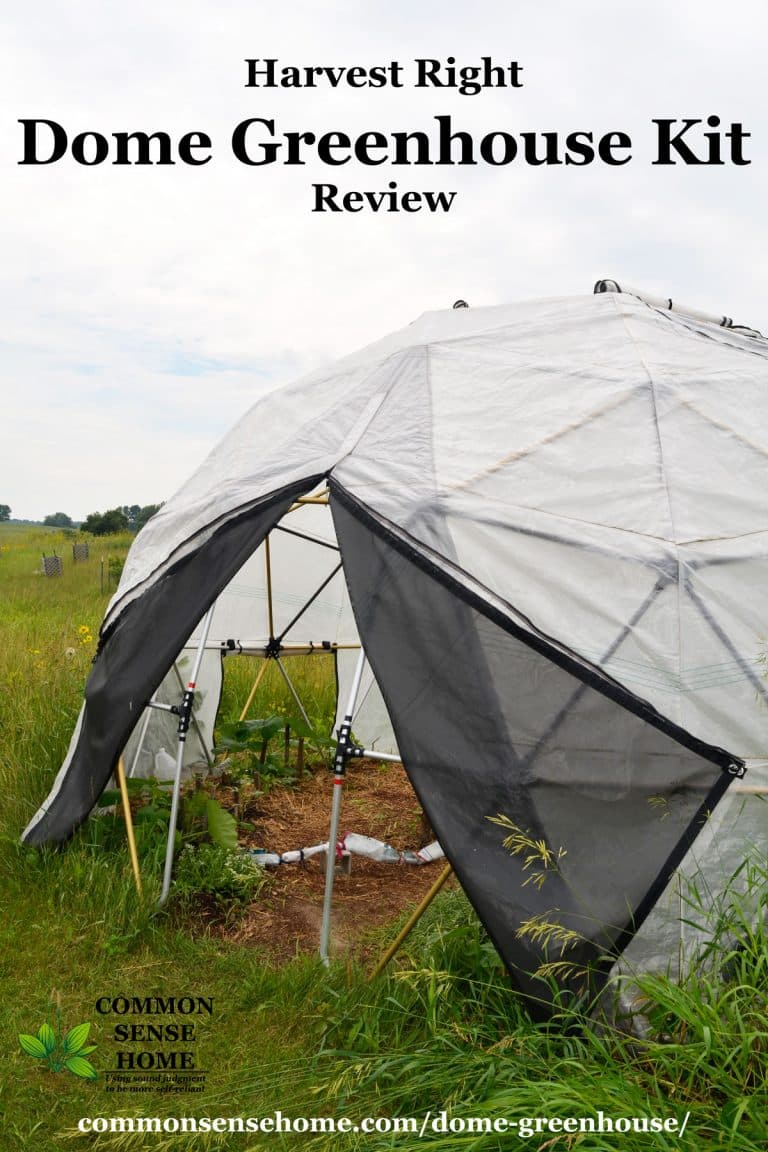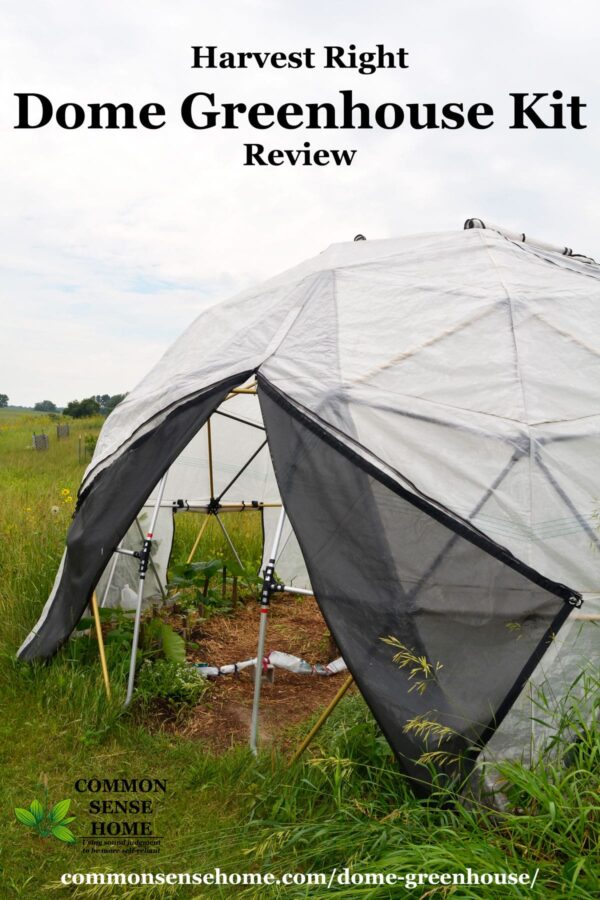 Why choose a Geodesic Dome Greenhouse?
In colder climates, the right greenhouse dramatically extends your growing season.
The dome shape and interlocking triangles of geodesic greenhouses make them strong and naturally wind resistant. The wind flows over the hemisphere, instead of catching on upright walls and turning them into sales.
The design is energy efficient enclosing the maximum amount of growing area within a minimum amount of surface area. There are no hot spots or cold corners. The growing spaces inside a dome greenhouse are bathed in consistent, diffused light.
The Harvest Right Geodesic Dome Greenhouse
Harvest Right offers two sizes of dome greenhouse:
16′ diameter, 9.5′ tall (202 sq. ft. of growing space)
24′ diameter, 10′ tall (405 sq. ft. of growing space)
(They also offer emergency shelters in the same size and frame, but with different covers.)
Specifications (from the Harvest Right website)
5 year limited warranty
Warranty covers every aspect of the greenhouse
Strong Frame
Aircraft aluminum anodized poles
Designed for easy set up/take down and increased durability
Integrated door
Two people can setup the entire greenhouse in an afternoon
Harvest Right UV Protected Woven Plastic Dome Greenhouse Cover
6 year UV warranty
Woven rip stop fabric with layer technology for strength and versatility
Light diffused (88%)

Prevents shadowing for a more even distribution of light onto your crops
Increased photosynthesis for crop yield
100% UV protection for humans and plants
Less evaporation and less water used for irrigation

IR – Infrared protection leads to less heat transfer meaning a more constant temperature throughout the day and night (R3 rating)
AD – Anti-Drip (sometimes called AC anti-condensation) prevent condensation which can lead to mold and uneven light distribution
UVA – Ultraviolet protection prevents sun deterioration and ensures the cover material will last 10 years or more (comes with 6 year UV warranty)
Anti-Dust protection helps repel dirt from the surface instead of creating static that attracts dirt and impairs light
It's a less permanent structure than one with polycarbonate glazing panels or glass panels, but more affordable.
Our Experience
We have two greenhouses – the Harvest Right geodesic dome greenhouse and a 10'x20′ traditional polycarbonate panel greenhouse we installed in 2015. With growing seasons trending cool in recent years, we've filled both of them up.
Assembling the Dome Greenhouse Kit
Our first greenhouse took several weekends to assemble. There were a LOT of parts, and the kit we ordered had a couple things messed up. We also put in a full frost foundation to keep it level.
In contrast, the dome greenhouse kit went up in a single afternoon. The whole family worked on it, but once you built one, I bet you could put a unit up a unit in an hour with 2 people like they claim on the HR website.
All the frame pieces go together like an oversize K'nex kit. You don't need tools for assembly. The connectors are marked with letters, and you match the letter with the right color metal tube. You start at the top, and add a level of triangles at a time.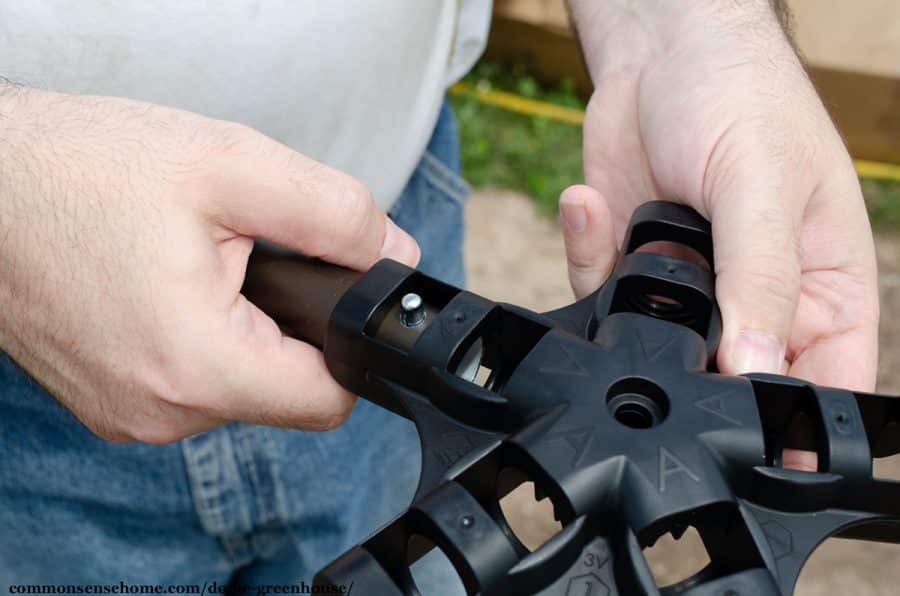 To anchor the unit, we used sixteen 18″ rebar j-hooks around the base of the dome. The "hook" of the J loops over the dome greenhouse frame near a connection point, while the length of the post goes into the ground. (You need a mallet for this step to pound in the anchors.)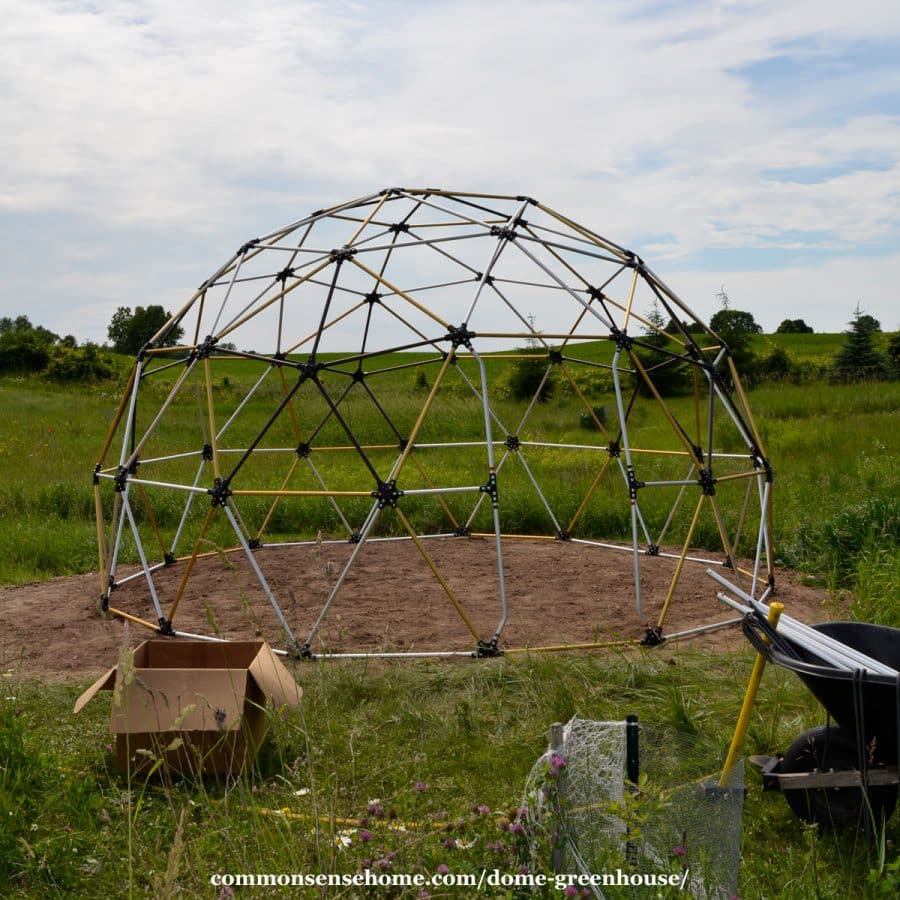 The only awkward part of assembly was wrapping the cover around the bottom of the frame while still leaving access points to pound in the anchors. If they redesign the covers, I'd suggest adding grommets for the anchor points so you could anchor through the cover.
We tried to record setting up the greenhouse, but something went wrong with the camera and we found out after the fact that half the assembly didn't record. Harvest Right has a high speed demo of setting up the smaller nine foot diameter version that they used to stock, minus the door install and anchoring.
Using the Dome Greenhouse
We opted not to use a raised bed system for planting, and instead planted directly in the soil. The soil is not in great condition, but initial results have still been good. (The fill that was brought in was mostly subsoil, heavily compacted by a skid steer.)
Last year we had a few leftover garden plants and some volunteer tomato plants because we got such a late start. The tomato plants were huge, and the kale survived the winter to flower this spring.
The feel of the greenhouse is interesting. It's different from the rectangular polycarbonate greenhouse – more like walking into a sauna. When we were teaching gardening classes in early spring, several students commented about how good it felt.
The greenhouse has a 7 foot high zippered door with an inner screen door. This allows some ventilation while keeping the bugs out. It's wide enough to allow a wheelbarrow through.
The dome greenhouse isn't tightly sealed enough to keep out rodents, but so far (knock on wood), we haven't had rodent damage. Our cats and resident snakes do patrol the greenhouse area.
Is the HR geodesic dome greenhouse portable?
Technically, yes.
During initial assembly, the entire geodesic dome is built, and then pieces are removed to fit in the door. If you think you'll want to move the greenhouse, save those pieces. We recycled ours since we don't plan to move the dome greenhouse.
Will the Harvest Right greenhouse hold up in a storm?
Harvest Right says their geodesic growing dome is hail, wind, and snow resistant. The support struts are made of aircraft aluminum. The hubs are made of heat, cold, and UV resistant nylon polycarbonate. They appear to be very tough (not lightweight plastic).
It's built to withstand 90 mph winds, heavy snow loads, golf ball size hail, and even earthquakes. The geodesic frame is very strong and the cover gives it even more strength.
So far our dome greenhouse has survived a few Wisconsin summer and winter 60 mph storms and significant snow. The rounded top of the greenhouse sheds snow quickly.
How does the plastic cover hold up?
So far the woven poly cover is holding up well. We have been through a full season cycle and the plastic has not torn or become brittle. We expect that the cover will degrade quicker than the aluminum and polycarbonate frame. You can buy a replacement cover from Harvest Right.
Zippered side vents and roof vents can be opened and closed as needed. Note: The roof vents require a ladder to open and close.
Buying a Harvest Right Dome Greenhouse
Note: shortly after I originally posted this review, Harvest Right discontinued the greenhouses. I do not know at this time when or if they will be available for sale.
I am a Harvest Right affiliate, so if you decide to purchase a unit through my affiliate link if they become available – https://affiliates.harvestright.com/115.html – I earn a commission at no extra cost to you.
Other Styles of Geodesic Dome Greenhouses
There are other geodesic dome greenhouses available, but we haven't tested those yet. A company out of Colorado makes beautiful units with polycarbonate panels, raised beds, water features and solar powered heating and cooling systems. Their kits are roughly 4-5 times the price of the Harvest Right units, but they claim to be four season greenhouses and have more features.
Another company offers DIY dome greenhouse kits with PVC parts and zip tie assembly – lots and lots of of zip ties. If the budget is extra tight, this may be a functional option.
More Information on Greenhouses and Season Extension in the Garden
We have over 100 gardening articles on the website, listed by category on the Common Sense Gardening page. They include more ideas to help you extend your growing season, including: