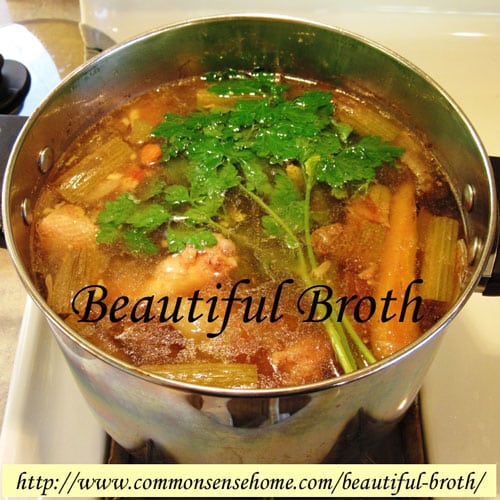 Homemade chicken broth serves as the base for many of my dishes. This winter I've finally had access to local pastured chickens and grassfed beef, including bones and, in the case pf the chickens, feet – LOTS of feet. The folks who raise the chickens don't actually use the feet themselves, so the last time they butchered they were kind enough to save a whole bag full of feet for me. Score! The only downside was that they were frozen into a big "chicken-feet-sicle", but a couple of solid bangs on the counter top and I had some feet free.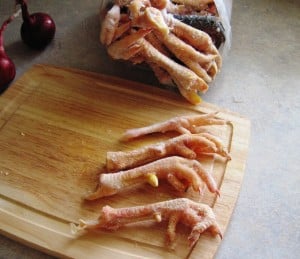 Looking at these feet, I mistakenly thought that the skin and claws had not been removed on some of them. Because of the different ages and breeds of the birds, the underlying tissue looked pretty tough. After spending way too much time trying to remove skin that wasn't there, I mentioned it on Facebook and was informed that indeed the skin had been removed already. (Did I mention I haven't actually seen this done since I was a kid and I've never done it myself before? And that the feet were frozen and…yeah…whoops…) if by chance you happen to get feet that haven't been skinned, Nourished Kitchen has a post with more details about how to skin the feet in their post "Voodoo Stock: Chicken Feet and Chili Peppers".
Extreme foot closeup – aaaaah!
I think I ended up throwing ten feet into this latest batch of broth, but the original recipe recommends 2-4.
Here's the recipe I used, from the cookbook Nourishing Traditions and also posted on the Weston Price Foundation website (along with beef and fish broth recipes).
Print
Chicken Stock
Ingredients
1 whole free-range chicken or 2 to 3 pounds of bony chicken parts, such as necks, backs, breastbones and wings*
gizzards from one chicken (optional)
2-4 chicken feet (optional)
4 quarts cold filtered water
2 tablespoons vinegar
1 large onion, coarsely chopped
2 carrots, peeled and coarsely chopped
3 celery stalks, coarsely chopped
1 bunch parsley
Instructions
If you are using a whole chicken, cut off the wings and remove the neck, fat glands and the gizzards from the cavity. Cut chicken parts into several pieces.

Place chicken pieces in a large stainless steel pot with water, vinegar and all vegetables except parsley. Let stand 30 minutes to 1 hour. Bring to a boil, and remove scum that rises to the top.

Reduce heat, cover and simmer for 6 to 8 hours. The longer you cook the stock, the richer and more flavorful it will be.

About 10 minutes before finishing the stock, add parsley. This will impart additional mineral ions to the broth.

Remove chicken pieces with a slotted spoon. If you are using a whole chicken, let cool and remove chicken meat from the carcass. Reserve for other uses, such as chicken salads, enchiladas, sandwiches or curries.

Strain the stock into a large bowl and reserve in your refrigerator until the fat rises to the top and congeals. Skim off this fat and reserve the stock in covered containers in your refrigerator or freezer.
Notes
*Farm-raised, free-range chickens give the best results. Many battery-raised (factory farmed) chickens will not produce stock that gels.
Here we have the 12 quart stock pot loaded with ingredients. I love how bright and fresh everything looks.
And here it is near the end of cooking time. I loaded it up in the evening and let it cook gently overnight.
Harvest a bunch of fresh parsley from the basement stash.
After that's simmered for about 15 minutes more, I fished out the meat and veggies and strained the broth through my jelly bag. Here's the meat.
Here's the straining setup. I use my jelly strainer for broth and any number of other things in the kitchen. (Note – I noticed on Amazon this strainer got a lot of bad reviews. I've had mine for years and it has not rusted, and I fill the strainer bag to the top and it stays put.)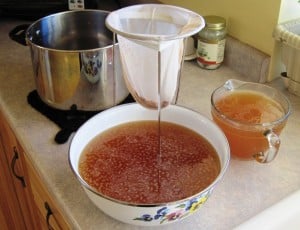 It was s big batch so I had to use more than one container. I like to strain to give a nice, clear broth. It's darker than normal this time (almost resembling beef broth) because I used some purple carrots. There's not much left of the chicken feet at this point.
You can tell you've got it right when, after sitting in the refrigerator, the broth jells up nicely.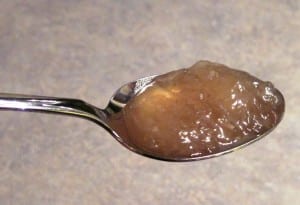 I froze part of the broth and made the rest into a batch of chicken soup. For the soup I just diced up some fresh carrots, onions and celery, ran a couple of cloves of fresh garlic through the garlic press and tossed those in, cleaned the meat off the bones and chopped it into bite sized chunks. For seasoning I added some salt, pepper and curry powder. I finished it with some drop egg noodles. To make these noodles, simply beat several eggs (in this case I used four) and then mix in enough flour to form a stiff dough. Drop by spoonfuls into gently simmering soup, stirring occasionally so they don't stick together.
There you go – one bowl of very healthy comfort food. If you like, you can pair it up with a salad or homemade bread. Check out "12 Homemade Bread Recipes" for more ideas.
You can use this broth as a base for many soup recipes, including: