Keeping Warm – Winter Prep List for You and Your Home
Little things can make a big difference when it comes to keeping warm and comfortable in your home. A friend of mine made one change from this list and raised the temp in her daughter's bedroom over 10 degrees – without turning up the thermostat. With the right preps, we reduce our heating bills all season, and are in much better shape if a winter storm knocks out the power.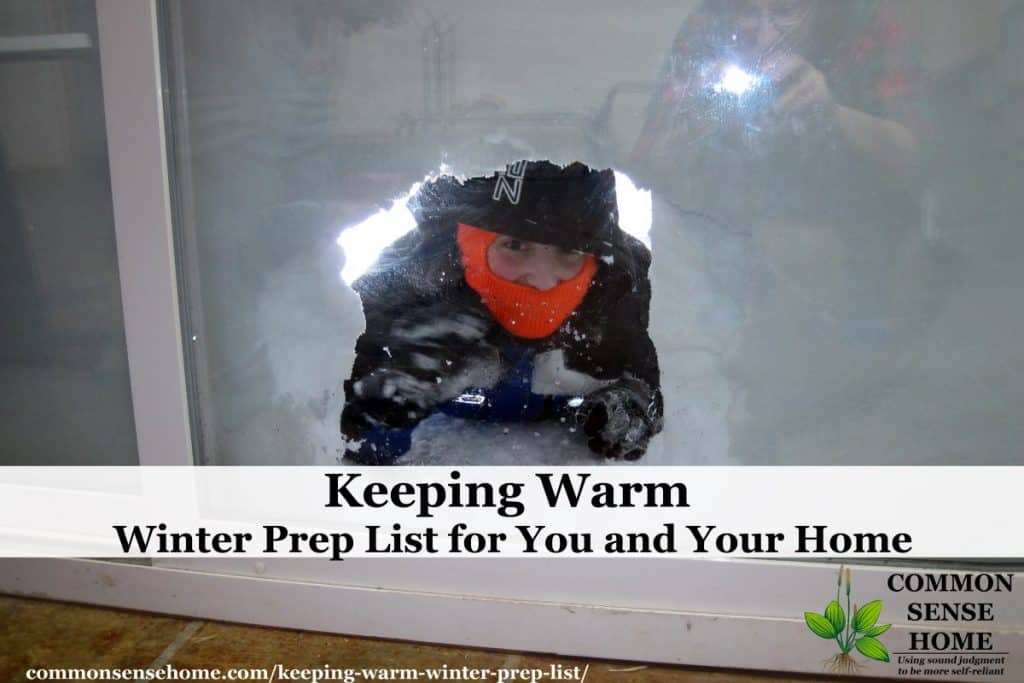 This post is part of our Winter Home Heating Series, which includes:
Keeping Warm – Winter Prep List for You and Your Home
Start with the house, inside and outside, then make sure each family member has the right gear for keeping warm.
Home Heating Safety
Get stocked on fuel. Make sure your propane tank is full for the winter and/or you have plenty of dry firewood or heating pellets. In the middle of a snowstorm is not when you want to realize you are out of fuel.
Make sure everything is clean. Change your furnace filter (if you have one). Clean the woodstove and chimney and inspect for any signs of wear. Have your furnace inspected at least annually.
Have emergency supplies on hand. Stock up, make sure you have a fire extinguisher and a first aid kit – because things happen, and no one wants to see you on the nightly news for bad things happening. Extra toilet paper is great in case you get snowed in and find yourself in need. Storing extra of your favorite foods, and some long term foods is also a great plan. Have at least 7 days of food and water.
Use space heaters wisely. My friend, CJ Harrington, recommended Buddy Heaters (that burn propane) for safe indoor use. There are also a wide variety of electric space heaters available. Check and double check to make sure any combustion device you choose is rated for indoor use and that you have enough airflow. On electric heaters, watch for frayed cords or other signs of excess wear. Always keep combustible items clear of your heat source, and don't plug electric heaters into a power strip. They will melt the strip.
Outside the house. Inspect your house. Walk around the exterior looking for openings and gaps. Do the same inside and check the attic in late spring when its still cool. Keep an eye on your roof throughout the winter. If you get icicles or ice damns, you likely have excess heat loss in the attic. Inspect the roof the following spring/summer for leaks due to ice damage.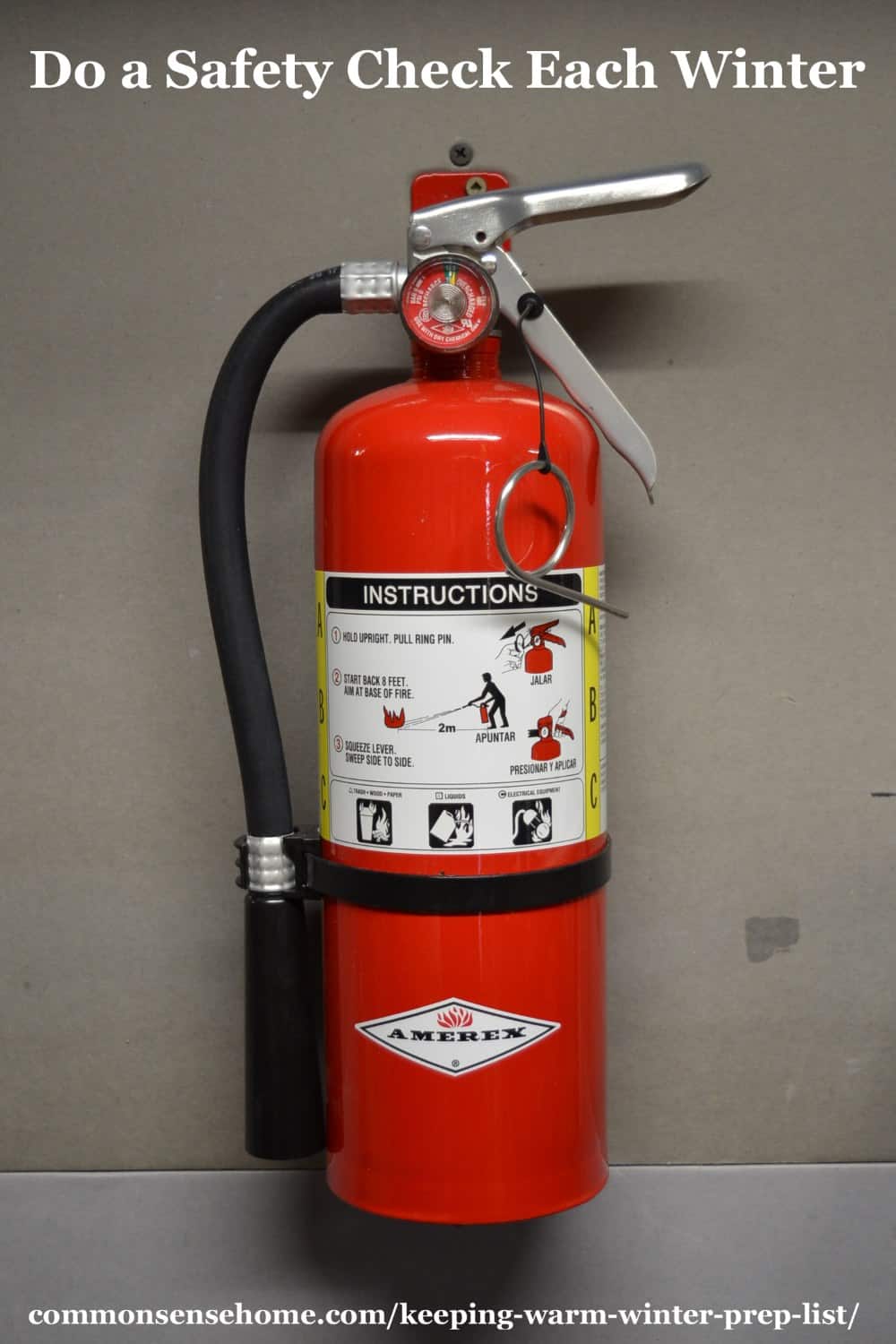 Control Drafts
Even with good windows, doors and patio doors, you might need to block drafts. In our first house we had a brand new front door. When we got below zero weather, the door frosted up along the bottom edge. We added draft blocker against the door to reduce heat loss.
Some spots to check for drafts include:
Weather stripping on all windows and doors. Replace any that is damaged or missing.
Electrical outlets – many may have drafts. If you are qualified, disable the circuit, pull out the plug and carefully insulate around the box. Simpler fixes are outlet insulation and outlet covers.
Door bottoms. Place rolled up towel at the base of a front door or drafty door to keep heat in or cold out. For a sturdier draft blocker, use a leg from an old pair of sweats stuffed with old socks, tshirts and other "rags". Fill it and tie off ends and lay along door blocking the draft. Another more attractive option is heavy duty draft blockers that lock to the door.
Windows – See the Reduce Window Heat Loss Section on 25 Cheap Ways to Keep Your House Warm in Winter. Installing window insulating film over an old patio door helped my friend warm up her daughter's bedroom.
Keeping People Warm
Stock Warm Clothes. Make sure each family member has:
Long underwear tops and bottoms.
Good winter boots and outdoor gear (if you're freezing outside, it'll take you that much longer to warm up when you get in)
Clothes that you can layer for warmth, such as flannel overshirts or sweatshirts
Polypropylene 1st layer socks, very warm wool socks and slippers
** For more info, see The 4 Layers of Winter Clothing Everyone Should Know
Bedding. Make sure you have a few extra very warm blankets and comforters. Watch for sales or buy them secondhand to save money.
A good wool blanket can really improve the livability of a cold house or cold bed. If you don't like wool, sandwich it between cotton sheets or other blankets.
Electric blankets can heat up the bed before you get in and then turned off once you get warmed up.
Choose flannel sheets for extra warmth.
Purchase cold weather sleeping bags (one per person) for emergencies (or winter camping or really chilly bedrooms).
Down comforters trap insulating pockets of air, keeping you warm without adding a ton of extra weight.
See "No More Cold Feet in Bed" for more tips for toasty toes.
Targeting heating. Use chemical hand warmers in gloves, footwear or pockets – but be careful because they may be too warm to place directly against the skin. These warmers can be purchased almost anywhere. They are inexpensive and work fast. The heat can really make a difference for comfort and keep you from getting frostbite. Many boots, gloves and mittens have a pouch for the warmers.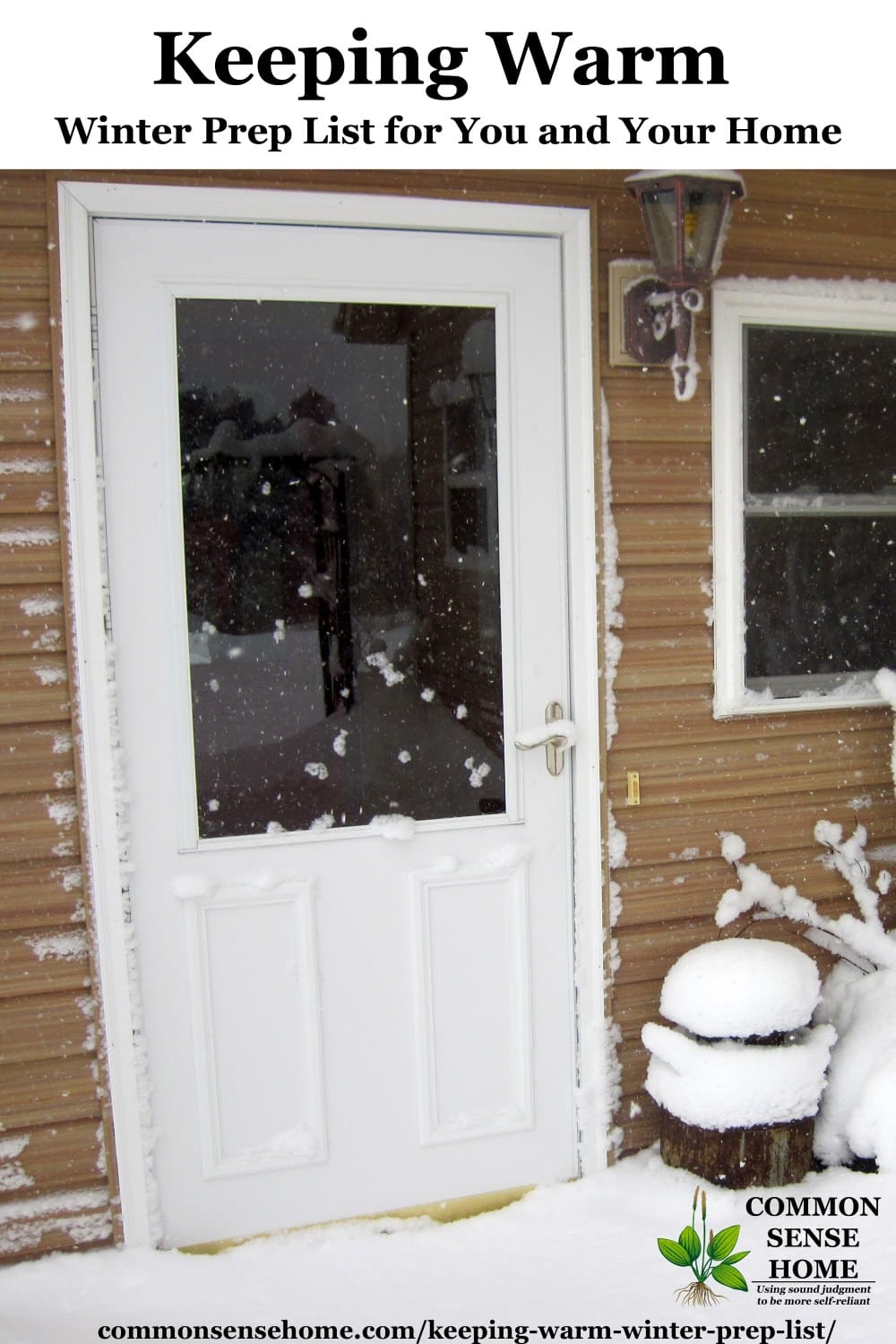 What other preps do you make for cold weather? Leave a comment and let us know.
Related Posts
Don't forget to check out our other Cold Weather Preparedness posts.