Digz Garden Gloves – Review and Tips for Use and Care
I received some Digz garden gloves to review earlier this year. My hands take a beating since I spend time in the garden nearly every day, so I use gloves regularly.
In this article, I'll review four types of digz garden gloves, discussing fit, construction, intended use, and care.
(I love to work bare handed, too, but at the half century mark, my hands don't bounce back quite as quickly as they did when I was younger.)
Digz Garden Gloves for Women
I tested four types of digz garden gloves:
Canvas back with leather palm
Fit
The fit on the three types of leather gloves is good. The nitrile gloves are a little bit snug.
Note – I do have rather large hands for a woman, and typically buy men's large gloves. I was pleasantly surprised that the women's large size fit.
For the goatskin leather gloves, I tested the XL size.
Construction
The canvas back and the mesh back digz garden gloves are made with synthetic leather on the palms. They also have some padding sewn in for extra comfort, and touch screen friendly finger tips.
I like the canvas gloves for cooler weather, and the mesh for working in the heat. The mesh gloves have a stretchy, adjustable wrist closure so they are easy to get off and on sweaty hands.
Both the canvas and the mesh back gloves have double stitched palms for durability, and the canvas backed gloves have additional knuckle padding on the back of the hand.
The wrist protection on the rose picker gloves reaches more than halfway to my elbow, which is helpful to avoid phytophotodermatitis when weeding clumps of Queen Anne's lace.
The goat leather is thin enough to be flexible, so grab thorny plants gingerly.
The nitrile gloves are quite sticky and grippy, but like all nitrile gloves I've tried, not the most breathable.
Suggested Uses
The suggested uses for each type of glove are as follows:
Duck Canvas
Pruning
Landscaping
Mulching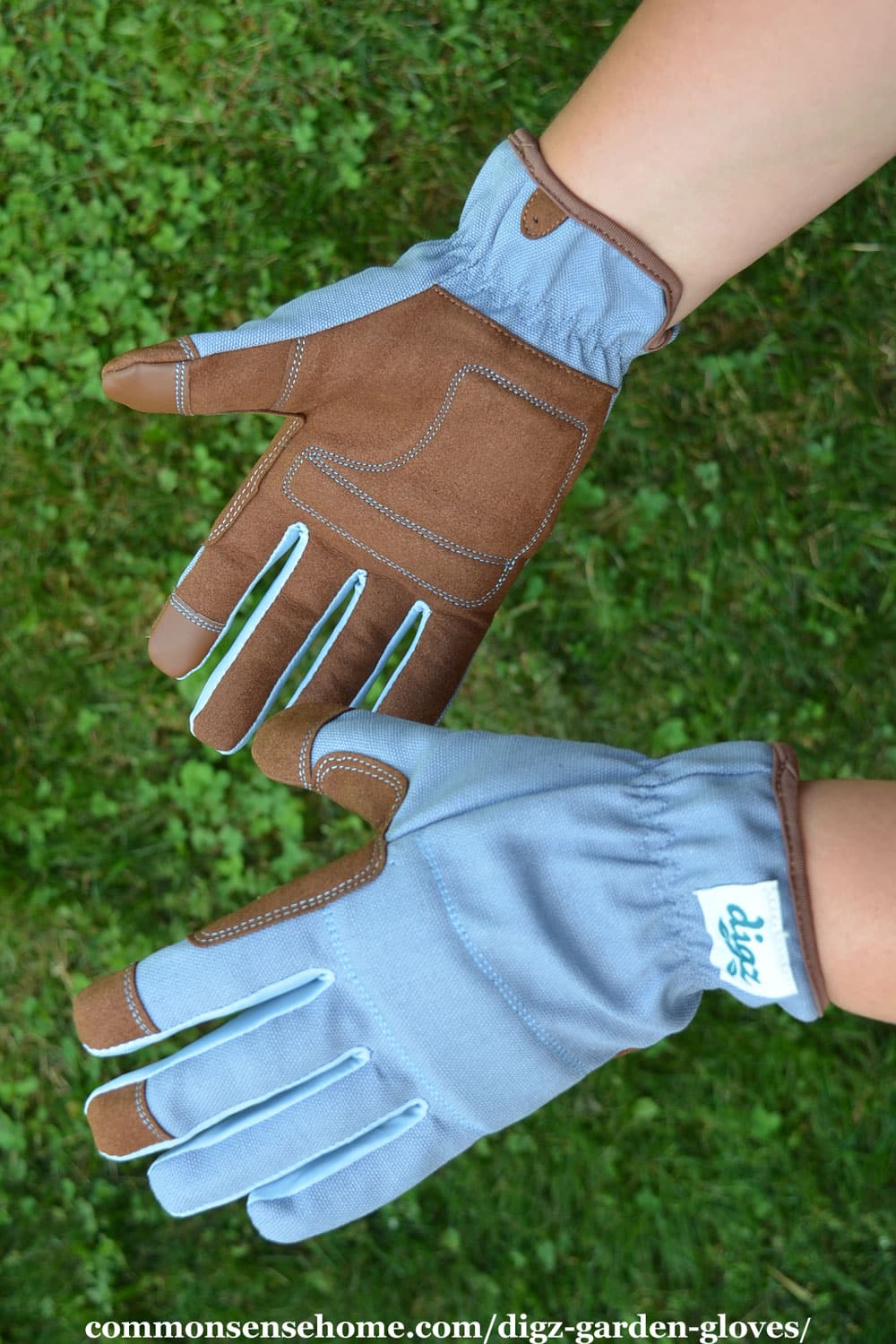 Signature High Performance Garden Gloves (mesh back, top photo in post) and Nitrile Coated garden gloves
Landscaping
Hand & Power Tools
Plumbing
Mechanics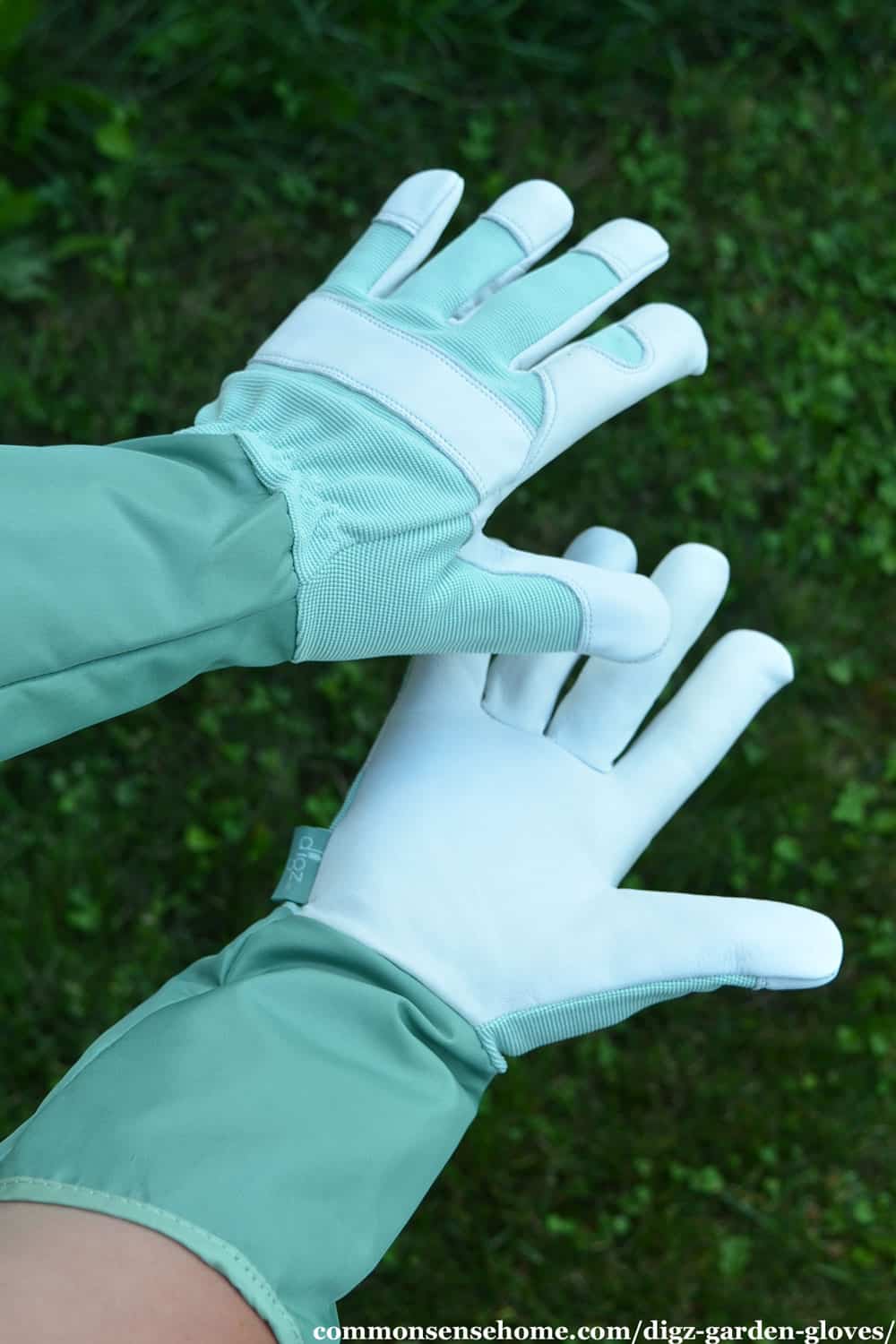 Can you wash digz garden gloves?
Both the canvas back and mesh back garden gloves with synthetic leather palms can be machine washed on cold and line dried.
For goatskin and nitrile dipped gloves, hand wash in cold water with Dawn dish soap.
Betterbee beekeeping site gives more detailed cleaning instructions in the article, "Washing Your Goatskin Leather Gloves".
Can you get digz garden gloves with claws?
No, digz garden gloves don't come with claws, but I've tested the gloves with claws and I don't like them.
I found the clawed gloves made it difficult to grip, because the claw tips don't flex. Weeding was tougher, not easier.
They only help to work up your soil when it's loose and fluffy to start. If the soil is compacted at all, it's difficult to dig the claws in. They're at the tip of your finger and tend to bend backward instead.
Do the touchscreen compatible fingertips work?
I tested the touchscreen compatible fingertips when the gloves were clean, and was able to do basic movements on the phone like selecting, scrolling and swiping.
The tips are are a little too large for typing, but I could answer an incoming call. I don't usually cart the phone around in the garden anyway, so it's not a big deal to me.
Wear and Tear
The glove hold up well to general garden use, and the extra padding in palm is nice when I'm putting in long hours weeding or pruning.
The Best Digz Garden Gloves
My personal favorite out of the digz garden gloves I had to review are the Signature High Performance gloves.
I like how the mesh back of the glove breathes, and the adjustable wrist closure makes it easy to put on or off.
The synthetic leather covering wraps all the way up the fingers and around the fingertips for extra protection. The fit is well-proportioned – no floppy fingertips to interfere with gardening tasks where you need dexterity.
My runner up is the canvas back, which I suspect will last a little longer, but isn't as breathable. (It's been a hot summer here in Wisconsin.)
The rose pickers are nice for sticking my hands into poky foliage, but I use them less than the other gloves.
Nitrile gloves are not my favorite, because they make my hands sweat. Since these are a little snug, I'm planning to keep them around for when we have garden helpers with smaller hands.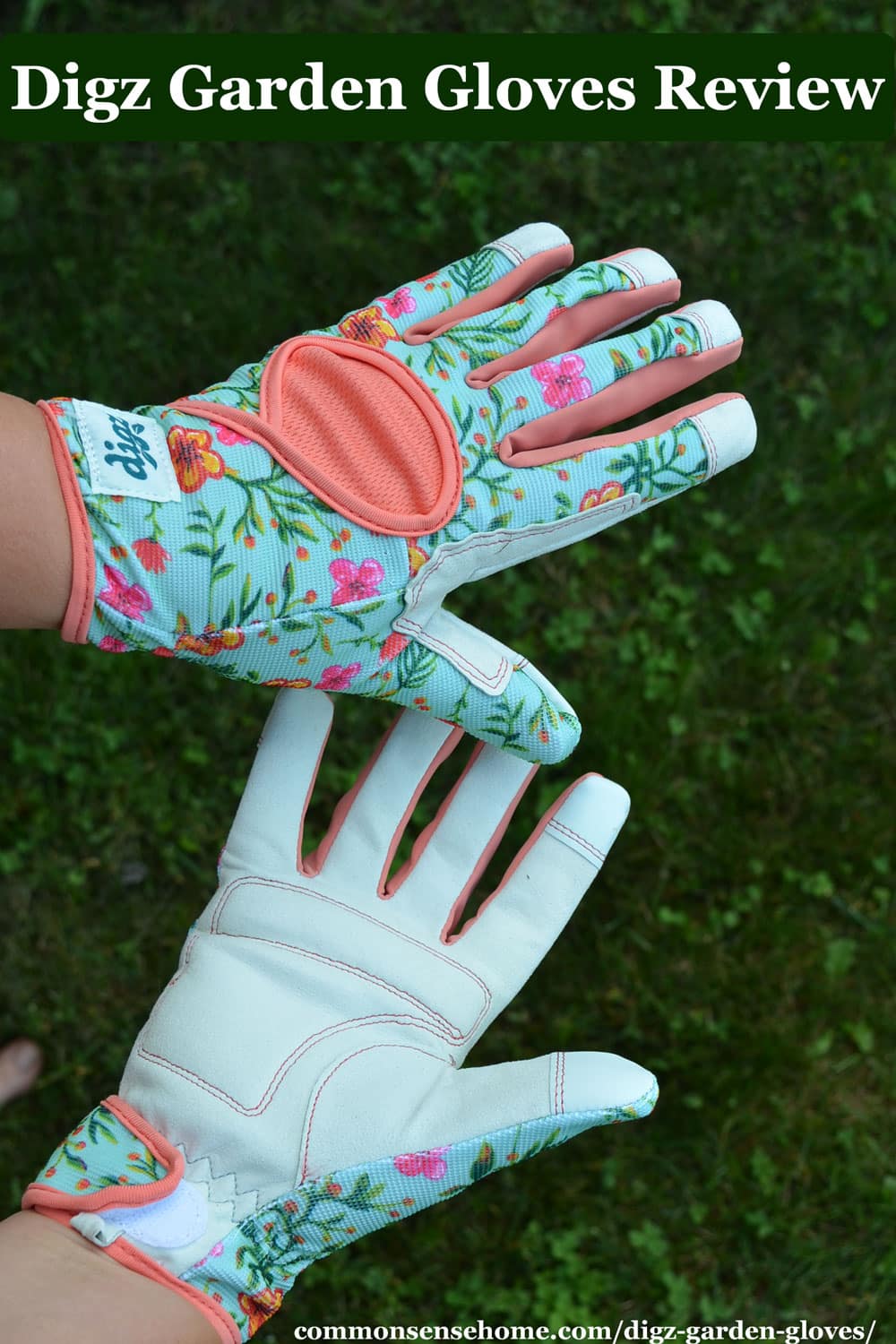 More Gardening Tips
We have over 100 gardening articles on the site, all listed by category on the Common Sense Gardening page.
They include: