New England Aster – Weekly Weeder #12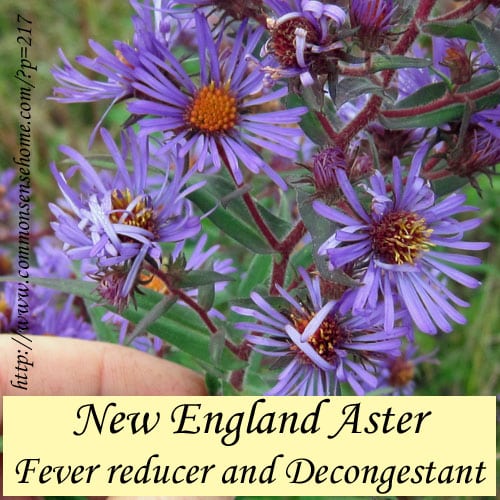 Today's featured plant is New England Aster, Aster novae-angliae or Symphyotrichum novae-angliae.
New England Aster is also known as starwort, blue chamomile, blue daisy, New England aster, fall-rose and frostweed.
Range and Identification of New England Aster
The New England Aster is native to North America east of the Rocky Mountains, but is now found throughout much of North America and in Europe. The USDA Natural Resources Conservation Service provides a range map. The plant prefers full sun and well-drained soil, and is commonly found in prairies and along roadsides and streams. It can grow in poor soil, but prefers a sand or clay loam. If you are cultivating the plant in a garden bed, most sources recommend dividing it every few years because it can be "aggressive", but mine just pop up in small clumps here and there in the prairie.
Plant height is 3-7′ (90-210 cm) (by my place they tend to be fairly short, as we get a lot of wind). The leaves of the New England Aster are smooth and lance-shaped. Leaf attachment is alternate and leaves are 1-5″ (2.5-12.5 cm) long, clasped directly on the stem. (See in the photo below how the leaf wraps around the stem?) The author of Wisconsin Wildflowers points out that the lower leaves often fall off early, leaving "naked legs".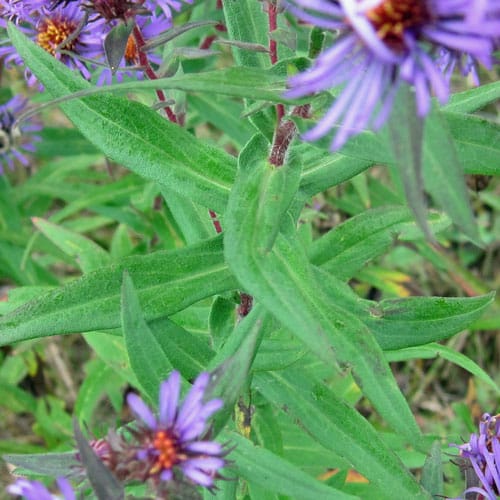 Flowers are abundant, with 25-100 per plant, typically with bright purple petals and a yellow center, although they can also be pink, lavender, blue and white. Flowers stalks are coated with sticky hairs (very mildly sticky, as far as I could tell, not like pine tar or other really sticky plants). The plant is perennial, which means it comes back year after year. (Wildflowers of Wisconsin) Propagation instructions can be found in The University of Texas at Austin Native Plant Database.
New England Aster as Food and Habitat for Wildlife
As you can see from the close up of the blossoms at the top of the post, these aster blossoms have a lovely open form that makes them an ideal nectar source for many bees, butterflies, flies, beetles and moths. They also have a long bloom time, and are available in fall when other nectar options are limited. They are particularly important as a nectar source for migrating monarch butterflies. The leaves of the plant act as a larval host for Pearl Crescent (Phyciodes tharos)and checkerspot butterflies.
Illinois Wildflowers states that "The seeds and leaves of this plant are eaten to a limited extent by the Wild Turkey, while deer, livestock, and rabbits occasionally browse on the foliage, sometimes eating the entire plant. However, New England Aster isn't a preferred food source for these animals." (They also have a photo of a pink blossom on this site.)
Medicinal Uses of New England Aster
Herbnet.com states:
Aster, New England (Aster novae-angliae): A poultice of the root has been used in the treatment of pain, fevers and diarrhea. The ooze of the roots has been sniffed in the treatment of catarrh. A decoction of the whole plant has been used in the treatment of all kinds of fevers and in the treatment of weak skin. Aster novae-angliae is deployed in decoction internally, with a strong decoction externally, in many eruptive diseases of the skin; it removes also the poisonous state of the skin caused by Rhus or Shumach.
Jim McDonald at Herbcraft.org gives a much more poetic and rambling explanation of the asters medicinal qualities. He talks about eating the whole flowers as a gentle sedative and anti-asthmatic, and teas and tinctures made from the roots and flowers having a similar effect. He states:
(The New England Aster) is uniquely antispasmodic for the lung tissue; it relaxes and dilates the respiratory passages.
One of the options he suggested was steam inhalation using the aster blossoms for treating congestion. Given that I've had a lovely cold for several days with symptoms that include moderate to heavy congestion, I figured I had the perfect opportunity to give this one a try. To do a steam inhalation, you simply place a small handful of blossoms in a heat resistant bowl, and pour boiling water over the top. Then you hold your head over the bowel and make a nifty tent with the decorative towel of your choice. Inhale the steam for around ten minutes.
Here we have our blossoms – I picked them late in the day, so they were already closed. Not optimal, but I wanted to try this for the post, and I was congested.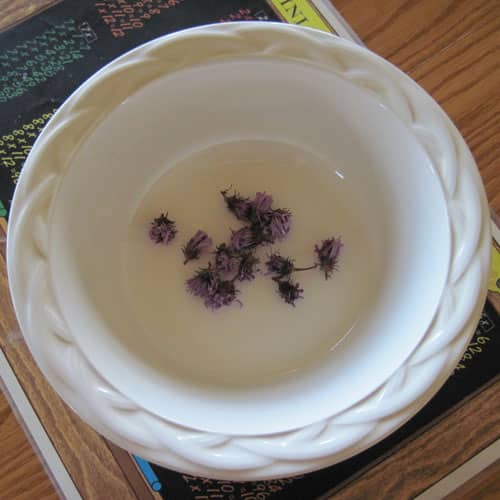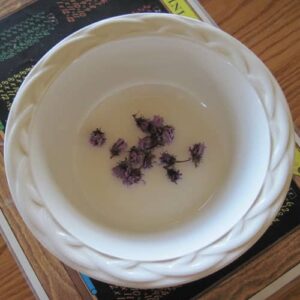 Here we have me, with my head under a towel, breathing flower steam. (I do my own stunts. 🙂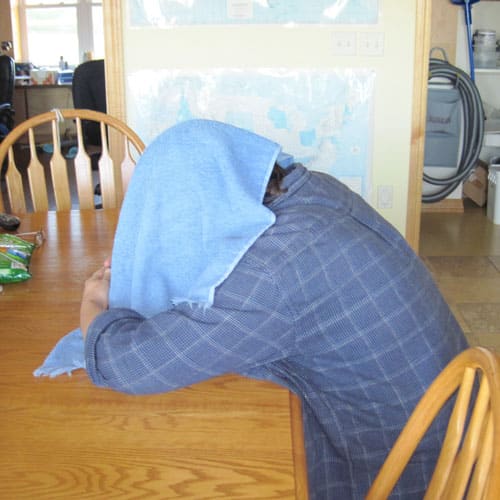 Guess what? It actually worked! At first, I felt things loosening up primarily from the steam, but as I've been sitting here typing, I can feel my head and chest relaxing and the sinus pain/pressure letting up. Cool beans!
Food Uses of New England Aster
Edible Wild Food.com states:
Flowers can be eaten fresh and added to a salad as can the leaves. When harvesting in September or early October be sure the plant is dry (dew is gone) and cut stem about 10 cm above the ground. Hang upside down in a cool, dark location until totally dried (crumbles easily). Most of the flowers will become white and fluffy but they can still be used. Add dried plant to salads, main dishes or make a cup of tea.
Other Uses of New England Aster
Like the wild plants butter and eggs, Canada goldenrod and many others, New England Aster can be used for dying fabric. Herb Rowe writes, "The stems, leaves and flowers of asters will produce a yellow-green with alum as a mordant, brassy gold with a chrome mordant, greenish-gold with a copper mordant, bright yellow-gold with a tin mordant, dark grey-green with an iron mordant and a yellow-green with no mordant."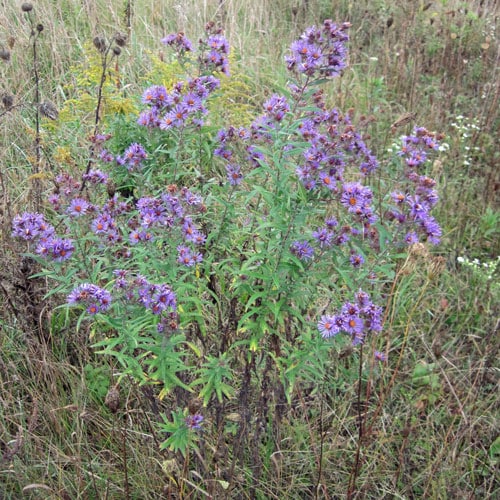 The Aster in Folklore
The West Virginia DNR site shares an interesting story about the aster in "Nature's Last Hurrah" By Nanci Bross-Fregonara.
The word aster comes from the Greek word for star, which suggests the shape of the lovely flowerhead. According to legend, the aster is linked with the travels of the Wise Men to Bethlehem . It is said that when the three men arrived in the quiet town of Bethlehem they were surprised that there were no celebrations, which they would have expected with the birth of a new king. They thought, perhaps, they had the wrong town. But one of the Wise Men saw a star-shaped flower near the stable, its shape reflecting the star that had guided them from Persia , and proclaimed it as a sign that they were indeed at the right place.
Thanks for stopping by, and if you've enjoyed the post please pass it along. I'll put up at least a few more post this season, while I've still got plants instead of snow.