Spider Bites – 6 Natural Treatments + Tips to Avoid Getting Bit
Spider bites are generally uncomfortable but not dangerous, and may be difficult to confirm as spider bites because they look similar to other bug bites and the spider wasn't caught in the act. A typical non-poisonous spider bite will commonly present as a raised welt – like a big mosquito bite. It itches and may burn or sting a little, but the pain is not incapacitating or severe. Symptoms may last from a few hours to a few days, and can be safely treated at home.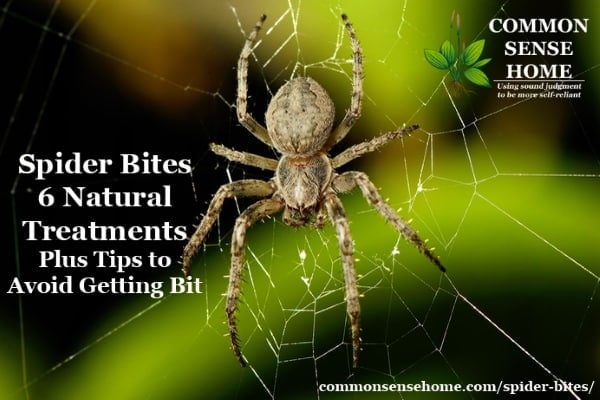 Poisonous spider bites are different, and may require medical attention. About Health notes:
Victims should be concerned when a local reaction continues to get worse for more than 24 hours. Look for redness spreading away from the bite, drainage from the bite, increase in pain, numbness/tingling, or a discoloration around the bite that looks like a halo or bulls-eye.

Victims should seek medical treatment if symptoms appear in parts of the body away from the location of the bite. Black widow spiders have a toxin that affects muscle contraction and nerve function. Severe brown recluse spider bites can also cause some symptoms over the entire body. Look for:

sweating
chills
headache
body aches
stomach cramps
leg cramps
rapid pulse
exhaustion

In cases where the victim is feeling extremely tired or weak, call 911.
Black widow bites will commonly present with two red fang marks. Brown recluse bites may initially present like any other bite, but may develop into necrotic arachnidism – the flesh starts to be eaten away by the venom. View brown recluse range.
Some people have more severe reactions to bites or stings. Babies and children may be more affected by bites or stings than adults.
Spider Bite Treatment #1 – Plantain
If you have been stung by a bee or bitten by an insect or even an animal like a snake, plantain poultices can help. Plantain poultices can draw out venom before it has a chance to do damage, can reduce swelling, prevent anaphylactic shock, or delay a severe reaction until medical care can be reached. Read Grandma Called it Medicine Leaf to learn more about plantain.
Spider Bite Treatment #2 – Baking Soda
Baking soda is an effective treatment for spider bites. This alkaline substance can help draw out the venom, which will help reduce pain, itching and inflammation.
Spider Bite Treatment #3 – Activated Charcoal
Activated charcoal has absorption properties that help draw out and remove toxic substances from the body.
Spider Bite Treatment #4 – Comfrey
Comfrey in the form of a poultice for external application is a remarkably effective treatment for wounds that do not heal, such as decubitus ulcers (bedsores), diabetic ulcers, the bites of brown recluse spiders, and the terrible staph infections that affect people living on tropical beaches. (Source)
Learn more about comfrey in Comfrey – Weekly Weeder #40.
Spider Bite Treatment #5 – Meat Tenderizer
Meat tenderizer contains papain, an enzyme that breaks down proteins (like the ones in your T-bone steak). But papain can also break down toxins from bug bites and cut back on itching. Use tenderizer only on mosquito bites, bee stings, and nonpoisonous spider bites. (Source)
Spider Bite Treatment #6 – Herbal Insect Bite/Sting Salve
This soothing salve is great to have on hand for bites and stings of all types.
Ingredients
1/2 tsp Calendula Powder
1/2 tsp Comfrey Powder
1/2 tsp Chamomile Powder
1 tsp Plantain Powder
1 tsp Bentonite Clay
Vodka, Witch hazel or Rubbing Alcohol
5 drops Tea Tree oil
5 drops Lavender Essential Oil
Directions
Mix all dry ingredients and store until needed. When you have a bite or sting, add the essential oils and enough liquid (vodka, alcohol or witch hazel) to make a thick paste. Apply salve to bite and leave on until dry. Reapply as needed.
Tips to Avoid Getting Bit by Spiders Inside Your Home
When you put things in storage make sure everything goes into sealed plastic bags and include a stick of cinnamon, a bay leaf or a sprig of mint.
Turn the light on in the closet before reaching your hand inside to grab your clothes
Always shake out shoes and boots before sliding your foot in
Turn gloves and hats inside outside out and check for spiders or their eggs
Wash or shake out any bedding that has been stored
Thoroughly inspect sleeping bags before and after camping
Avoid using bed skirts and dust ruffles
Vacuum curtains weekly to remove spiders, eggs and webbing
Keep your bed away from the wall
Keep under your bed clean
Give all your clothes a good a shake before putting them on even if they have been hanging up
Don't leave piles of clothes on the floor
Don't keep firewood stored inside
Spider Identification
Although the chance of getting bit by a venomous spider is very rare, it does happen. Brown Recluse spiders are common in South Carolina and I have actually had three friends who suffered greatly from their bite. If you do get bitten by a spider, it is imperative that you are able to identify the type of spider that bit you, ideally you should bring the spider to the doctors or hospital with you for accurate treatment.
Here is a list of typical spiders you will find in North America for you to familiarize yourself with and become knowledgeable at identifying.
Common Household Spiders
Wolf Spider
Sac Spider
Fishing Spiders
Sow Bud Spiders
Jumping Spiders
Parson Spiders
Crab Spiders
Cellar Spiders
Orb Weaver Spiders
Garden Spiders
Barn Spiders
Venomous Spiders
Brown Recluse
Black Widow
Hobo Spider
Mouse Spiders
Black House Spiders
Wolf Spiders
Are spider bites a problem in your area? Have any tips for treating bites or avoiding getting bit? We'd love to hear them – just leave a comment below.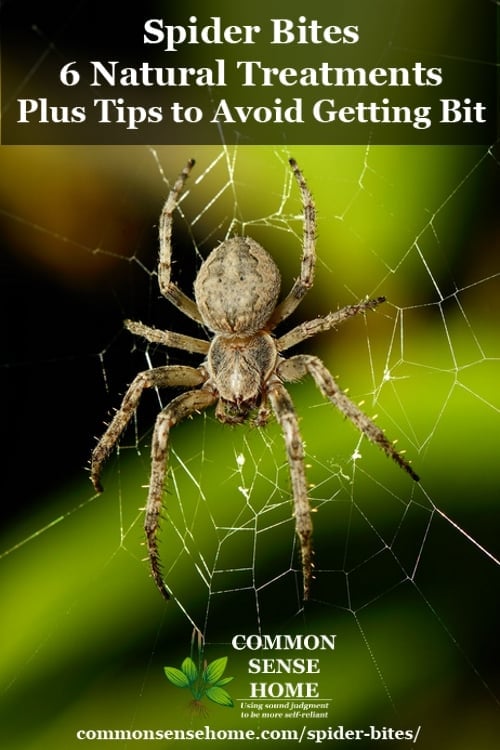 You may also find useful:
This post is by Amber Bradshaw of My Homestead Life.
Amber and her family moved from their tiny homestead by the ocean in South Carolina to forty-six acres in the Smoky Mountains in East Tennessee.
While building their off-the-grid homestead, they live like the days of old – cooking without electricity, collecting water from the creek and raising chickens, goats, pigs, turkeys, bees, and guineas. They've recently filmed their journey for a TV show on the Discovery Channel and the DIY Network/HGTV called Building Off The Grid: The Smokey Mountain Homestead.