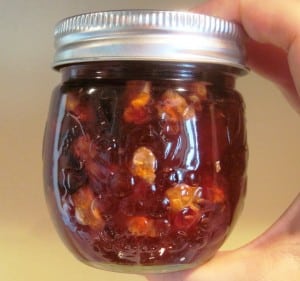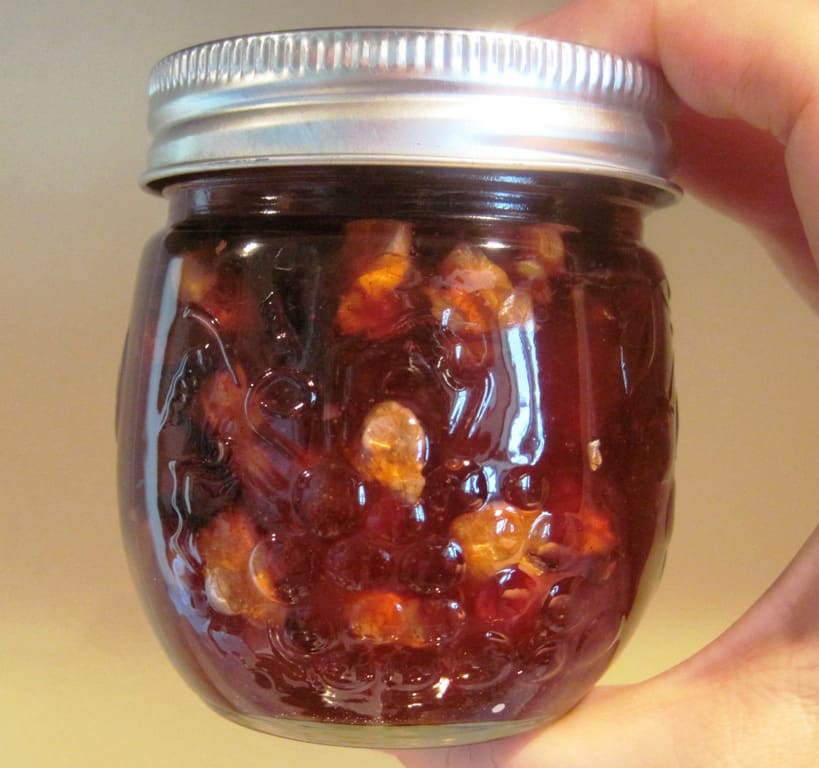 I had a large (two gallon) bag of plums rolling around in my freezer from last summer (thanks to my neighbor). I used part of it to make Plum Preserves with Honey and Cardamom, and some in a plum crumble, but there were still quite a few plums left. While my friend, Julie, was visiting last week, I decided to whip up a couple of batches of a plum conserve recipe that she really likes.
I found this recipe for Plum Rum Nutty Conserve in the booklet Gifts from the Harvest, which also has the recipes for Strawberry Banana jam, Strawberry Rhubarb jam and a number of other unusual combinations. It is a traditional jam recipe (not low in sugar), but very tasty. Enjoy in moderation. 🙂
Print
Plum Rum Nutty Conserve
Scale
Ingredients
4 cup

s prepared fruit (about

2

pounds fully ripe plums)

1/2 cup

finely chopped walnuts (I used crispy walnuts)

2 teaspoon

s grated lemon peel (preferably organic)

1 tablespoon

fresh lemon juice

6 cup

s sugar

1

box fruit pectin

½ teaspoon

butter

1/2 cup

dark rum
Instructions
Pit plums; do not peel. Grind or finely chop. Measure 5 cups into a 6- or 8- quart saucepot. Stir in walnuts, lemon peel and juice.
Prepare jars (wash, inspect rims, sterilize in boiling water or dishwasher). Keep lids hot until ready to fill jars.
Measure sugar into separate bowl. Stir fruit pectin into fruit in saucepot. Add butter. Bring mixture to full rolling boil on high heat, stirring constantly. Quickly stir in all sugar. Return to full rolling roil and boil exactly one minute, stirring constantly. Remove from heat. Gently stir in rum. Skim off any foam with a metal spoon. (I usually skip skimming, unless I'm processing for the county fair.)
Ladle quickly into prepared jars, filling to within 1/8 inch of tope. Wipe jar rims and threads. Cover with two piece lids. Screw bands tightly. Invert jars 5 minutes, then turn upright, or follow water bath method recommended by the USDA. After jars are cool, check seals.
Makes about 8 (1 cup) jars.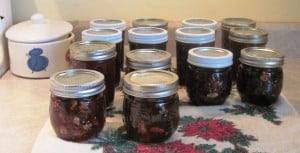 My batches made seven jars each this time around, probably because the plums were frozen.
The Live in the Now website has some interesting tidbits of information on plums:
Like most fruits, plums are good for you and the health benefits of plums are worth your attention. They are a good source of unique phytonutrients called neochlorogenic and chlorogenic acid. These substances are especially effective in neutralizing a particularly destructive oxygen radical called superoxide anion radical, and they also help prevent oxygen-based damage to fats, such as the fats that comprise a substantial portion of our brain cells or neurons, the cholesterol and triglycerides circulating in our bloodstream, or the fats that make up our cell membranes.

The other health benefits of plums can be attributed to their excellent nutritional profile. Plums are good source of fiber, potassium, vitamin C, and lutein and zeaxanthin, pigments that help protect your vision. Eating three or more servings of fruit a day can lower by about one-third your risk of age-related macular degeneration, the primary cause of vision loss in older adults.
As I said, this is a "treat" or gift type item, but the flavors are lovely together. I passed the recipe along to the friend with the plum trees. For an alternative that's lower in sugar, do try the plum preserves with honey and cardamom. The recipe book suggests it as a topping for ice cream or cheesecake, but I like it on toast with butter or nut butter, or mixed into yogurt.