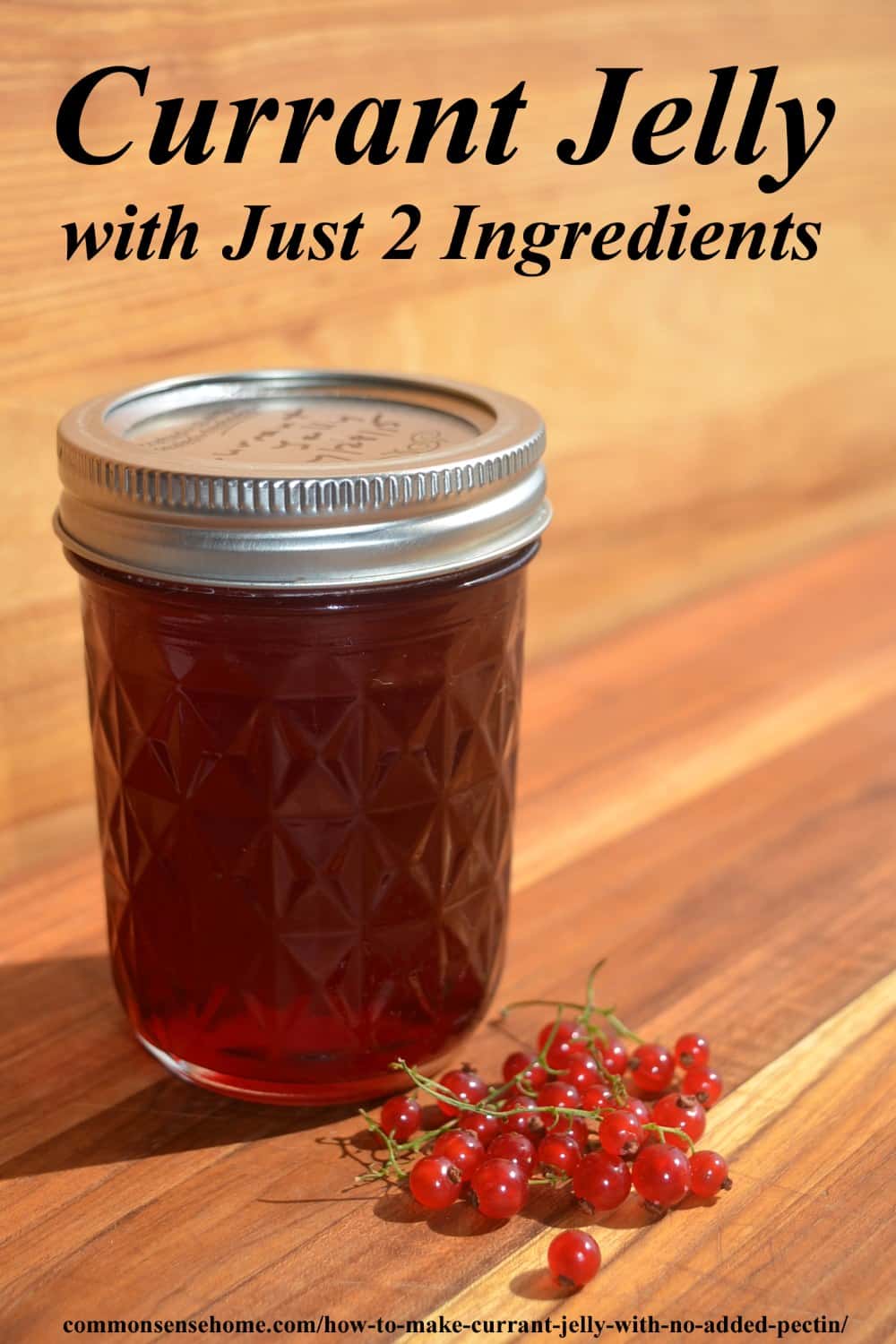 I think God has a funny sense of humor. I was thinking last weekend, "Hmmm, I wonder if my neighbor will have any extra currants this year since she didn't have much of a harvest last year. It wouldn't be too bad if she didn't as I am quite busy enough already." Said neighbor called later the same day to let me know she has a bumper crop of currants, and would I like to come over and pick some? Never one to turn away something free or waste food, of course I said "Yes". So Tuesday morning was spent picking currants, and over the course of the day we cleaned them (picked out debris), washed them and made them into currant jelly.
The neighbor who has provided me with currants on an (almost) yearly basis (Betty), told me that her grandmother used to make currant jelly without using added pectin. She remembered years ago when grandma sent the grandkids out to pick the currants, and the kids came back in the house with bowls full of berries. Grandma was steamed! You see, the secret to her jelly was using the stems to provide the pectin. No stems = no jelly. Betty had lost her grandmother's recipe, but remembered the jelly fondly. Enter preserving inclined neighbor.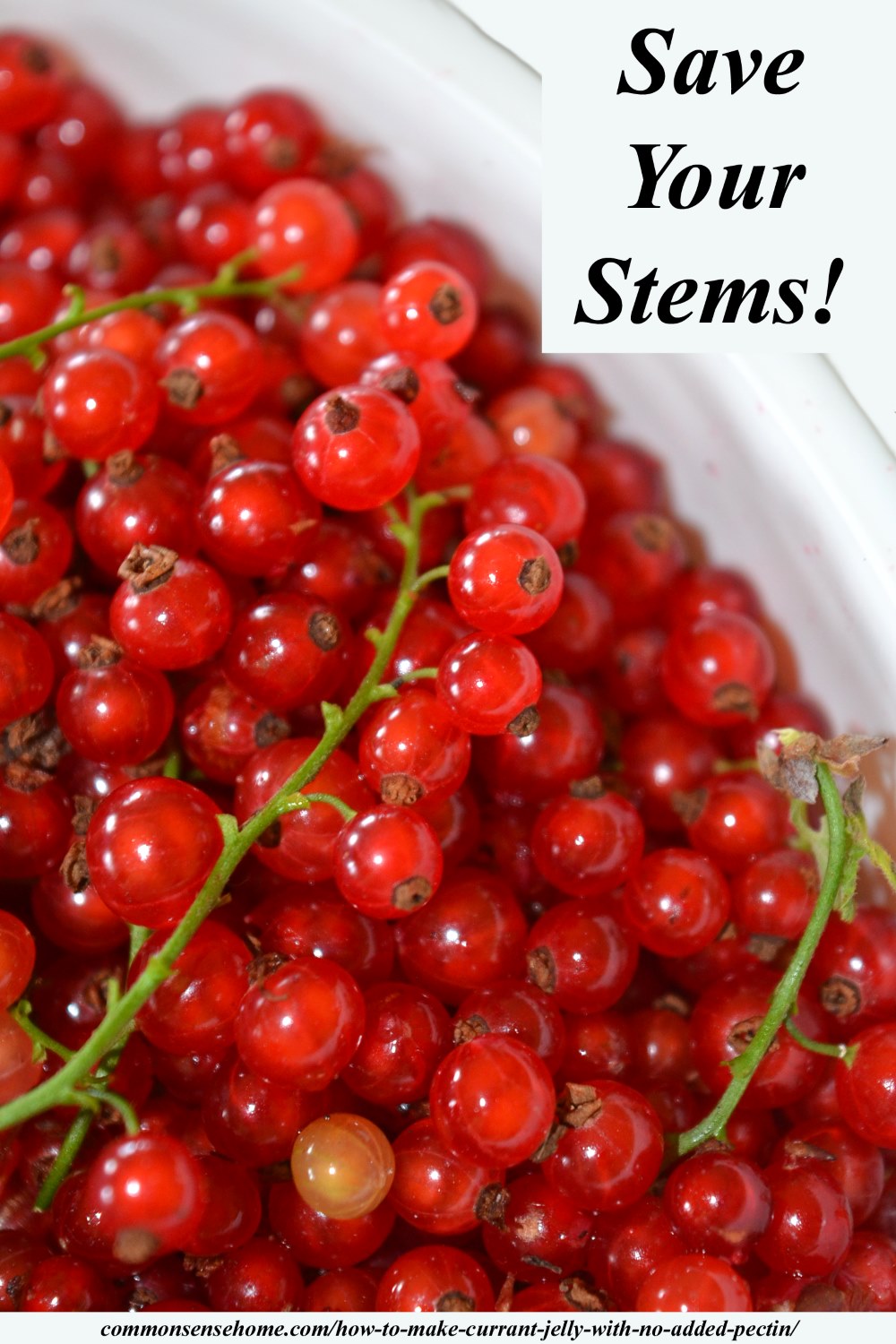 It just so happens that over the years I have been building my recipe library, and I have a book called Jams and Jellies by May Byron. It's really nifty. It contains 543 recipes for just about every type of jam, jelly, fruit cheese, fruit paste and preserve that you can imagine, some of which are a couple hundred years old (I don't have any idea what a spaddle is, but one recipe calls for using it to put berries in your hair sieve after cooking them over the fire). The recipe I started with is #64 Red Currant Jelly, No. 3.
The currants must be picked free of leaves, etc., but need not be stalked. Wash and drain them, and place in a jar in a pan of hot water. Heat the fruit thoroughly, and mash it with a heavy wooden spoon or pestle. Place it in a jelly-bag, and let drip all night. The following day, measure the juice; allow one pound of sugar to every pint. Heat the sugar in the oven, and put on the juice to boil. When it has boiled fast for twenty minutes, add the sugar; stir well, until it is dissolved; boil up for a minute, and pour into heated glasses.
I mashed mine with a potato masher and let them drain for a couple of hours. It seemed most of the juice was out, as the flow had slowed to barely a trickle. I don't bother heating the sugar and five to ten minutes of boiling seems to be enough (although 20 would certainly give a firmer product). The National Center for Home Food Preservation gives more specific guidelines. I just stir and watch for the "jell". After making this recipe originally, I got to thinking that almond would be a nice accent, so after the jelly is finished cooking and before it goes into the jars, I pour in some pure almond extract. I know, I should measure, but I'd say it's around a tablespoon per three cups juice. It just adds that "little something extra".
Currant Jelly Recipe
So, for the play-by play. Up top, I have the mounds of clean berries – a lot of berries. These currants are about the size of peas, so as you can see by this close up, we probably had over a thousand of the little buggers.
Smushed and cooked down in two heavy-bottom pots. They have become significantly less pretty.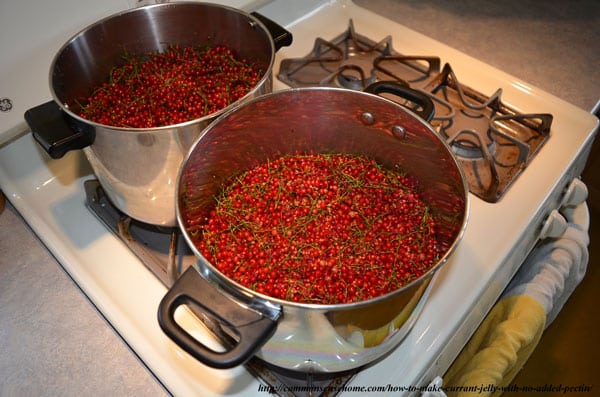 I have a jelly bag and stand, but this batch called for something a little larger. I knew there was a reason I kept that old cotton pillowcase that had the center ripped out by my husband's razor stubble! About one third of it was undamaged, so there was more than enough room for the excess currant mush. I tethered it to a cabinet handle, shoveled in the red stuff, and we were in business. Here are the two drip devices in progress sitting next to the initial juice runoff.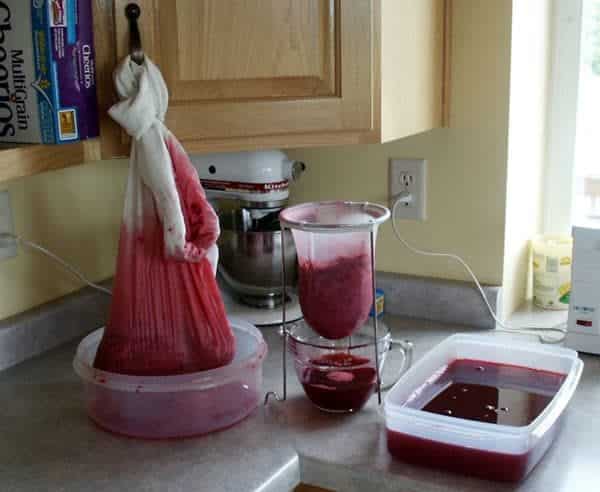 Finally, we get to the shimmering, clear juice. In this photo it's just starting to boil.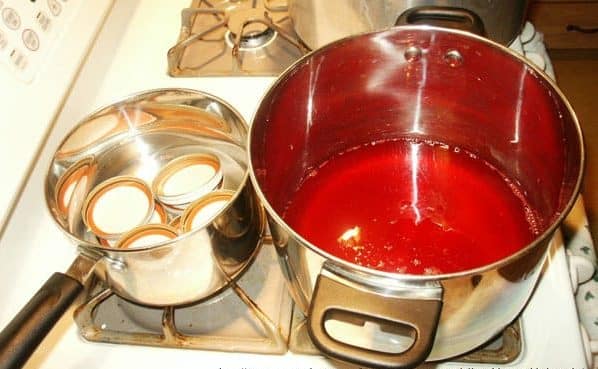 The kitchen started to look like a crime scene as the night progressed.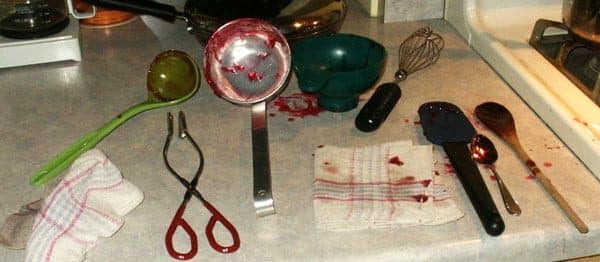 Our final product – 10 jars of currant  jelly and currant almond jelly.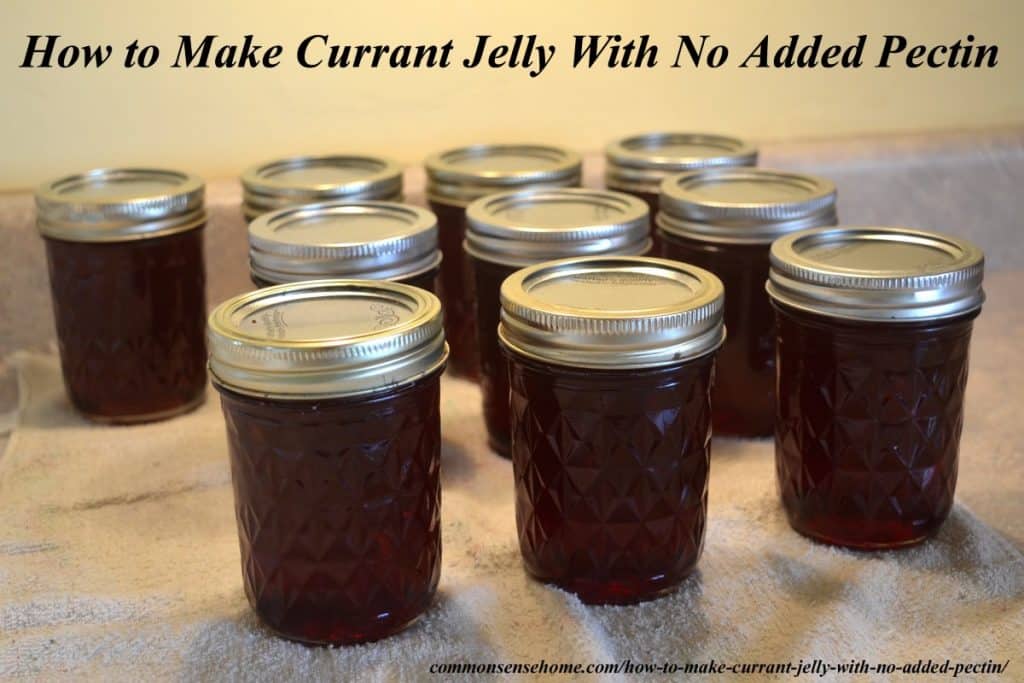 I allow them to cool overnight. In the morning, the rings come off (they get washed and reused), the jars get a quick wipe for any spills, and I use a Sharpie marker to write the name and date on the lid. I have used the fancy stick-on labels in the past (they came with some of the jars), but a Sharpie is the quickest, easiest thing I've found to date.
The jars move on down to the basement pantry, where they are kept cool, dark and dry to be used at home and shared with family and friends.
Print
Currant Jelly
Easy two ingredient currant jelly is perfect for beginning home canners.
Ingredients
For each pint of currant juice use 1 pound of cane sugar
Almond extract (optional)
Instructions
Wash currants, removing leaves and debris but leaving stems intact. Put currants in large stock pot and simmer on low heat, smashing occasionally, until soft.
Place cooked currants in cheese cloth or strainer to drain for several hours, preferably overnight.
Measure juice. For each pint of juice, measure out 1 pound of cane sugar. Set sugar aside (or heat in oven – optional).
Prepare canning jars, lids and water bath canner.
In large, heavy bottom stockpot, boil juice for 10 – 20 minutes, until it starts to thicken and gel.
Add sugar all at once. Stir constantly until sugar is dissolved. Continue stirring until mixture reaches a rolling boil. Boil one minute.
Remove from heat. Add almond extract, if desired. (One teaspoon per pint of juice, or to taste.)
Fill jars to 1/4″ headspace. Wipe rims and place two piece lids. Process jars in a water bath canner for 10 minutes.
Remove jars from canner and place on a cloth out away from drafts. Allow to cool completely. (Overnight is good.)
Remove rings and double check seals. Wipe up any spills. Label jars and store in a cool, dry location out of direct light.
Notes
Quality is best if used within two years of processing. Once jar is opened, refrigerate uneaten portions and use within a few weeks.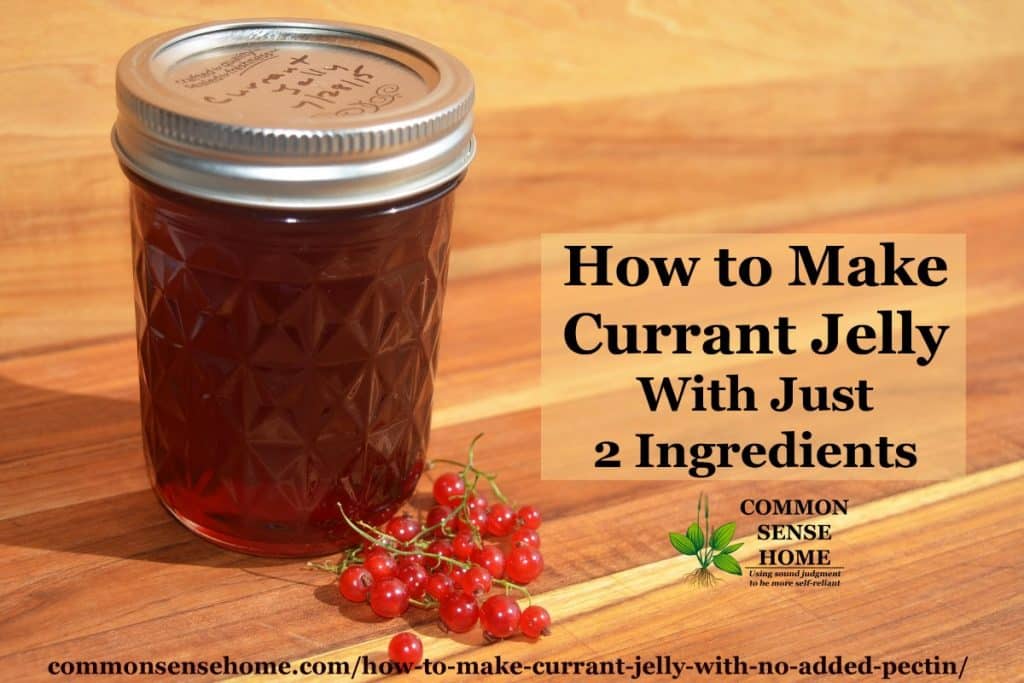 You may also enjoy:
Note: This post was originally published in 2009, but was updated in 2015. Since 2009, Betty's currants have been struck with some sort of blight, drastically reducing her crop. Thankfully we've been blessed with yet another neighbor with currants, so there is currant jelly to share again.
Get Homesteading 101 FREE, plus weekly updates and Subscribers Only information delivered to your inbox.