Spiced Hot Cocoa Mix Recipe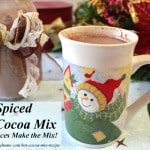 Delicious homemade hot cocoa with a spicy twist.
To prepare the hot cocoa mix, blend all ingredients together. Store in a sealed container. (Mason jars work great!)   To make homemade hot cocoa, mix 3 tablespoons of the hot chocolate mix into 8 ounces of warm milk.
Notes
Organic spices are best if you have them. The flavor really does make a difference.