When life gives you overripe bananas… Make some banana bread!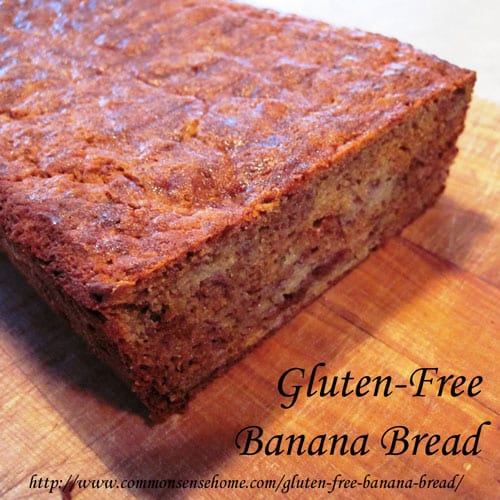 Like many of you, I watch for the "bargain bags" of over-ripe and banged up bananas at the grocery store. We use quite a few of them in smoothies, and as bases for sorbet-like treats from the Vitamix, but inevitably I'll REALLY stock up on bananas and the kids will decide to stop eating them for a while. Thus enters the banana bread.
I hadn't made banana bread in a while, as I have been eating fewer grains and reducing my gluten intake, and my favorite recipe used wheat flour. I was so frustrated when I checked out a stack of gluten free cookbooks from the library. Almost all of them were simply SAD (Standard American Diet) recipes, substituting gluten free flour mixes for regular wheat flour. Then I bought The Spunky Coconut Cookbook.
I enjoyed Kelly's posts over at the Spunky Coconut, so I decided to invest in her cookbook. It's not a huge tome, and I saw a few gripes about the price on Amazon.com, but for me it is simply the best gluten free cookbook I have tried to date. The recipes have all been tasty, and the ingredients aren't too exotic for me to find locally. All the nuts are soaked before use, making them more digestible. I give it two thumbs up!
Here's Kelly's Gluten Free, Casein Free, refined Sugar Free Banana Bread.
Print
Gluten Free Banana Bread
2

mashed bananas

4

room temperature eggs, beaten (cold eggs will harden the oil)

1/2 cup

honey

3 tablespoons

coconut oil, liquefied

1/2 teaspoon

Vanilla Creme liquid stevia

1

/ teaspoon sea salt

1 teaspoon

cinnamon

1/4 cup

tapioca flour

1/2 cup

coconut flour, sifted

1/2 teaspoon

baking soda

1/2 teaspoon

baking powder

1/2 cup

chopped walnut
Instructions
Preheat oven to 350F.
Mix together bananas, eggs, honey, coconut oil and liquid stevia.
In a separate bowl, sift together dry ingredients except walnuts (you may also just mix them right in with the liquid ingredients, but I prefer to sift together and then mix – your choice).
Mix all ingredients together, including walnuts. (I skipped the walnuts in this batch because my youngest is not a huge fan of nuts, just in case you are looking for them in the photo.) Pour into a greased 9″x5″ pan lined with parchment paper.
Bake for 50 to 60 minutes, until it tests clean with a toothpick and springs back gently to the touch. Makes one loaf of bread
This bread turned out nice and moist, with a texture that was very similar to non-GF banana bread (frankly, better than some non-GF breads I've had). Top with a nice pat of butter (or ghee, if you prefer), and I'm in banana bread heaven. My boys approved, too. The loaf lasted less than a day. I guess next time I make a double batch.