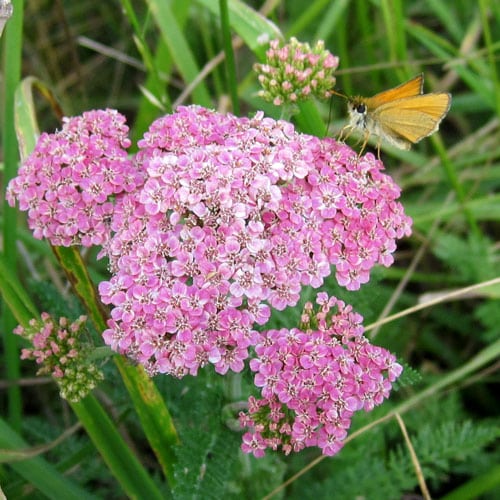 Today's featured plant is Common Yarrow, Achillea millefolium.
Common yarrow is also known as yarrow, milfoil, Old Man's Pepper, Soldier's Woundwort, Knight's Milfoil, Herbe Militaris, Thousand Weed, Nose Bleed, Carpenter's Weed, Bloodwort, Staunchweed, Sanguinary, Devil's Nettle, Devil's Plaything, Bad Man's Plaything, and Yarroway. (From A Modern Herbal)
Range and Identification of Common Yarrow
Common yarrow is native to North American and Eurasia and can be found throughout the entire continent of North America (see USDA range map for yarrow). It prefers full sun and dry conditions, and can be found along roadsides and ditches, in prairies, in gardens and other disturbed soils. It is a most excellent weed, spreading like wildfire once established. I, silly girl that I am, purchased yarrow because of its medicinal use. It quickly jumped out of the tidy herb bed designated for it, and now roams wild throughout my garden, in my lawn (it holds up to mowing) and all over our property. It's just fine with poor soil and drought.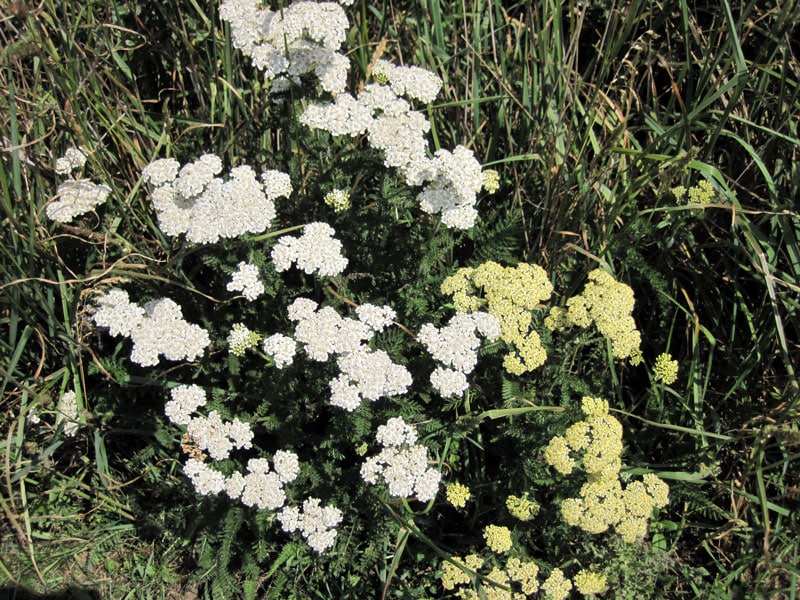 Common yarrow is a perennial that grows in low clumps of ferm-like greenery close to the ground with upright flower stalks. It spreads via rhizomes (boy, does it spread) and can also readily propagate by seed.
The plant grows from 1-3′ (30-90 cm) tall. Leaves are fern-like, about 6″ (15 cm) long. They are larger at the base and progressively smaller up the stem. The entire plant has a strong musky scent when crushed, similar to sage.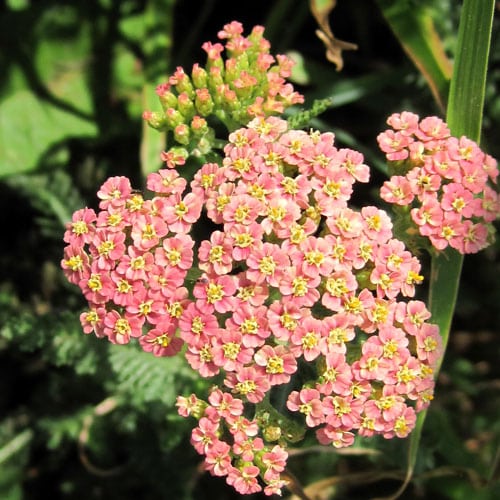 Flowers are typically white or shades of pink, although other colors have now been bred. The seed I purchased was for a pastel blend. The flower clusters are are small, about 2-4″ (5-10 cm), and are made up of around 5 tiny (1/4″ (.6 cm)) flowers. (See Wildflowers Of Wisconsin for more information.)
Common Yarrow for Food and Medicine
Illinois Wildflowers lists the wildlife uses of common yarrow:
The nectar of the flowers attracts many kinds of insects, especially flies and wasps. Among the flies are such visitors as bee flies, Syrphid flies (including Drone flies), thick-headed flies, Tachinid flies, flesh flies, Anthomyiid flies, and others. Halictid and other short-tongued bees occasionally visitor the flowers, where they suck nectar and collect pollen. Many species of grasshoppers feed on Yarrow (see Grasshopper Table), as do several aphids, a seed bug, a flower thrips, leaf beetles, and caterpillars of some moths (see Insect Table). Sometimes Mordella spp. (Tumbling Flower Beetles) are found on the flowerheads. Because the foliage of Yarrow has a bitter and biting taste, it is rarely consumed by most mammalian herbivores. However, sheep will eat it when the opportunity arises.
Illinois Wildflowers has some better close up photos of common yarrow leaves, too. I realized mine could have been better when I was writing this post after dark. I've noticed the yarrow plants in my garden as always humming with some wee beastie or another.
Common yarrow leaves can be used for tea, or dried and used as a spice. Young leaves can be added to salad or boiled for greens. Personally, the flavor is rather strong for my taste. Apparently, it's becoming popular with some chefs, as can be seen from this recipe for Shrimp with Yarrow and Lemon. Celtnet.org has an assortment of yarrow recipes, including several brews. Yarrow is a a time honored bitter for use in beer making. Google "yarrow recipes" for many more ideas.
Mother Earth Living highlights some medicinal uses of yarrow:
Yarrow's most widespread function is to stop bleeding, which it is still used for today. It is said that Achilles used the plant to arrest the bleeding of his soldiers' wounds—thus the name of the genus, Achillea, was derived. Seasoned hikers are usually aware of the blood-clotting and antimicrobial benefits of applying yarrow to their cuts. Yarrow may be applied directly, or used in a salve or poultice for minor cuts and wounds.

Yarrow has also been used as a remedy for cold and early fever, due to its diaphoretic properties. A tea may be prepared by steeping 1 teaspoon of dried yarrow in 1 cup of boiling water for 10 to 15 minutes. Drink 3 cups per day.

The herb has also gained notoriety for its anti-inflammatory abilities. Thus it has been used for a number of conditions, from intestinal and female reproductive tract inflammations to hemorrhoids. Aside from these major applications, yarrow was used for a hodgepodge of maladies, including baldness, urinary tract infections, hypertension, and dysentery.
Please visit HerbCompanion.com for additional information.
Here's a video that shows how to use yarrow to treat a wound.
Wild Edible and Medicinal Plants has an extensive blog entry about yarrow that includes history and legends as well as medicinal uses.
As always, any medical information is for informational purposes only. Always exercise caution when using any wild plants and make sure you have positively identified the plant. Some people may have an allergic reaction to this plant (especially if you are sensitive to members of the daisy family.)
Please Like, Pin or otherwise share this post if you would like the Weekly Weeder series to continue.