9 Easy Homemade Citrus Gifts – Great for Little Helpers at Gift Giving Time
One of my favorite things about fall and winter is the availability of fresh citrus. The lower temperatures also mean cold and flu season, not to mention another season that is my favorite – the holiday season! I use citrus to do many things – quench my thirst, treat my colds and inspire my gifts. I let no part of the citrus fruit go to waste.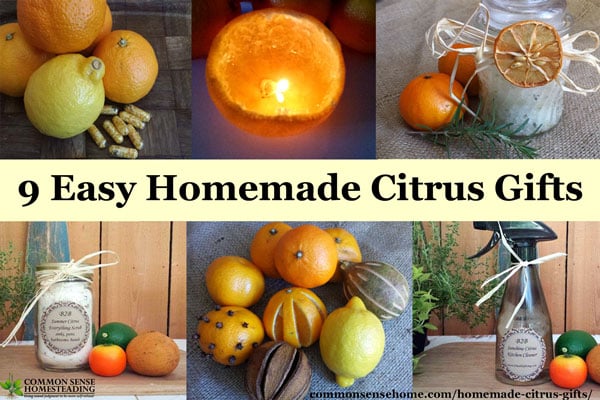 In this post, I'll share some affordable and easy to make homemade citrus gifts that are sure to please. (You can also check out a delicious citrus cider blend in the spiced apple cider recipe roundup.) These gifts are simple enough to make that the kids can lend a hand, making them great for family project times.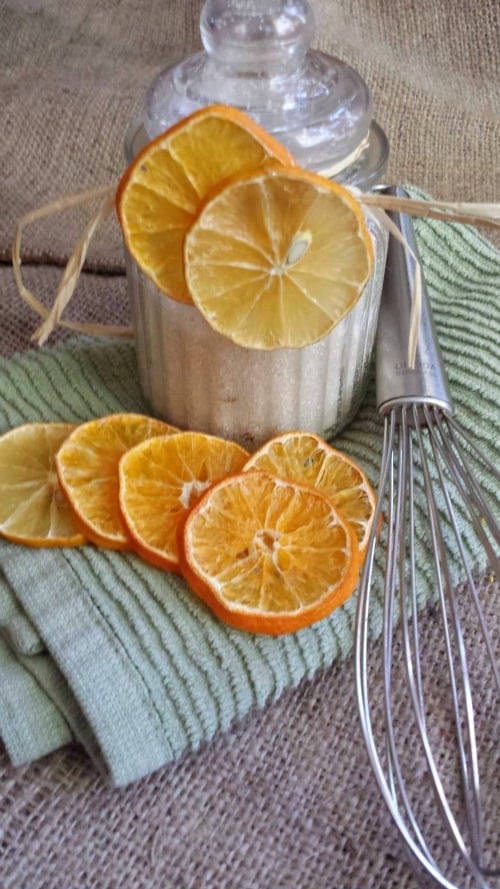 Citrus Gift #1 – Citrus Infused Sugar
Citrus infused sugar comes across an elegant gift but is almost effortless to make.
Gift Suggestions:
Pair a citrus infused sugar jar with a tea cup for the tea lover on your list
Tie a cookie cutter around the lid of the citrus infused sugar along with your favorite sugar cookie recipe
Place the citrus infused sugar in a gift basket with a martini glass and a bottle of citrus vodka
Create a baking basket with the citrus infused sugar, a whisk, cupcake holders and a kitchen towel
Ingredients
Instructions
Peel an orange, lemon, lime or any other citrus making sure not to get the pith.
Place on clean kitchen towel overnight to dry a little
Get a clean glass jar and make sure it is dry
Layer organic cane sugar and the peels until the jar is full
Let the sugar infuse in a cool, dark place for 1 week or longer
You can strain the peels out or leave in for a stronger taste
For more pretty edible goodies, check out the Top 10 Edible Flowers post.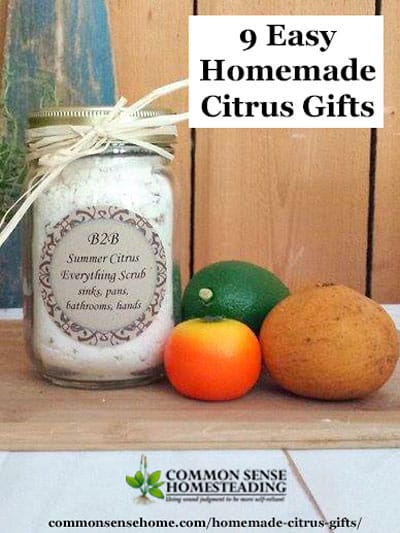 Citrus Gift #2 – DIY Everything Scrub- Better than Comet!
I call this the Everything Scrub because I literally use it on everything – sinks, tubs, pots and pans, the oven, burnt on food, dirty hands and more. You will love how efficiently this scrub works. It's one of my favorite recipes and best sellers! All you need is citrus peels, baking soda and essential oils, simple and affordable. To see a complete list of instructions visit DIY Everything Scrub.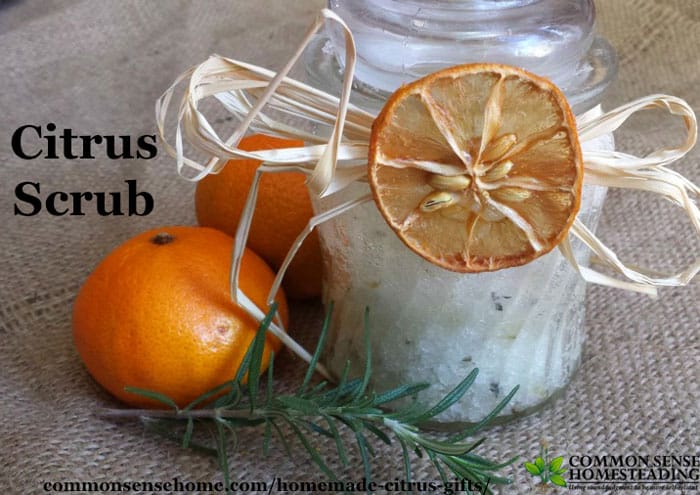 Citrus Gift #3 – Herbal Citrus Body Scrub
I made this gift for a demonstration for my Herb Society meeting and everyone L-O-V-E-D it! It was very affordable to make because I had all the ingredients on hand, plus it took less than 10 minutes to make.
Ingredients
1 ½ cups kosher Salt or Sugar
1/2 cup almond oil, grapeseed oil or apricot kernel oil
Zest of one Lemon, Orange or Lime
2 teaspoons fresh or dried Rosemary leaves, stripped from the stems and finely chopped
Instructions
Pour the salt or sugar into a clean, sterilized container with a tight-fitting lid.
Add the zest and rosemary.
Pour the oil over top and screw the lid on tightly.
To use, just give the jar a stir to mix the oil and salt/sugar together, and scrub away in the shower or sink!
The scrub will keep for up to 6 months stored in an airtight container at room temperature.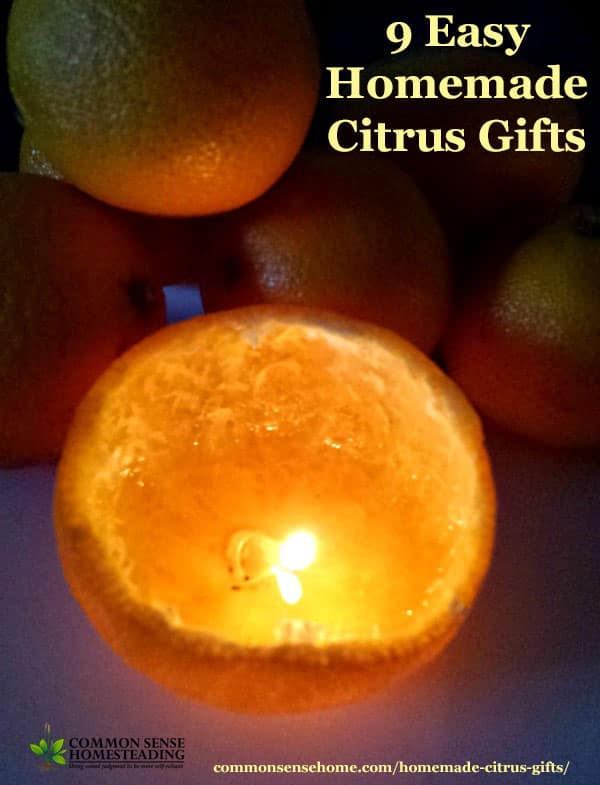 Citrus Gift #4 – Citrus Candles
These quickie candles are a "must try" project just for the WOW factor. It is unbelievably easy, amazingly attractive and incredibly inexpensive. Citrus candles would be perfect for gatherings, parties, weddings, showers, or for when you are sitting on the porch. You can add a special twist and float your citrus candles in water.
Ingredients
Citrus (orange, mandarin orange, lemon, lime, grapefruit, tangerine or any other citrus I couldn't think of)
Vegetable or Olive Oil
Match or Lighter
Directions
Evenly cut your citrus in half
Carefully remove the fruit and leave the white center stem intact, this will act as your wick
Add cooking oil to your empty citrus peel ¾ way full (do not fill above white stem)
Light the white stem/wick and enjoy
Note: Always use caution when burning candles. Set on a flame resistant surface and do not leave unattended.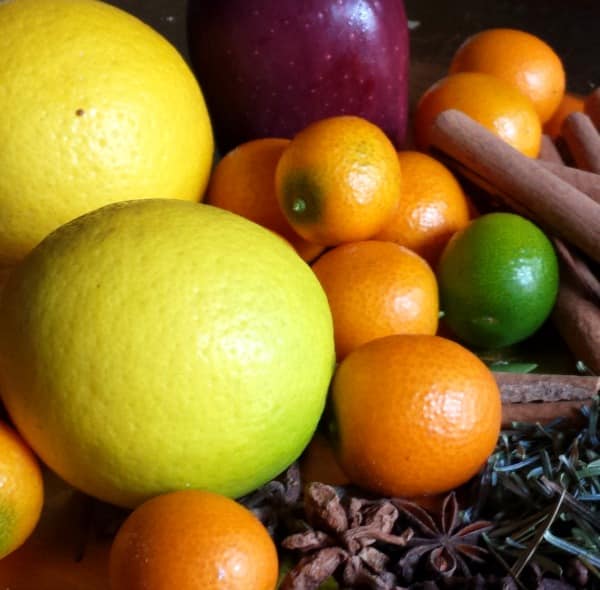 Citrus Gift #5 – Citrus Potpourri
Enjoy natural scents filling the air with this Citrus Potpourri. It's free from harsh chemicals and synthetic fragrances. You can add or omit any of ingredients to give this potpourri your own twist. Place a scoop in a gift bag with instructions and tie a pretty bow or glue dried citrus with raffia for a perfect gift.
Rosemary 3-4 Sprigs or 1/4 cup (you can use Pine Needles as well)
Orange, Lemon or Lime peel (or a combination of all three)
Apple peel – from 1/2 an apple
Cinnamon – 1/2 tsp
Cloves – 1/2 tsp
Anise – 2-3 anise stars
To use the potpourri:
Fill a pan 3/4 of the way with water and add desired amount of citrus potpourri. Bring to slow boil. Lower temp to a low simmer. Do not allow to dry out. Add water as needed.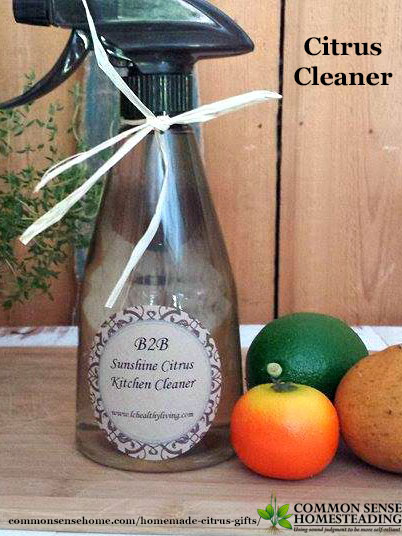 Citrus Gift #6 – All-Purpose Kitchen Cleaner
This easy to make Herbal Citrus Kitchen Cleaner is a wonderful gift for anyone on your list and only cost pennies. All you need is: vinegar, some citrus peels, herbs and a spray bottle.
For further instructions visit DIY Citrus Cleaner.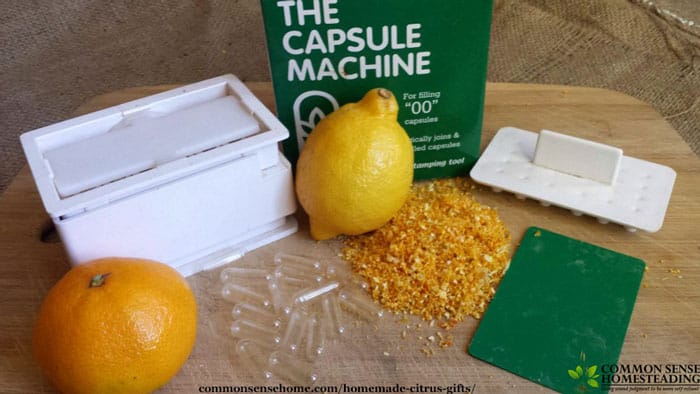 Citrus Gift #7 – DIY Vitamin C Capsules
Give the gift of well-being this year by making your own all-natural Vitamin C capsules. Easy to make, nothing synthetic and good for you.
Ingredients
Directions
Thoroughly wash and dry citrus
Slice into thin slices (you can use only the peels instead of the entire fruit if you wish)
Place citrus slices in food dehydrator or dry on cookie sheets in the oven on 200° until completely dried and hard.
Once citrus is dried, place in food processor until it is completely ground to a fine powder without any big chunks
Fill Capsule maker with empty capsules
Fill capsules with ground citrus and pack tight
Place caps on top and press until you cannot press anymore
Remove top and release capsules
Store in clean, empty pill container and place a cotton ball in container to absorb any moisture
You now have your own 700mg Vitamin C Capsules!
Note: If you don't have a capsule maker, you can add the capsule contents to tea.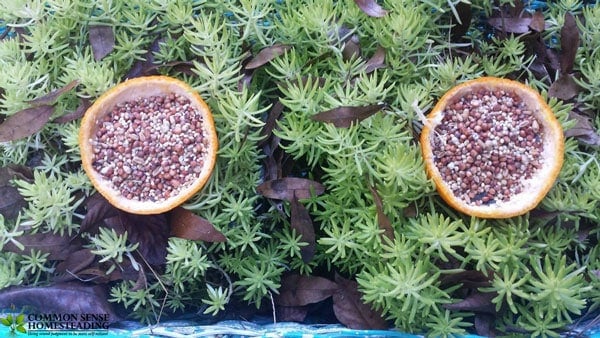 Citrus Gift #8 – Bird Feeders
Growing up my grandparents were avid birdwatchers and always placed citrus out for the different birds that wanted a treat and would watch them for hours from their dining room window.
To make affordable, recycled feeders that are easy to place anywhere (no special mounting required) all you need to do is:
Cut a piece of citrus in half
Remove the fruit (eat and enjoy)
Fill the halves with wild bird seed
Place feeders in random spots in the yard for the wildlife to enjoy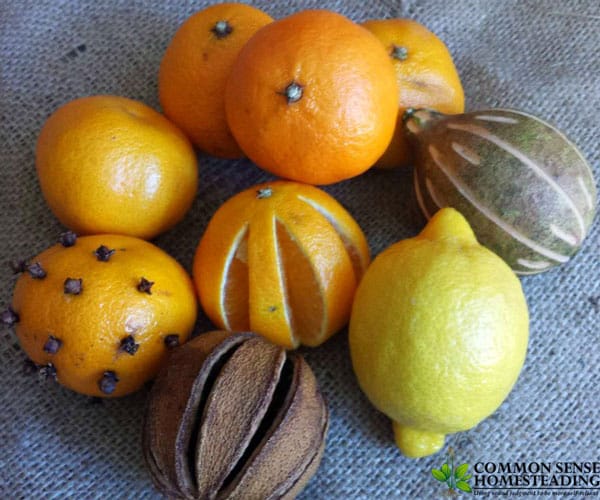 Citrus Gift #9 – Pomanders
This is one gift you may remember from childhood. I remember making these for family members at a very young age, and they lasted for years. Not only do pomanders smell good but they are also attractive to decorate with. They're also a great use for citrus that might have sat out on the counter a little too long…
Ingredients
Citrus (orange, lime, lemon, loquat, kumquat, the smaller the better)
Cloves
Ribbon, twine, raffia
Directions
Cut designs or slices in citrus with small knife/zester OR leave whole
Push whole cloves around citrus if desired
Place in fridge for a couple of days to let dry to help prevent molding
Tie ribbon, twine or raffia and place in bowl or hang
To see step by step instructions visit How to Make Spiced Orange Pomander Balls.
Other posts by Amber Bradshaw:
This post is by Amber Bradshaw of My Homestead Life.
Amber and her family moved from their tiny homestead by the ocean in South Carolina to forty-six acres in the Smoky Mountains in East Tennessee.