Going Barefoot is Good for Your Health
The above picture was taken in March 2007. It was a warm late winter day, and although there was still snow on the ground, puddles of meltwater were everywhere. Our yard was still a mess at this point, so the boys were allowed to dig pretty much wherever they pleased. They decided they needed to make a BIGGER puddle – but once the water had filled in, it was just too cold to play in. No worries! Little brother stayed in the mud hole while his big brother brought warm water in a kettle from inside (note: boards on ground because big brother didn't want to walk in the icy mud).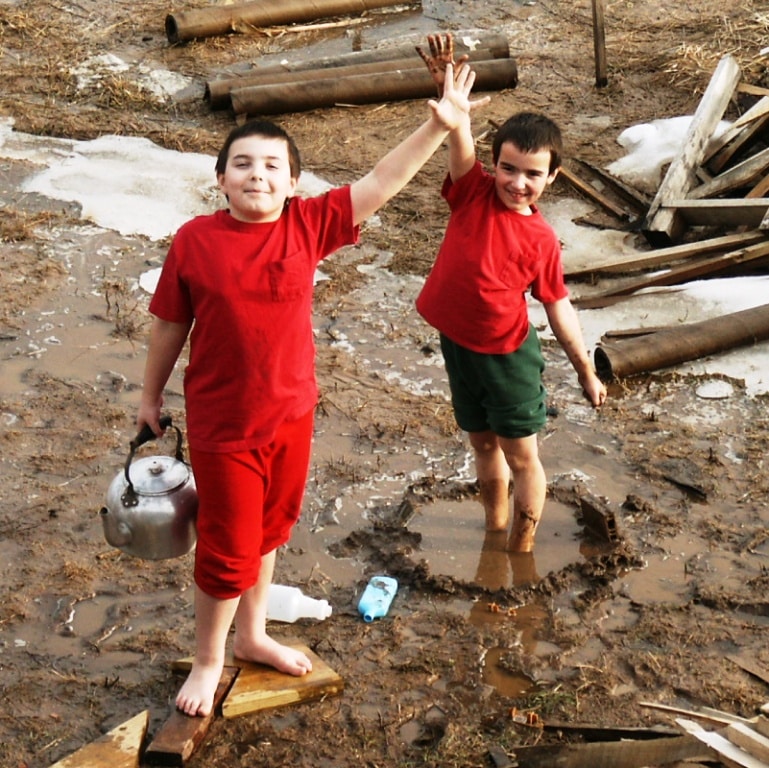 If I was a licensed daycare provider, this would have probably gotten me arrested, but luckily I am a mom and and still allowed to let my kids get dirty, wet, and cold. AND THEY LOVE IT! They are almost always barefoot. (If you'd like to learn more about barefoot kids, visit Parents for Barefoot Children. The site includes history, health benefits, and ideas for fun activities to try barefoot.)
Human beings were meant to have contact with the earth. So often in our daily lives, society expects us to wear shoes. That said, when we can go barefoot, I think we should. In an article from SixWise, they discuss some of the many health benefits of going barefoot:
The book ("Take Off Your Shoes and Walk" by Simon J. Wikler D.S.C.)also describes a study performed from 1957-1960 that examined whether a mother's objections to letting her child walk barefoot influenced the health of the child's feet. It was found that children who were allowed to go barefoot often had:
* Less deformed toes
* Greater flexor strength
* More ability to spread the toes
* Denser muscles on the bottom of the feet
* Greater agility than those who had never gone barefoot
* A wider range of hip circumduction and more flexibility of the gluteal and hamstring muscles, which gave them more ability to touch their toes when their knees were held stiff
The article also points out how walking and running barefoot strengthens the feet, helps prevent varicose veins by increasing blood flow in the legs, increases relaxation, and "grounds" you, linking you to the "life force" or "chi" of the earth. There's an entire movement dedicated to this final component, commonly referred to as "grounding" or "earthing".
I found the scientific study results on grounding to be very interesting. The photos on this site show obvious, visible results within the body. The most recent research article posted, "Earthing the Human Body Influences Physiologic Processes" states:
Earthing the human body influences human physiologic processes. This influence is observed during night relaxation and during physical activity. Effect of the earthing on calcium–phosphate homeostasis is the opposite of that which occurs in states of weightlessness. It also increases the activity of catabolic processes. It may be the primary factor regulating endocrine and nervous systems.
In layman's terms, their study shows that earthing affects your body, whether you are resting or active. It builds your bones (which plagues many of us as we age). It can give you more energy, and help your body's natural systems work better.
I love any option that can help your body to heal itself for free! It feels good, too.
One of the saddest parts of the end of the gardening season is less barefoot dirt time for my tootsies. It's just getting too cold for me to spend too much time with naked feet outdoors, at least most days. I do try and get out from time, and still go barefoot or stocking feet inside most of the time. I do go outside barefoot year round, but in winter I just can't stay out very long!
Do you go barefoot? Like my grandma always said, "Try it, you might like it." 🙂