18 Fastest Growing Vegetables (Indoors, Garden, Containers)
With prices at the grocery store continuing to climb, this list of fastest growing vegetables will help you get a harvest sooner while waiting for later crops to mature.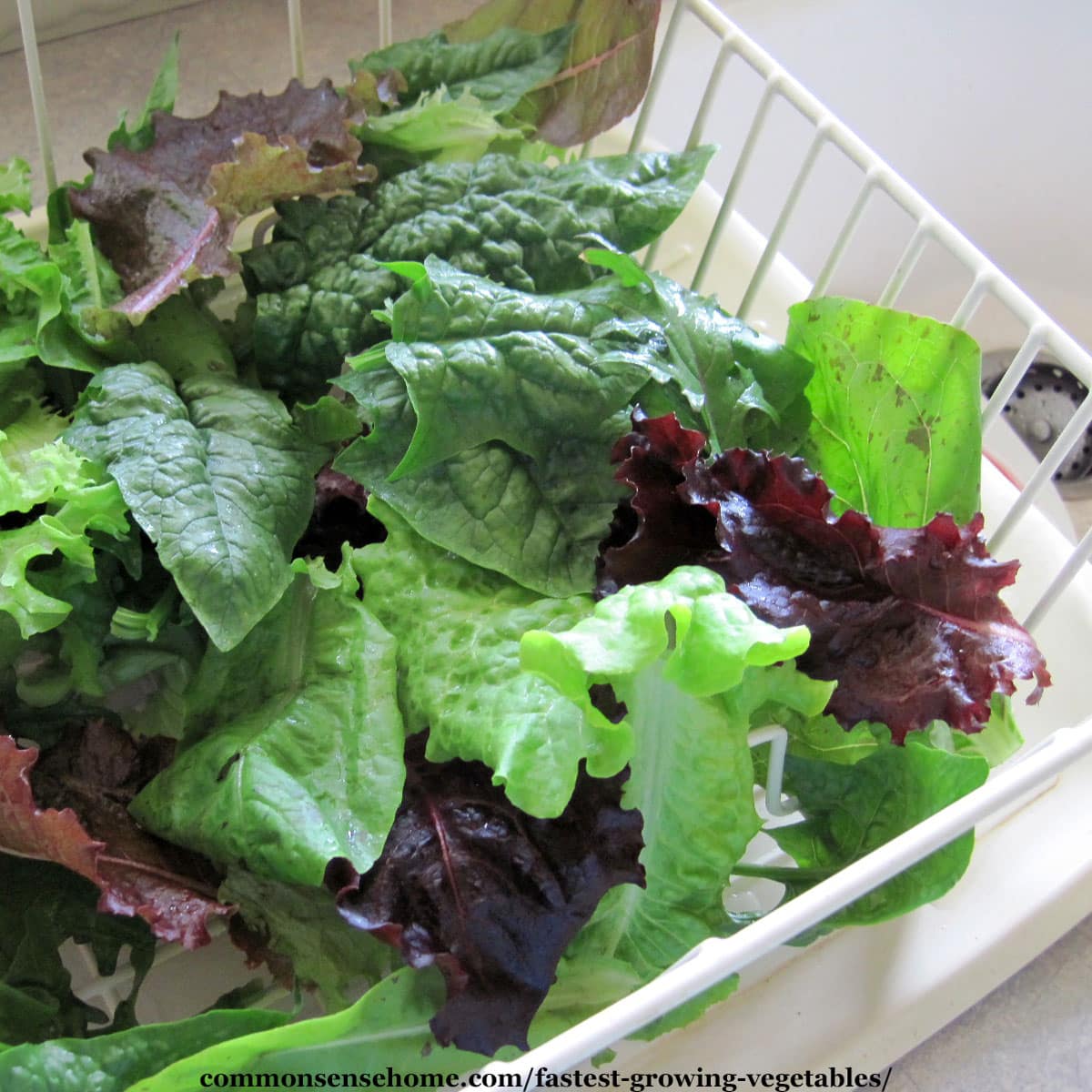 Fastest Growing Vegetables
Not only do these crops grow quickly, many of them are easy to grow in containers or even indoors. Leafy greens and root vegetables tolerate some shade, too.
In northern climates, more sun is generally better for a faster harvest. In hot areas, afternoon shade can help keep plants from bolting to seed.
1. Sprouts and Microgreens – 14 – 21 days
Sprouts and microgreens are the fastest vegetables to grow. Though the harvest volume is small, they are a great addition to salads and stir fries. Mung bean sprouts are ready in about 3-4 days.
Microgreens are ready to harvest 14 to 21 days after planting, depending on the type of green. Some of the fastest growing microgreens may be ready in a week. Radishes, wheatgrass, corn shoots, cabbage, broccoli, and sunflower seeds are some of the quickest growers.
Harvest microgreens when the plants get their first true leaves. See "How to Grow Microgreens from Seed" for more information.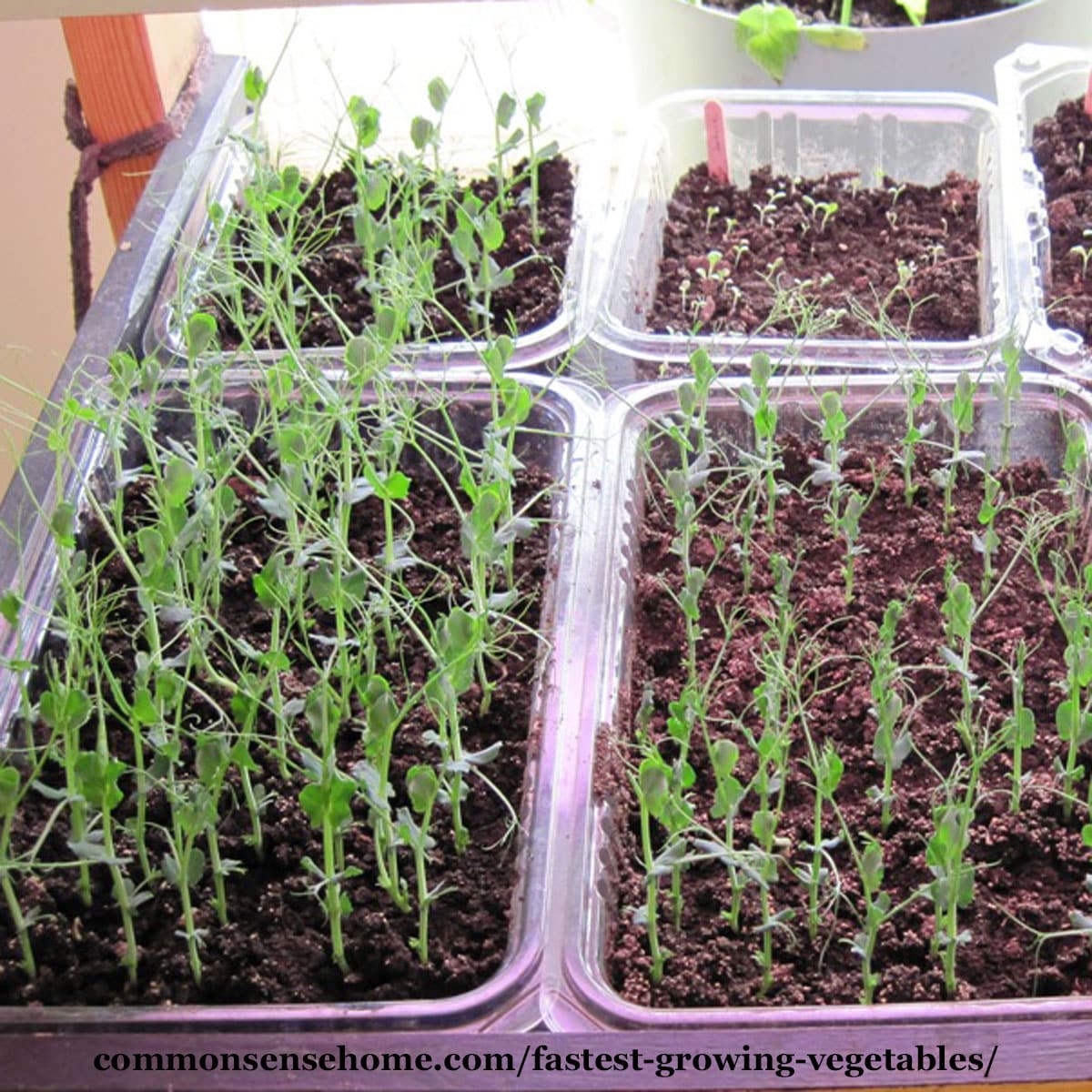 2. Pea Shoots – 2-3 Weeks
Pea shoots are one of my personal favorites to add some variety to salads . They taste like fresh peas, but are ready much more quickly. Soak peas overnight before planting (snap pea varieties work well).
Once the pea plants reach 6-8 inches, snip off the top of the plant below the highest leaves. Let the plants keep growing and harvest shoots every 3-4 weeks.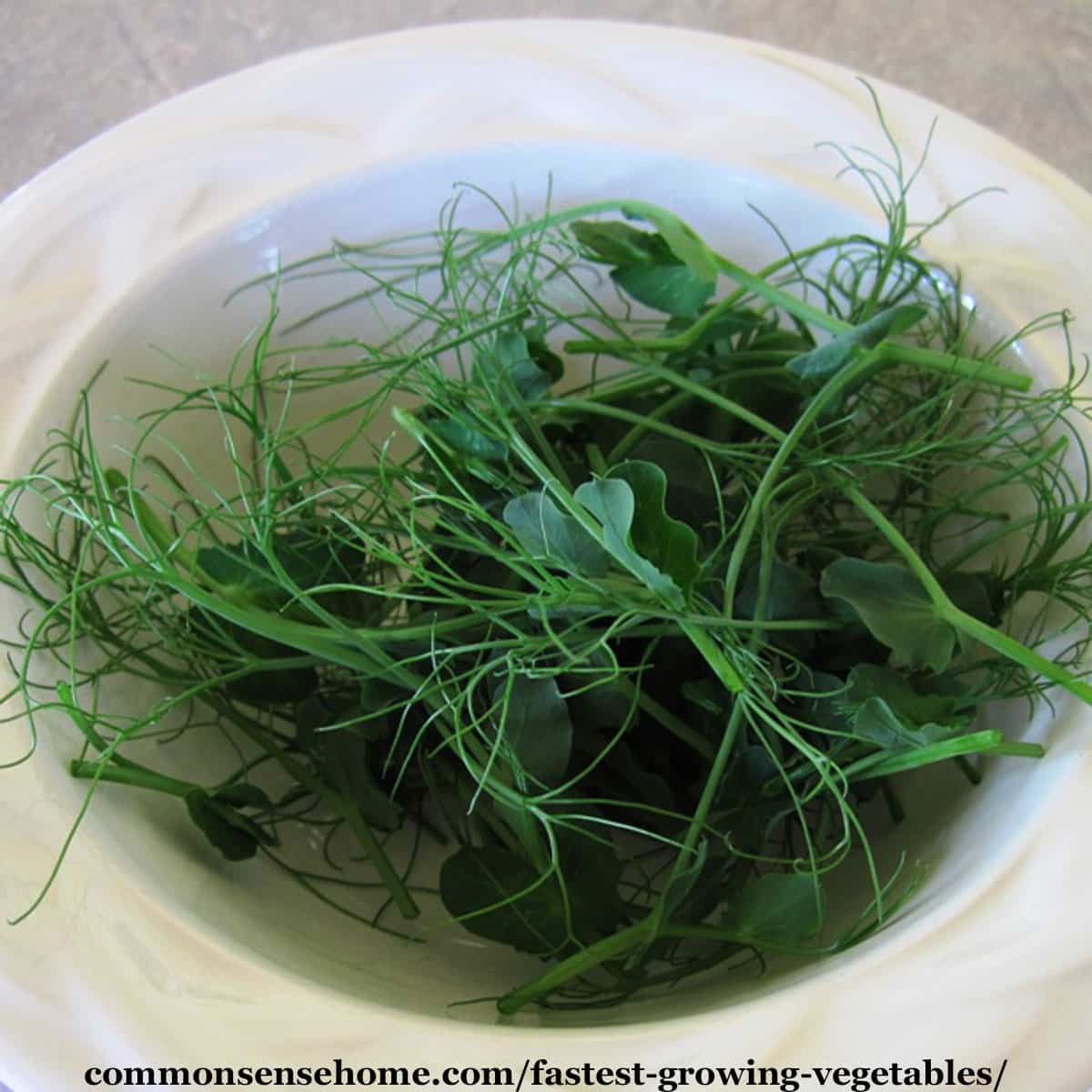 3. Radishes – 3 weeks
Radishes grown in cooler temps have a more mellow flavor. They can be direct seeded in the garden 4 to 6 weeks before last frost, or grown in containers. Choose salad varieties and harvest them young. Purple plum radish is one of my favorites.
The tops are edible, too, so you can plant them a little thicker at first and then eat the extra plants. Radish leaves are a little scratchy, but cooking tames the texture. (Try them in stir fry or soups.) Space plants 2 inches apart, and sow seeds weekly for a continuous harvest.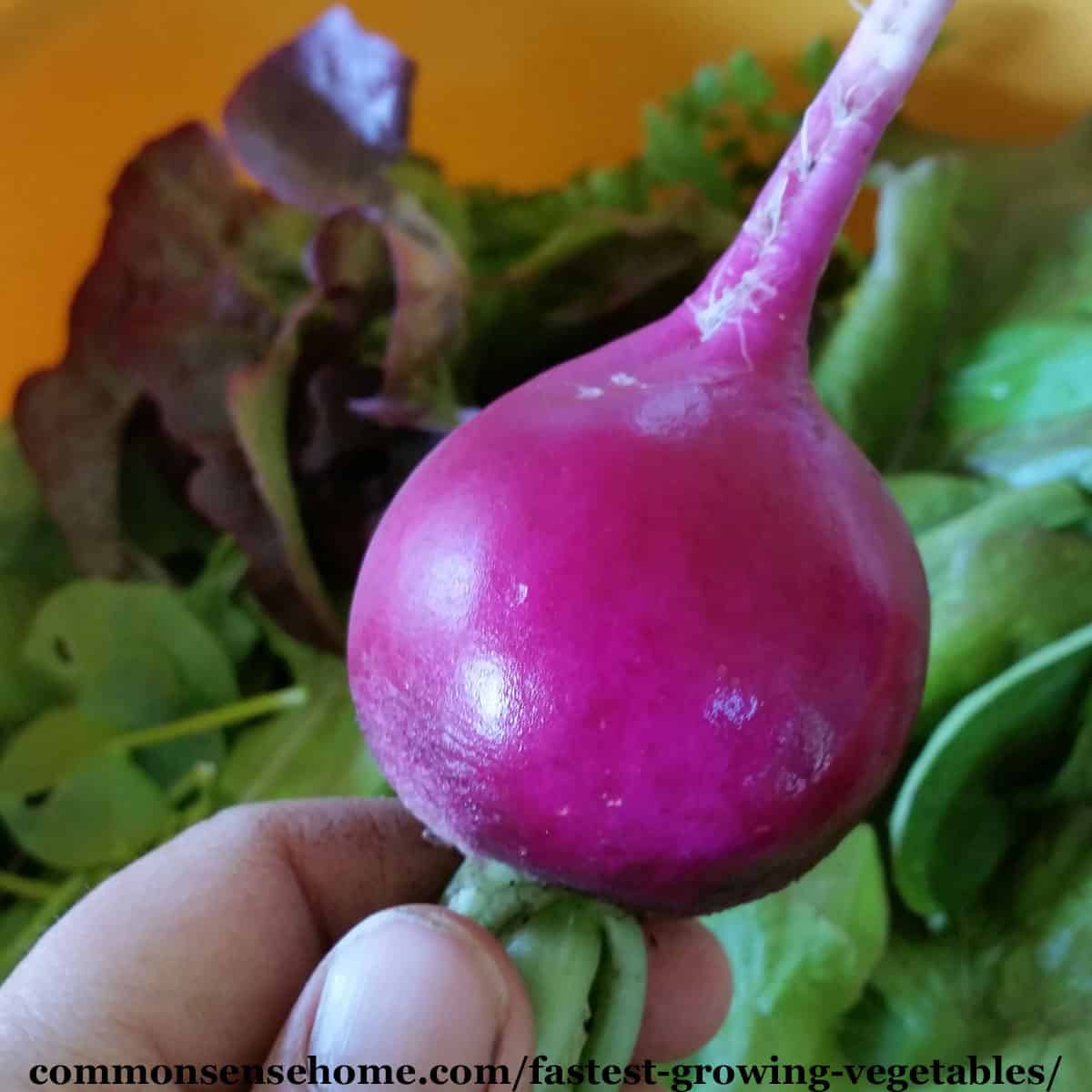 4. Green Onions/Scallions – 21 days
Planted from seeds, small green onions can be ready for harvest in as little as 21 days. You can also plant the trimmed root end of full grown onion to grow onion sprouts, or plant onion bulbs and harvest them young.
My friend, Julie, said her mom always planted her onion bulbs about one inch apart, and then harvested green onions to leave them spaced 2-3 inches apart. We trim the tops of our onion seedlings regularly, and use the trimmings in salads and omelets.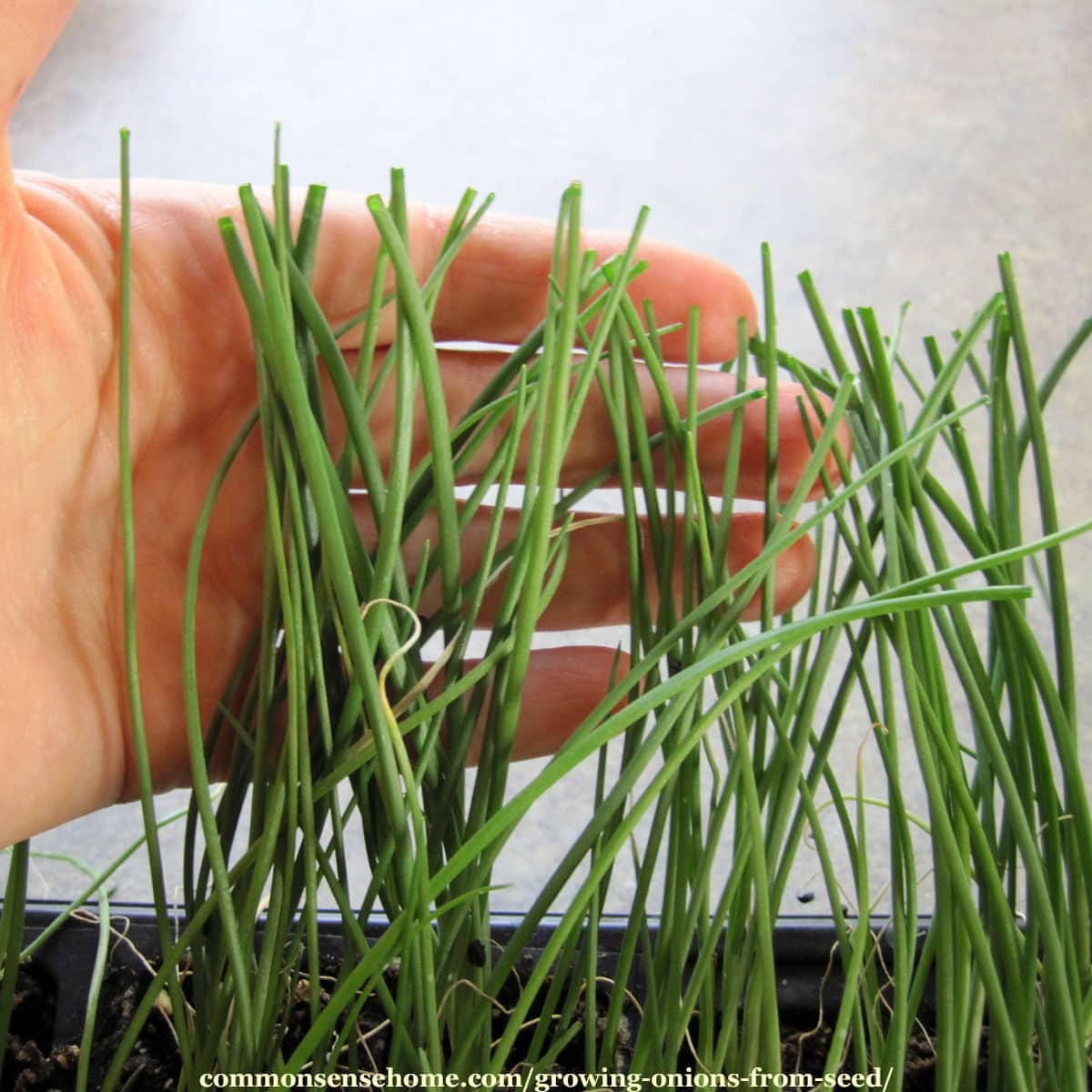 5. Lettuce – 30 Days
There's no need to pay premium prices for those fancy lettuce mixes at the grocery store when you grow your own. Lettuce works well for "cut and come again" harvests, where you trim off outer leaves and let the center keep growing.
Lettuce prefers the cooler temperatures of spring and fall, and will tend to bolt in summer heat. Shade can extend the harvest season. Lettuce and other salad greens are good choices for tower planters that let you grow more food in less space.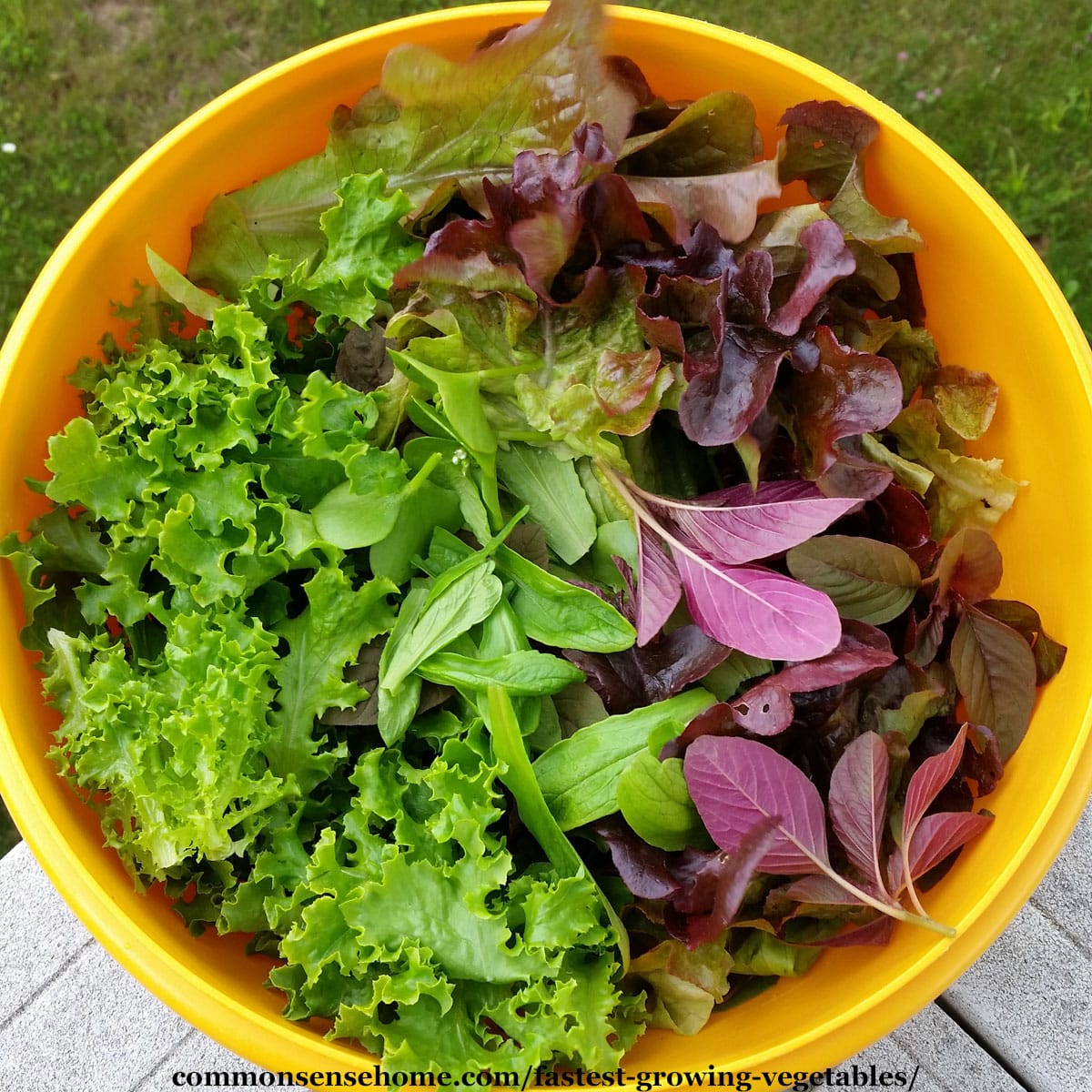 6. Baby Kale – 3-4 Weeks
We let our kale plants go to seed in the garden, so we're blessed with volunteer baby kale plants most years. Baby kale is delicate enough for salads, but sturdy enough to hold up to soup, like homemade Toscana.
Our favorite variety is Red Russian. Another good variety is Siberian Kale. Plant seeds thickly for harvesting small greens, then thin and allow some to mature.
7. Spinach – 30 Days
Spinach is extremely cold hardy. I've harvested leaves from a snow pile that melted on a warm winter day. If the ground is thawed, it's okay to sow your spinach seeds.
Spinach doesn't like heat, so spring and fall plantings are best. It may overwinter in some areas. Large leaves get bitter, so it's best to harvest regularly. Shade is helpful in warmer climates.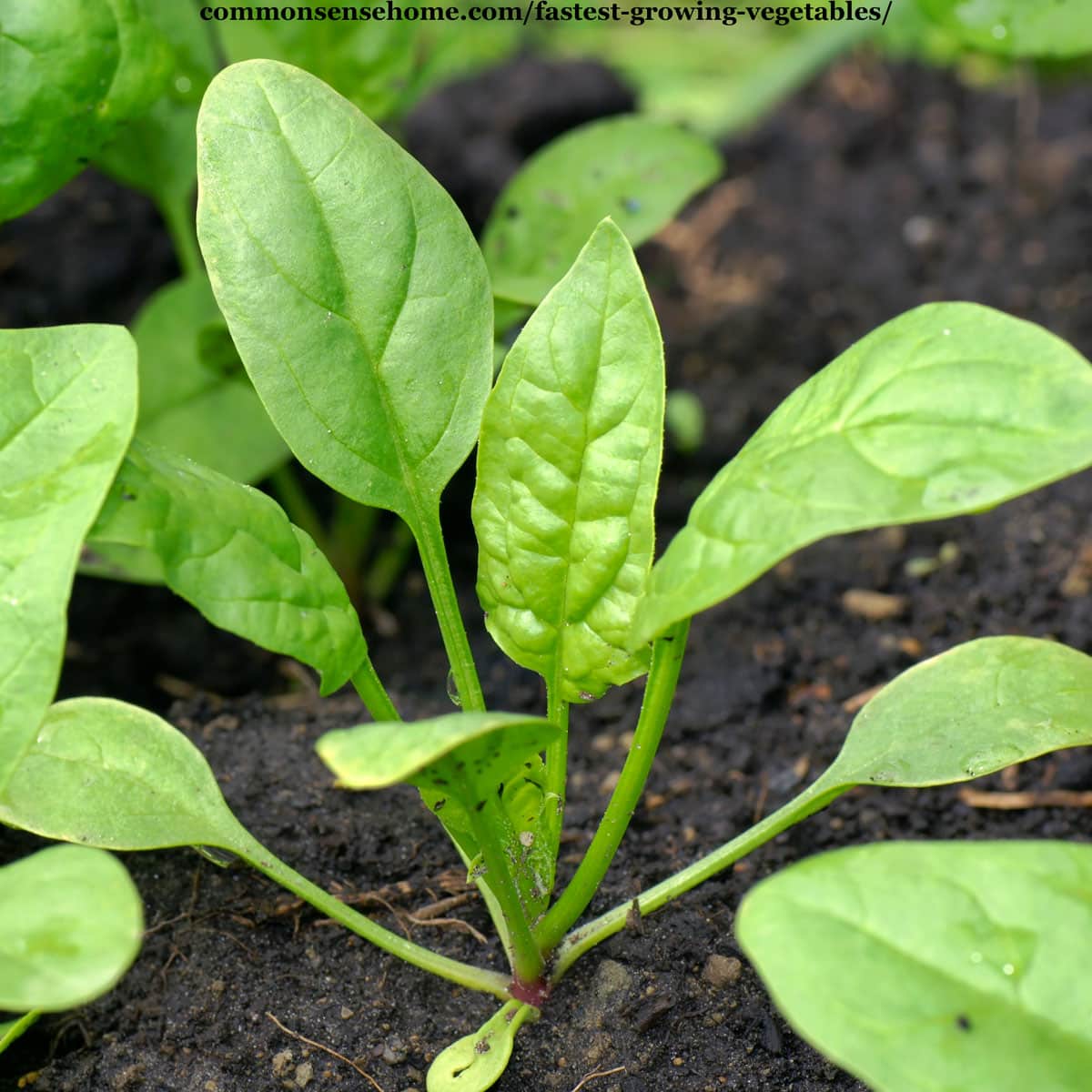 8. Arugula, Mustard Greens – 30 – 45 days
These spicy greens add some zip to your salad mix. To keep their texture crisp and encourage fast growth, make sure they get plenty of water. Both of these work well for container plantings. Gentle foliar feeding also encourages quick growth.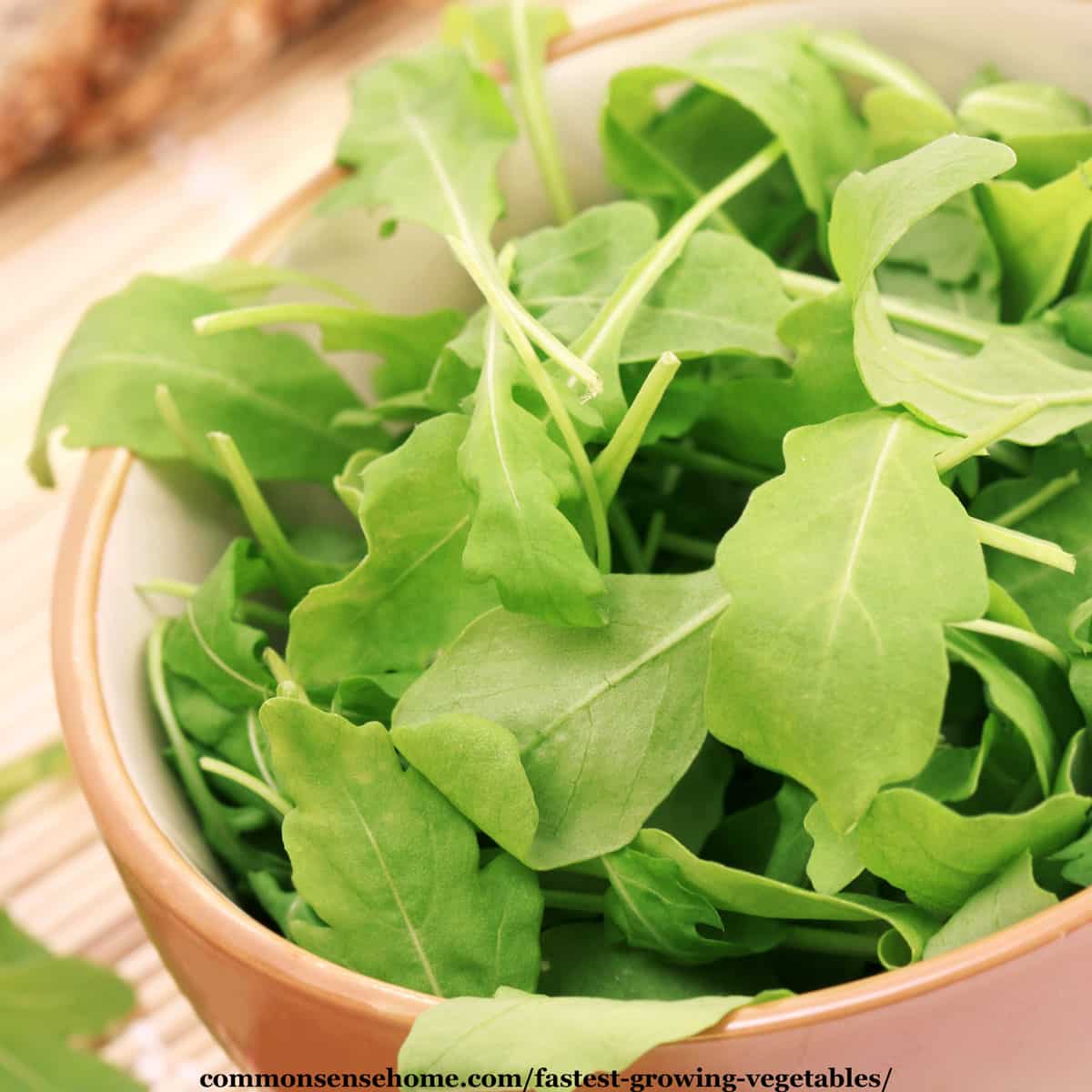 9. Tatsoi – 45- 50 days
I love Tatsoi for stir fries, even better than bok choy. My bok choy tends to bolt if we get a warm day, but tatsoi just hangs out and waits for harvest.
I use the low growing rosettes as a companion plant in my broccoli patch. The tatsoi comes out early in the season, leaving plenty of room for the broccoli to grow.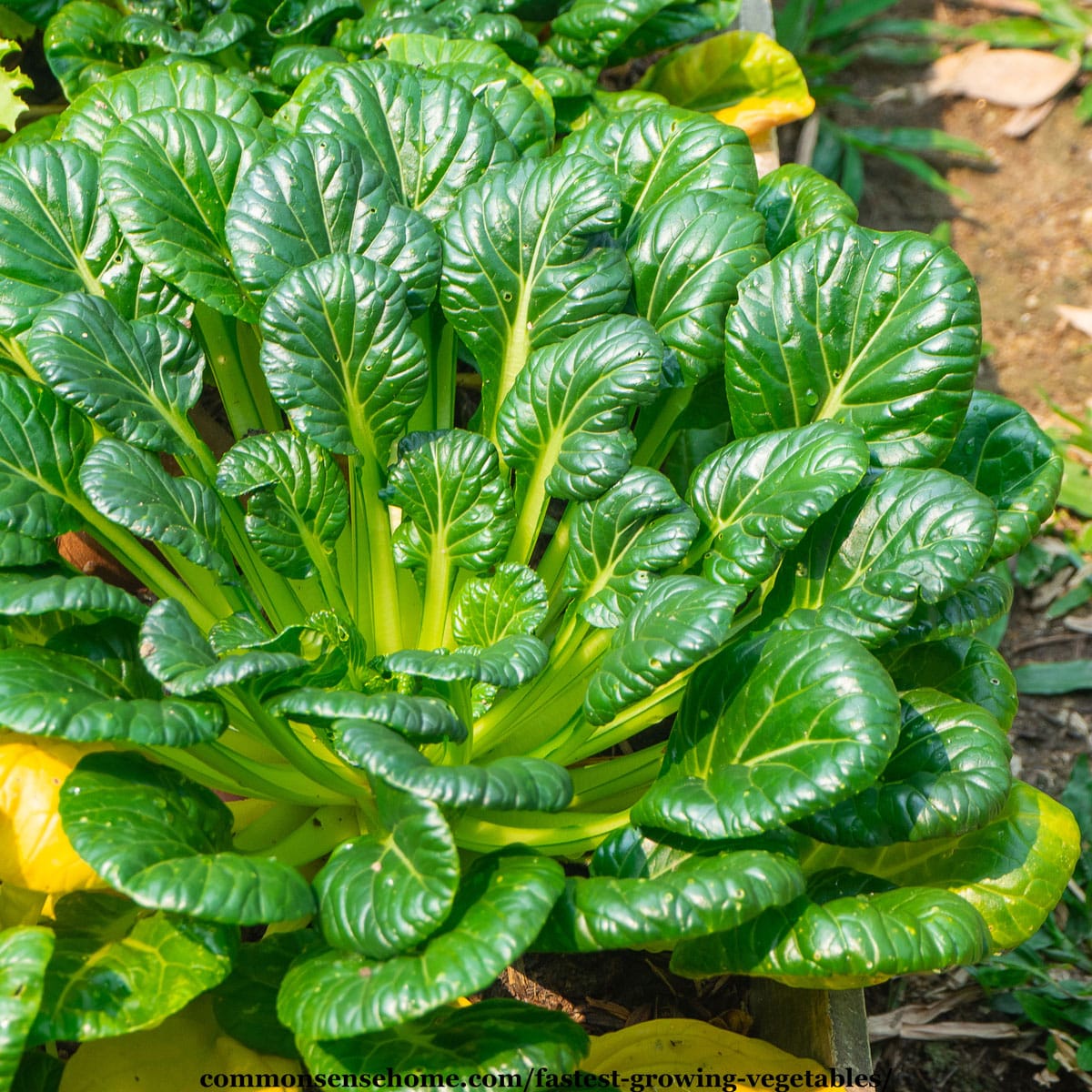 10. Baby Bok Choy – 45 – 60 days
Bok choy is another great choice for stir fries, and baby bok choy matures more quickly than its larger cousins. Keep the plants cool, with rich soil and even moisture.
11. Broccoli Rabe (Rapini) – 30-70 days
Broccoli rabe sets small heads quickly, so be sure to plant in nutrient rich soil and harvest promptly. The stalks, leaves, and blossoms are all edible.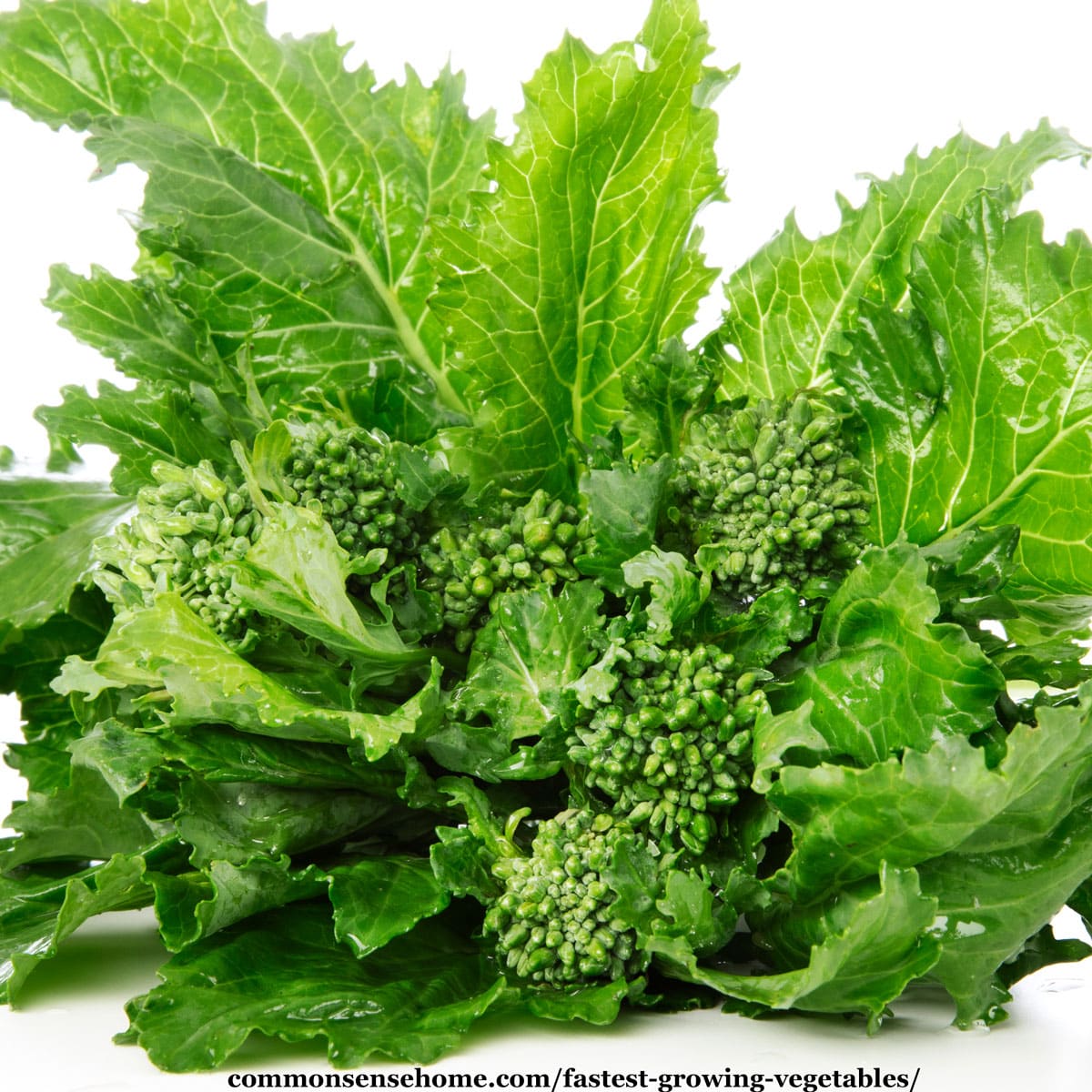 12. Turnips – 30-55 days
Turnips are not my favorite vegetable, but they are a fast growing vegetable. I plant a few each year to try and learn to love them. Picking the roots young keeps the flavor milder. Like the rest of our root veggies on the list, the leaves are edible, too.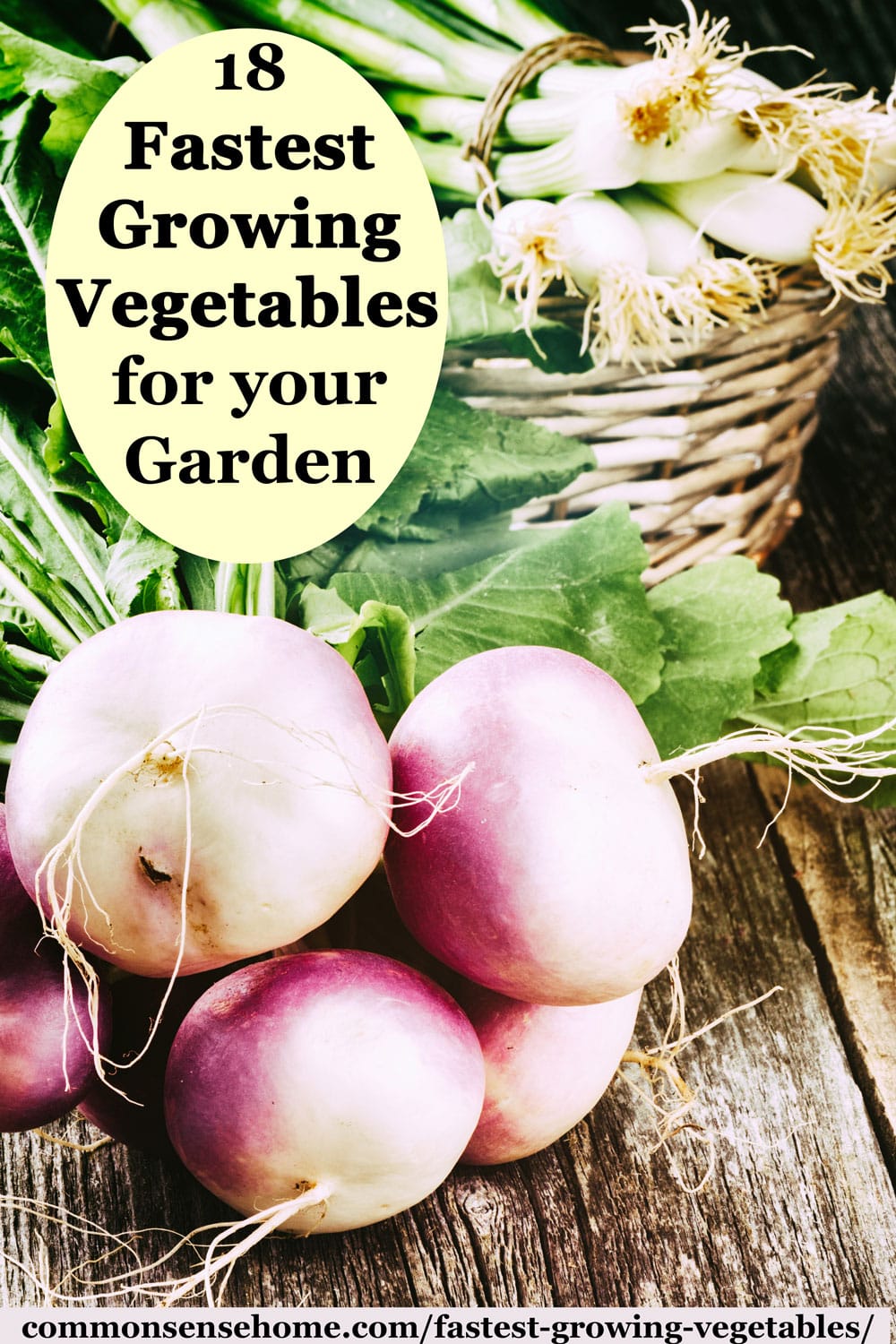 13. Baby Carrots – 50 days
We harvest our baby carrots as we are thinning out our carrot patch. (You may notice a theme here.) They also do well in pots, since you're picking the roots while they are still small.
Both the roots and greens of carrots are edible. The tops make a good pesto sauce, or you can use them in salads or smoothies.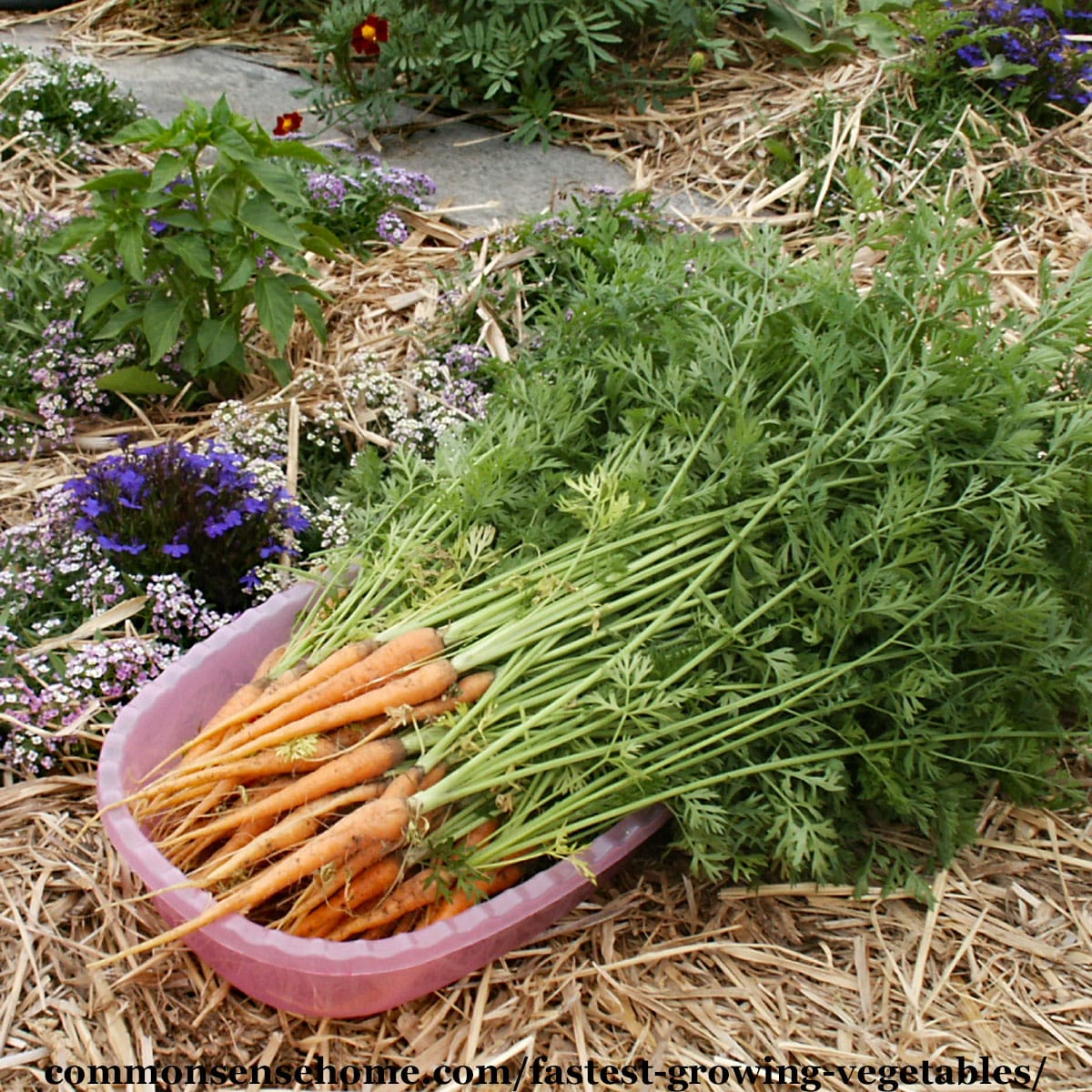 14. Baby Beetroot – 35-60 days
Young beets are tender and delicious, edible from top to bottom. You can take a light harvest of greens and leave the roots to mature, or harvest roots and leaves at the same time. We harvest the greens when thinning the plants.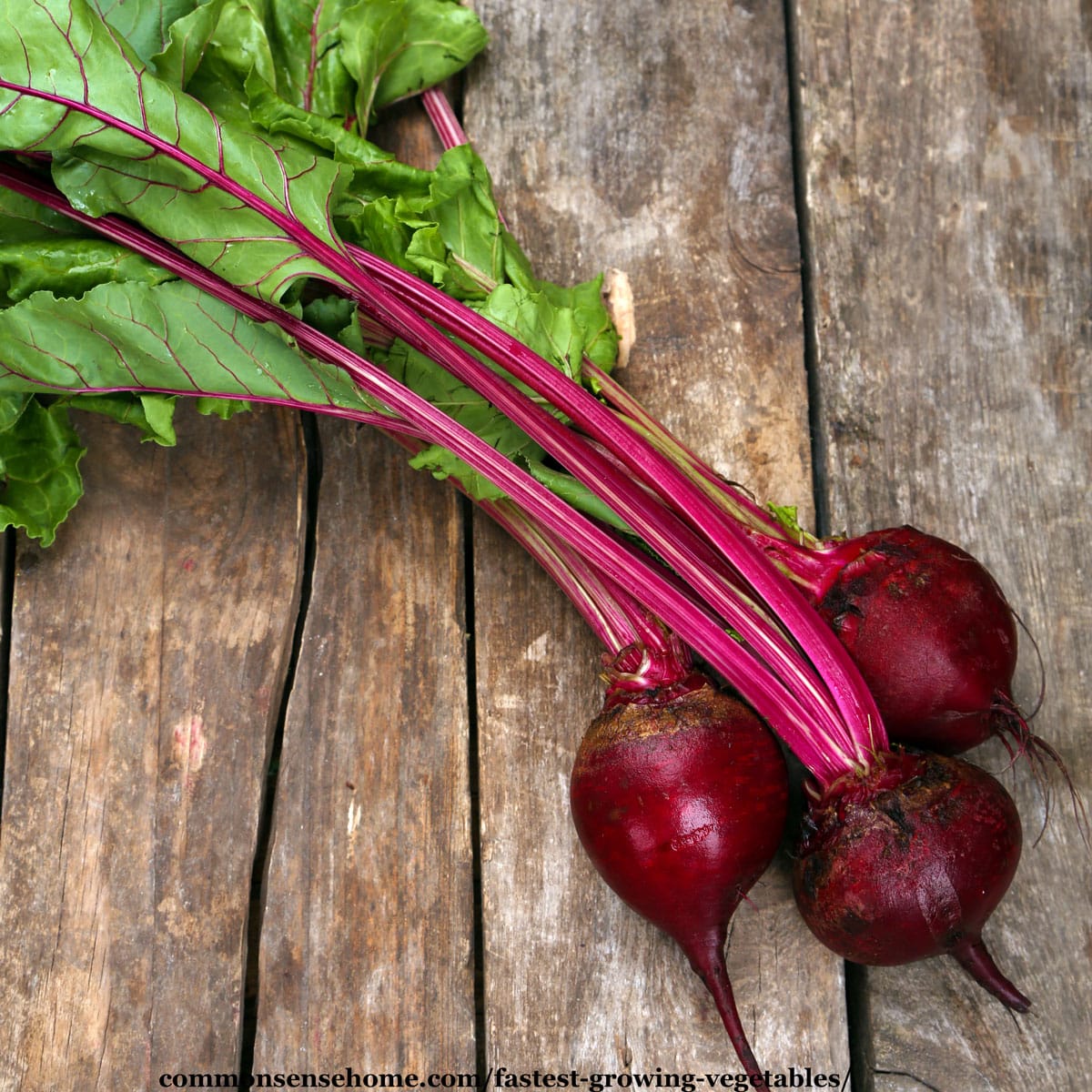 15. Bush Snow Peas – 60 Days
Snow peas are the peas with flat pods. Since you don't need to wait for the pods to fill, they're ready to pick sooner. Bush Oregon snow peas and bush sugarsnap should be ready in around 60 days.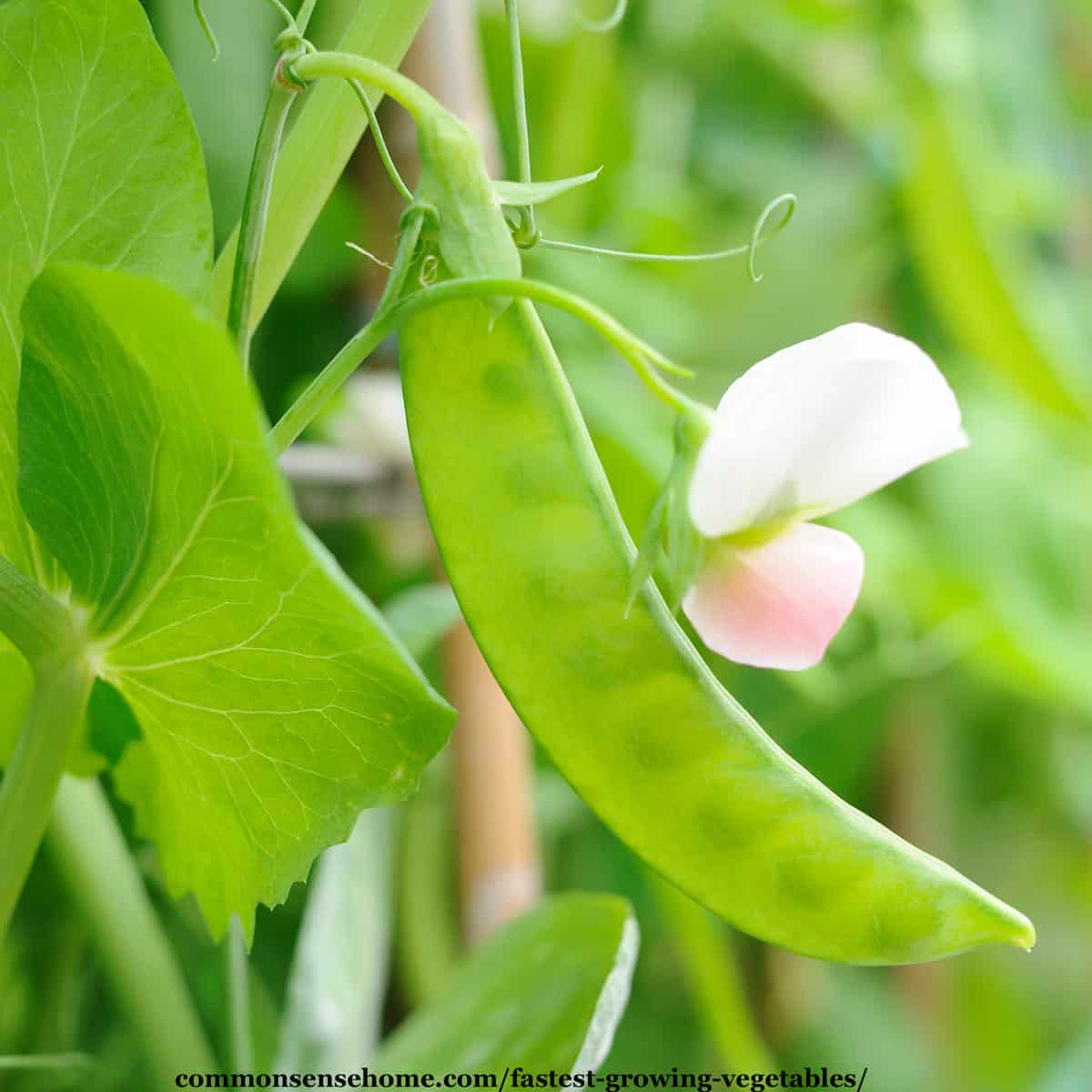 16. Bush Beans
Since they don't have to spend time growing big vines, bush beans produce sooner than pole beans. Try green Masai or golden Cherokee wax beans for a quick harvest.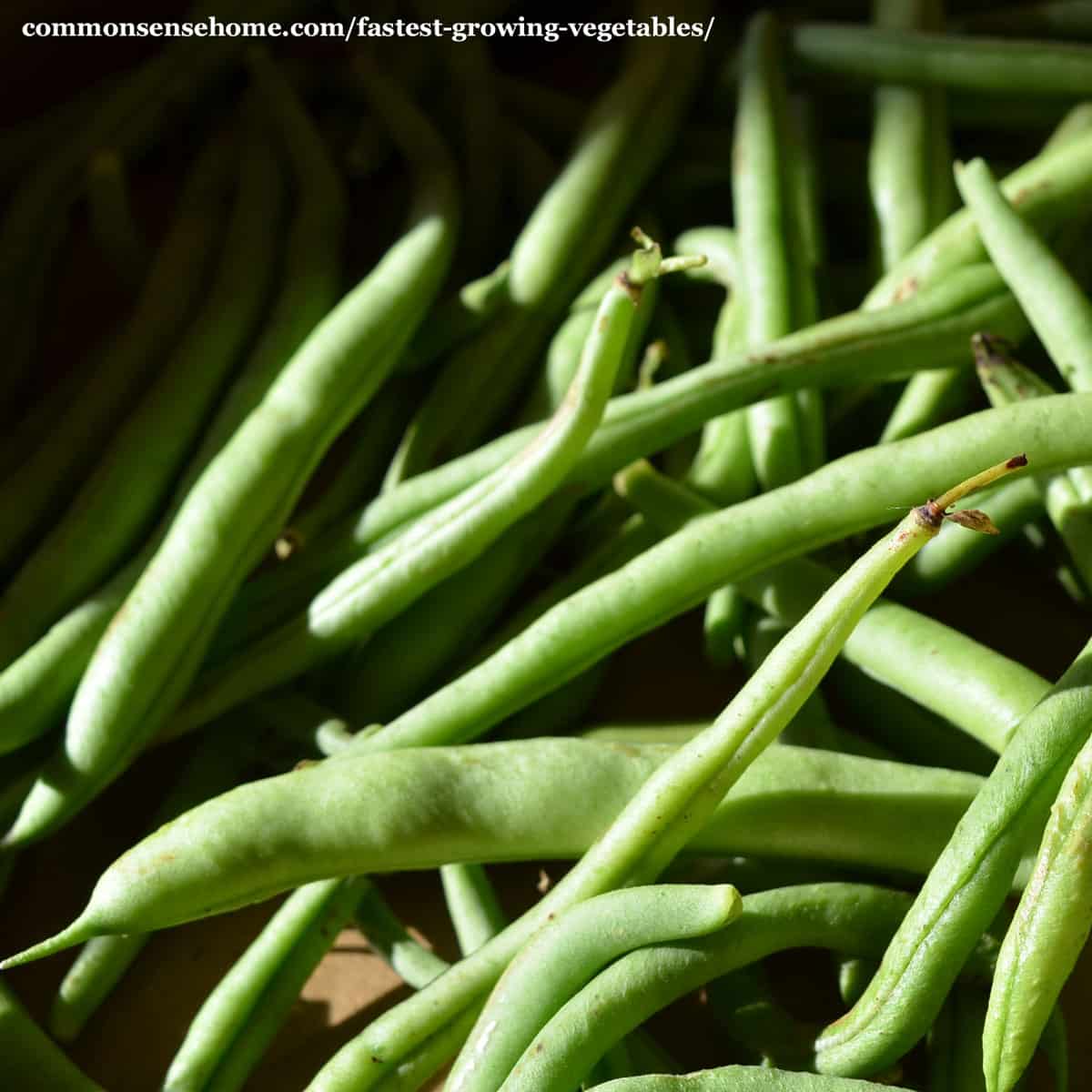 17. Zucchini – 40-95 days
The zucchini harvest can start with the male blossoms, which appear before the female blossoms, but don't set fruit. (Female blossoms have a swelling at the base of the flower.)
Pick the fruit small to keep the harvest going. If you've harvesting male flowers, make sure to leave some for pollination.
18. Cucumbers – 50 days
You can grow those adorable little snacking cucumbers in as little as 50 days. Try salad varieties like Muncher or Straight Eight, and train them to a trellis to make the fruit easy to spot. Keep them picked to encourage more fruit to develop.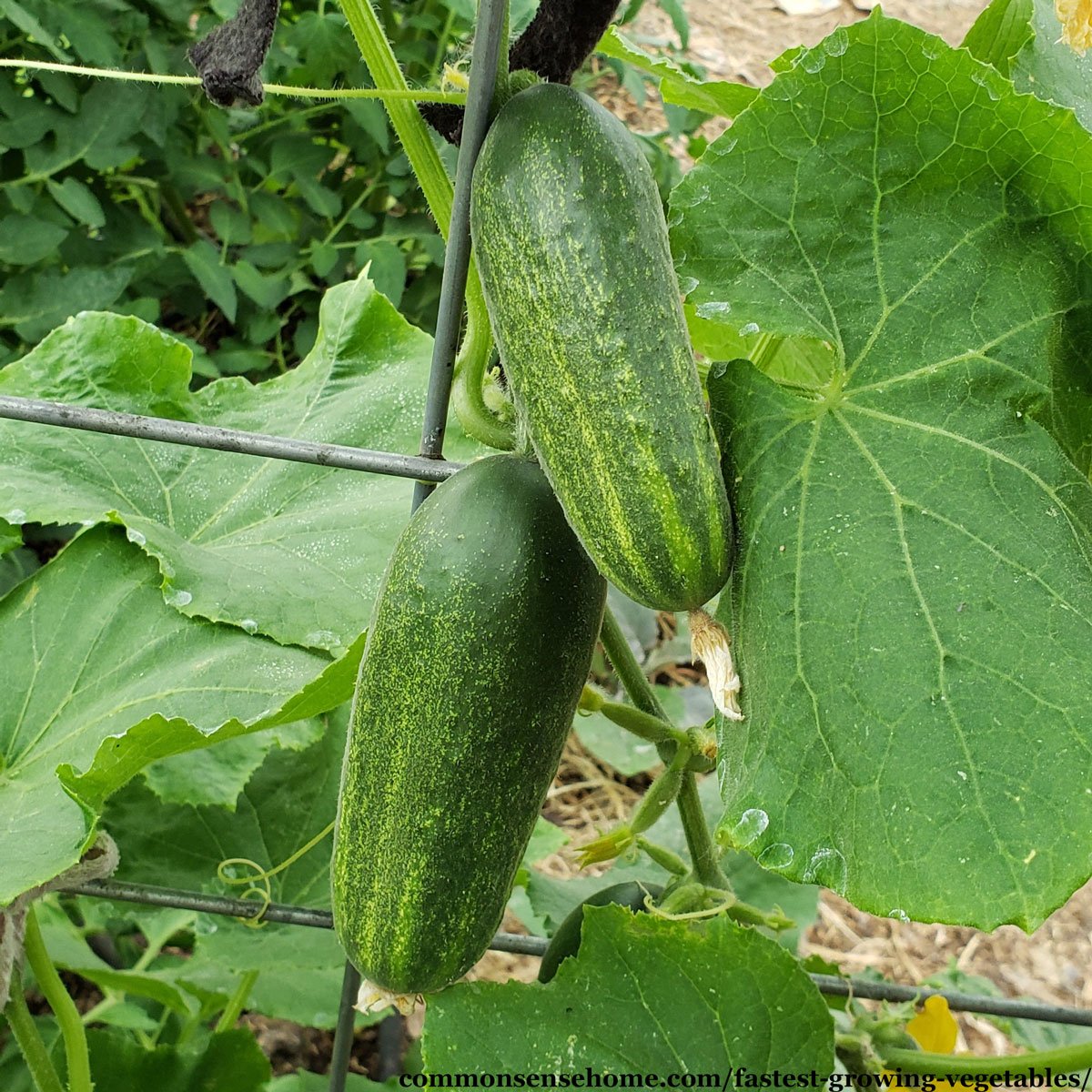 5 Tips for a Quicker Harvest
Here are a few tips to shorten the time for your vegetables to grow from planting to plate.
1. Harvest Young
Sprouts, microgreens, baby greens, and baby root vegetables are great crops to start with, because they are harvested young and tender. Spouts and microgreens provide the speediest harvests, and are rich in enzymes that boost digestion.
2. Pick Early, Harvest Regularly
Leafy baby greens like spinach and lettuce produce for a longer time if you regularly harvest the leaves. Carefully pick the largest outer leaves, and let the center leaves continue to grow. Harvest every few days, as needed, to promote new growth.
3. Get a Jump on the Growing Season with Cool Season Vegetables
You don't need to wait until all danger of frost is past to get started in your vegetable garden. Many leafy greens and root vegetables thrive in the cooler temperatures of early spring. (This is especially true in warmer growing areas, where summer temps can cook your veggies right in the garden.)
Fast growing vegetables that tolerate frost include:
Green onions
Peas
Spinach
Bok choy
Lettuce
Mustard
Turnip greens and turnips
Beets
Baby carrots
Radishes
See "When Should I Start My Seeds?" for printable charts to help you plan your planting.
4. Choose Compact Varieties
Vegetable varieties sized for container growing tend to mature quicker than their larger cousins. Look for words like "dwarf", "mini", "container", or "patio" in the variety name or plant description.
Use Promo Code: GROW for $10 off your order of $50 or more at True Leaf Market
1 use per customer – Expires April 15, 2022
5. Take Care of Your Plants
If you want fast growing vegetables, you need to take good care of your plantings. Poor soil, dry conditions, and other plant stressors will slow down your harvest.
In colder climates, covering your planting area with a mini greenhouse or cold frame a week or two before planting can help preheat the soil. Even plants that tolerate cold need some warmth in the soil for germination. You may have more success if you sow the seeds inside, then plant out into your prepared bed.
See Starting Seeds Indoors and Protecting Plants from Frost for tips to extent your growing season.