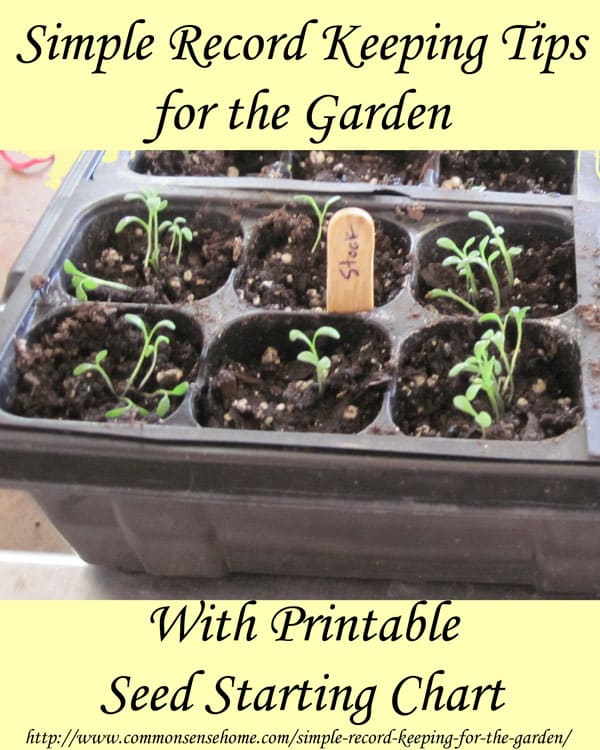 Those who've been gardening for a while know that you should rotate your crops, and keep track of your successes and failures to make improvements in the future. I also plant in garden "families", roughly along the lines of those described in the book "Great Garden Companions", so I like to make sure we don't end up with the garden version of the Hatfields and McCoys. Here are some of my favorite techniques for simple record keeping for the garden.
Use Seed Starting Charts
In Excel (or Google Sheets), I created a simple spreadsheet that I use mostly for indoor seed starts, but sometimes for outside seeds, too. In it I record the following:
Date planted
Variety
Number of cells/containers
Number of seeds planted
Year of seed packet
Company
Date of first seedlings
Number of seedlings
Date of full germination
Number of seedlings total
Transplant to garden date
If you'd like a copy of my seed starting chart,  Click here for a Printable PDF Seed Starting Chart.
To know when to start transplants inside:  Check with your local Cooperative Extension Office to determine average last frost free date in your area, or judge by your own experience. Look on your seed packets, and those that should be started inside will say something like, "Should be started inside 8 weeks before last frost". Sort into groups by when they need to be planted. If your packets aren't labeled or you aren't sure, you can check out the post "When should I start my seeds?", which has printable seed starting calendars and outdoor sowing schedules.
I label the seed trays with Popsicle sticks. I record the specific variety of a crop, not just "tomato" or "pepper", because I typically grow over 20 different types of tomatoes, as well as multiple varieties of many other crops. I use a Each variety has specific growth traits and habits that need to be accounted for in addition to the general properties. For instance, I grow a couple of determinate tomatoes, which require very little staking, but mostly indeterminate tomatoes, which require substantial support. (Discussion of determinate versus indeterminate tomatoes and tomato supports.)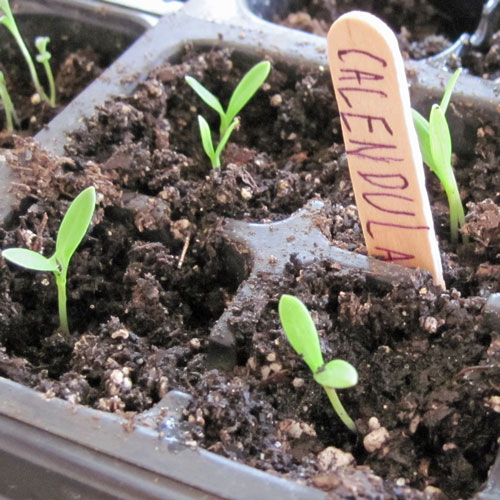 I use mostly recycled cellpacks from previous years for ease of planting. They provide deep root space with a minimal footprint. In each cell I put more or less seeds, depending on expected germination rates. Some varieties will last ten years or more, others will germinate poorly at only a year or two of age. I've noticed by tracking this information that seeds of similar crops from different seed providers have better germination rates after storage, as well as better germination rates right from the start. (Check out my favorite seeds sources and seed storage recommendations.)  As germination rates decreases, I use proportionately more seed per cell/container.
Plant in Botanical Families
As I mentioned above, I plant in botanical families, and rotate these families around the garden based on their growing needs. From Great Garden Companions, the families I use are:
Aster Family – Chicory, endive, lettuce, sunflowers
Cabbage family – Broccoli, brussels sprouts, cabbage, cauliflower, Chinese cabbage, collards, kale, radishes, turnips
Carrot family – caraway, carrots, celery, dill, fennel, parsley
Grain family – corn
Legume family – beans, peas
Onion family – asparagus, chives, garlic, leeks, onions
Spinach family – beets, spinach, Swiss chard
Squash family – cucumbers, melons, pumpkins, squash
Tomato family – eggplant, peppers, potatoes, tomatoes
Make a Simple Diagram of Your Garden
I have a hand drawn diagram of my garden, and I label what was planted in each area from year to year. This allows me to rotate crop families and plant heavy feeders in areas that have been more recently manured. (My neighbor brings over several loads of rotted manure each year, and that rotates through the garden along with the crops.)
Here's the center garden circle for 2011. (You can click on an image to enlarge it.)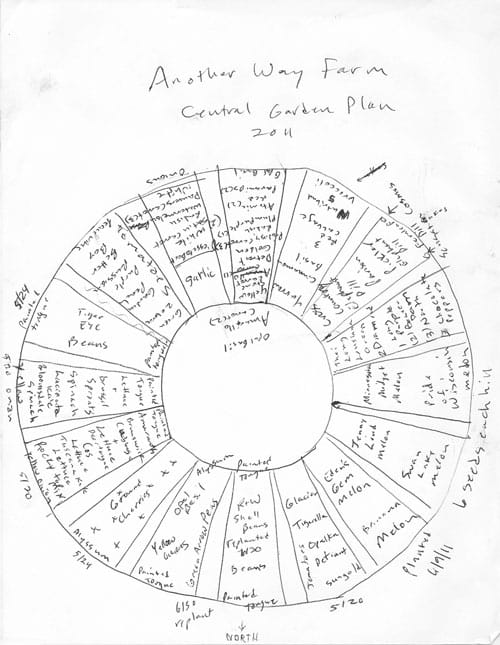 Here are the surrounding beds for 2009, 2010 and 2011. Note – drawings are not to scale (not even close). They simply allow me to track roughly where things were planted.
I keep my seeds in plastic shoe boxes, and bundle "like" seeds together. I grow over 100 different varieties of this and that, so I'll just start working my way through a type of something, say carrots, for instance, in a block planting.
I make a block 3 feet wide, and mark rows in it about one foot across (so I end up with a series of three foot long rows). I'll plant two rows of Atomic Red carrots, a row of radishes, two rows of White Satin carrots, a row of kohlrabi, two rows of Scarlet Keeper carrots, a row of turnips, and so on, until I end up with a large bed of root veggies. I may put some annual flowers or herbs along an edge or mixed in. That way, I can compare the growth habits almost side by side, but not mix the different varieties up.
The more you work in your garden, the more you'll get a feel for how much space you need and how much of a fruit or veggies you use. Or, if you really want to get super organized, you can get out your graph paper and pick up the book Square Foot Gardening. It's a well written book, but not for me. I'm more of a wild woman in the garden. 😉  Volunteers – yep, some of them are allowed to survive. Weeds – yep, some of those are allowed to survive, too, especially those that are edible and/or medicinal, which includes a lot more weeds than you might realize. (You can check out the Weekly Weeder series to find out more.)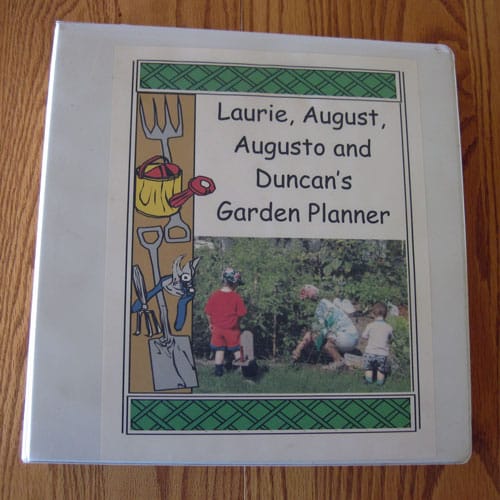 I scratch some notes in my garden binder (above), and try to take photos of the garden at regular intervals. Last year I put together a slide show of the central garden wheel through the season, and did a 360 view from the center of the garden, which was pretty cool. (You can see both on the gardening page.)
If strict record keeping is your thing, put together a loose leaf binder and make some pre-printed forms in a spreadsheet format, or invest in a pretty gardening journal. Anything you can do to make record keeping easier will make it more likely to happen. Don't stress over the details so much that you forget to enjoy your garden. That's one of the best parts.

By getting an early start to the gardening season, you can have many more options than will be available at the greenhouse, and spend less money buying them. (Seeds are much cheaper than plants.)  With some time and patience and a little cooperation from mother nature, you could be looking at a harvest like this.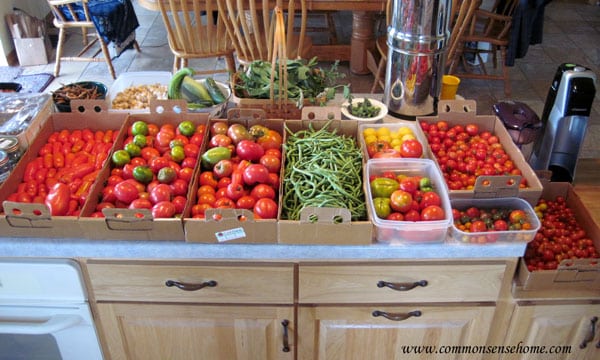 I'd love to hear how you keep track of things in your garden.
You may also enjoy: