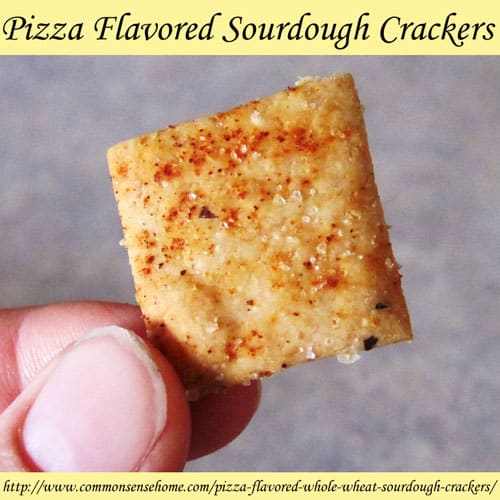 I purchased my Alaska sourdough starter from Cultures for Health several months ago, and have been happily baking sourdough bread, but I wanted to expand my sourdough repertoire. Enter GNOWFGLINS's sourdough e-course. While I didn't purchase the entire course, I did purchase the recipe book, and I highly recommend it. If you are interested in sourdough – buy this book! The pictures are great and I appreciated the level of detail in the instructions. It's wonderful!


The first recipe I tried was for crackers, as my eldest loves crackers and the ones in the store are often filled with garbage. I took the e-Course cracker base and added my own twist on the flavoring, making it into pizza flavored crackers. I used fresh ground whole wheat flour from the Nutrimill, they use commercial whole wheat flour. Since my son eats most of the crackers, I've got him mixing the dough and doing most of the prep work, while I do the baking. I buy my cheese powder and pizza seasoning in bulk from Frontier, but you should be able to find something similar in most spice shops.
Print
Pizza Flavored Whole Wheat Sourdough Crackers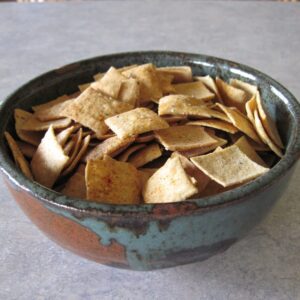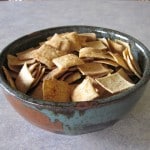 Scale
Ingredients
Cracker Base – Mix Ahead

1 cup

sourdough starter

1/3 cup

melted butter

1 cup

plus more whole wheat flour
Add just before baking
2 tablespoon

s dried cheese powder

1 1/2 teaspoon

s pizza seasoning

1/4 teaspoon

sea salt

1/4 teaspoon

baking soda
paprika and sea salt, for topping
Instructions
In a bowl (I use my 8 cup pyrex measuring cup), mix sourdough starter and melted butter, blend well. Stir in 1 cup whole wheat flour. Add additional flour if needed to make a stiff dough. Knead an counter if required to incorporate flour. Cover and set aside for at least eight hours. I like to mix mine before bedtime and let it sit overnight.
To finish crackers, preheat oven to 350F. Mix cheese powder, pizza seasoning, baking soda and salt into dough. (Note: the Frontier pizza seasoning is rather coarse, so you may need to grind it in a spice grinder before mixing into crackers.) Divide dough into four portions, then roll, score and bake as described for these soaked "Wheat Thin" style crackers. I sprinkle the tops with a little sea salt and paprika for added zip. These crackers take around 15-20 minutes at 350F on my AirBake pans.
Ta-da! A bowl of crispy, crunchy, salty goodness.Note: If you don't have premixed pizza mix spice on hand, there are many recipes available on the internet. Here's one from
lifetips
:
Print
Pizza Mix Spice
Scale
Ingredients
2 Tablespoon

s dried oregano

1 Tablespoon

dried basil

1/2 Tablespoon

fennel seeds, crushed

1/2 Tablespoon

dried thyme

1 Teaspoon

garlic granules

1 Tablespoon

cayenne pepper flakes
Instructions
Grind together in a spice mill or coffee grinder. Store in an airtight container.