Low Sugar Raspberry Jam Recipe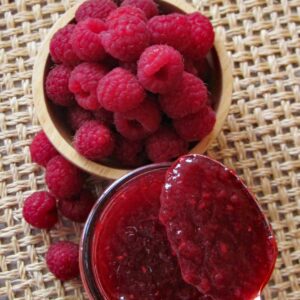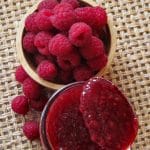 Scale
Ingredients
4 cup

s of raspberry puree or mashed raspberries (will need 3-4 quarts of fresh raspberries or 2 1/2

10oz

packages of frozen to start, depending on how many seeds you let through)

2 teaspoon

s calcium water (included with Pomona's Pectin)

2 cup

s sugar or

1 cup

honey

2 teaspoon

s Pomona's Pectin powder
Instructions
Prepare raspberries by cleaning (if needed) and gently cooking in a heavy bottom pot. I use my 8 quart stock pot.
Once softened, run through a food mill or strainer to remove some of the seeds if you like (once for fewer seeds, twice for more seeds) or simply mash berries.
Measure out 4 cups of berry puree and return puree to pot.
Sterilize six 8-ounce canning jars, keep hot. Prepare lids and rings.
Fill water bath canner and bring to boil.
In a small bowl, mix together sugar (or honey) and pectin powder. Don't skip this step, or your pectin will clump. Set aside.
Add calcium water to raspberry puree. Bring to a full boil.
Add sugar-pectin (or honey-pectin) mixture, stir vigorously 1-2 minutes while cooking to dissolve pectin.
Return to boil, then remove from heat.
Ladle jam into sterilized jars leaving 1/4″ headspace.
Wipe rims clean and screw on the lids. Process for 10 minutes in water bath canner (add 1 minute for every 1,000 feet above sea level).
Jam will last about three weeks once opened. Makes around 4-5 cups.
Notes
Eat any leftover puree, or use to top ice cream or stir into yogurt.