Taste of Summer Strawberry-Raspberry Pie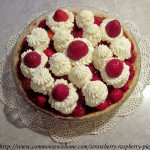 Scale
Ingredients
Crust
6 tablespoon

s butter, cold

2 tablespoon

s sugar

1 cup

flour
Filling
1 quart

strawberries, divided (for 9 inch pie) -or-

2 quart

s strawberries, divided (for 10 inch pie)

1 cup

water, divided

1/2 cup

raspberries, mashed

1 cup

sugar

4 tablespoon

s cornstarch
Topping
1 cup

whipping cream

1 teaspoon

real vanilla extract

1/4 cup

powdered sugar
Instructions
For crust: Cut together butter, sugar and flour with a pastry blender to form pea sized bits. Press into a pie plate (preferably glass). If you use a 9 inch pan, you will have a thicker, more cookie-like crust. If you use a 10 inch pie plate, it will be spread thinner and be more crumbly. When pressing a crust into a pie plate, start with the edges, then press the remaining material into the bottom.
Bake at 325 degrees F for 15-18 minutes until lightly brown. Allow to cool to room temperature before filling.
For Filling: In a small sauce pot, simmer 1/2 cup mashed strawberries, 1/2 cup raspberries and 2/3 cup water for 3 minutes. In a small bowl, blend sugar and cornstarch, then add remaining 1/3 cup water and mix into a slurry. Pour sugar/cornstarch mix into berry mix on stove. Bring to boil, stirring constantly. Boil one minute. The color of the mix will turn from dull to glossy. Set aside to chill. Room temperature is okay, refrigerator temperature is better. Don't pour hot filling over your berries or you'll end up with a big, sloppy mess.
While the cornstarch mix is chilling, prep your berries. Rinse berries in a colander if they are dirty – never soak your berries to wash them. (They act like sponges.) Place berries on a kitchen towel and pat dry. (Too much moisture will make your pie runny.) Remove the hulls. If the berries are small, you can leave them whole. Larger berries may be sliced. Sliced berries tend to make a neater pie. Whole berries save time. Your choice. It's all good.
When the cornstarch mix and the pie crust have cooled, you can assemble the pie. Place berries in a large bowl and pour cornstarch mix over the top. Toss berries gently to coat, then scoop into pie crust.
For Topping: Pour whipping cream into mixer. Beat just until soft peaks begin to form. Add vanilla and powdered sugar. Whip until it reaches stiff peak stage. Apply to top of pie with a spoon or spatula, or you can get a little fancy and use a pasty bag with a large star tip.
Notes
To more easily fill your pastry bag, prop it up in a large glass. It takes a couple minutes more to use the bag, but I think it adds a nice touch.