Old Fashioned Rhubarb Pudding Cake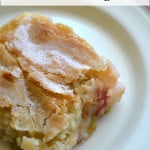 Ingredients
2 cups chopped rhubarb
1 3/4 cup sugar, divided
3 tablespoons butter, softened
1 teaspoon baking powder
1/4 teaspoon salt
1/2 cup milk
1/2 teaspoon vanilla extract
1/2 teaspoon almond extract
1 cup sifted flour
1 tablespoon cornstarch
2/3 cup boiling water
Instructions
Cover the bottom of an 8 or 9 inch square pan with fruit. (I prefer an 8 inch or 9 inch square glass baking dish. You could also use a deep dish glass pie plate.)
Mix 3/4 cup sugar, butter, baking powder, salt, extracts, milk and flour together (add a little more milk if it is too thick to pour); pour over fruit. Mix remaining sugar and cornstarch; sprinkle over mixture in pan. Pour boiling water over the top.
Bake at 375 degrees for 45 minutes, a little longer for gluten free flours. Yield: 9 servings.
Notes
Note: You may also substitute a gluten free flour blend such as Namaste Foods Gluten Free Flour Blend. If using gluten free flour, add 10-15 minutes to bake time.