Grandma's Polish Doughnuts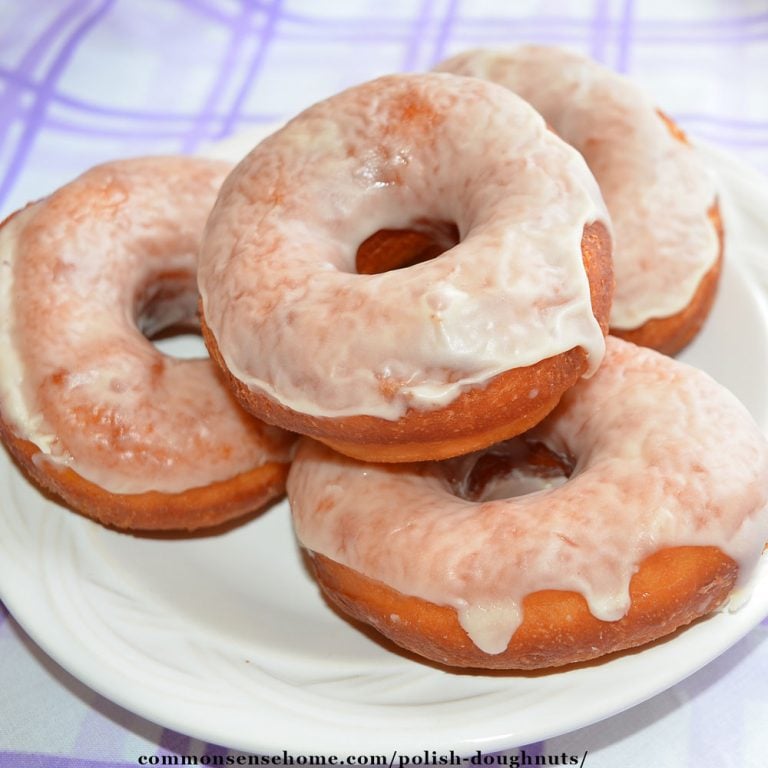 Scale
Ingredients
Doughnut Dough
Pint of Milk, warm or scalded

½ cup

butter

1

package (2 ¼ teaspoons) dry active yeast

6

–

7

cups all-purpose flour, divided

4

eggs yolks

1

egg

½ cup

sugar

1 tsp

salt

1 tsp

vanillla
Glaze
1 cup

powdered sugar

2

–

3

teaspoons milk

1 1/2 teaspoons

vanilla extract
Scald the milk. To scald milk: Place milk in a heavy-bottomed pan on low heat. Stir occasionally until milk is just hot with steam and small bubbles appear around the edges; do not boil. Remove from the heat.
Add butter to warm milk and stir until melted.
Allow butter and milk to cool until it is just warm (around 110-115°F). Add yeast and 2 cups flour. Mix well.
Allow to rest for around 10 minutes to give the yeast time to "proof" or activate. The mix should be starting to bubble.
Pour flour/milk mix into mixing bowl. Add egg, yolks, sugar, salt and vanilla. Mix well.
Start adding the rest of the flour, one cup at a time, mixing after each addition, until you have slightly sticky dough. Dump dough onto lightly floured countertop to knead in the last of the flour.
Depending on the humidity levels, you may not need all the flour called for in the recipe. You want the dough to be soft and elastic, not too stiff. Don't overwork it or you'll develop the gluten too much and your doughnuts will be tougher.
Grease your bowl and gently coat your dough with oil. Cover and set in a warm place and let rise until double.
While dough is rising, prep your frying oil. A deep fryer is great if you have one. I use an eight quart heavy bottom pot. I put in enough local, non-hydrogenated lard to fill the pot around 3-4 inches deep.
When the dough has doubled in size, roll out to about 1/3 inch thick and cut out doughnuts. We used a large glass for the doughnut and an empty decorator sprinkle container for the holes. Let rise until double in size.
Heat lard to 340-365°F for frying. Drop 3-4 doughnuts into the frying oil, keeping an eye on your frying temp. Cook until brown on one side, flip and brown on the other side.
Remove doughnuts from frying oil and place to drain on a wire rack sitting oven a paper grocery bag. Dip in glaze or sugar while still warm, if desired.
For glaze, simply mix all ingredients together.