Home Canned Salsa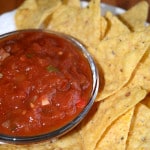 Ingredients
20-22 pounds of tomatoes
3 cups onions, finely chopped
2 cloves garlic, minced
¼ cup fresh cilantro or parsley, finely chopped
¼ cup celery, finely diced
1 cup assorted mild peppers, finely chopped
1 – 4 hot peppers, finely chopped
1 Tablespoon sea salt
1 Tablespoon dried oregano leaf
½ teaspoon black pepper
1 teaspoon ground cumin (optional)
1 cup 5% apple cider vinegar
3 6-ounce cans tomato paste (optional)
¼ cup Ultra Gel (optional)
Instructions
Blanch and skin the tomatoes.
To blanch tomatoes, place them in boiling water for 30 to 60 seconds, until the skins start to split. As soon as the skins start splitting, remove the tomatoes and place them in a cold water/ice water bath. This stops the cooking so they don't get mushy, and makes them cool enough to handle for peeling. Slip off skins.
If you are working alone, you can squeeze the tomatoes and put them to drain in a colander while you prepare the rest of the ingredients. In our kitchen, the boys chop tomatoes while I prep the rest of the ingredients.
To finish the tomato prep, dice the tomatoes into small chunks and place in colander to drain off excess juice. We prefer to scrape out most of the seeds and squeeze out excess juice for a thicker salsa. If desired, juice can be strained and drunk, or canned separately for later use.
Finely chop onions, garlic, cilantro (parsley), sweet and hot peppers.
Caution: Use gloves when handling and chopping hot peppers. I leave the hot peppers until last to minimize risk of spreading the hot pepper juice around my work area.
Prepare canning jars, two piece canning lids and water bath or pressure canner.
Place all salsa ingredients except vinegar and Ultra Gel in a large stockpot. Dissolve Ultra Gel (if desired) in vinegar, add vinegar mix to stockpot. Mix salsa thoroughly.
Heat the salsa to a gentle simmer. There is no need to cook it; you just want to get hot enough for canning.
Fill the jars with salsa, allowing 1/4 inch headspace. Wipe rims for any spills. Seat the lids and hand-tighten the rings around them.
To water bath can the salsa: Put the jars in the canner and keep them covered with at least 1 inch of water. Keep the water boiling. Process the jars in a boiling-water bath for 15 minutes for 8 oz and pints and 20 minutes for quarts.
To pressure can the salsa: Fill canner with water according to manufacturer's directions. Process the salsa at a pressure of 10 to 11 pounds, 10 minutes for pint jars and 15 minutes for quarts.
Makes around 12-13 pints.
Notes
I usually run my jars through the dishwasher and try to time it so they are done and warm when I'm ready to fill jars. Never fill cold jars with hot salsa! The difference in temperatures may cause the glass to break.