Your Custom Homestead – Awakening a Fresh Vision of Homesteading
Looking for a homesteading how-to that's practical, inspirational and real? If you've been thinking about homesteading and weren't sure how to get started, Jill Winger has put together a great resource in Your Custom Homestead to give you the "nudge" you need to get motivated.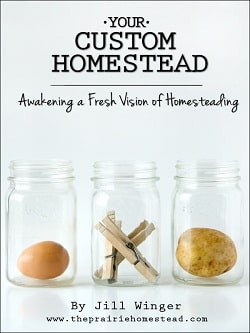 Jill's created a 21 day, step-by-step process to walk you through the planning stages of turning your home – wherever you live – into a homestead.
In the Brainstorming section, she discusses creating a homestead binder and mission statement, setting goals, prioritizing and organizing. In the Prep Work Section, she examines structuring your finances, researching, expanding your skill sets and learning about local resources. The "Let's Do It!" section covers planning, cooking, planting, animals and food storage, as well as planning for rest. (It's so easy to get overwhelmed!)
I've been at this for years, and I still found her organization tips to be helpful. The personal stories are a lovely touch. The book can also be purchased directly form Jill's site or for Kindle on Amazon.com.