Wounds and Burns E-books Review
The Wounds and Burns e-books by Dr. James Hubbard, M.D., M.P.H, AKA "The Survival Doctor", are a solid addition to any home preparedness library, with information the everyone should know.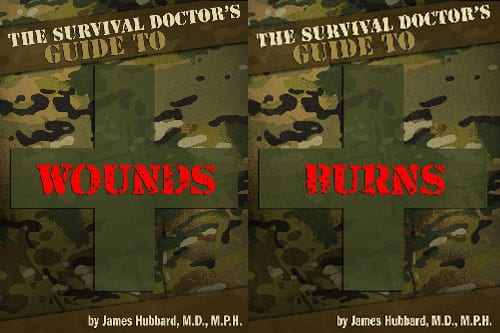 No one wants to get injured, but sometimes bad things happen to good people. The worst wounds and burns are unfortunately likely to happen when you're least able to get prompt medical attention – like when you're caught in a natural or man-made disaster, or when you're on your own somewhere tackling a task that turns out to be a little too big. Those first few minutes after the injury happens can mean life of death, or the loss a a limb via infection. Be the person who knows the right thing to do.
Wounds e-book
Full title:  The Survival Doctor's Guide to Wounds: What to Do When There Is No Doctor (The Survival Doctor's Guides)
"Wounds" is composed of 4 sections:
Basic Care for Most Cuts
Bites, Bones, and Switchblades: Advanced Care Instructions for Specific Cuts
How to Keep Bacteria Out Without the Essentials
How to Make Your Own Closures and Dressings
Within each section, Dr. Hubbard breaks down what you need to do step-by-step, walking you through a variety of scenarios. There are cross links between sections, so you can easily flip back and forth, and downloadable videos to visually demonstrate what is discussed in the book. (I suggest watching the videos before you need them, since obviously internet access may not be available during a real emergency.)
I'll be honest – the wound descriptions were quite detailed, and made me a little queasy. That said, it's better to learn this information now when I don't need it immediately, so I can be more clear-headed and logical if/when I do need it. It also makes it easier to discuss the wound with medical personal over the phone if need be.
Along with detailed instructions on what to do, The Survival Doctor also explains what not to do – which can be just as important. Too much pressure can cut off blood flow, which can lead to gangrene. Closing a deep wound without properly cleaning it can trap debris inside, leading to infection.
If you're caught without standard supplies, this book will teach you how to improvise with items such as duct tape and honey – even how to close a scalp wound using hair (sorry, bald people, you may need to stick with the duct tape).
For those who want to be more prepared, the doctor includes a full list of basic supplies that you should have in the appendix.
Burns e-book
Full title: The Survival Doctor's Guide to Burns: What to Do When There Is No Doctor
"Burns" includes the following information:
4 Steps to Treating a Burn During a Disaster
The difference between first, second and third degree burns
Burn Complications to watch for
Debridement: How to Remove Dead Skin – and When You Should
How to Make a Good Burn Dressing
How to Use an Aloe Vera Plant
Using Honey as an Antibiotic
How to sterilize Instruments
Burn care supplies
You'll learn why cold water is better than ice, why you should skip the butter and sticking to the aloe vera, and how to safely remove hot tar.
The Survival Doctor discusses why pain free burns can be the most dangerous, and the three warning signs you need to look for to tell if there is damage that isn't healing.
If there is severe damage, the section on how to safely remove an eschar (the dry, leathery remains of dead skin) is something you need to know that is rarely addressed.
In both books, The Survival Doctor clearly states that this advice is not a substitute for care by a trained medical professional, and encourages people to get basic medical training where available. (The Red Cross offers training courses, and local tech schools may also offer EMT (Emergency Medical Technician) training.) For serious injuries, professional medical care as soon as possible is always recommended.
I highly recommend the Wounds and Burns e-books by The Survival Doctor. (Checking out his site is a good idea, too – www.thesurvivaldoctor.com.) When emergencies happen, we all should have enough knowledge to help out until more trained folks arrive. It's that simple. This is an inexpensive way to learn the basics.
Win Your Own Copy of the Wounds and Burns E-books
Dr. Hubbard has generously offered to give away not one, but three copies of his e-books. Three winners will each receive their own copy of Wounds and Burns. Just use the rafflecopter widget below to enter (subscribers, click through to the site). If you purchase your copy before the drawing ends and end up winning the drawing, Dr. Hubbard will refund your purchase price. No worries!
Good luck to everyone, and a big thanks to The Survival Doctor for sponsoring this useful giveaway!
THIS GIVEAWAY IS CLOSED. THANKS SO MUCH TO EVERYONE WHO PARTICIPATED.