My husband reminded me this weekend that our current garden was really not our first garden, so it wasn't fair to neglect to mention our foray into suburban homesteading.
Our Suburban Homesteading Adventure
We built our first home back in 1995 on a half acre suburban lot nestled in the remains of an abandoned tree nursery. Our backyard was littered with flowering crab apple trees that didn't meet the cosmetic standards of the nursery trade, but were beautiful to us. There was also a ginkgo, an ash, two maples, a hawthorn – and not much room for a garden. First on the "to do" list for the spring was getting out the chain saw and hiring a tree spade to do some rearranging. The ginkgo and one of the maples were removed, as they looked to have some type of disease (I suspected verticillium wilt because of canopy die-off). The flowering crabs were moved north and south to open up the center of the yard.
The front yard was completely regraded and a lot of fill was brought in to make the walk out work (the home was a walk out ranch). The landscaping quotes we got were soooooo expensive – we decided to tackle it ourselves. This might have been okay, had we lived in another neighborhood, but ours came with restrictive covenants are very uptight neighbors. We both worked full time, and our builder went away on his honeymoon, and the yard took a lot longer to finish than the "within one year of ground breaking" specified in the restrictive covenants (closer to two years, to be specific). This didn't sit well with our neighbors, some of whom talked behind our backs and others who bad-mouthed us openly. Such is the way life works at times. When we decided to build the area was largely undeveloped and we were very excited to be able to build a walk out and be only a half a block from an arboretum. As the lots filled with houses, it seemed one was more extravagant than the next, and all were professionally landscaped and groomed to perfection. We did so not fit in. Nonetheless, we kept working at it, starting in front and progressing around the house. I stopped working full time to come home during my first pregnancy, and the sweet crew of guys I worked with (I was an engineer with a solar contractor) came and built our field stone retaining wall instead of throwing me a baby shower.
Then we got the visit from the "enforcer", giving us notice that we'd better finish our landscaping – or else. This was in high summer, when grass does not grow in northeast Wisconsin, it goes dormant. Instead of finishing the seeding in fall as we had planned, we dragged out every sprinkler we owned and bought a few more to water relentlessly so that lawn would be in two months sooner. They neighbor who had most vocally complained about our yard stopped by one afternoon to let us know one of our sprinklers had tipped, and I asked him why he had felt it necessary to call in "the enforcer" instead of talking to us himself. He started ranting about how we had finished the other side of yard (we had, in spring, when grass would grow, but couldn't finish his side until the retaining wall was done, which happened in summer, so as mentioned above we were waiting until fall to seed). He really didn't want to listen to our explanation, he just kept repeating the phrase, "What am I, mashed potatoes?" Honestly, still, to date, this is one of the strangest non-conversations of my life. Perhaps he had a bad experience with his Mr. Potato Head doll as a child? This same neighbor, even after the yard was filled with flowers, vegetables and fruit, and was, if I may say so, quite stunning, commented to one of his guests (who had noted the beauty of our flowers) that we "had nothing but weeds". Even though he was a banker, I would have to say he was a poor and bitter man, and I truly feel sorry for him.
Fast forward – heavy clay soil equals 23 raised garden beds in the backyard, flanked by trees with flowers in the center.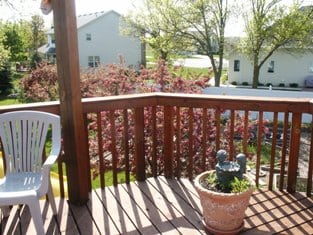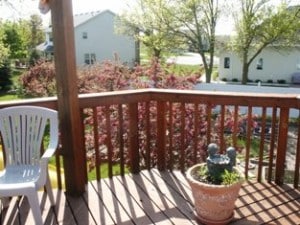 The front yard had a little better soil (different fill) and had eight flower beds, four patches of roses, an arbor with climbing roses,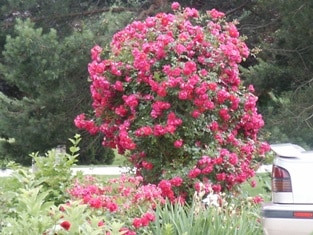 clematis on either side of the front door, a garden bed,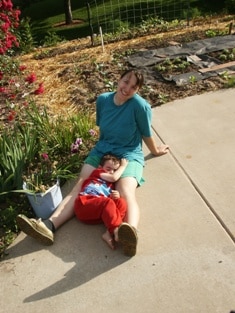 a high bush cranberry, two dwarf sweet cherry trees,
and one dwarf pie cherry tree. One side of the house had two dwarf plum trees, more flowers and two dwarf apple trees (these crept into the back yard). So the south there were blueberries on the lot line, a yellow raspberry patch (delicious!),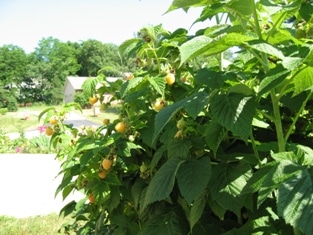 a red, a pink and a black current bush, four grape vines,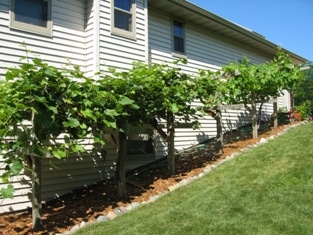 two dwarf peach trees, and three "colonnade" apple trees. The boys literally were able to graze their way around the yard before we moved. It was an oasis in a suburban chemlawn desert. Mom said the first time she visited, she knew right away which house was mine.
Here was the view as she pulled up: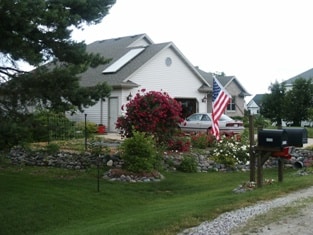 We crammed a lot in a small amount of space. I miss all the fruit trees. Hopefully some day I will have them again.
So that's where we really started as a family. If you you went way, way back, you'd find me in the garden as a toddler playing next to my mom. She and I have spent many, many hours there together.