The Complete Idiot's Guide to Fermenting Foods Review
The Complete Idiot's Guide to Fermenting Foods by Wardeh Harmon is an excellent resource for both new and experienced fermenters. For those new to the topic, Wardeh provides detailed explanations. She walks you through the process from beginning to end, discussing the "why" as well as the "how". For experienced fermenters, there are LOTS of recipes – you're sure to find something you haven't tried.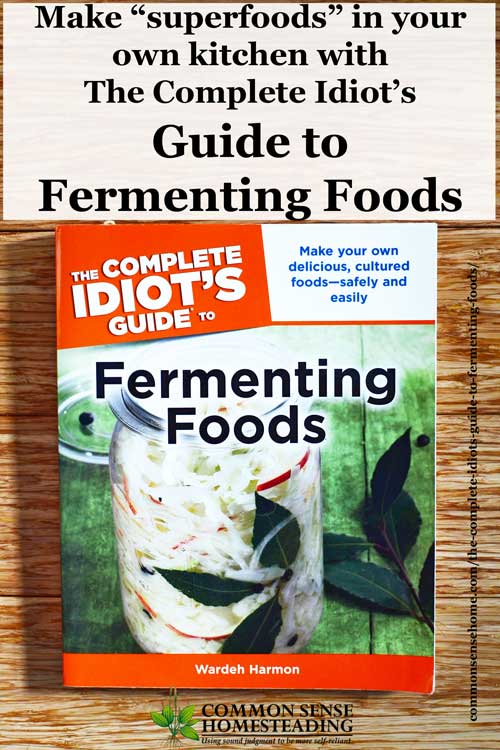 Why Eat Fermented Foods?
As explained in the opening of the book, fermentation increases the nutritional value of foods. The action of the fermenting bacteria and yeasts naturally pre-digest food and decrease anti-nutrients. This makes it easier for your body to get the nutrients you need out of the food. Bacteria and yeast can produce significant quantities of vitamins B and C, make calcium more easily absorbed, and produce K2 when fermenting soy. (Many Americans are deficient in K2. I highly recommend the book Vitamin K2 and the Calcium Paradox: How a Little-Known Vitamin Could Save Your Life.)
Fermented food are loaded with enzymes and probiotics to improve digestion and boost your immune system. As we age, our body produce less digestive enzymes. Adding fermented foods to our diets can help counteract this deficit and lead to easier bowel movements and better health.
How Much Fermented Food Should I Eat?
Wardeh says her family eats around 10-20% fermented foods with every meal because ferments are not meant to be the main dish but rather accompany a main dish. For food preservation over winter Wardeh says,
I use my freezer, I dehydrate, and I can some (very little canning — only tomatoes). I ferment some, but only what I can fit in the refrigerator. We had pickles all winter and sauerkraut. And cheese (that is mostly in the freezer). If I had a cellar, I would do the bulk of my preservation through fermenting.
So, if you're just starting out, don't think that you need to ferment everything to get the health benefits. Read the book, pick a recipe that appeals to you, and simply add fermenting to your usual routine.
How Does Fermentation Work?
The Complete Idiot's Guide to Fermenting Foods starts out with a brief history of fermentation and comparison of fermenting and other food preservation techniques. Wardeh explains what foods can be safely fermented and how fermentation works. We are introduced to the beneficial yeasts, molds and bacteria that create healthy ferments and the conditions they need to thrive.
To successfully ferment food, you need clean fermentation vessels, correct temperatures, salt and/or appropriate starter cultures, and some basic kitchen equipment. If you can chop vegetables, mix them will salt and pack them in a jar, chances are you can make fermented food. It's a little more complicated than that, but the most basic ferments are built on those steps. The book will give you very detailed instructions, methods and recipes, as well as troubleshooting tips so you can tell if anything is not as it should be.
Lots of Fermentation Recipes
Wardeh gives recipes for fermenting vegetables, fruits (including fermented fruit leather – how cool is that?), condiments, nonalcoholic beverages, alcoholic beverages, beans, noncheese cultured dairy, simple cheese, meats and fish. To give you an idea of the breadth of Wardeh's experience, she told me that there are fewer than 20 recipes in the book that she has not made herself (out of over 150 recipes). I'm impressed. There are even recipes for foods to make with your fermented foods. 🙂
I thought the book was very well done, and I know it will be a well-used addition to my kitchen library. I've enjoyed Wardeh's website for some time, and frequently use her sourdough e-book. She knows what she's talking about when it comes to fermenting.
You may also enjoy: