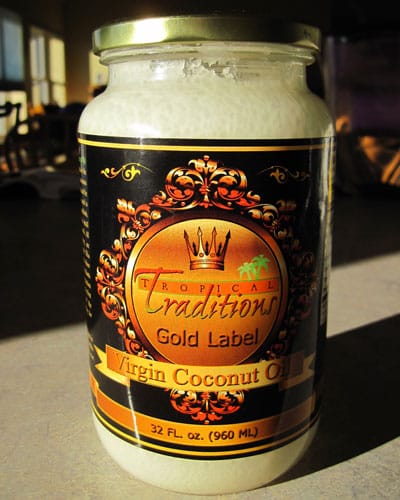 Can you lose weight during the holiday season?
You bet!
Some of you are going to think I've gone completely over the edge with this one, but I am indeed sincere with my claims of a "Coconut Oil, Bacon Grease, Sugar Cookie Diet" being an effective way to lose weight.
Back in 2008, my husband lost his job, stress levels went through the roof, and I got depressed – really depressed – and felt lousy. I went in to the doctor and he said I had Hashimoto's thyroiditis, and put me on levothyroxin, which didn't go well. (Check out My Thyroid Journey.) Instead, I turned to coconut oil for weight loss, along with other full fat foods, while still indulging in some treats, like sugar cookies.
Low Fat Eating Plus Lots of Exercise Didn't Work for Me
I'd been struggling with my weight for a while. Back in 2003, I went Oprah hardcore with Bob Greene and "Make the Connection". I was exercising like a fiend, eating low fat everything, and relying on willpower to keep me "eating right". I lost 30 pounds, and then I crashed and burned, and it all piled right back on. The food tasted nasty, and I just couldn't keep running myself ragged.
I'll confess some numbers here, because you already know about my bowel movements and I'm planning on writing about peeing your pants as you get older and why you shouldn't do Kegel exercises, so what the heck's a little lard between friends? At my heaviest non-pregnancy weight, I was pushing 220 pounds and was buying size 20 jeans, and eying up the larger ones. I started exercising pretty much daily, and got my weight down to around 213-214. From December 2008 to the beginning of December 2009, I dropped a couple of pounds, but I was pretty much stuck. I did light aerobics and stretching 30-40 minutes 5-7 days a week, watched my portion size and limited fat intake, but ate full fat and not fat free foods.
"Eat Fat, Lose Fat" – Could it be so simple?
In early December 2009, I read the book "Eat Fat, Lose Fat: The Healthy Alternative to Trans Fats
Eat Fat, Lose Fat: The Healthy Alternative to Trans Fats" by Mary Enig and Sally Fallon. Sure, I had read that saturated fat was healthy, and had read things in passing about animals being fed coconut oil actually losing weight, but these ladies flat out said, "Eat More Fat!" I looked over the recipes and hunted down ingredients like tamarind paste and fish sauce. I tried a few recipes. My family was underwhelmed. What can I say? We're not huge on exotic flavor profiles.
Frenzied life as normal resumed. The one big diet change I made that month was to start eating a tablespoon of coconut oil before almost every meal. I also started dry brushing and cold rinses in the shower. I fried my morning egg in bacon grease, and often threw my bread in the pan to soak up any excess grease and toast a bit. I ate butter – LOTS of butter. I still ate sweets, including sugar cookies. I didn't change my exercise routine. I lost ten pounds.
Is this an ideal diet? Nope. Is is something that I could live with, without stress, indefinitely? Yep.
If You Want to Lose Weight, Make Choices You Can Live With
Every person is different. Some thrive on calorie counting and strict goal setting. That's not me. I prefer small changes over time – build up good habits/behaviors and let the bad ones disappear naturally.
It's been two years since I gave myself permission to eat as much healthy fat as I want, and I'm down around 30 pounds. (I usually weigh in between 178-182, although I have found that standing naked on one foot in the early morning immediately after using the bathroom, that number will be a little lower…) The size 20 jeans are gone, the 18s can only be held on with a belt, and the "skinny" 16s are now comfortable. Will I be seen in a bikini anytime soon? Not likely. Am I feeling better? Absolutely.
More Weight Loss Helpers
I read "The Primal Blueprint" in late 2010, and although I didn't agree with absolutely everything, it did get me thinking. The book "Deep Nutrition" was also helpful in shaping my current eating and exercise habits. Both books agree on some key points.
Nutrition:
Eat plenty of healthy fat
Eat good quality protein
Eat less carbohydrates
Eat more non-starchy vegetables
Eat less fruit and grain
Avoid processed food
Exercise
At least once a week, do "sprints" – some exercise that accelerates your heart rate for short bursts of time
Do weight bearing exercise, including heavy weights, roughly once a week
Stay generally active
Now most mornings I have veggies with my eggs instead of toast, and when I have bread I skimp on the bread and go heavy on the butter. I may try gluten free next summer. Meanwhile, I've been slowly cutting back grain consumption. (I know, I know, with gluten it's all or nothing, if you are sensitive to it, but I also know it's easier for me to transition slowly.) The weekly sprints helped get me past a weight loss plateau. The scale seems to still be creeping down, albeit slowly.
I'm not going to demonize carbs or gluten completely, although I know that is currently popular with many foodies. Everyone's body is different, and I can't imagine that in the history of man that there weren't times when our ancestors binged on seasonal carbohydrates.
Food should be savored, not stressed over. Do your best to build your meals around the least processed, most nutrient dense food you can, and don't panic when you eat less than ideal food once in a while.
Sugar cookies on a diet?
How do you manage holiday eating? Have you ever tried an unusual diet? Are you eating low carb or low fat? Share your thoughts, share this post if it got you thinking. 🙂
PS – I case you missed it way back when, here's the recipe for coconut oil fudge. If you want an amazing assortment of coconut oil recipes, check out the Tropical Traditions Coconut Oil recipe page.