Last week I started posting strawberry recipes, but I didn't say a whole lot about where we got our strawberries. I figured this week I'd do a couple more strawberry posts, first sharing a bit about our strawberry picking adventures, and then wrapping up with another "how-to" post on preserving berries.
Strawberry season ran late in our area due to an awfully cold spring. The boys and I first went picking on July 8th, weeks later than the season would normally start. Our first stop for berries was Kraynik's Berry Farm, just north of Hwy 29 and less than ten minutes from our home. If you're heading east on 29 between Green Bay and Kewaunee, just look for the big red berries.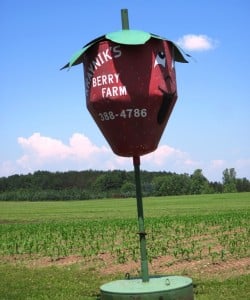 Kraynik's also has U-pick peas and raspberries, which should be starting up shortly, if they haven't started already. Normally the peas are ready much earlier, but the owners said that when they would have normally been planting, the field was under a foot of snow, and went they went to plant a second time, it was under standing water. I know the feeling…
Here are boys, all fired up and ready to get picking (well, maybe not so much, but they know it's their job).
I wish you could have smelled the air in the berry patch. The sun was shining and the berries were sweet and juicy due to the heat and rain. The only downside was that it had been a little too wet, and there were quite a few rotten berries as well.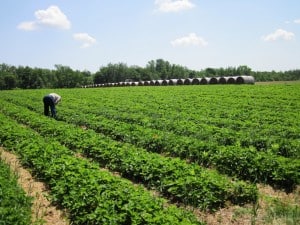 Here's Todd, the owner, weighing up our berries. Pretty reasonably priced, IMO.
Here he is posing with the truck where they store the berry boxes. Kraynik's moves the stand to the field where the berries are currently being picked.
After a couple of hours in the hot sun, the boys and I went out for custard, just like my mom and I used to do when I was a kid.
Our second round of picking was at Wilfert's, just south of Mishicot. I like to visit Wilfert's later in the season, as their berries tend to be larger than Kraynik's as the season progresses.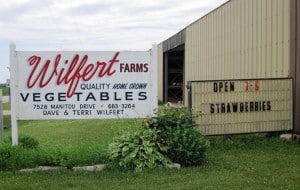 The local growers don't spray much, maybe because the cold kills off a lot of the bugs. These folks only spray once during blossom set, unlike many commercial growers. Apparently 50 different pesticides are used on strawberries, making them one of most sprayed fruit crops. We ran into more rotten strawberries here, too, and the boys had a tough time picking. You can see the berries were very soft, and my hands got quite stained.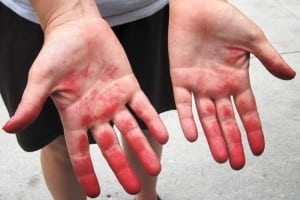 Wilfert farm sells out of a large building where they also sell other produce, and they post regular updates on their site and to their Facebook page. I picked up some peas, cauliflower and kohlrabi.
Like I told the boys, it's more work to pick your own, but it a good way to help support your local farmers. I'm sure local growers have struggled with the weather just like I have, and their incomes are probably lagging well behind where they ought to be by this time of year. You'll never beat the freshness of something you've picked yourself. PickYourOwn.org lists dozens of farms throughout the United States, and some from around the world. If you can't grow it yourself, pick your own is the next best thing.
If you have fresh strawberries available, check out my recipes for Gluten Free Strawberry Shortcake made with Almond Flour, Low Sugar Honey Sweetened Strawberry and Strawberry Banana Jam, Old Fashioned Strawberry-Banana and Strawberry-Rhubarb Jam, and Gluten Free Strawberry-Rhubarb Crumble.
GET MORE SELF-RELIANT NOW!
Get Homesteading 101 FREE, plus weekly updates and Subscribers Only information delivered to your inbox.