Yesterday the boys and I tackled the early corn patch. We have two varieties of corn, one early, one late, to keep us in fresh sweet corn over a longer period of time. (FYI, for those who are not corn people, "early" and "late" refers to the number of days to maturity. We have a fairly short growing season, so technically ours are probably "early" and "mid-season", but with the growing seasons we've had recently I didn't want to risk a crop that would take too long to mature and get nothing.)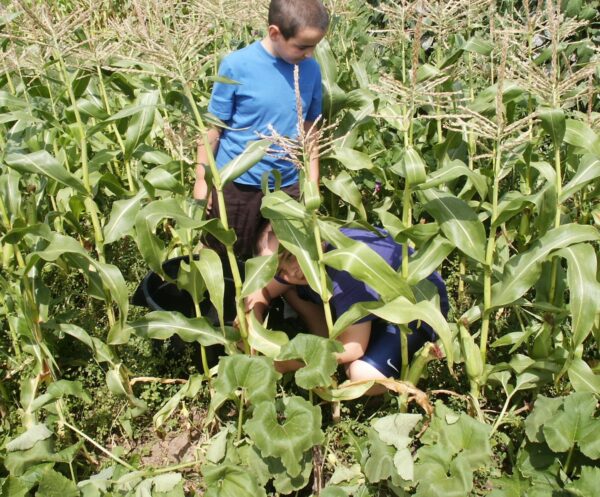 The corn is a little short this year, due to lack of water and cooler temps, but I think we got a respectable first harvest given the conditions. Our early variety is called Spring Treat, which I purchase from Fedco Seeds.
Spring Treat Yellow Sweet Corn OG (71 days) The choice of early corn cornoisseurs, Spring Treat continues to be our most popular sweet corn by a wide margin. We've tasted a lot of new earlies in recent years, but none have zinged our taste buds like this yellow sugary enhanced hybrid. Spring Treat ripens around the time of Sugar Buns, with longer ears that are easier to pick and with a rich corny taste that we hadn't enjoyed since Intrepid. Not as sweet as Sugar Buns, but better eating quality, ear length and appearance than any other early corn. CO-certified.
This year the cobs were smaller than normal and there was only one per plant, but they still filled out well. Some of what we picked could have been a hair riper, but I'd prefer to catch them slightly under-ripe than overripe and the weather was supposed to be wet the next couple of days. If you look at the photo above, you can see pumpkin vines at the base of the corn. Ever since my corn patch got raided several years ago, I've planted my pumpkins and squash around the outsides of my corn patches. Since then (hoping I don't jinx myself here), I haven't lost a single ear to the raccoons.
On to the actual picking. I thought most people knew how to do this, but having introduced various friends to the garden over the years I found out that is not the case. So we'll go through it step by step. First, select your chosen ear. How do you tell if the corn is ripe? From HelpfulGardener.com:
You know that sweet corn is almost ready for the cooking pot when the ears look plump and the exposed part of the silk, at the top of each ear, is dry and dark brown. To determine the exact ripeness of an ear, make a vertical slit in the husk near the top of an ear and use your thumbnail to puncture a kernel. The corn is at peak sweetness when the liquid in the kernels is neither watery nor opaque, but translucent.
Update- My friend Deb says:
When we pick corn, we go first by silk color, and then feel the top of each ear. Rounded and you are good to go–problems come in the years (ears?) when there is not good pollination and the tips don't fill in well. But if you feel down, they will feel very full there. I have found that when you pull back the silk/ top of the husk to take a look, the beetles find that cob and have a feast.
Once you get used to harvesting, you can tell more or less by looking and "feeling up" your corn, but this is a good description for those new to the harvest. (The HelpfulGardener link also gives more info about improperly developed cobs and such.)
Our chosen cob – note dark brown silk, full shape.
Grasp cub firmly, pull straight down (note – somewhat tricky to do with camera in hand). Brush off any hitchhikers like the ladybug (shown here) or earwigs, which like to hide between the cob and the stalk. Don't be afraid of hurting the plant, this is what it was grown to do and it will be dying back shortly after the harvest.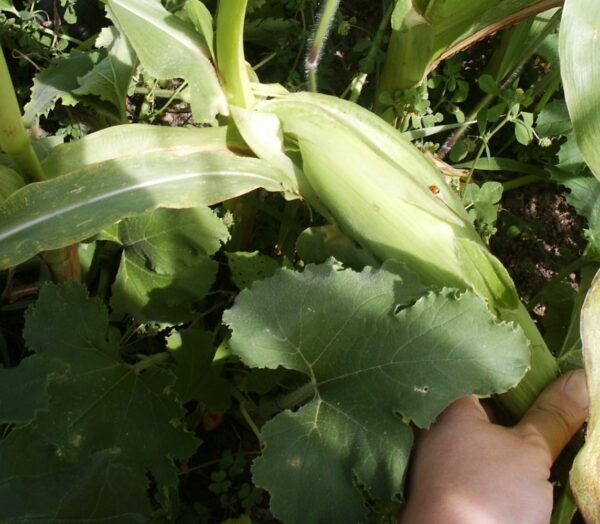 Give the cob a twist to finish breaking it from the stalk – done!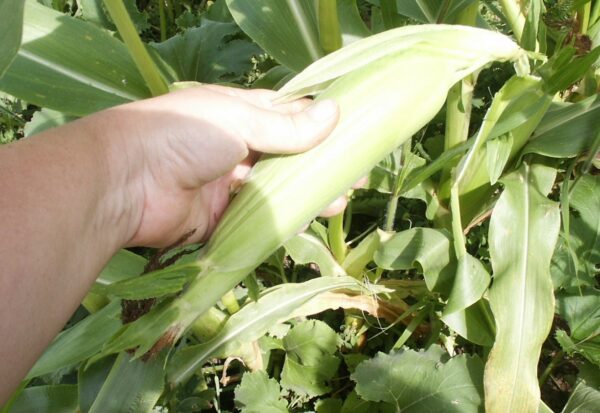 We ended up with about a bushel of corn from this patch. Here are the boys posing with their bounty.
They generally shuck the corn on the deck. Mom handles the blanching, cutting off the cob and freezing. Dunc is getting a little grumpy by this point because lunch is running late.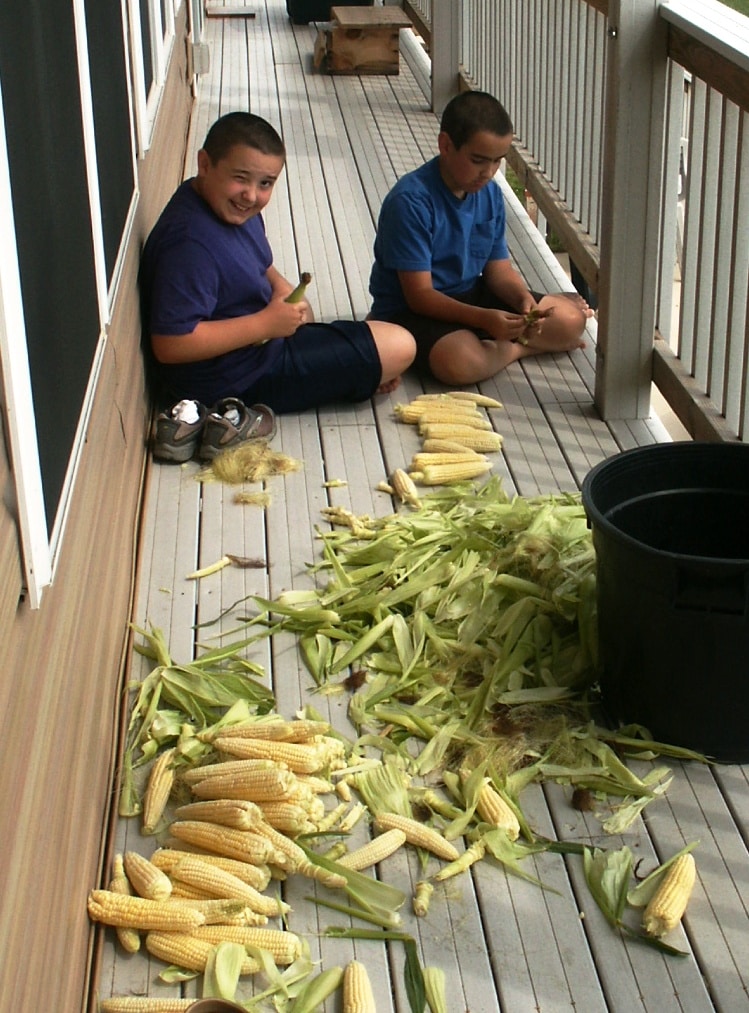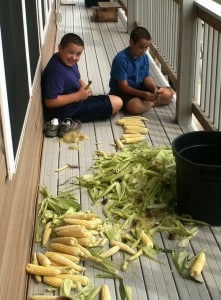 I had to take a break from the corn at this point to deal with the eight pounds of blueberries which had arrived the day before (that will have to be another post), but didn't they look like a pile of summer sitting together on the counter?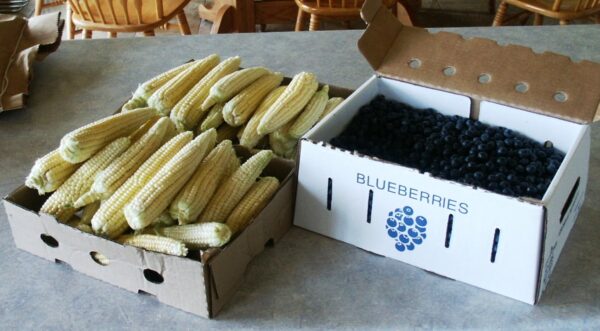 Okay…several hours later…blanching – five minutes per batch.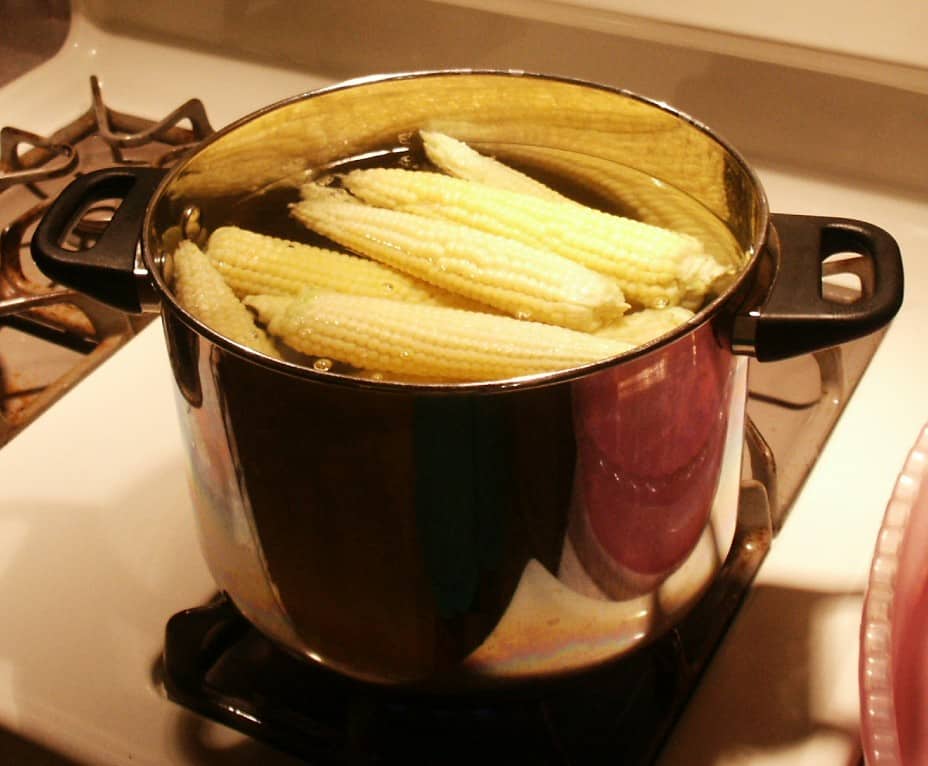 Chill in cold water (to stop cooking and prevent corn from turning mushy, not to mention preventing burning your fingers) and drain.
Cut off the cob. I don't freeze on the cob because it would take up too much space. You can scrape the cobs to get "cream style" corn, but for my taste fresh garden corn is quite juicy enough. Also, I've seen it recommended that you do this on a cutting board, but in my experience the corn likes to fly all over the place, so I prefer to do it in a container – less mess.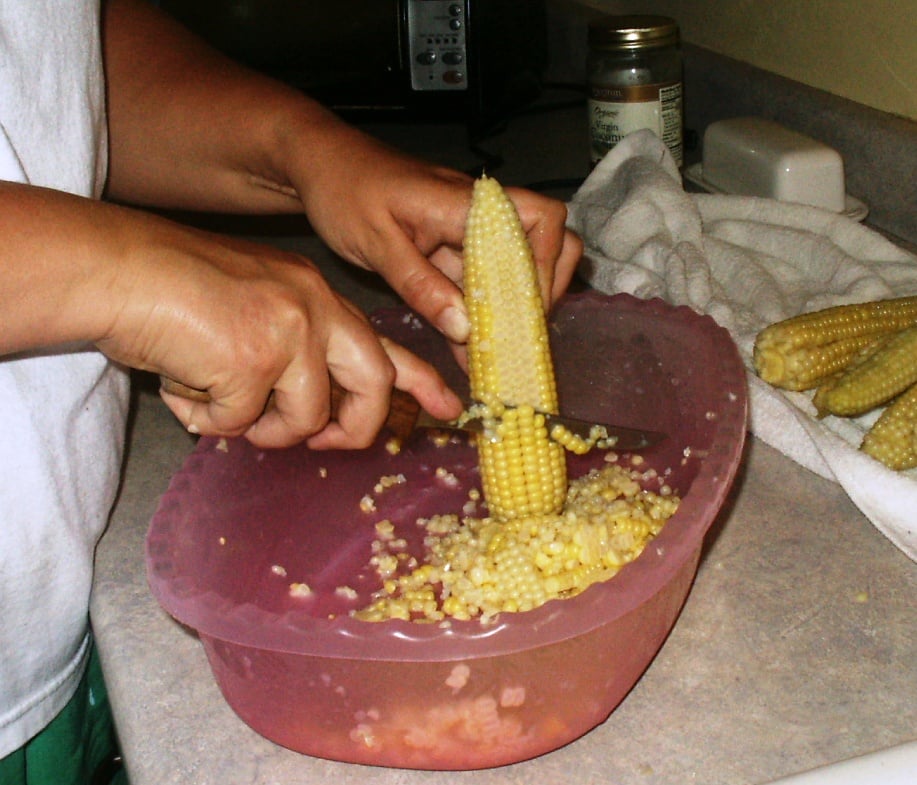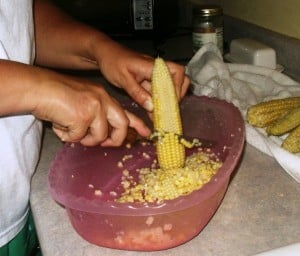 End of night – pile of corncobs, about nine pints of corn. Much less than usual, but tasty nonetheless. I didn't use the vacuum sealer one this, as that would involve pre-freezing the corn and the freezer is full of trays of blueberries, so there just isn't much room. (The blueberries will go in the vacuum seal bags today.) I've had pretty good luck with our fresh-picked corn. It tends to be very juicy, so that helps to prevent freezer burn. More juice = less air = less burn. We're going shopping for a chest freezer soon – the upright is almost full and there is still a lot of harvesting to be done.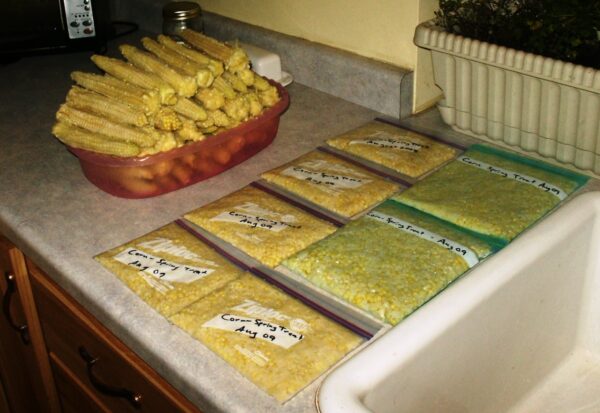 If you'd like even more detailed corn processing guidelines, you can visit PickYourOwn.org. They got great "how to's" for lots of different fruits and veggies, as well of lists of farms where you can pick your own. It's a nice site.
I hope you have time to enjoy and stash some corn of your own this season.