I'd just like to start out by saying that my family and I have been very blessed. I'm married to my best friend and we have two beautiful boys. We're pretty healthy, and we have plenty to eat. We've had the opportunity to build our "dream home" in the country, and have friends and neighbors with whom we have built a community.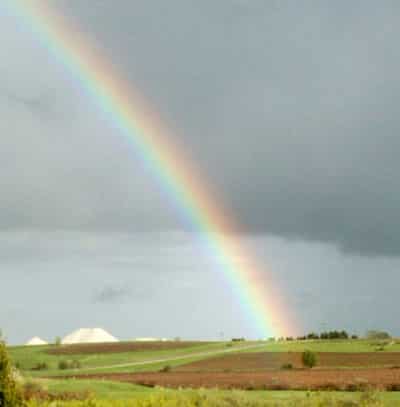 Like many people, we've felt the impact of the current economic downturn. Shortly after we built our home, my husband lost his job of 16 years. It took around a year for him to find a new one, and when he found it, it was two hours away. For almost three years now, he's lived away during the week and come home on weekends.
We've gone around and around about moving. We want to be together as a family, but if we sold the now (if we could sell the house with the housing market as depressed as it is) there's no way we'd get out what we have invested in it. This was supposed to be our "forever home", so we spent more on things like handicap accessibility, energy efficiency, "green building", etc. Most folks, unfortunately, aren't terribly knowledgeable about these things, at least, not enough to pay extra.
We've put a lot of sweat equity into the place, too. The garden is around an acre now, and most of the beds are a pleasure to work, compared to the heavy sod we started with in the beginning. I've finally managed to find local sources for most of the food we don't raise ourselves.
Now there's a job opening in the area that (finally) is a fit for my husband. He's applying, or course, but I admit I'm afraid to get my hopes up at all. I'm sure they'll get a lot of applicants, with the job market being what it is. How do you balance optimism with realism? How do you hope without crashing if the opportunity disappears? My thyroid problems started right around the same time my husband lost his job. I don't think it's a coincidence.
Sometimes, it feels like nothing will even be quite right again. A quick skim of the headlines, and you can read story after story about economic collapse, rising food prices, global instability…
China's preparing for war, and they've got around 30 million men between 18 and 40 who have no hope of finding a wife. I may be a pessimist, but that sounds like a ready-made army to me. With two sons who are approaching enlistment age, that scares the beejeezus out of me.
American politics is a complete mess, and don't even get me started on the national debt. We've raised generations that don't seem to grasp basic math, and created a culture that celebrates immorality and stupidity as something to be pursued and admired. (Care to watch some of the "Housewives" series and "Jackass", anyone?)
We're not facing the end of the world as we know it (at least, not that I'm aware of, just yet), but being a total geek and fan of the Lord of the Ring series, I can't help but think about Sam's speech:
Frodo: I can't do this, Sam.
Sam: I know. It's all wrong. By rights we shouldn't even be here. But we are. It's like in the great stories, Mr. Frodo. The ones that really mattered. Full of darkness and danger, they were. And sometimes you didn't want to know the end. Because how could the end be happy? How could the world go back to the way it was when so much bad had happened? But in the end, it's only a passing thing, this shadow. Even darkness must pass. A new day will come. And when the sun shines it will shine out the clearer. Those were the stories that stayed with you. That meant something, even if you were too small to understand why. But I think, Mr. Frodo, I do understand. I know now. Folk in those stories had lots of chances of turning back, only they didn't. They kept going. Because they were holding on to something.
Frodo: What are we holding onto, Sam?
Sam: That there's some good in this world, Mr. Frodo… and it's worth fighting for.
I know Tolkien's writings were influenced by his experiences during World War II. I wonder what the coming years will bring for us all.
I choose to believe that we're not given any task that we can't handle, but sometimes it's difficult to see the way. I pray for guidance and wisdom, taking one day at a time and trying to do the best I can.
I take comfort from the fact that I know there are a lot of families out there like us, just trying to work hard, do the right thing, and get through all of this turmoil – whatever happens. Thank you, and may you and your loved ones be blessed.