Saying Goodbye to Mama – In Memory of Irene Mary Zmrazek
Originally published in 2010.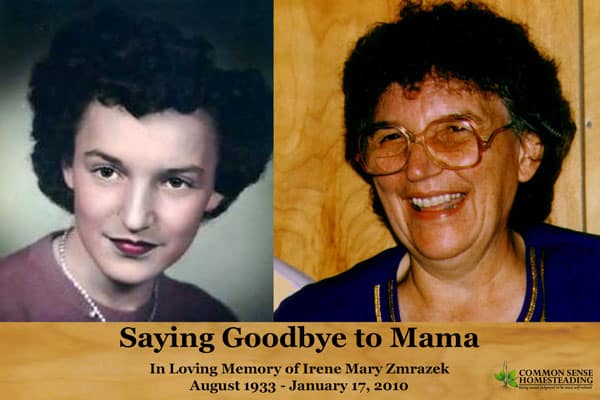 Saying Goodbye to Mama
Sorry to have dropped off the radar for a while, but my world has been shaken these past couple of weeks. On January 17, my mom passed away unexpectedly. She went into the hospital on Thursday, and by Sunday afternoon she was gone. She had been having health issues for some time now, and I suspect this was related to those difficulties, but I don't know if you can ever completely prepare yourself for a loss like this. I wonder why it is that one feels a true physical pain in your heart, like a hole has opened up that can never be filled?
At the end, my sister and I were on either side of her as she rested in her hospital bed with the rest of the family nearby. I leaned over her and kissed her and smoothed her hair, and told her that her "Bugs" was there and I loved her very much. Her face relaxed and the corners of her lips lifted in a smile. She slipped away minutes later with that smile still on her face.
The Heart of Our Family
I went on a bit about mom in a previous post, but I'd like add a bit more. As we were looking through the family pictures preparing for the memorial, there were many, many shots of mom holding babies – children, grandchildren and great-grandchildren. Family was everything to her. She also had a lot of great smiles – no small accomplishment with all she faced. She cooked from scratch right up to the end, and no one went away hungry from her home. (Actually, what she always said was, "If you leave hungry, it's your d**n fault." Mom was a little ornery at times, but it kept her going.) She gardened right until the end, too. She got pretty frustrated because she couldn't do as much as she used to, but we always had a great time pouring over seed catalogs together and exchanging garden info.
Now she's gone and I imagine I'll be leaning on other family and friends a little more, but mom will never be forgotten. She's the main reason I am who I am and I still love her so. For those who still have their moms around, give them a little extra love, as we never know how much time we have.
Here's a shot from my wedding party. Mom is in blue surrounded by me, my two sisters, my brother and my hubby waaayyy in the back.
Here's another shot from just a few years ago. From left to right, my sisters Lois and Mary, mom and me.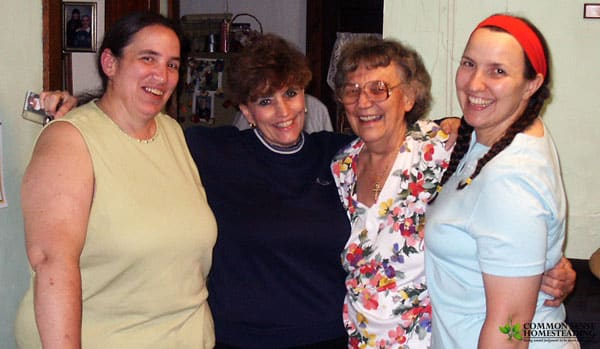 Be at peace, Mama.
Some other family focused posts on the site:
In Memory of Irene Mary Zmrazek
Irene Mary Zmrazek of Strickland Township, loving wife of Steven Zmrazek, born 16 August, 1933; passed away peacefully on 17 January, 2010 surrounded by her husband and family at Luther Middlefort Hospital in Barron Wisconsin.
Irene is survived by her loving husband Steven, her brother George Hrouda (wife) Karen. She will be dearly missed by her children Mary McGraw, Lois Jacobsen (husband) Ron, Richard Poplawski, Joseph Poplawski, Michael Poplawski (wife) Judy and Laurie Neverman (husband) August and step children Janice Zmrazek, Kathy Patterson (husband) Craig, and Steven Zmrazek; her fifteen grandchildren Ed Rebak (wife) Jessica, William Rebak, Thai Webb, Chrystal Webb, Kira Neuman (husband) Tim, Richard Poplawski (wife) Stephanie, Rebekah Poplawski, Serah Poplawski, August Neverman, Duncan Neverman, Sara Patterson, Kady Patterson, Steven Zmrazek (wife) Suzi, Jessica Runde (husband) Daryl and Joshua Zmrazek; and her eight great grandchildren Shyleigh Iveland, Renee Iveland, Vaniessa Iveland, Callysta Iveland, Hunter Rebak, Gunner Rebak, Alexis Runde and Carter Runde. Irene was proceeded in death by her parents, George and Mary Hrouda; and her brother Edward Hrouda.
Irene's passions were gardening, cooking and baking, especially gingerbread houses, above all else she loved her family. She was a hard working farmer, professional caterer and foster grandparent. Irene was involved in the St Peter and Paul church for many years, baking and frying donuts for numerous fundraisers. She welcomed all into her home and made sure no one ever left hungry.